Keeping up with my fall goal to read at least one book a month, I read four books in September and October. Here's how I reviewed them on Goodreads.
The Perfume Collector takes you back in time, set post WWII,
and is about two women whose lives are intertwined. One's journey to make
amends with her past and the other's journey to discover her future. The story
begins in London in 1955 where Grace Monroe, recently married and thrown into
the London elite social scene, receives a letter informing her she has received
an inheritance. Thinking it is a mistake, but wanting to get away from the life
she has not come accustomed to, Grace goes on a journey to Paris to learn about
her benefactor, Eva d'Orsey. With the
help of her attorney, Edward Thissot, she discovers a long abandoned perfume
shop, learns about the complex world of concocting perfumes, and a love story that
explains her ties with Eva.
The story flashbacks to the 1920's where you meet Eva who is
working as a chambermaid in an upscale hotel catering to the rich. Her
involvement with this elite group of people allows her to overcome her poor
upbringing and later becomes a legend in the perfume industry. You are taken back to that time and the scents
of the perfumes are described so well you can almost smell them. You learn about the fascinating world of fragrances
and the unusual ways scents are inspired. While the story is a bit predictable,
it draws you in as you see both characters coming into their own. This book was
a page turner and one of the best that I've read this year.
Gretchen feels like life is going way to fast and she is not
focusing on the things that matter. While she is not unhappy, she feels like
she can be happier. The Happiness
Project is an account of her year of focusing on enjoying life to its fullest. She did not want to switch careers, move to
another country or make any drastic changes, so instead she creates monthly
resolutions to improve her life as it is.
Gretchen's resolutions were basic things that we take for
granted: find more fun, be present in the moment, take time for yourself, show
proofs of love, and no nagging.She
breaks down each resolution in a way that is easy to follow, and you see how
they work out and where her shortcomings are. The information in this book is not anything
new or noteworthy. I saw so much of myself in the author and was able to take
her insight and transfer it to my own life. Who doesn't need a little more
happiness in their lives?
When I think of aliens, I think little green men exiting a spaceship. Not so in Mrs. O'Leary's Boarding House Aliens Only. Here aliens come in all forms including a cockroach, a kitten, a butterfly, and slime. A collection of five short stories set in Chicago in 1860, Mrs. O'Leary deals with alien guests with human problems. Each tenant had a different reason for being on earth and had an interesting story that ties back to the landlord. The characters were likable and described in a way that made you forget they were not human. It did not go unnoticed that one of the aliens was a cow living in Mrs. O'Leary's barn and makes you wonder if there was something outside of our universe whose intent was to start The Great Chicago Fire.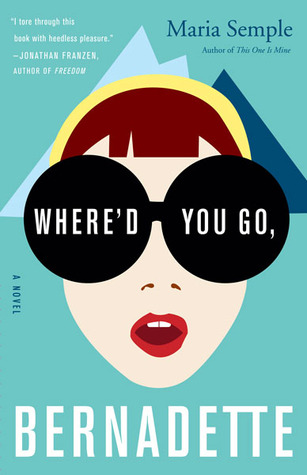 The majority of Where'd You Go, Bernadette, is told through several characters speaking through emails and other random correspondences
like doctor's bills, faxes and notes from school to each other. Bernadette was 30 years old
when she won an architecture genius award.
Her noteworthy project that won her award is destroyed and soon she
begins to fray. She moves out of Los Angeles to Seattle with her husband Elgie,
a Microsoft guru, and their daughter Bee. They move into a rundown house that
they intended to restore, that was once a former school for girls. The efforts
to restore the house are long abandoned, and the house continues to decay with
blackberry bushes coming up through the floorboards and water leaking through
the ceilings when it rains.
Bernadette suffers from agoraphobia and refuses to take part
in the community. Because of this, the charter school parental committee
resents her. Her condition is so bad she hires a virtual assistant from India. Bee,
who has overcame a congenial heart condition, is now a successful 8th
grade student at an upper crust charter school. Bee cashes in on a promise her
parents make, that she can have anything she wants for receiving straight A's.
She requests a family trip to Antarctica. Bernadette's thought of being confined on a
ship where she has to interact with people sends her into a frenzy, and her behavior
becomes more obnoxious in the community. She hates everything and everyone
except her beloved daughter, Bee. After
a series of mishaps, Bernadette reaches the breaking point and disappears. The narrative
then switches to Bee's perspective as she takes the lead in the search for her
mother.
While the plot is
wacky, it's also touching and uplifting. The characters are likable and the relationships
that develop make the story unique.
What are you reading? I'd love to hear your book suggestions!
Thanks for stopping by today!I've teamed up with some fabulous bloggers for a fall giveaway for a $260 Nordstrom gift card. Make sure you enter via the rafflecopter here!
Linking up with these fabulous bloggers here.