Disclosure: This shop has been compensated by Collective Bias, Inc. and its advertiser. All opinions are mine alone. #RelaxWithStressballs #CollectiveBias
We all have morning routines that jump start our day, but a smooth morning routine really starts the night before. Having an evening routine goes hand in hand with your morning one, prepping you for a good nights sleep and allowing you to be more productive the next day.
One of the things that have made a significant impact on my morning and evening routines are Stressballs, a new gummy herbal supplement that's rooted in stress management. Stressballs help keep stress levels in balance all day and all night by providing natural remedies in a drug-free, habit-free naturally flavored herbal blend.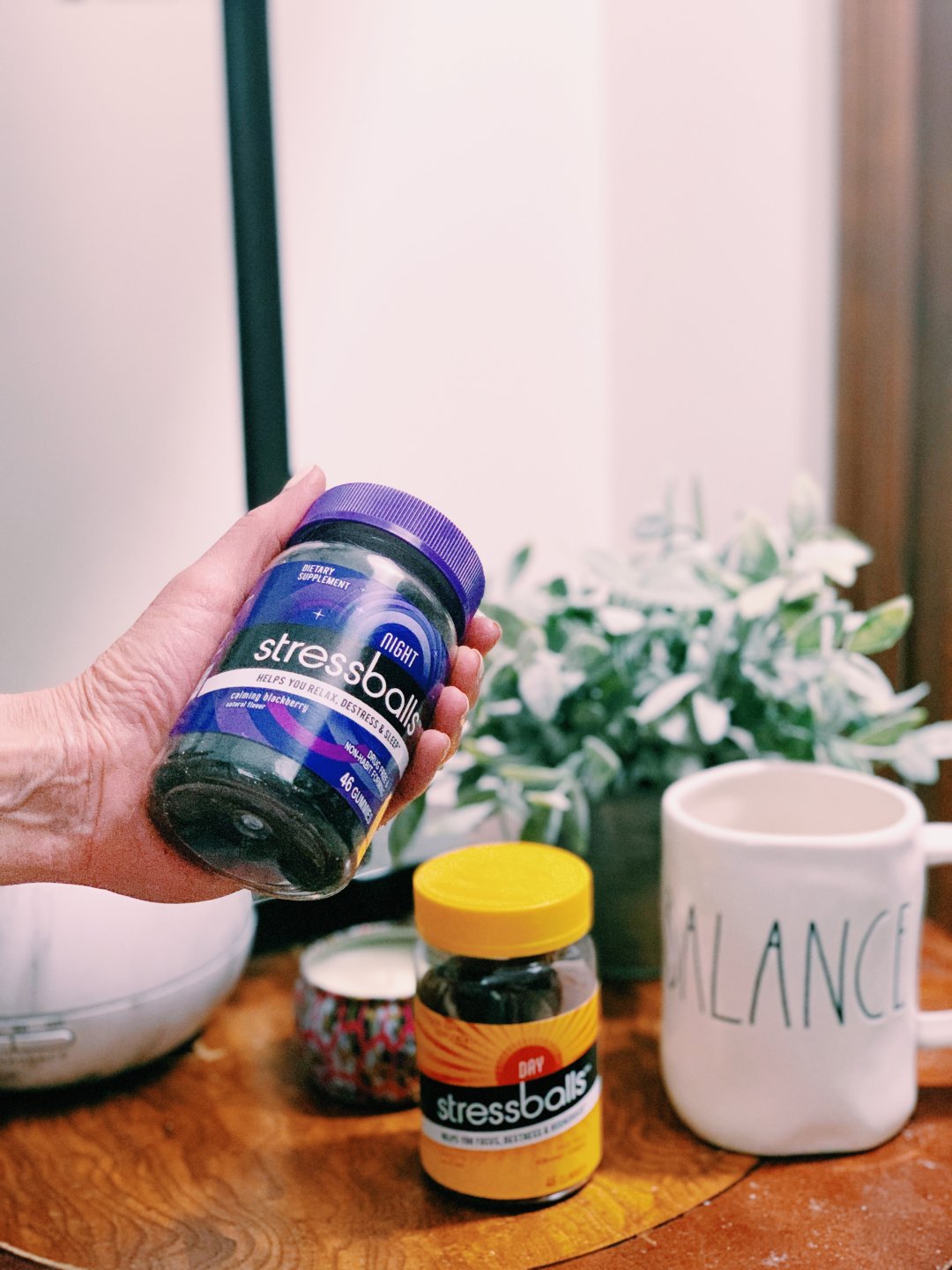 Interested in trying out Stressballs? Hover over the photo to click through and purchase at Walmart!
Stressballs Day helps keep you focused and centered so you can manage daily stressors and stay on track. They also re-energize you naturally without caffeine!  Stressballs Night helps your brain and body know it's time to rest so you can calm your nerves, relax and get a good nights sleep without next-day grogginess. They are exclusive to Walmart, and I was quickly able to find them in the vitamin and supplement aisle.
We all dread the morning rush, and being lazy in the evening contributes to a hectic morning. Planning ahead for the next day helps us stay on top of things and make our mornings less stressful. Here are some simple things I do every night an hour before bed that has helped me wind down and make a big impact on my morning.
Put things back in their place.
Take a few minutes to fold the throw blankets, put away books, magazines, etc. and tidy up.
Load/start the dishwasher and wipe down countertops.
There's nothing worse than walking into a dirty kitchen in the morning. Set up the coffee maker so you can wake up to the wonderful smell of freshly brewed coffee.
Look at your schedule.
Remind yourself of any appointments and make a list of the top things you need to get done the next day such as phone calls you have to make or errands you have to run.
Pick out your outfit for the next day.
Getting dressed in the morning can be hard some days. Avoid staring blankly into your closet in the morning and pick out a few outfit choices for the next day.
Stretch for 5 -10 minutes.
Stretching improves your bodies blood flow and releases tension, which leaves your muscles feeling sleepy and relaxed.
Take your vitamins and supplements.
I take Stressballs Night gummies right before bed to relax and let my brain and body know it's time to rest. They help manage the stresses of the day that you want to put behind you with no next day grogginess.
Get ready for bed.
Get into your pj's, do your nightly skincare routine, brush your teeth. If I wait to do this, I get sidetracked end up staying up even later.
Read a book or listen to a podcast for 15 minutes.
Reading also helps your muscles relax and slows down your breathing so you feel calmer and can fall asleep easier.
Self-care time.
Whether it's slathering on a rich body lotion or foot cream, adding some lavender essential oil in your diffuser or spritzing a little pillow spray, give yourself a mini pampering dose.
Lights out! What is your nightly routine? Let me know in the comments!
As always, thank you for reading!
Linking up here.
Follow along!
Instagram | Bloglovin | Pinterest | Facebook | Feedly | LIKEtoKNOW.it
This statement has not been evaluated by the Food and Drug Administration. This product is not intended to diagnose, treat, cure, or prevent any disease.