Did you have a good weekend? I swapped out my summer clothes for my fall and winter and ended up with another pile for Goodwill. I want to hold on to summer as long as I can, and I'm hoping we'll still have a warm day here and there, but I love fall fashion and am looking forward to cozy sweaters and booties. A closet inventory was on the to-do list but didn't happen and will have to wait until October. And, since it's the end of the month, it's time to share my September purchases. My budget is $75/month, and while I've been spending quite a lot of time online looking at things I want to buy, I haven't pulled the trigger on much.
September Purchases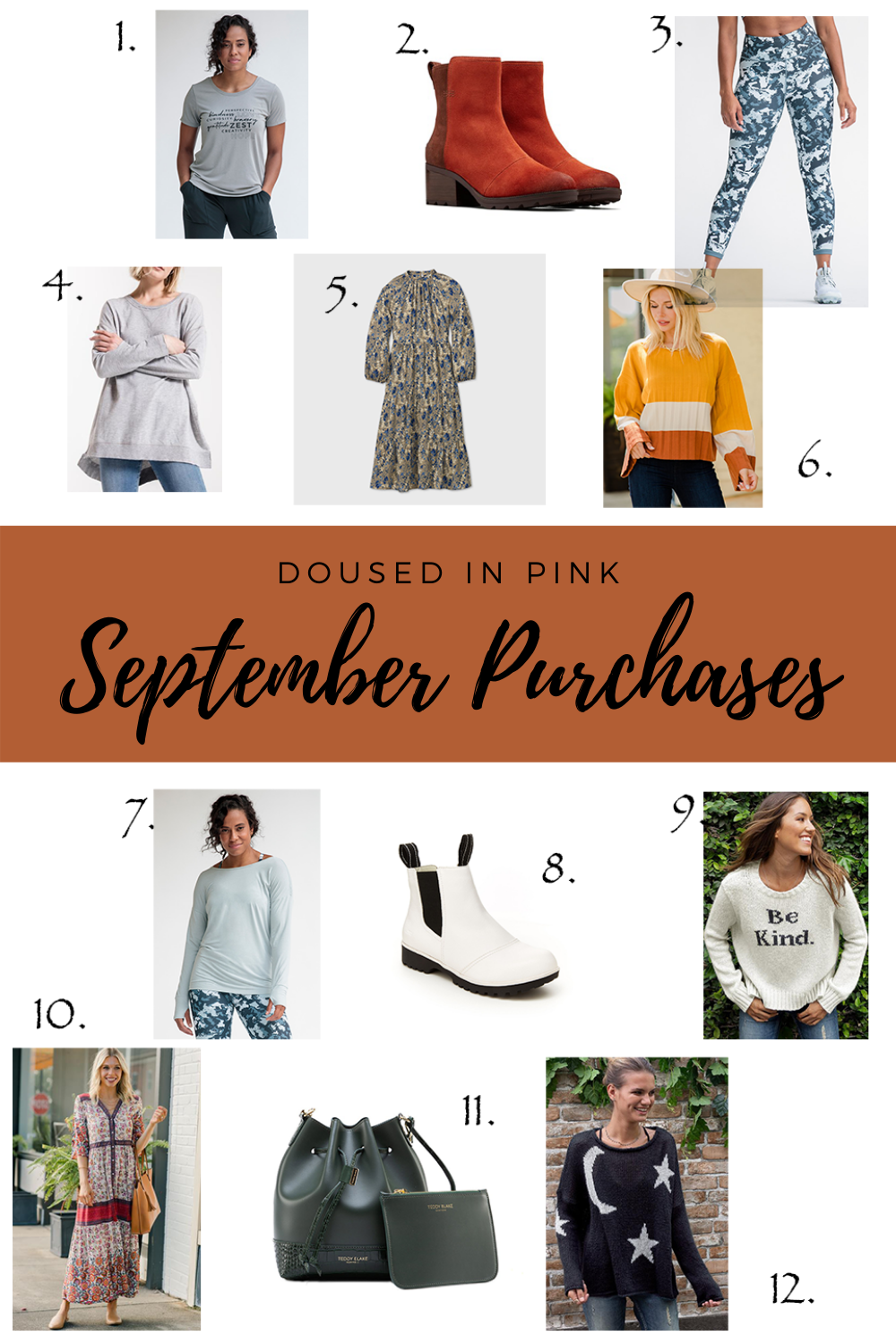 Are you like me and dress up to go to the grocery store, the mailbox, or just because? When I saw this printed floral dress at Target, I knew it would be perfect for fall and something I would wear often. I styled it with a leather jacket and booties for dinner out with friends a few weeks ago and dressed it down with my Adidas sneakers for running errands. I wore the mixed print maxi dress as a duster with shorts but haven't worn it as a dress yet.
These Sorel booties are probably my favorite purchase of the entire year. I found them while we were in Newport over Labor Day weekend, and they were a steal at $59.50, marked down from $170.
1 – Flex Tee c/o Peach
2 – Sorel Bootie $59.50
3 – Camo Leggings c/o Peach
4 – Tunic Sweater c/o Mint Julep
5 – Printed Floral Dress $28.25
6 – Colorblock Sweater c/o Mint Julep
7 – Thumbhole Top c/o Peach
8 – White Eagle Booties c/o Jambu
9 – Be Kind Sweater c/o Wooden Ships
10 – Mixed Print Maxi Dress c/o Mint Julep
11 – Bucket Bag c/o Teddy Blake
12 – Star & Moon Sweater c/o Wooden Ships
Total: $87.75 
I went over budget again this month, but I ended up returning the Barefoot Dreams Cardigan that I bought in August. It was the exact color as my old one and didn't make any sense to have a duplicate. So, $68.90 went back into my budget!
What's on your October wishlist?
As always, thank you for reading! Stay healthy and safe!
If you liked this post, you can subscribe here or follow me on Feedly | Bloglovin | Instagram | Pinterest | Facebook
Linking up here.