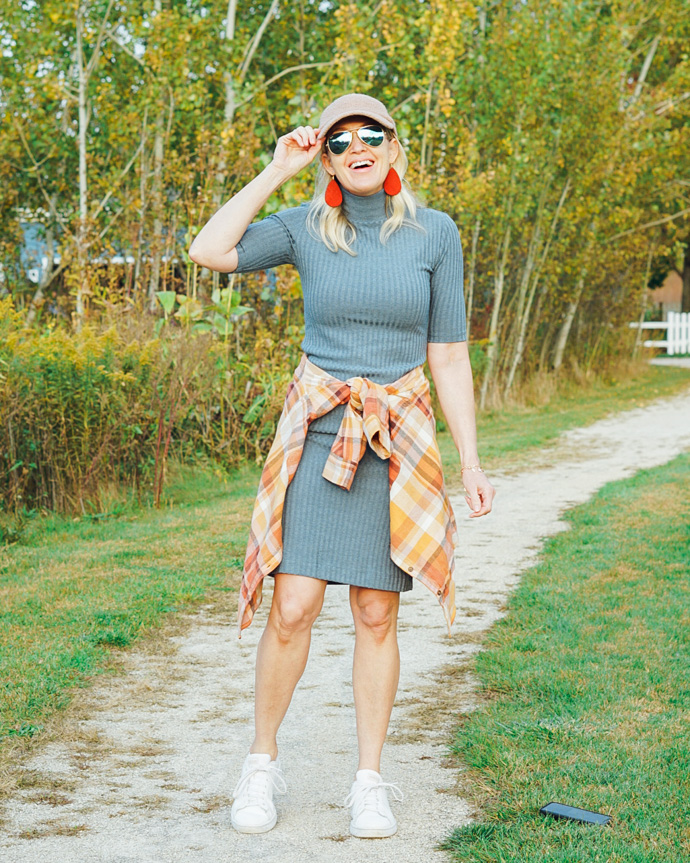 If you've read my blog for a while, you know one of my foolproof outfit combos is a dress and sneakers. It's an outfit that will always look good no matter the season. And in the fall or even early spring, it's a nice change from your jeans, sweater and booties look. So, today I'm styling a sweater dress with sneakers for a casual, cool-girl outfit.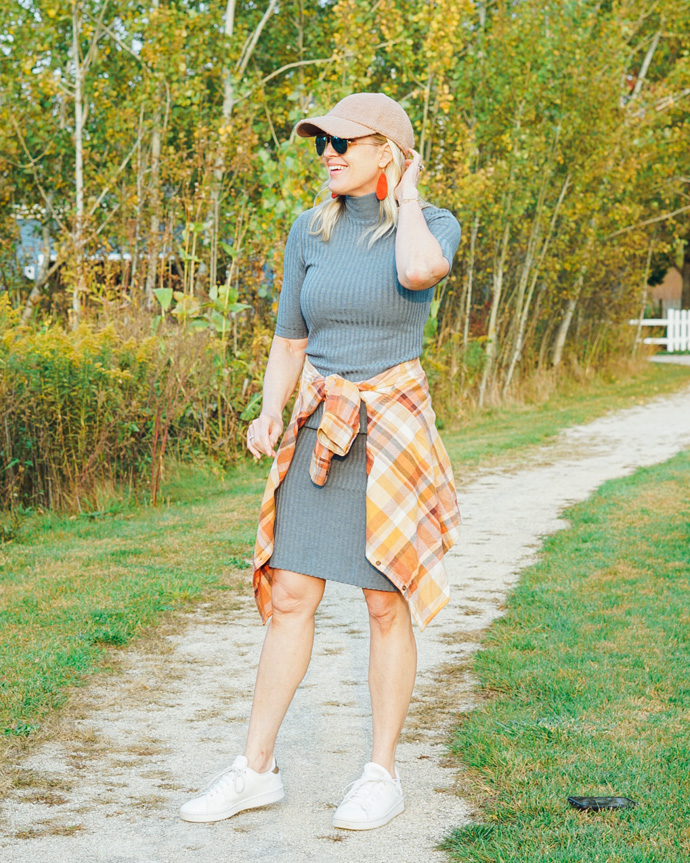 Dress c/o Peach | Flannel | Baseball Hat| Sneakers | Earrings |
How to Wear a Sweater Dress with Sneakers
I think sweater dress outfits with sneakers are one of the most chic fall fashion choices you can make. But I know that a lot of people have mixed feelings about wearing sneakers with dresses.
So before we get into some actual sweater dress outfit ideas, let's take a few moments to bust some myths about dresses and sneakers, OK?
Are dresses with sneakers really a thing?
Yes, yes they are! Look around and you'll see lots of people wearing sneakers with dresses these days. And it's not just teenagers, either! Pairing sneakers with a dress is a great way to style a casual dress and stay comfortable all day.
Pair a sundress with yellow sneakers in the summer or try a plaid dress with sneakers for a fun holiday outfit. And of course, wearing a sweater dress with sneakers is a great fall outfit idea.
Do you wear socks with sneakers and a dress?
You're not alone if you're a little mystified by socks and sneakers. It seems the trends are always changing on this front! One day socks are worn so low they cannot be seen and another day your teenager is pulling their socks half-way up their calves.
So when it comes to wearing a sweater dress with sneakers…should you wear socks? I recommend not wearing socks or wearing no-show socks when you're creating sweater dress outfits with sneakers.
If you wear socks that show above your sneakers, it really draws the eye to the top of the sock, breaking up the line of your leg and making your legs appear shorter.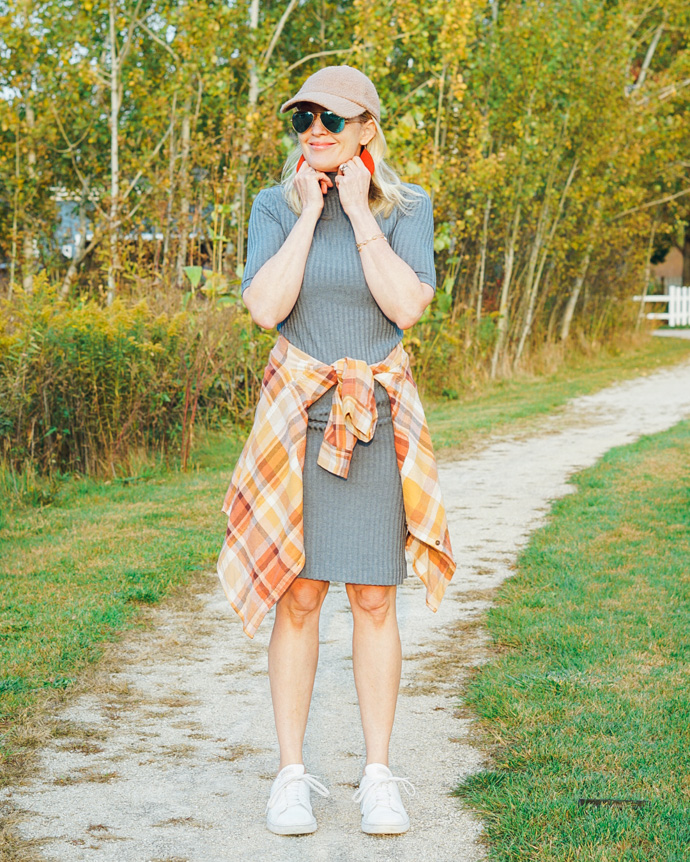 Dress c/o Peach | Flannel | Baseball Hat| Sneakers | Earrings |
Can I wear sneakers with a dress to a party?
Yes, absolutely! In fact, sneakers with a sweater dress is going to be a key part of my fall and holiday party outfit rotation.
I find that one of the hardest things about dressing for a party is trying to balance looking cute and stylish without being too dressy. Wearing a sweater dress with sneakers is the perfect combination to look dressed up, but not too much.
I love the idea of pairing a classic black sweater dress with plaid sneakers or even shiny or metallic sneakers for a holiday look. A deep red sweater dress with sneakers would also be a gorgeous choice for Thanksgiving or Christmas.
How do you pair sneakers with outfits?
This is one of the most overwhelming parts of learning how to wear a sweater dress with sneakers. How do you know which sneakers go with which dresses, and vice versa?
Luckily, it's really not as hard as it might seem. These are some of the things I think about when putting together a sweater dress outfit with sneakers:
Do I want my shoes to stand out or blend in? Consider the color of the sweater dress you're wearing and then think about whether you want the dress or the shoes to be the focal point of the outfit. If you want the dress to really shine, choose shoes in a similar color or a classic neutral. If you want the shoes to stand out, consider a contrasting color or something with an interesting pattern or texture.
What prints am I wearing? If you're wearing a printed sweater dress, then it's a good idea to keep your sneakers more simple. Pair a leopard print sweater dress with a pair of brown leather sneakers or black sneakers, for example. If you want to wear statement-making sneakers, on the other hand, go for a more simple, classic sweater dress in a solid color.
How dressy or casual do I want this outfit to be? If I'm going for a dressier look, then I'll reach for sneakers with an elevated look. Leather sneakers are always a great choice, as are patent leather sneakers or sneakers that have a metallic look. If I want my outfit to be more casual, then a classic pair of canvas sneakers or athletic sneakers are probably the right choice.
Sweater and Sneaker Outfits To Try
Now that we've gotten all those questions out of the way, let's take a look at some sweater dress outfit ideas you can try this fall. We'll start with my personal favorite – one you'll catch me in a lot this fall and winter!
Peach Mendoza Sweater Dress Outfit Idea
I love a one and done dress and this mock neck sweater dress from the Peach Fall Collection is no exception. A sweater dress is super versatile, and this one is also ultra-cozy. The blue-grey color is gorgeous, and the rib-knit looks flattering on every body type. It's the perfect workwear addition to your closet, whether you are going into the office or working from home.
Styled casually, this sweater dress with tennis shoes outfit will take you from running errands to brunch with friends. You can easily take this sweater dress and sneakers outfit from day to night by swapping out the sneakers for booties and adding a leather jacket. When the temps really dip, it will look great with a cozy cardigan layered over it and OTK boots.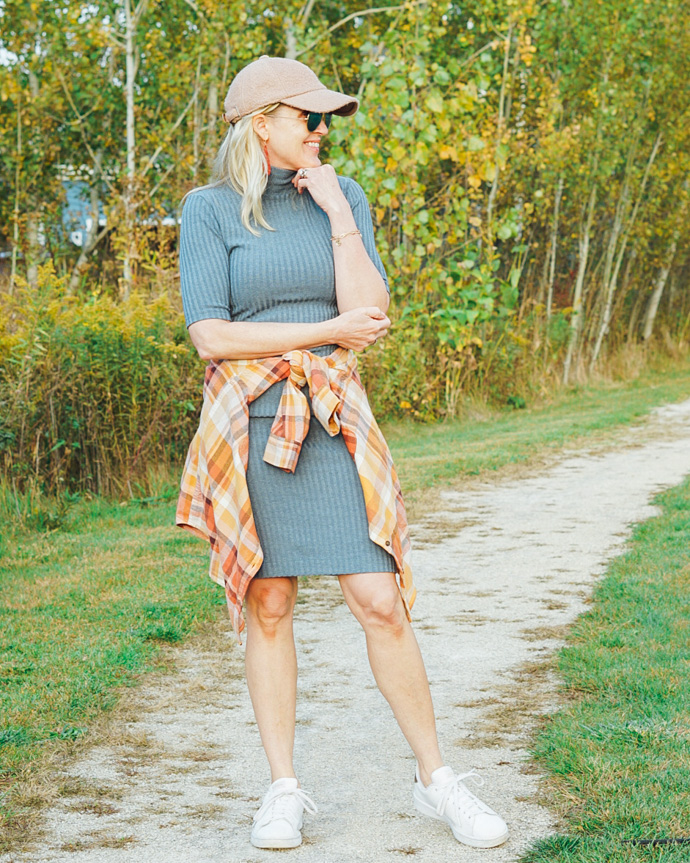 Dark Gray or Black Sweater Dress Outfit Idea
I love a classic black sweater dress because it is just so versatile! It can easily be paired with a pair of statement sneakers for a chic and elevated party look (that is still comfortable). Or, a black sweater dress could go with a classic athletic shoe like Adidas or Converse sneakers for a more casual look. A dark charcoal gray sweater dress is also a great alternative to classic black.
White Sweater Dress Outfit Ideas
A white dress is another great starting point for sweater dress outfits with sneakers. Whether you're wearing bright white or a winter white sweater dress, there are so many options for pairing it with sneakers.
I love the idea of an all-white look and pairing it with bold accessories like larger jewelry, a hat or even a plaid shacket. But a white dress is also a great opportunity to wear a pair of brightly colored sneakers or sneakers with a bold pattern.
This would be a really fun holiday party outfit or even a winter bride outfit for a bridal shower or rehearsal dinner.
Casual Outfit Idea: What to Pair with a Sweater Dress with Sneakers
The ultimate sweater dress and sneakers outfit needs the perfect accessories. Since the temps seem to change every hour where I am in Chicago, I added a flannel tied around my waist for the cool-girl factor when building this sweater dress outfit. It can easily be worn as a layer if I get cold and tied at the waist.
My baseball hat has been a fall staple in my closet for years, and Adidas sneakers give this outfit a sporty vibe. Adidas are my favorite sneakers because they really work well with so many outfits.
If I were going for a slightly less casual look, I'd consider a felt or suede wide-brim hat in a neutral color and pair with leather sneakers. Adding a scarf or some statement jewelry is always a good touch to a sweater dress outfit, too!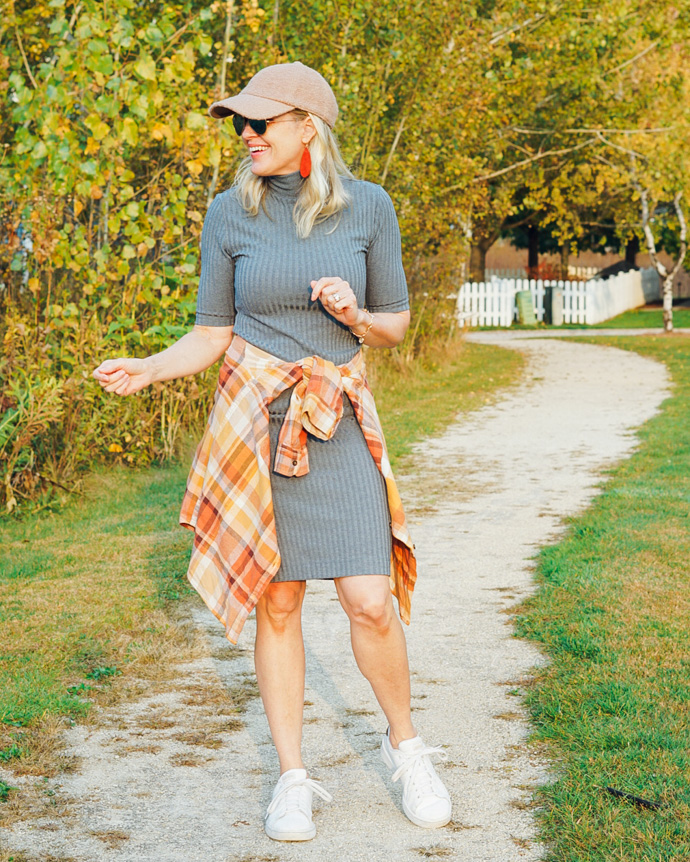 Dress c/o Peach | Flannel | Baseball Hat| Sneakers | Earrings |
Ready to build your own outfit featuring a sweater dress and sneakers? Head on over to my Amazon storefront for lots of tried and true fashion favorites.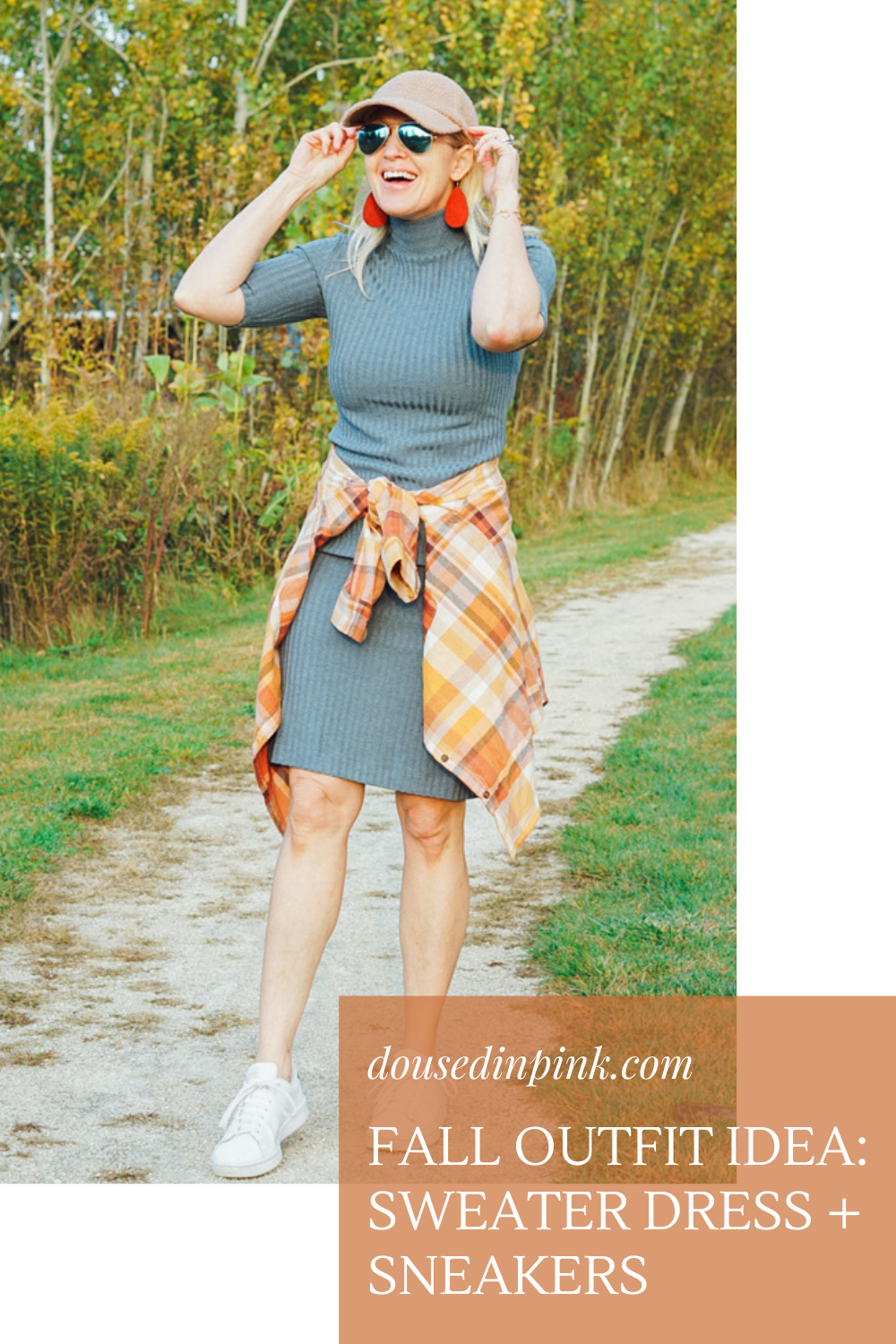 As always, thank you for reading! Stay healthy and safe!
If you liked this post, you can subscribe here or follow me on Feedly | Bloglovin | Instagram | Pinterest | Facebook
Linking up here.