Did you have a fun Halloween weekend? We had beautiful weather on Saturday for trick or treating with temps in the 50's. Completely opposite of last year when we had our first snow. Our neighborhood had trick or treating so we left candy in a bowl on our porch so the kiddos could help themselves. Can you believe it's November? With Halloween behind us, it's time to kick off my holiday gift guide series. I'll have a new gift guide for you every Monday starting today! While the holidays will be a little different this year we'll still have smaller celebrations, so today, I'm kicking it off with the best holiday hostess gifts. These ideas would also be great for your teachers, neighbors, and your Thanksgiving hostess too!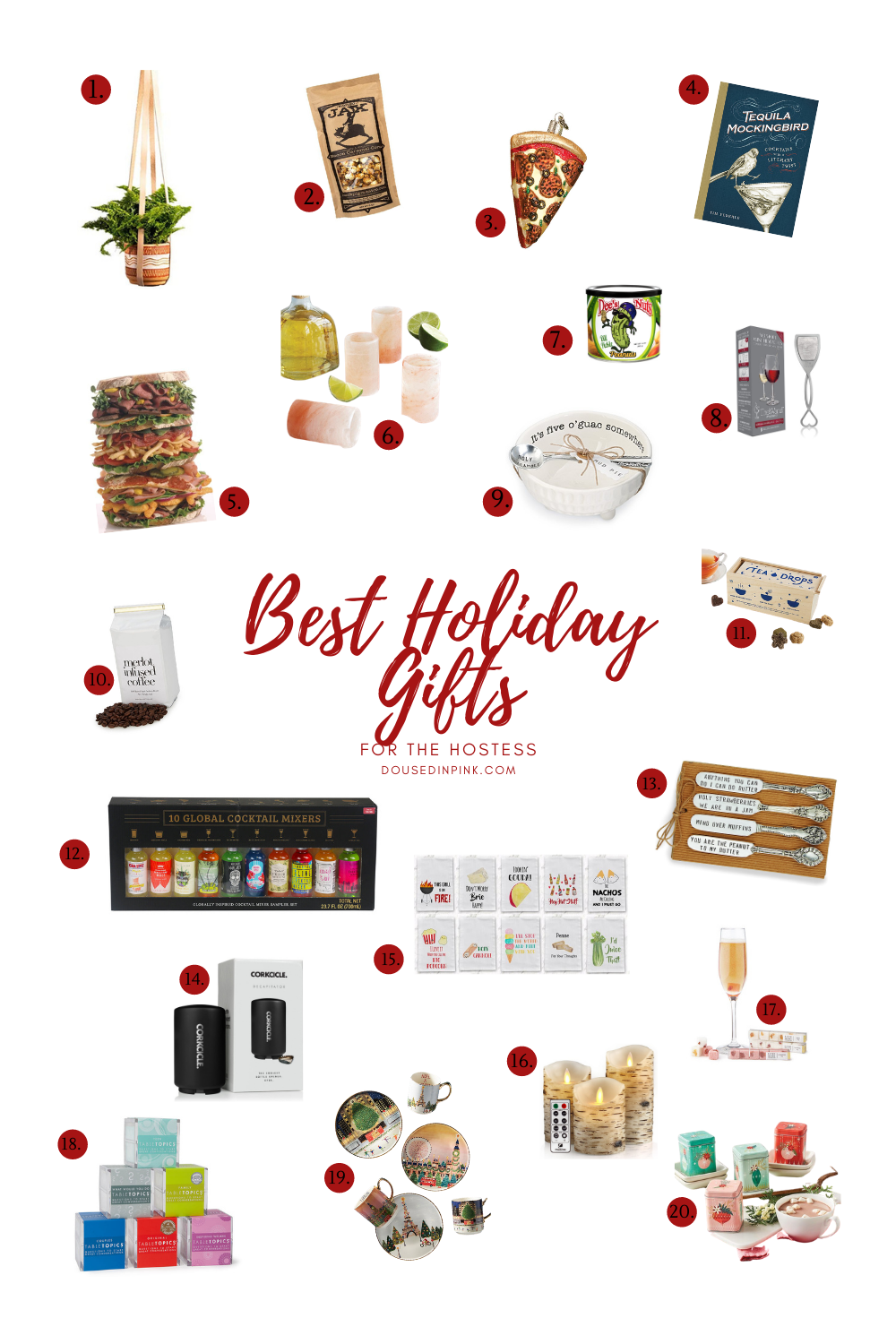 Best Holiday Gift Ideas for the Hostess
1 – Alta Andina Leather Plant Hanger
2 – Bacon Toffee Caramel Popcorn
4 – Tequila Mockingbird Cocktail Book
5 – Snack Stack 500 Piece Jigsaw Puzzle
6 – Himalayan Salt Tequila Glasses
7 – Dill Pickle Flavored Gourmet Peanuts
8 – Wand Wine Filter
11 – Tea Drops
13 – Spreader Set
14 – Bottle Cap Opener
15 – Foodie Tea Towels
16 – Birch Bark Battery Candles
17 – Minute Mimosa Sugar Cube Trio
18 – Table Topics
19 – Christmas Time In The City Dessert Plate
20 – Holiday Hot Chocolate Tin Collection

I hope this post gave you some ideas for the best holiday gifts for the hostess. My sweet friend Andrea from Living on Cloud Nine is sharing her Amazon holiday gift guide today! Make sure to go check out all of her fabulous gift ideas from Amazon!
As always, thank you for reading! Stay healthy and safe!
If you liked this post, you can subscribe here or follow me on Feedly | Bloglovin | Instagram | Pinterest | Facebook
Linking up here.