Buying gifts for the men in our lives can be hard sometimes. Do you agree? My husband definitely is. He usually wants expensive electronics or concert tickets. I put together some fun and unique gifts that he will use and are husband approved! Whether you're looking for a gift for your husband, boyfriend, dad, brother, or son, I've got you covered. These holiday gifts are for all the guys in your life and he is sure to appreciate.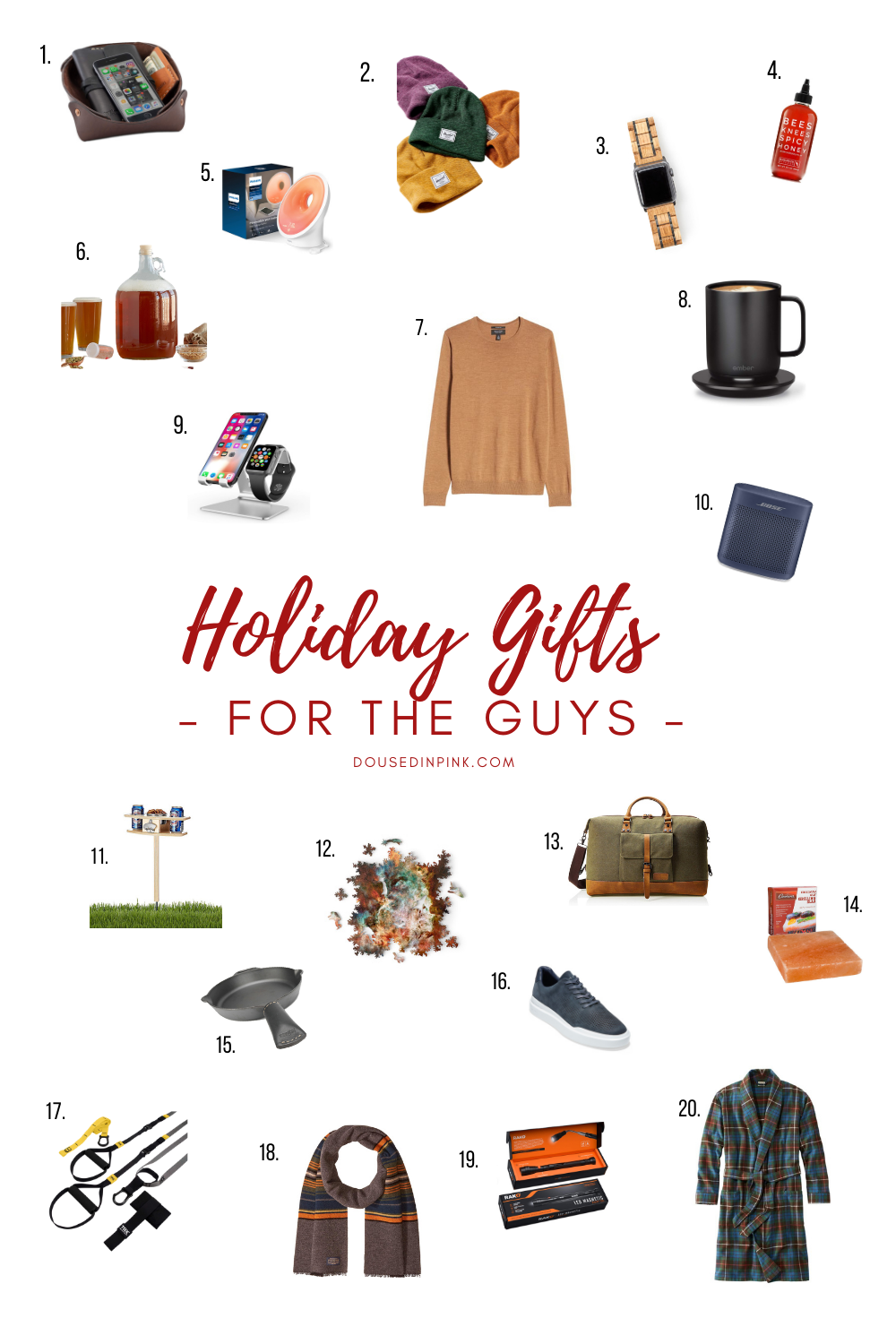 1 – Alta Andina Leather Catchall
2 – Herschel Supply Co. Beanie
3 – Wine Barrel Apple Watch Strap
4 – Bushwick Kitchen Bees Knees Spicy Honey
5 – Philips SmartSleep Connected Sleep and Wake-Up Light
6 – West Coast Style IPA Beer Brewing Kit
7 –Crewneck Merino Wool Sweater
8 – Temperature Control Smart Mug
11 – Outdoor Beer Table
13 – Leather and Canvas Duffle Bag
14 – Himalayan Pink Salt Slab Block
15 – Alta Andina Leather Skillet Handle Cover
16 – Cole Haan Sneaker
17 – TRX GO Suspension Trainer System
18 – Muffler Scarf
20 – Plaid Robe

I hope my holiday gifts for guys gave you some shopping ideas for the men in your life!
My sweet friend Andrea from Living on Cloud Nine is sharing her gift guide on all things cozy today her blog today! Make sure to go check out all of Andrea's fabulous cozy gift ideas too!
As always, thank you for reading! Stay healthy and safe!
If you liked this post, you can subscribe here or follow me on Feedly | Bloglovin | Instagram | Pinterest | Facebook
Linking up here.