Are you a Sephora Beauty Insider? Beauty products rarely go on sale and the Sephora Holiday Savings Event started October 30th! I love trying new products and I look forward to the Sephora sale every year. There are 3 tiers of Beauty Insiders – Rouge get 20% off 10/30 – 11/9, VIBs get 15% off 11/3 – 11/9, and Insiders get 10% off 11/5 – 11-9. If you're not a Beauty Insider, don't worry, you can sign up for free and take advantage of the sale. Beauty Insiders also get a free birthday gift, dollar savings offers, sample rewards, and exclusive events. Use code HOLIDAYFUN at checkout.
This is a great time to stock up on your best-loved brands or invest in those higher pricetag products you've wanted to try. It's also a good time to start checking off your holiday shopping list. To give you some ideas, I've rounded up my 10 favorite items in the Sephora Holiday Savings Event. I've got a mix of my tried and true favorites and a few new products that are on my wishlist to try (like Olaplex haircare and Jo Malone fragrance).
Sephora Holiday Event Picks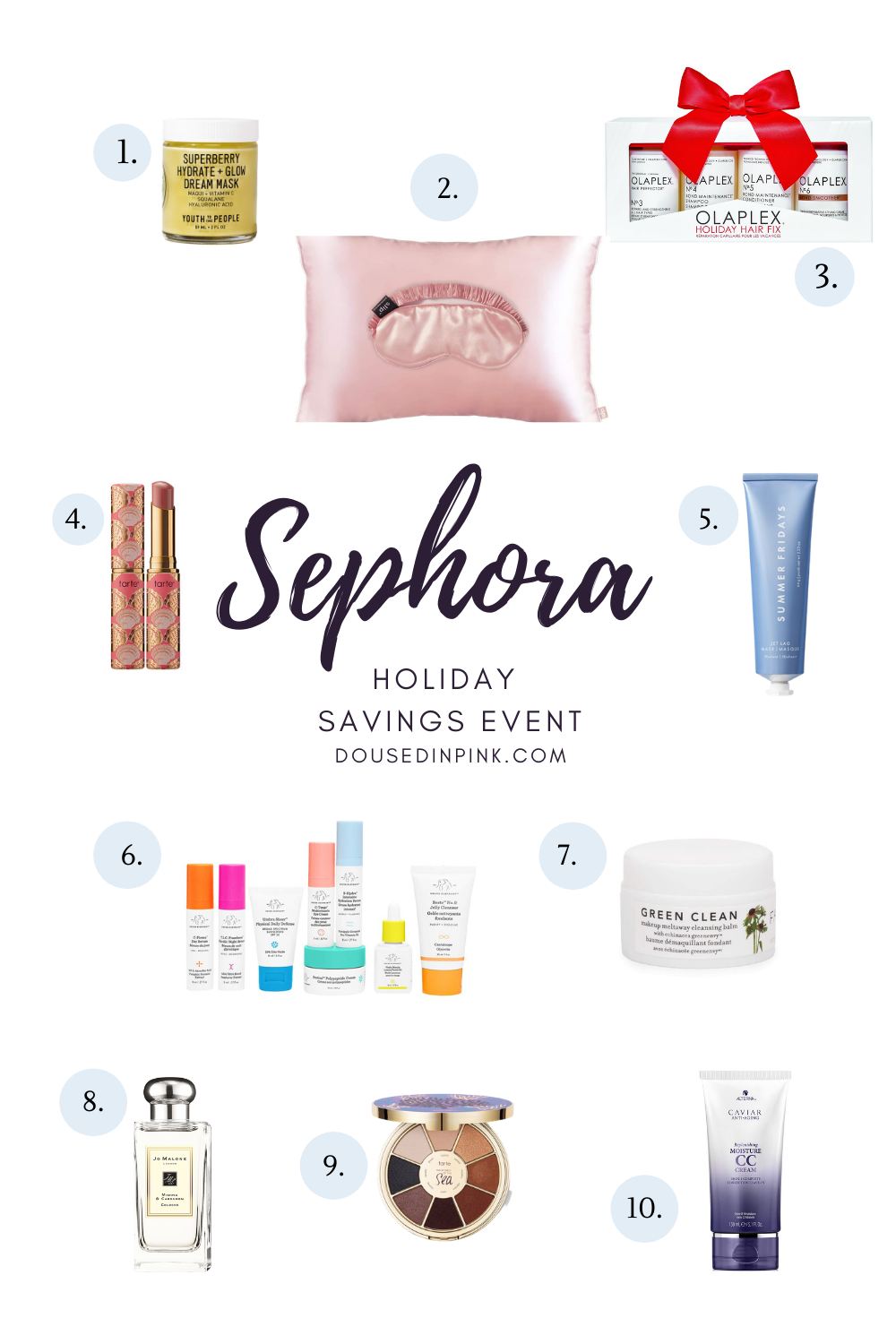 1 – Youth to the People Superberry Hydrate + Glow Mask
4 – Tarte SEA Quench Lip Rescue Balm
5 – Summer Friday's Jet Lag Mask
7 – Farmacy Green Clean Makeup Removing Cleansing Balm
8 – Jo Malone Mimosa & Cardamom Cologne
9 – Tarte SEA Eyeshadow Palette
10 –CAVIAR Anti-Aging® Replenishing Moisture CC Cream
What are you buying from the Sephora Holiday Savings Event?
Shop the post:

As always, thank you for reading! Stay healthy and safe!
If you liked this post, you can subscribe here or follow me on Feedly | Bloglovin | Instagram | Pinterest | Facebook
Linking up here.