I feel like I blinked and November was over. What should have been a fun birthday month turned out to be a not so great month for me. My husband and I spent most of the month in quarantine with COVID, and that coincided with our daughter coming home for Thanksgiving break and having to stay at a hotel until we were in the clear. I am so happy, though, that she'll be home until the end of January. I think it was a good choice for her school not to have them come back after Thanksgiving and finish the semester online. Since it's December 1st, it's time to share my November purchases. My clothing budget is $75/month, and posting what I buy helps keeps me accountable.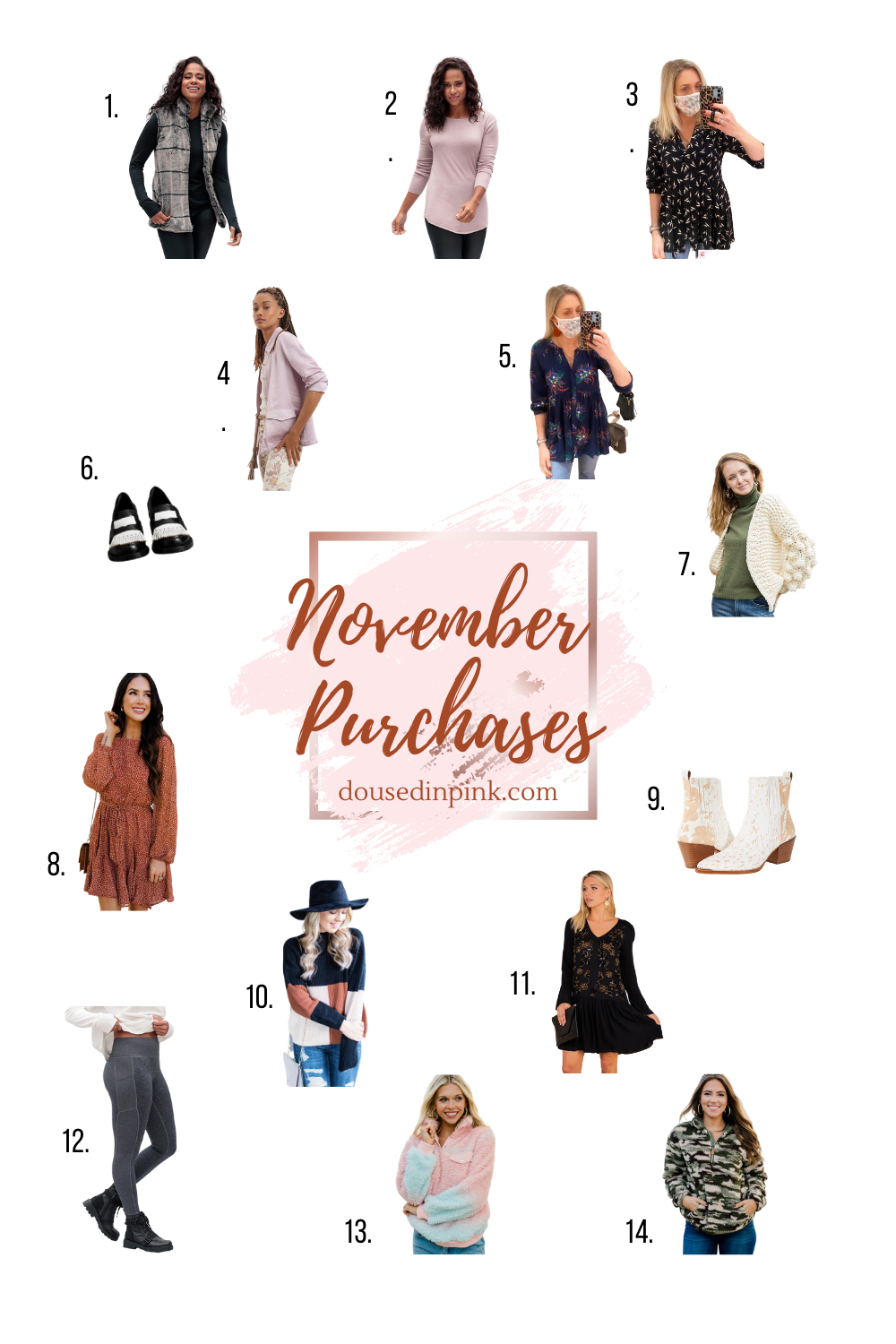 3 – Tunic Top $6.99
5 – Tunic Top $6.99
6 – Loafers $160.00
7 – Bauble Sleeve Cardigan c/o SAACHI
9 – Calf Hair Booties – birthday gift
10 – Colorblock Sweater c/o Mint Julep
11 – Embellished Dress c/o Mint Julep
12 – Leggings c/o Peach
13 – Ombre Sherpa Pullover c/o Mint Julep
14 – Camo Sherpa Pullover c/o Mint Julep
Total: $215.98
Yep, my November purchases are over budget by $140. I was doing great this month until Small Business Saturday. Shoes are my weakness, and when I discovered these shoes at a resale shop, I splurged. They were new, never worn, and 80% off.
Speaking of shoes, I also forgot to add two pairs of shoes I bought last month to my October purchases. I won a Nordstrom gift card from Lisa at Daily Style Finds and got this pair of snake print slingbacks and these suede slingbacks for $27 out the door! That brought my October total to $78.
I'm really going to have to try not to buy anything in December and January to make up for my shoe purchase this month. But I have to say, with all of the great Black Friday and Cyber Monday sales, I didn't stray and only purchased gifts for my family. What did you buy over the weekend?
As always, thank you for reading! Stay healthy and safe!
If you liked this post, you can subscribe here or follow me on Feedly | Bloglovin | Instagram | Pinterest | Facebook
Linking up here.