Hey friends! Did you have a nice weekend? Saturday was glorious with sunshine and the temperature hitting 50 degrees. Watching the melting snow has never made me happier. A long walk around the lake was in order, followed up with homemade pizza and the movie, The US vs. Billie Holiday (which was so good, by the way). I shared a spring Old Navy try-on haul in my stories and got your input on keeping and returning. Narrowing down your haul and deciding what's a keeper is never easy, and I appreciate your feedback! Speaking of shopping hauls, today I'm sharing my February purchases.
My annual clothing budget is $1200. Instead of meeting a monthly goal for 2021, I am subtracting from my annual budget each month. Where I end up at the end of the year will be interesting to see. It's tempting to make impulse buys when you follow so many amazing bloggers and accounts on Instagram. But I was off to a great start in January and didn't buy anything. Partly because I had gone over budget in November and December and partly because I was in a funk and nothing spoke to me. Anyway, here's what I added to my closet in February.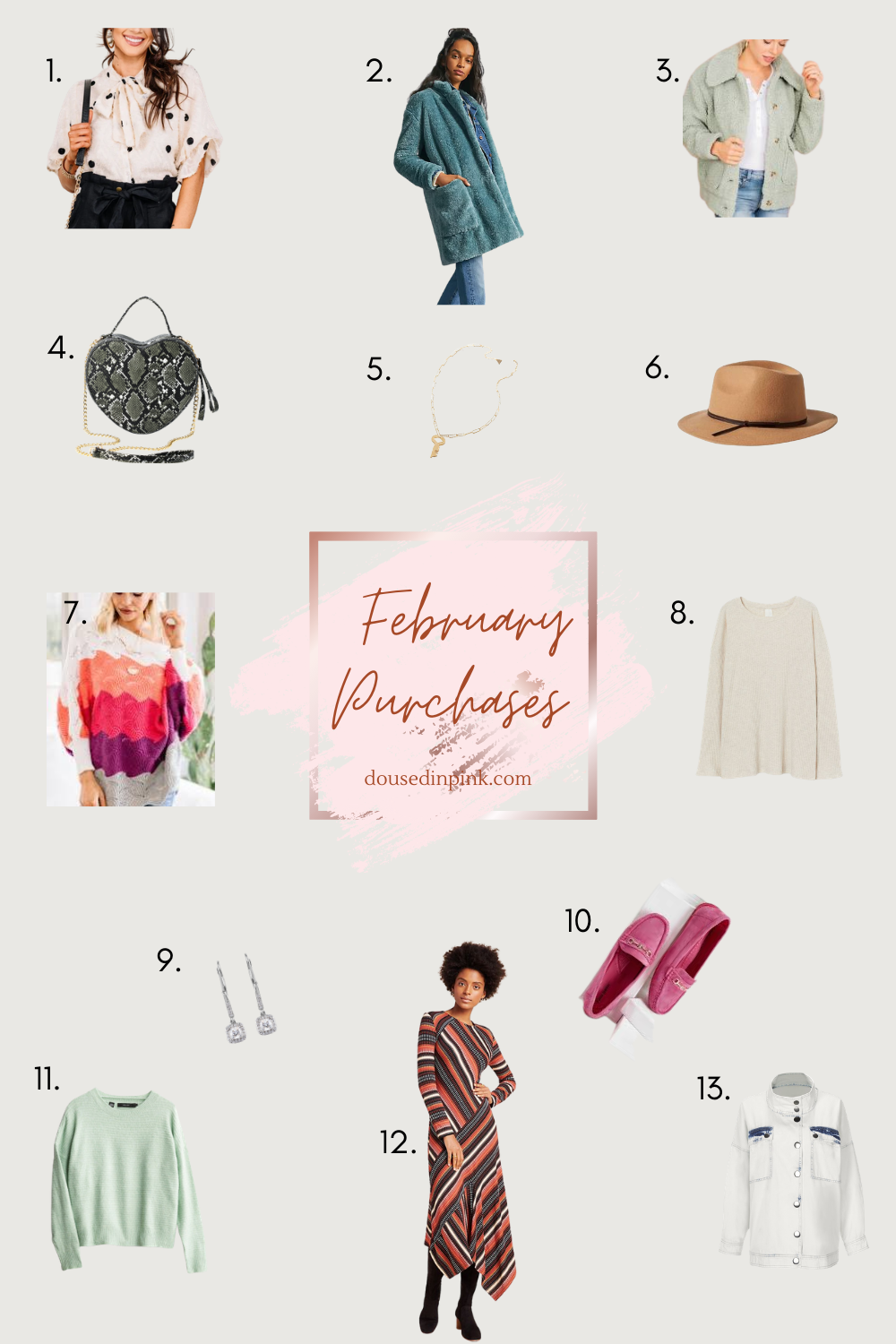 February Purchases
1 – Polka Dot Blouse c/o Mint Julep
2 – Mint Green Sherpa Jacket c/o Mint Julep
3 – Blue Faux Fur Coat $ 65.96
4 – Snakeskin Heart Shaped Crossbody c/o Shop LC
5 – Key Pendant Necklace $13.71
6 – Fedora $13.71
7 – Colorblock Sweater c/o Mint Julep
8 – Ribbed Pullover $22.49
9 – Moissanite Drop Earrings c/o Shop LC
10 – Pink Loafers $16.99
11 – Mint Green Sweater $29
12 – Striped Midi Dress $25
13 – Acid Wash Jacket c/o Cabi
Total: $186.86
Do you make a wishlist of things you want to buy? I do for Anthropologie, and then wait until the items are on clearance with an additional percentage off before I buy. I figure that there will always be something I want, so it wasn't meant to be if it sells out. Poshmark is a great source to find those sold-out pieces. I was able to score my striped midi dress that originally retailed $150 for $25. With the weather starting to warm up, I'm going to be on the hunt for some spring dresses next month. My daily uniform usually consists of jeans, so I'll be looking for a few new pairs as well. What's on your wishlist for March?
Shop My February Purchases:

Thank you for reading!
If you liked this post, you can subscribe here or follow me on Feedly | Bloglovin | Instagram | Pinterest | Facebook
Linking up here.