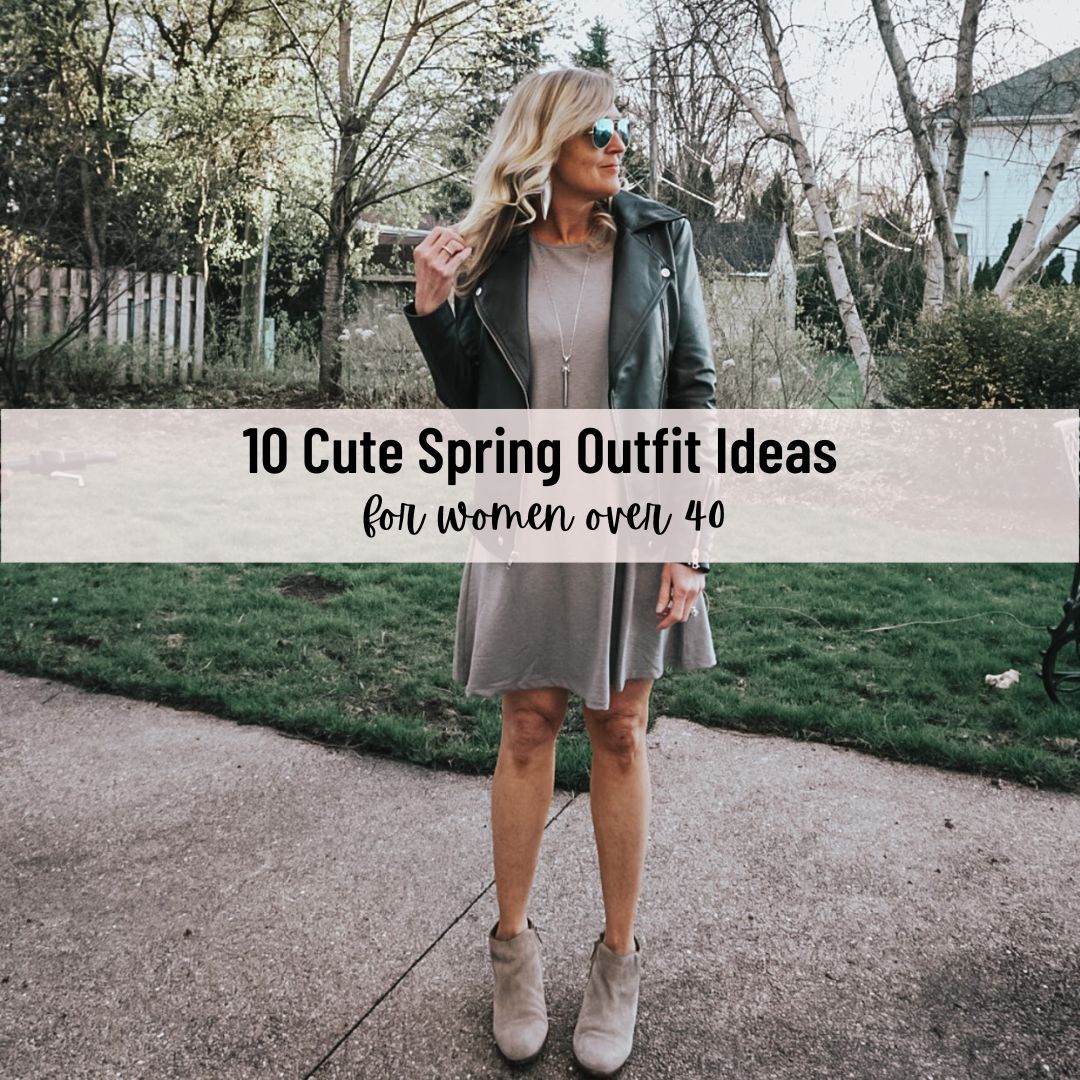 Hello Spring! As I'm writing this, I'm lounging on our sectional with all the windows open, AND it's 7 pm and still light out. I think mother nature has finally gotten the memo, and warmer days will be trending ahead. On the other hand, I live in Chicago, and there's a 90% chance it will snow one more time before May. Either way, fresh air, and late sunsets make me smile. Today, I wanted to look back at popular spring posts and feature spring outfits for women over 40 that you can wear now.
I've got you covered with lots of options to create a great spring outfit. From boho to animal print tunic tops, white denim, and fun palazzo pants, camo prints, neutrals, and brights, these were reader favorites in previous seasons. I hope these combinations inspire you and help you create the perfect spring look.
Spring Outfit Ideas for Women
Early Spring Outfit
Style a carefree look with a light, airy printed blouse and step-hem pants. The step-hem is the mullet of pants and jeans, adding interest to the cropped length. Pair with sandals if the weather is warm enough. Otherwise, this outfit would look great with booties or oxfords too. Add a hat for more boho vibes.
Flare Pants Outfit Ideas
To pull off an early spring outfit when it's cold, you want to wear pieces that have a spring vibe yet are still cozy. Try a soft pastel sweater paired with a lighter pair of pants or denim. I paired a lighter-colored sweater with white flare pants and closed-toe espadrille flats for this look.
Casual Spring Dress
An easy way to wear your favorite spring and summer dresses when it's still cold outside is to add layers so they will feel cozy. Wearing a lightweight, long sleeve tee under a sleeveless dress and topping it with a lighter-tone jacket, like this suede moto jacket, is the perfect way to add some warmth to the outfit.
White Pants in Spring
A slightly oversized sweater is perfect when you want a casual yet simple and stylish look. I played with contrasting hues and textures for this outfit by styling a darker knit sweater with white cropped jeans and open-toed boots.
Spring T-Shirt Dress
A tee-shirt dress is perfect to throw on for daily wear in the spring, summer, and even transitioning into fall. They're also extremely comfortable and easy to dress up or down. I kept this look simple by styling a tee-shirt dress with sneakers and a baseball hat.
White Jean Outfits for Spring
Black and white is one of the most classic color combinations and a no-fail formula when you don't know what to wear. I love the contrast between black and white and took it a step further by styling my leopard sleeve top with neutrals.
Spring Dress with Sneakers
Do you feel like when spring arrives, so does the need for a new dress? I love a one-and-done outfit, and one of my foolproof outfit combos is a dress and sneakers. It's an outfit that will always look good, no matter the season. And in early spring, it's a nice change from your jeans, sweater, and booties look.
Combine Animal Prints
Animal print has become a timeless staple, and the print is an instant style-maker. You can easily pair animal prints with other patterns, think florals or stripes, or if you're feeling bold, with a second animal print.
Casual Palazzo Pants Outfit
Wide-leg pants are the perfect warm-weather pant. I love that these loose-fitting trousers look like a maxi skirt at first glance, and then when you walk, you see the movement from the wide legs and swish factor. They give off a breezy, laid-back vibe yet are super stylish. Palazzo pants look great with a basic tee, tank top, or chambray button-up.
Leather Jacket Outfit Ideas
An all-neutral color palette is a great way to extend your wardrobe through the seasons. And when layering is the name of the game in the spring, a leather jacket is a great piece to throw on if you don't know what to wear or how to complete an outfit. Perfect for when you want to wear a dress on a chilly spring day.
Thank you for reading 10 Cute Spring Outfit Ideas!
I'm partnering with 4 of my Instagram friends this week for a spring color share! I kicked it off yesterday. Make sure you stop by my Instagram to see my highlight reels and these amazing women the rest of the week:
Tuesday: Andrea from Living on Cloud Nine
Wednesday: Amy Ann from Straight A Style
Thursday: Brooke from Pumps and Pushups
Friday: Suzanne from Crazy Blonde Life
Also see: 5 Jackets You Need this Spring and Spring Fling
If you liked this post, you can subscribe here or follow me on Feedly | Bloglovin | Instagram | Pinterest | Facebook
Linking up here.