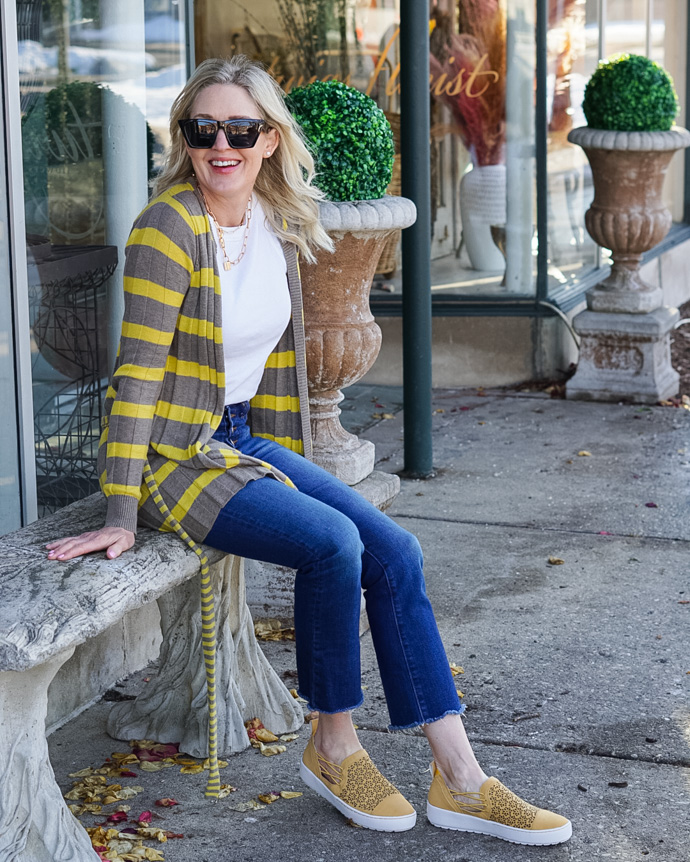 There's something so special about early fall and late spring – it's still cool enough to wear your favorite sweater, but nice enough to throw on a pair of slip-ons and not worry about winter boots. It's the time of year that often has me wondering what to wear with yellow shoes.
You see, lately my go-to slip-ons have been these darling yellow sneakers from Jambu (they're called the Erin).
Not only do the on-trend yellow color and fun floral cutouts check all the boxes, but they are also super comfortable with a memory foam insole. There was no need to break them in either. The first time I wore them I wore them all day, and they were just as comfy as my slippers.
I love to plan my outfits around shoes. Colored shoes always make your outfit pop, and they're an easy way to incorporate the color trend into your wardrobe.
But yellow shoes are sometimes a little tricky to style. Maybe it's because there's so many different shades of yellow to choose from. Or maybe it's because it's hard to know what colors look good with yellow shoes. Whatever the reason, these yellow slip-ons are so beautiful I knew I had to figure out what to wear with yellow shoes.
Keep reading for all my best styling tips.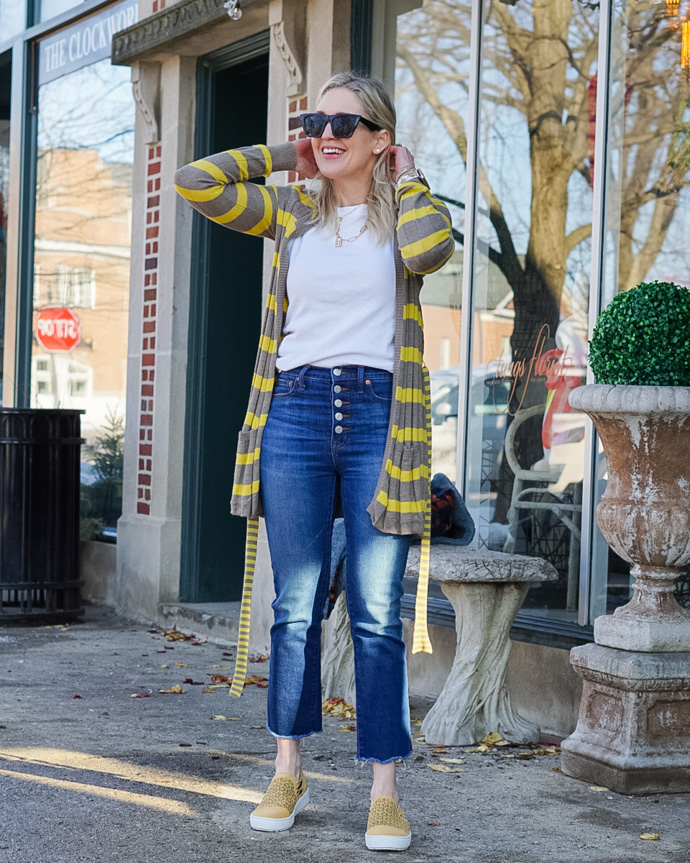 Shoes c/o Jambu (get 20% off through 5/30 with code DIPS21)
Jeans | Tank | Cardigan (option) | Key Necklace (option) | Padlock Necklace | Sunglasses
Are Yellow Shoes in Style?
Before we go any further, let's answer this question, shall we? The short answer is, yes. Yellow shoes are definitely in style! In spring-summer 2022, some of the biggest names in fashion included yellow hues in their runway shows, from soft, buttery yellows to brighter versions of this versatile color. So it's no surprise that more and more yellow shoes are also hitting the market.
Do a quick Google search for "what to wear with yellow shoes" and you'll find lots of great resources and outfit ideas all from others wanting to style yellow shoes.
What Goes With Yellow Shoes?
Yellow is definitely a statement-making color, but that doesn't mean it can't play nicely with other colors, too. Yellow pairs perfectly with not only your basic neutrals but also, depending on the shade, bright or pastel berry tones, blues, and greens.
When building an outfit around a pair of yellow shoes, it's important to consider the shade of yellow you're working with, the style of shoe and the type of outfit you want to create.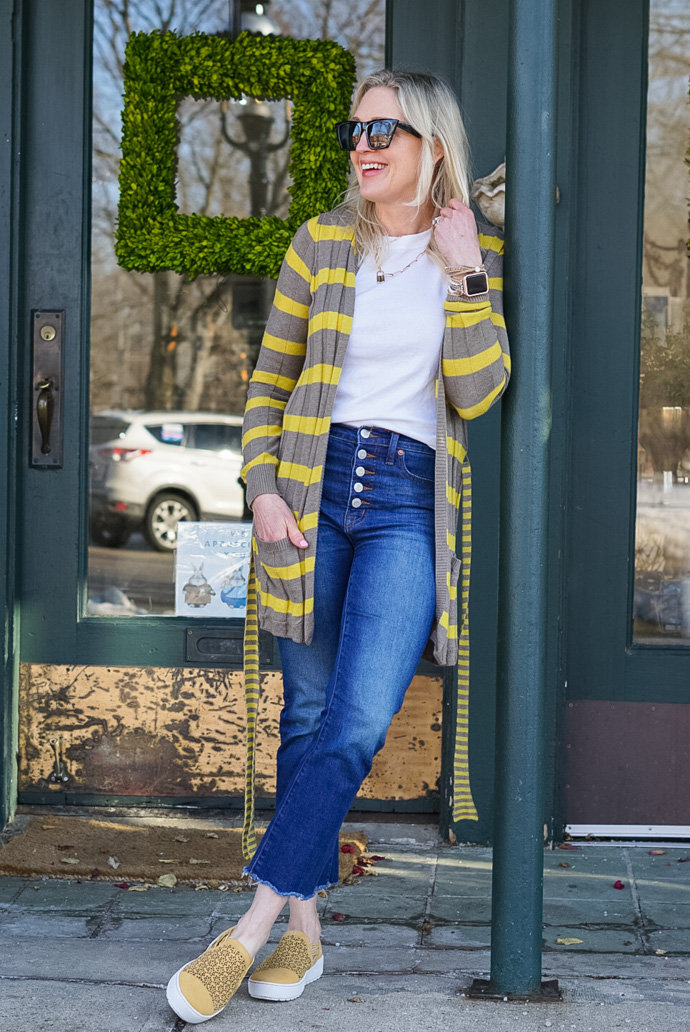 What to Wear With Mustard Yellow Shoes
Mustard yellow is one of my favorite yellow hues. It's perfect for fall but also works great in spring and summer. And because it's not such a bright yellow, I tend to think of mustard yellow shoes as more of a neutral when planning outfits.
My Erin slip-ons, for example, are mustard yellow, and I kept my outfit simple with a white tee and jeans. The perfect topper was my striped yellow cardigan. It's an oldie but goodie from Anthropologie, but I linked up a similar option below.
Mustard yellow shoes pair easily with denim, but can also look good with black, brown, khaki and even a deep green or berry colored pant.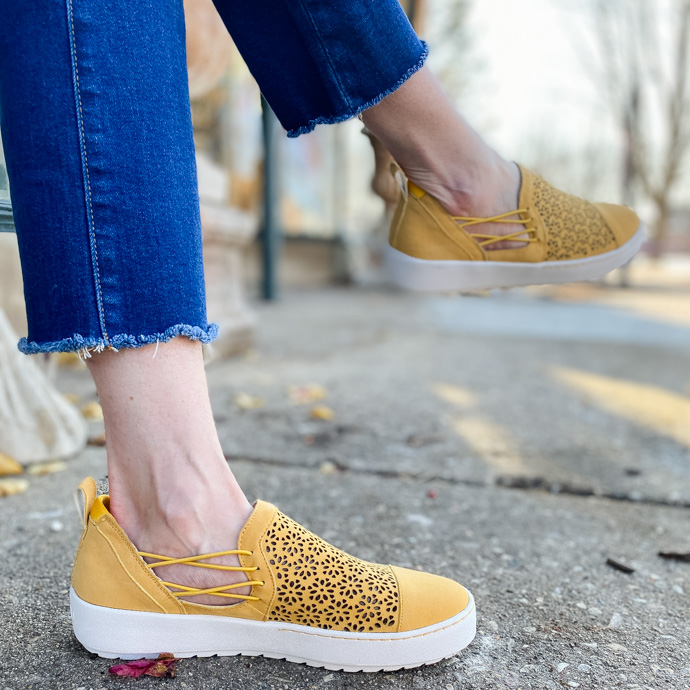 What to Wear with Neon Yellow Shoes
If mustard yellow shoes are neutral, then neon yellow shoes are anything but! Neon yellow shoes make a statement, so it might be a little harder to figure out how to wear yellow shoes of this color.
The key is to choose the color of your clothing carefully. Because your shoes will be so bright, the rest of your outfit needs to be pretty basic. Pairing neon yellow shoes with white pants or a white T-shirt dress would be perfect for summer. A pair of neon flats could even be a pop of color for a little black dress for a night out.
Wearing yellow sneakers (like mine from Jambu) is actually a lot easier than you might think. One of my favorite ways to style yellow sneakers is by pairing them with a casual dress. Wearing a dress with sneakers is just a fun way to make a dress feel more casual and cool. And when those sneakers are yellow? It's even cooler.
Just be sure to pay attention to the yellow hue and plan your outfit accordingly. A brighter yellow will do best paired with more muted colors. A more pale yellow or mustard yellow sneaker can be paired more easily with a broader range of colors, like olive green, chambray or denim.
I love the idea of pairing yellow sneakers with a denim shirt dress or a pair of olive green joggers and a denim jacket.
What to Wear with Yellow Flats
When it comes to figuring out what to wear with yellow shoes, flats are probably one of the easier styles to work with. Flats can go with just about any outfit, from cocktail dresses and T-shirt dresses to joggers, jumpsuits and even shorts.
Because of their versatility, there are also many ways to wear yellow flats. Here are some of my favorite ideas:
Match a pair of yellow flats to a yellow blouse or sweater and wear with jeans.
Wear yellow flats with a floral sundress that has hints of yellow in the pattern
Pair bright yellow flats with black jeans and a white top for a modern spin on a classic outfit
Wear pastel yellow flats with an all-white outfit for a beachy feel that can be dressed up or down
Planning Outfits With Yellow Shoes? Show Me Your Outfit!
Thank you for reading What to Wear with Yellow Shoes! If you come up with your own outfit ideas with yellow shoes, be sure to share and tag me on Instagram! You can find me at @dousedinpink.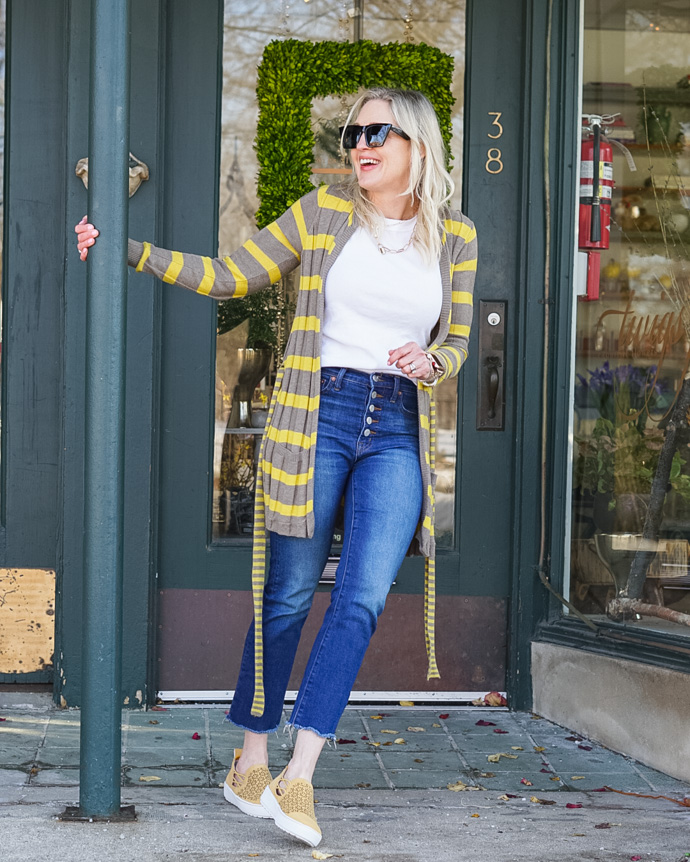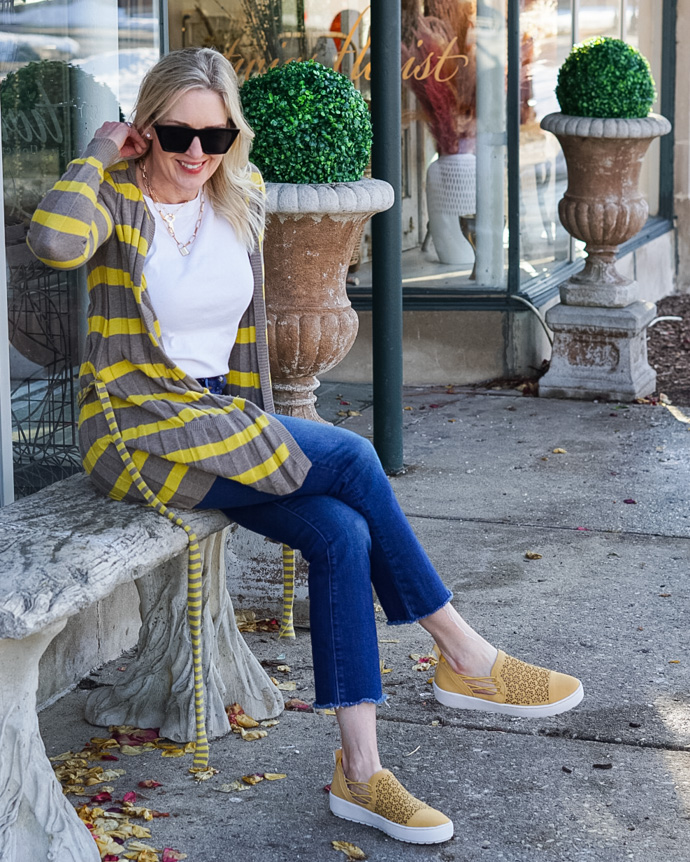 Shoes c/o Jambu (get 20% off through 5/30 with code DIPS21)
Jeans | Tank | Cardigan (option) | Key Necklace (option) | Padlock Necklace | Sunglasses
Thank you for reading What to Wear with Yellow Shoes!
Shop the post:

Shop yellow shoes: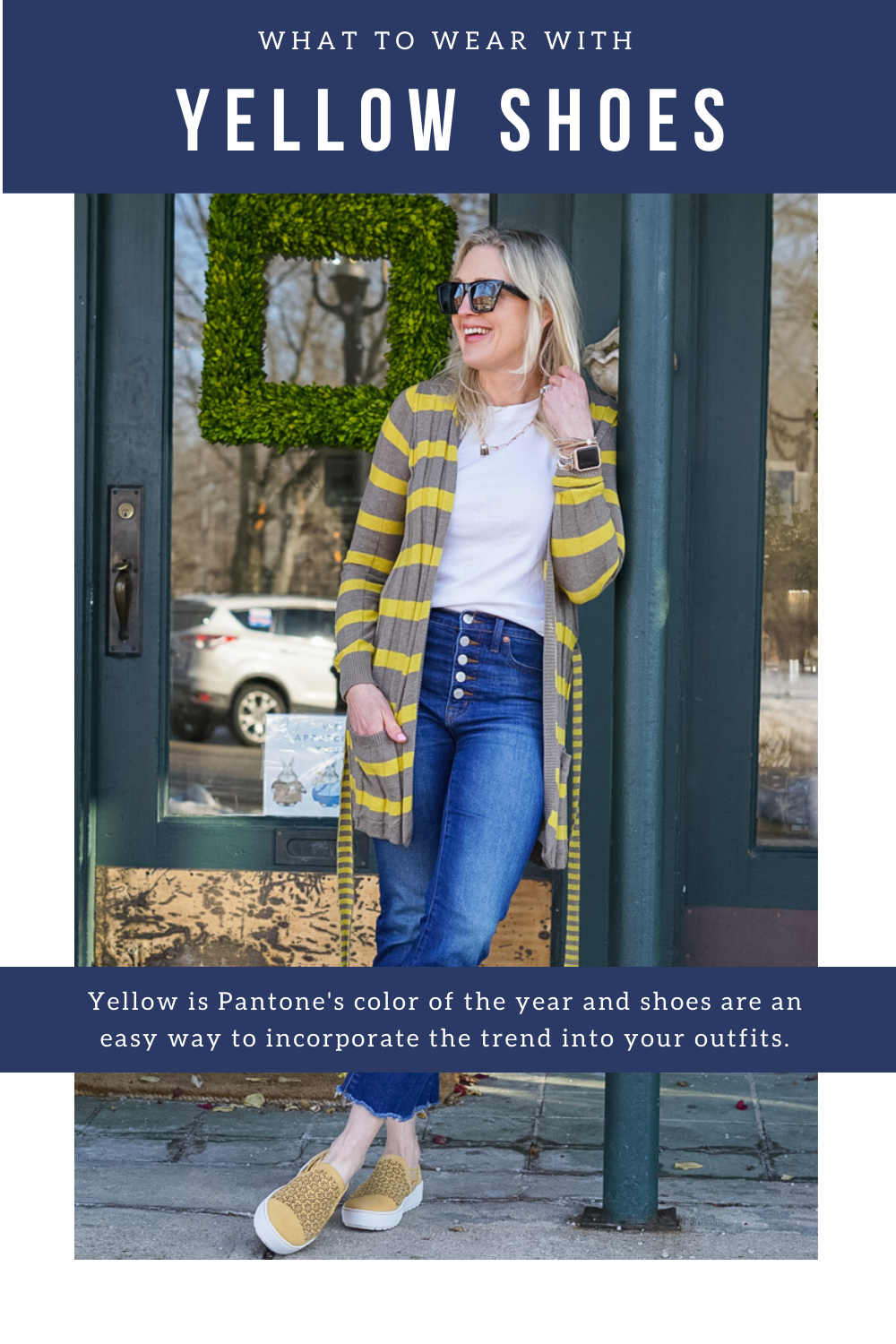 Also see: The Cutest Yellow Sundress and Blue and Yellow Outfit
If you liked this post, you can subscribe here or follow me on Feedly | Bloglovin | Instagram | Pinterest | Facebook
Linking up here.
Now onto the linkup! I can't wait to see your outfits!
THURSDAY FASHION FILES LINKUP
Welcome to Thursday Fashion Files! Carrie at Curly Crafty Mom and I are excited to have you here and would love to have you link up one of your latest outfits with us at the bottom of this post. Don't forget to check out our Thursday Fashion Files Pinterest board and click HERE if you'd like to contribute!
Follow Jill:
Bloglovin', Facebook, Instagram, Pinterest, Feedly, LIKEtoKNOW.it
Follow Carrie:
Bloglovin', Facebook, Twitter, Instagram, Pinterest
Link Up Guidelines:
1. Feel free to grab our button to display on your blog sidebar. Help spread the word and share about our link-up community.
2. **By adding your links, you are stating that you have the proper licensing/rights to the images in your blog posts.**
3. 
Val from Maple Leopard is this week's featured blogger!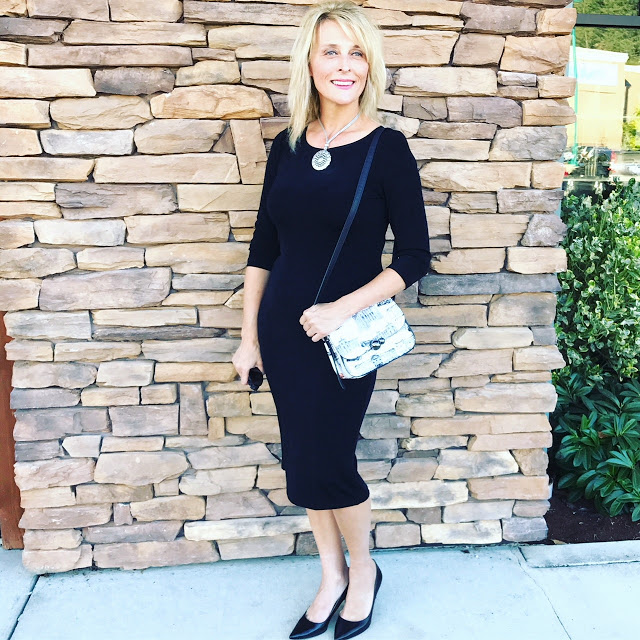 You are invited to the Inlinkz link party!