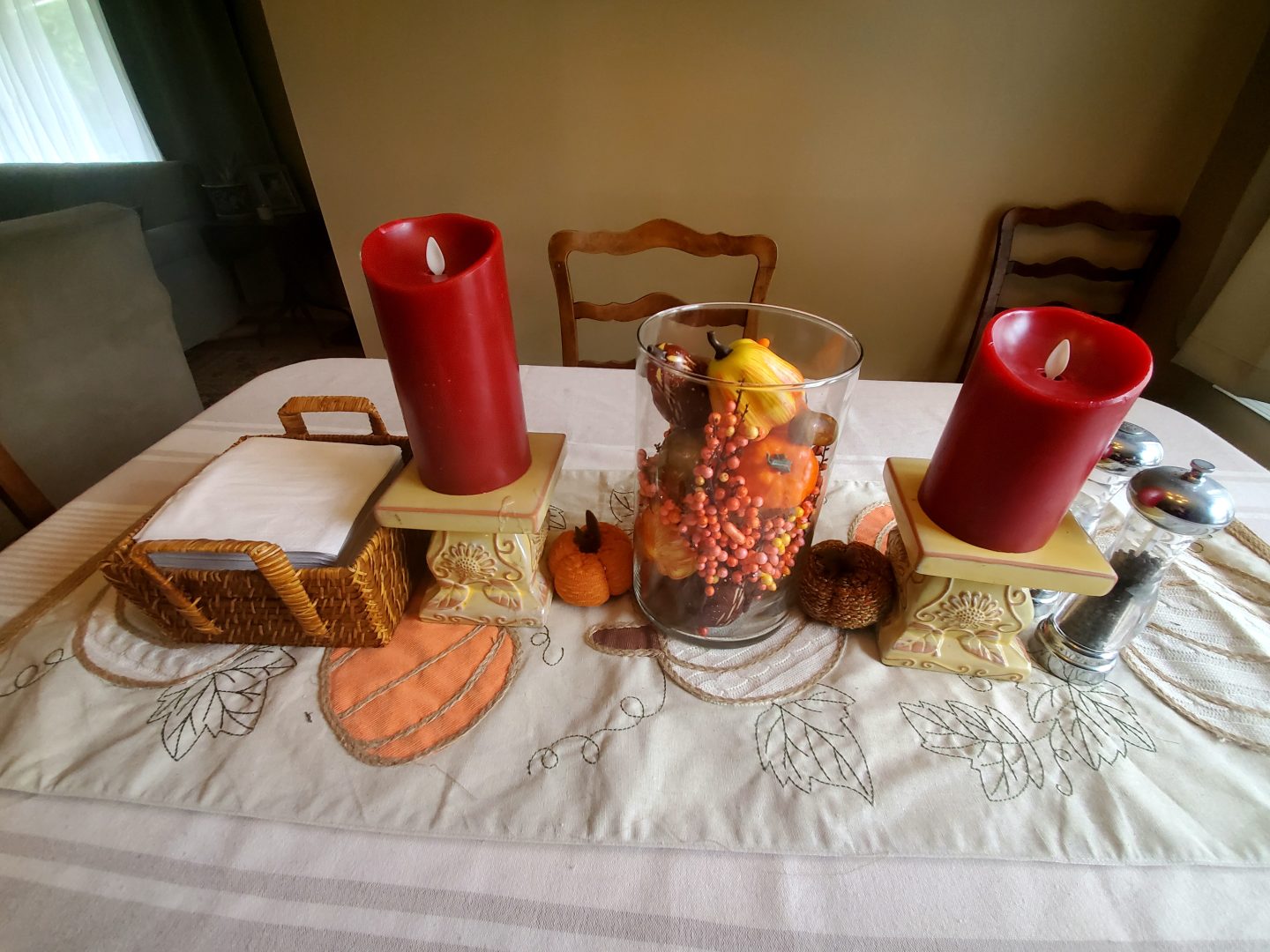 Hey there Besties! Today I am guest blogging on Doused in Pink, which is the beautiful site hosted by Jill. For those of you joining for the first time on Doused in Pink, I am Patty, and I run Good Better Best, a blog dedicated to finding the Best in Food, Wine, Joy, and Life. I am a corporate politico, hockey mom, wife to an Iron Man, I love to cook, all things Hallmark and Bravo, and work on my faith every day. Thank you to Jill for having me guest host, and I am excited to share Easy Fall Decorating in this space today.
Today, I have a few easy fall decorating tips for your tabletop and your mantle. All of these are budget-friendly, and you may even have most of these things around your house. Join me as I get our house ready for all things fall.
For inside the house, I like to keep things more on a fall theme as opposed to Halloween so that I can keep the decorations up longer. We also have a tendency to be really busy on the weekends, so my Best laid plans to get these decorations up about two weeks ago didn't work out because we were at a hockey tournament. I had Running Daddy get the fall decorations down from the attic a few weeks ago but they kind of sat for a bit. Fun fact, Running Daddy is amused by the term "fall décor." 
Things really started to come together last weekend when I stopped at a farm stand in New Jersey on my way home from seeing my sister and my mom. Farm stands are self-care for me; they seriously bring me Joy.  I love to see what is there and be inspired by what is in season. 
In addition to picking up fresh vegetables, apples, and pears they had the most beautiful mini pumpkins and gourds. The Best part was that their prices were so Good. I totally stocked up on mini pumpkins and gourds for my decorating, so much so that I needed a crate!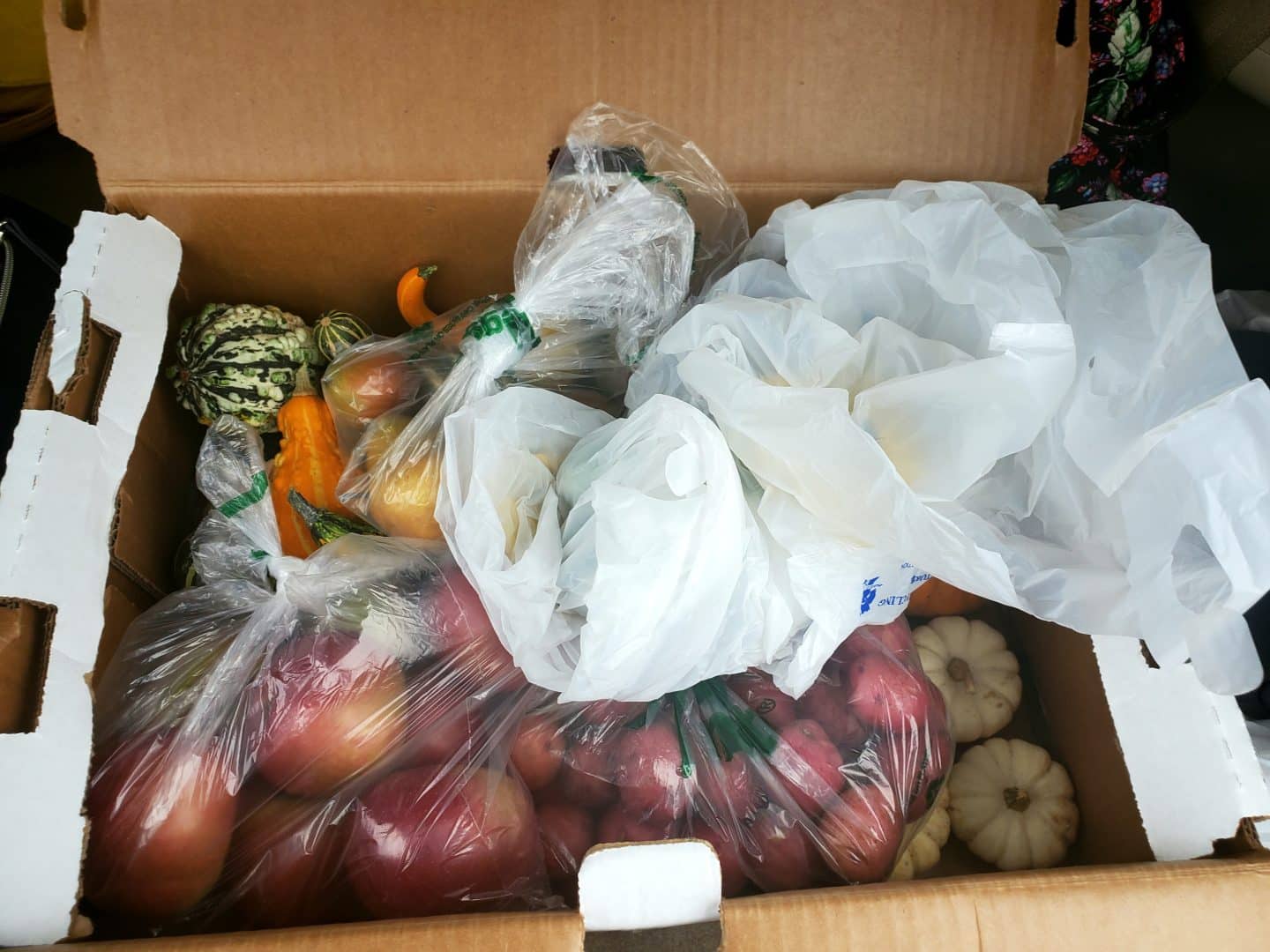 Once I was at home, I set to work on easy fall decorating and adding a little fall warmth to our house. The main thing that I wanted to do was keep this totally real. I didn't want anything too fussy that wasn't going to be how we would really decorate our table for everyday use. This is how I truly decorated the table and mantle how it will most likely stay until Thanksgiving.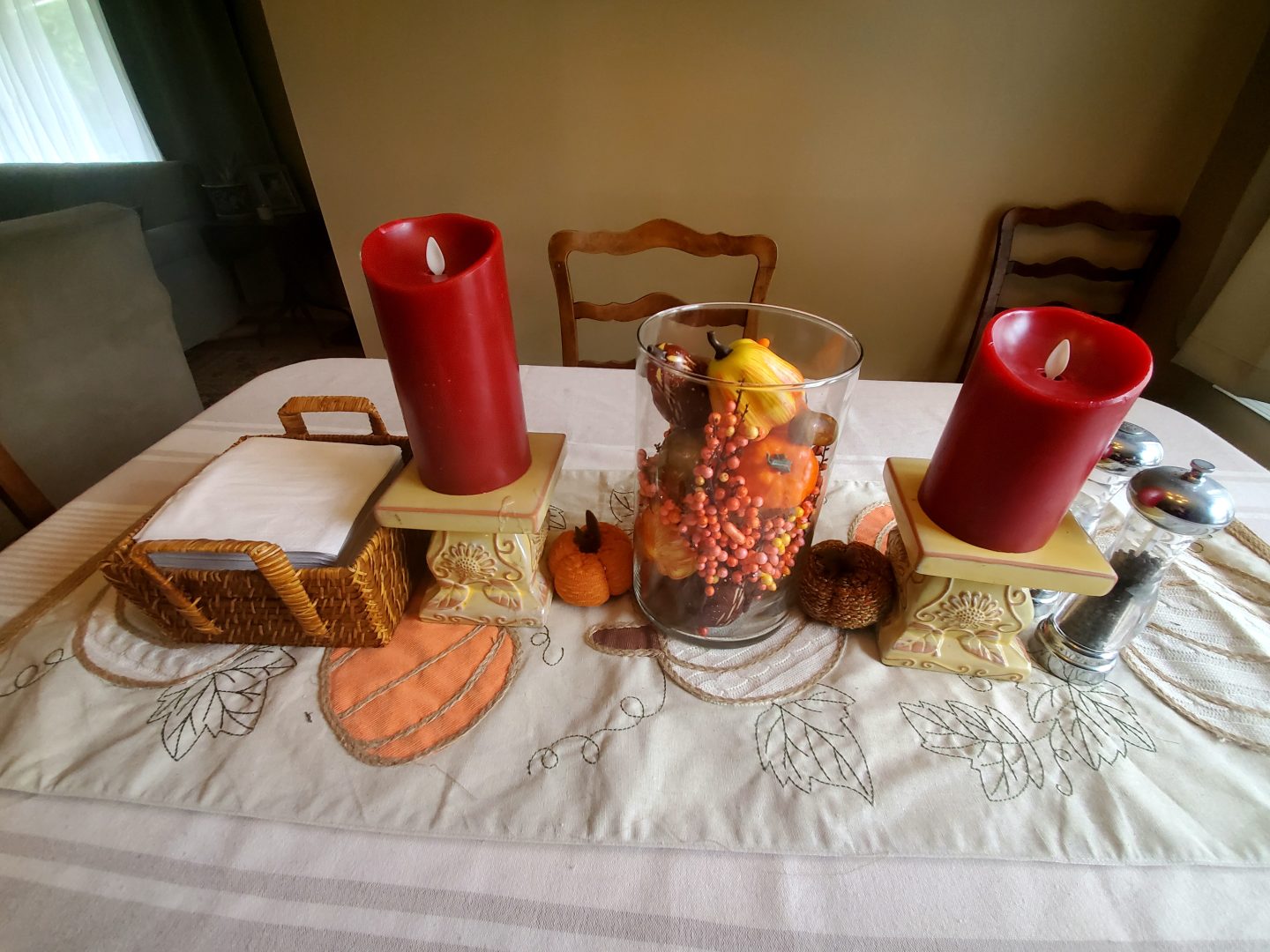 With the table, I wanted warmth mixed with florals, all based with colors in nature. I started with a more neutral tablecloth that was in a beige tone with some khaki stipes. You can find similar options here and here.  I then added a very sweet table runner from Shabby Chic that I found at TJ Maxx.  Hello! Score! This runner has texture to it which adds some really Good design elements. I love the pumpkins on this runner, but they are really more fall than Halloween to me.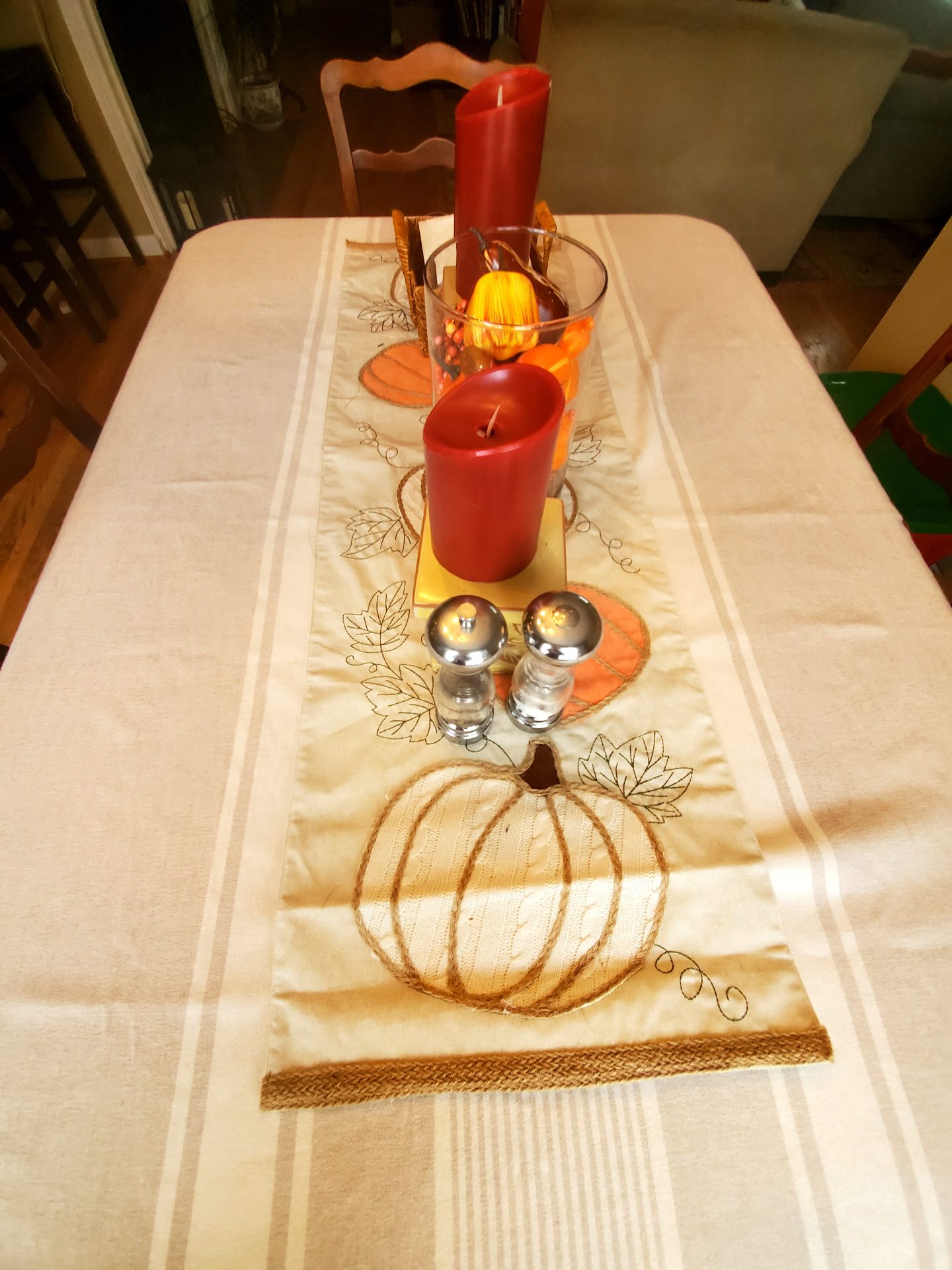 Now that the base layers are down, time to add the really fun things. I have owned those yellow terracotta candle pedestals for probably close to 20 years. I pull them out for all types of easy fall decorating projects, and they really gave additional height and color to the table. I love the pop of the dark red candles here. They add a little bit of an unexpected color beyond the usual oranges and browns. Here is a similar pair to the ones above.
I filled the cylinder hurricane with faux fall pumpkins, gourds, berries, and leaves. I have had these for several years but have not used them in this hurricane before. Always look and see what you have on hand that you can breathe new life into, whether it is in your storage boxes or even in your own backyard. I picked up this hurricane at Walmart a few years ago but here are some other options at Good price points.
The small pumpkins separating the hurricane from the candle pedestals were purchased at Michael's and add additional texture and play off the sweater knit feel of the table runner. These are also items I have had for many years that ended up being a nice fit in this tablescape. You could also use small real pumpkins or fabric pumpkins here, velvet would add an additional touch of elegance.   
Note, I am not going to pretend we don't have salt and pepper shakes and a napkin holder on the table. I will, on the other hand, pretend we don't have a large basket of mail on the end of the table that I removed for these photos. At least I admit this to you Besties. I told you I try to keep it real.
Heading into the living room, let's chat about the mantle. This is so simple, and most of this happened by a happy accident.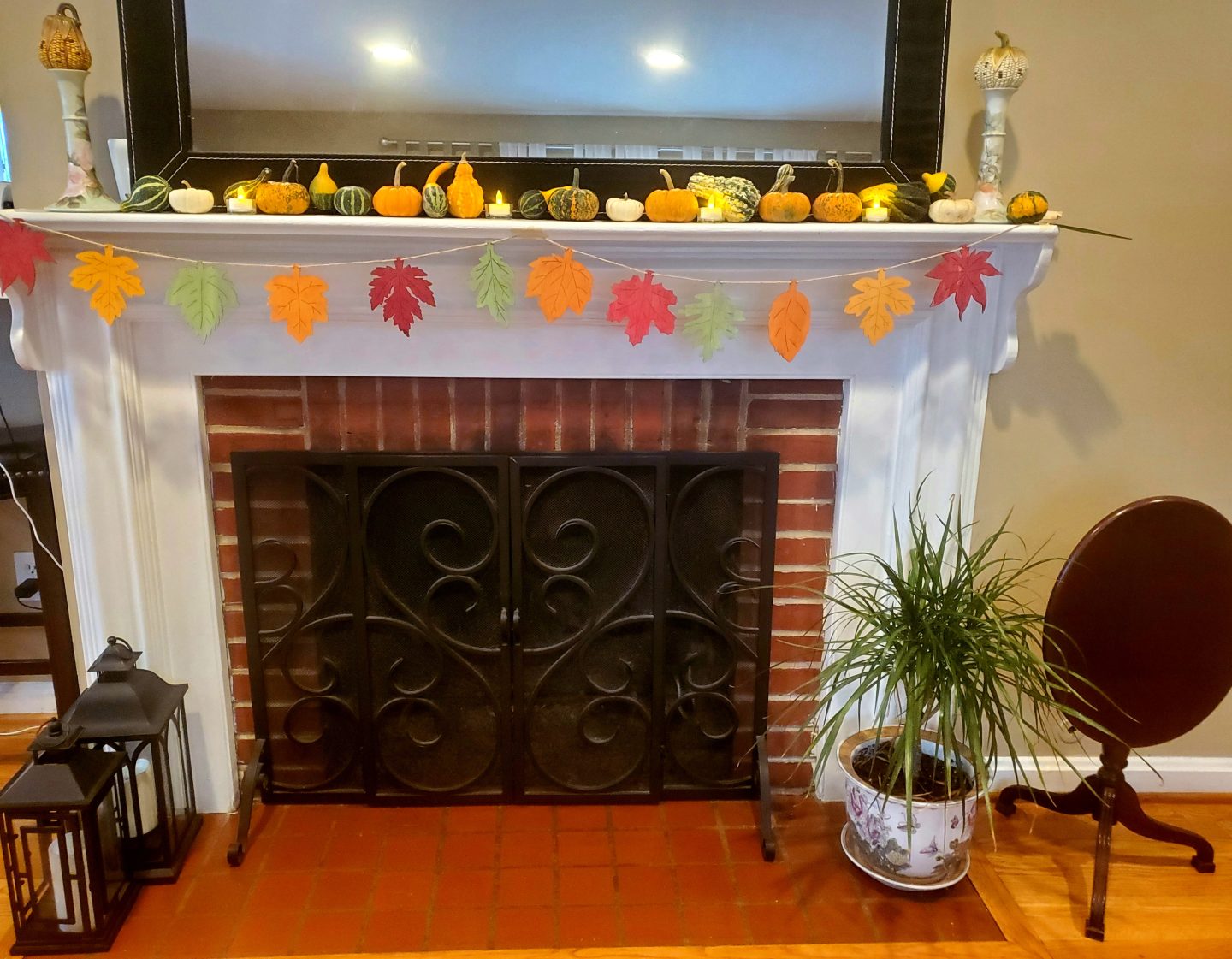 When I came in with all of the mini pumpkins and gourds from my trip, I knew I didn't just want to leave them in the box. I came home and just hastily arranged them on the mantle until I could get back to this project. The fun thing is, they actually looked pretty Good the way I arranged them from the get-go.  
I think because of the volume of gourds and mini pumpkins I purchased it was easy to make the mantle look Good. I did some minor rearranging and then added in the votives to help up with warmth. I love battery-operated candles if you haven't figured that out from this post. I like to buy them in bulk packs like this one.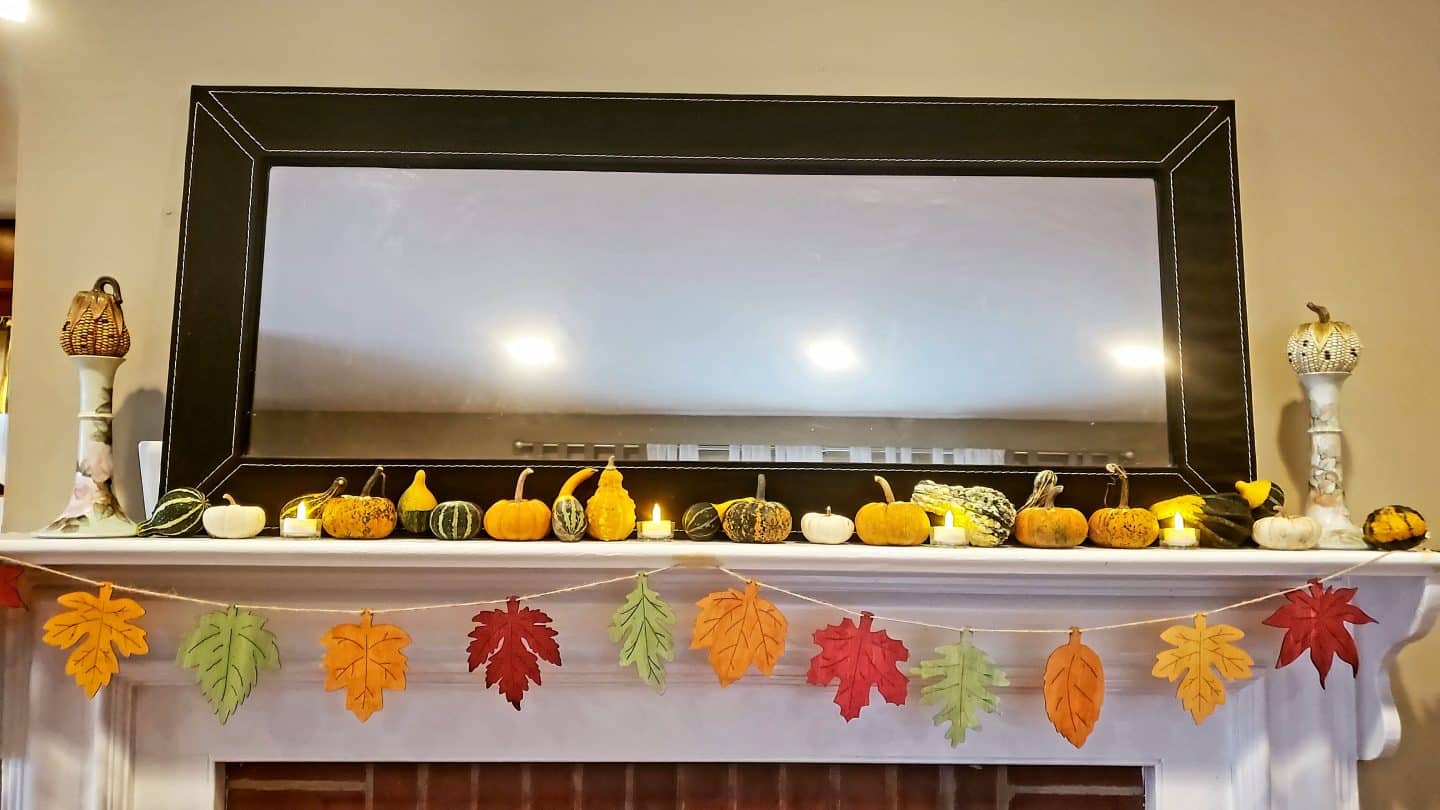 I added in the wooden leaf garland that I purchased at a craft store and then topped the Limoges candlesticks with beaded gourds. This is the perfect mix of real and faux with the right color scheme without being too matchy-matchy.  The colors on the mantle complement the tablescape as well.
My Best piece of advice to you is to use what you have and then add in some nature elements. The other thing is to not overthink it. I didn't overthink the placement of the gourds on the mantle and love how they came out.
Thanks for joining me today. Are you decorating for fall? What are your Best design tips? Leave them in the comments below.
If you are new to Good Better Best, I would love to have you follow me on Facebook here as well as on Twitter and Instagram at @pcrichey. Join me weekly as I find the Best in Food, Wine, Joy and Life. 
***Note this post contains affiliate links.
~~~~~~~~~~~~~~~~~~~~~~~~~~~~~~~~~~~~~~~~~~~~~~~~~~~~~~
Special thanks to Patty from Good Better Best for helping me with a guest post today!
Stop by tomorrow for my October Favorites post where I'll have a roundup of some of my favorite products + coupon codes, outfit inspiration, and what I've been up to!
And, on Thursday Heather Loves Home will be guest posting with Simple Jewelry Organization ideas.