Did you have a good weekend? We flew east to visit our daughter and had the best time. Friday's weather was not so good with severe rain and wind. The ocean waves were at least 10 feet high. But, we woke up on Saturday morning to clear skies and sunshine. We ate our breakfast on the sea wall and spent most of the day outside. It was a quick trip, and we flew back Sunday night. Anyway, today I'm sharing another installment in my holiday gift guide series, and it's all about holiday gifts for the homebody. I've rounded up a mix of comfort gifts and indoor activities any homebody will love!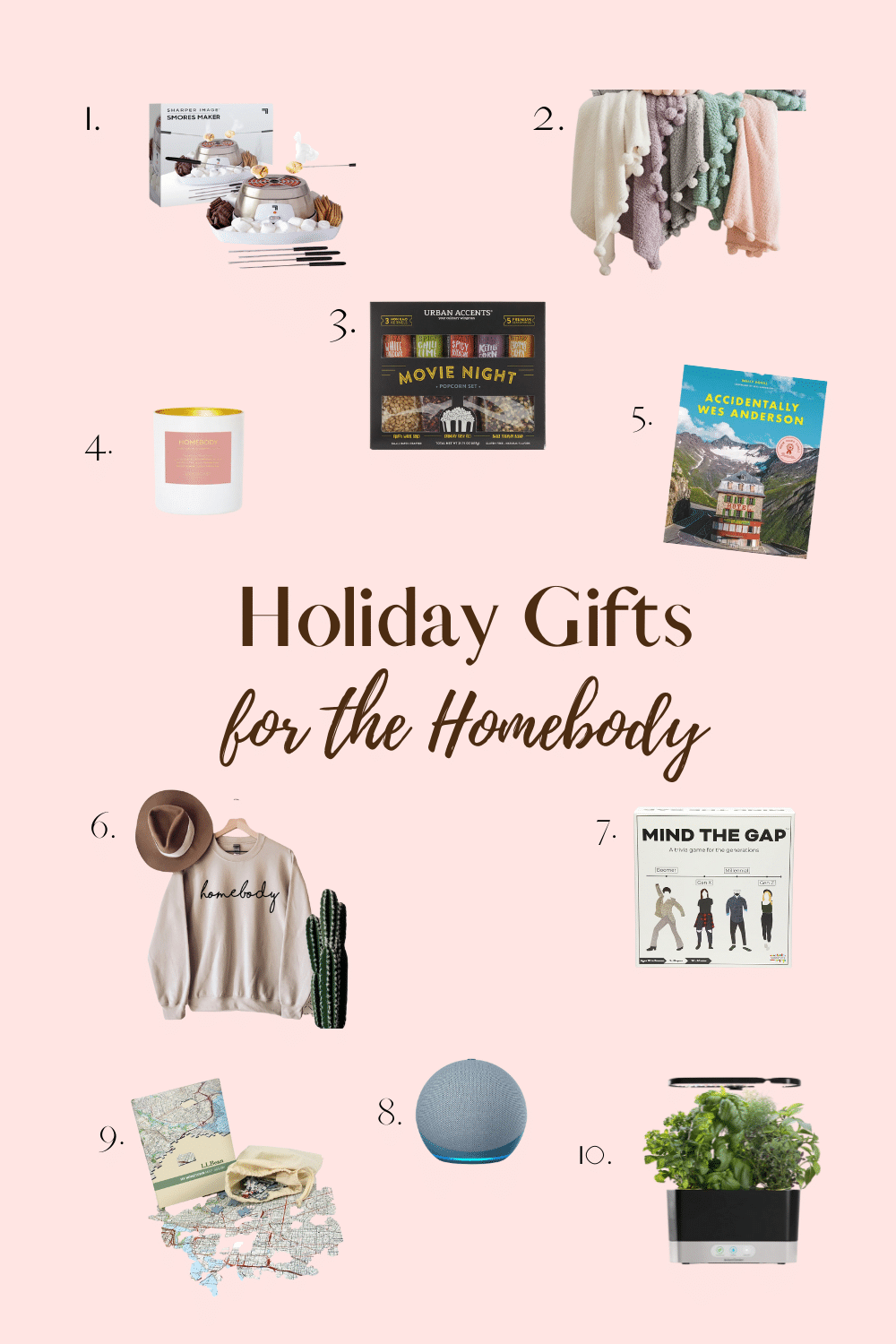 Holiday Gifts for the Homebody
1 – Electric Tabletop S'mores Maker is great for a family movie night or a fun, sweet treat.
2 – Cozy Pom Pom Recycled Sherpa Throw you can't go wrong with a cozy throw.
3 – Movie Night Popcorn Set sweet and savory from Buttery Caramel Corn to Sizzlin' Spicy Sriracha to Cheezy White Cheddar.
4 – Homebody Candle clean, coconut wax blend made of smoky cade, white bergamot, and vanilla.
5 – Accidently Wes Anderson is a visual adventure of Wes Anderson, telling the stories behind more than 200 of the most beautiful, idiosyncratic, and interesting places on Earth.
6 – Homebody sweatshirt any homebody would love to cozy up in this darling sweatshirt.
7 – Mind the Gap Boardgame teams to work together to answer Pop Culture Trivia questions from each of the previous four generations: Boomer, Gen X, Millennial, and Gen Z.
8 – 4th Generation Echo Dot smart speaker with Alexa. Voice control your entertainment, control your smart home, and connect with others.
9 – Personalized Hometown Map Puzzle Show your love for your hometown or favorite vacation spot with this detailed, custom map puzzle.
10 – AeroGarden Harvest Indoor Garden brings gardening into your home so you can grow fresh herbs and veggies year-round.
I hope these 10 holiday gifts for the homebody gave you some shopping ideas for the homebody in your life.
Shop Holiday Gifts for the Homebody:

Thank you for reading!
If you liked this post, you can subscribe here or follow me on Feedly | Bloglovin | Instagram | Pinterest | Facebook
Linking up here.