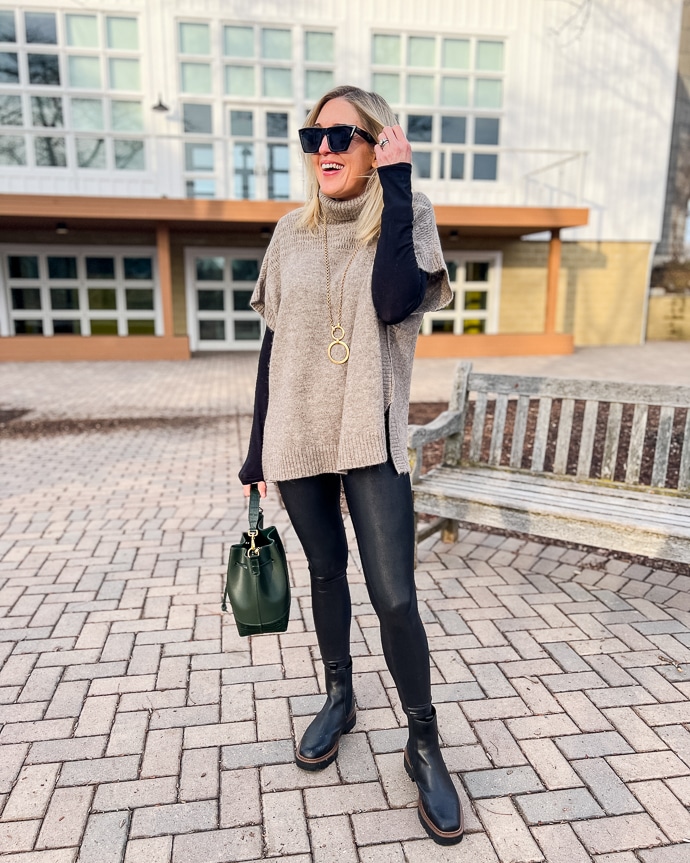 In this post, I will show you how to style a poncho for the winter! Ponchos are a staple piece to have in your closet. They make up the perfect outfit for absolutely any occasion. Whether you are going out to dinner or running errands, throwing on a poncho makes your outfit more stylish!
How to Style a Poncho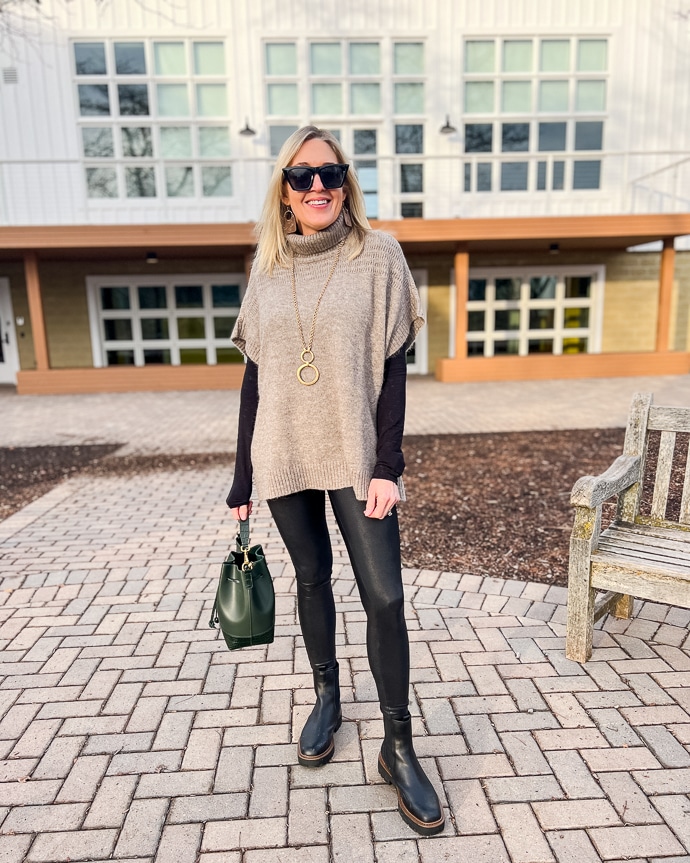 Featured Pieces: Poncho (similar) l Turtleneck (similar) l Leggings
To start, you are going to need to buy your cute and comfy poncho! My favorite is this camel color mock neck Poncho from Banana Republic. It is so soft, and I love that you can create so many different outfits with it. It is definitely a must-have piece for this winter season. I paired my poncho with this cozy black Turtleneck from Amazon. This black Turtleneck is now under $15 and is a staple piece to have in your closet! I added these flattering faux leather Leggings to pull the look together. These Spanx Leggings are the perfect leggings for absolutely any look this winter. These three pieces pair so well together and can be easily interchanged.
Poncho Look + Accessories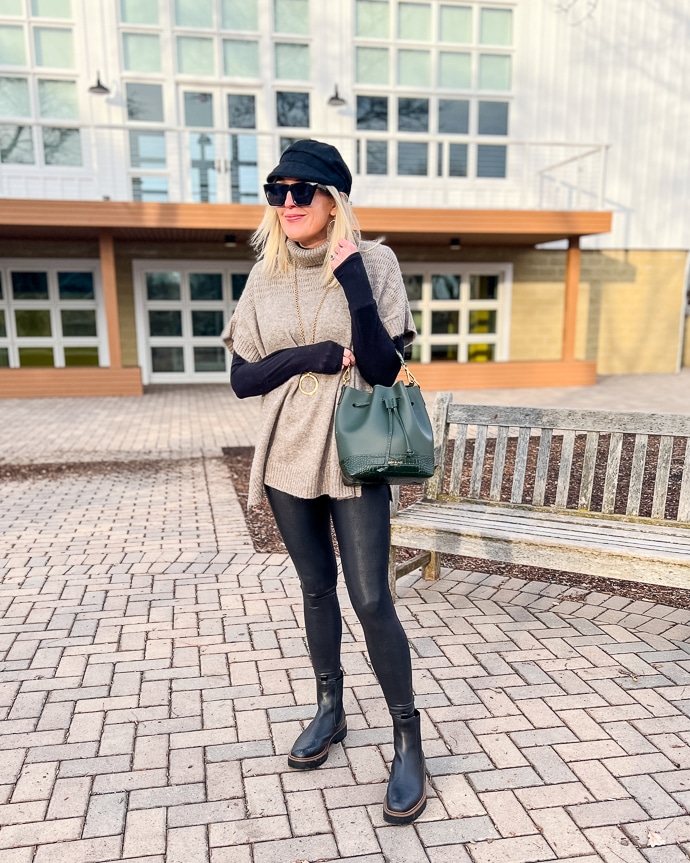 Featured Pieces: Hat (similar) l Glasses
This hat and glasses are *the perfect* accessories. This black Amazon newsboy Hat is the ideal accessory for any day-to-day look. It helps add some spice and fun to the look. Right now, it is under $20, which is a steal! The Sunglasses I paired with this outfit are also from Amazon. The oversized look is very trendy right now too!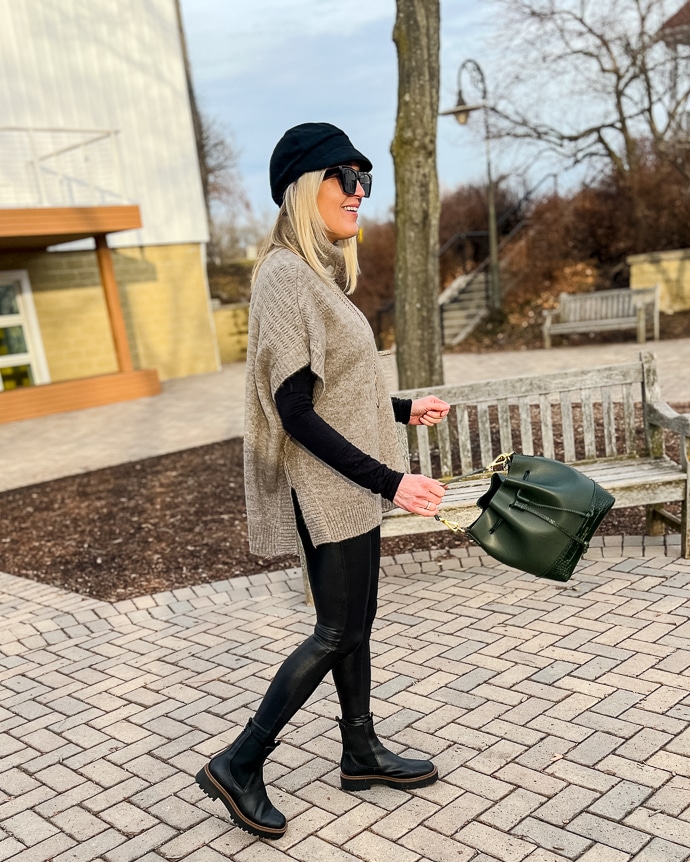 Featured Pieces: Boots  |  Bag (use code TBDOUSEDINPINK30 for $30 off your purchase)
Lastly, I completed this look with a pair of black boots and an adorable dark green bag. These Sam Edelman Boots are the perfect winter boots for any look. They come in over ten colors and are waterproof, allowing them to be worn rain or shine! The Bag I paired this look with is from Teddy Blake. These bags are my absolute favorites; they have every kind of bag in any color you could imagine. Using code TBDOUSEDINPINK30, you can get $30 off your next purchase from Teddy Blake!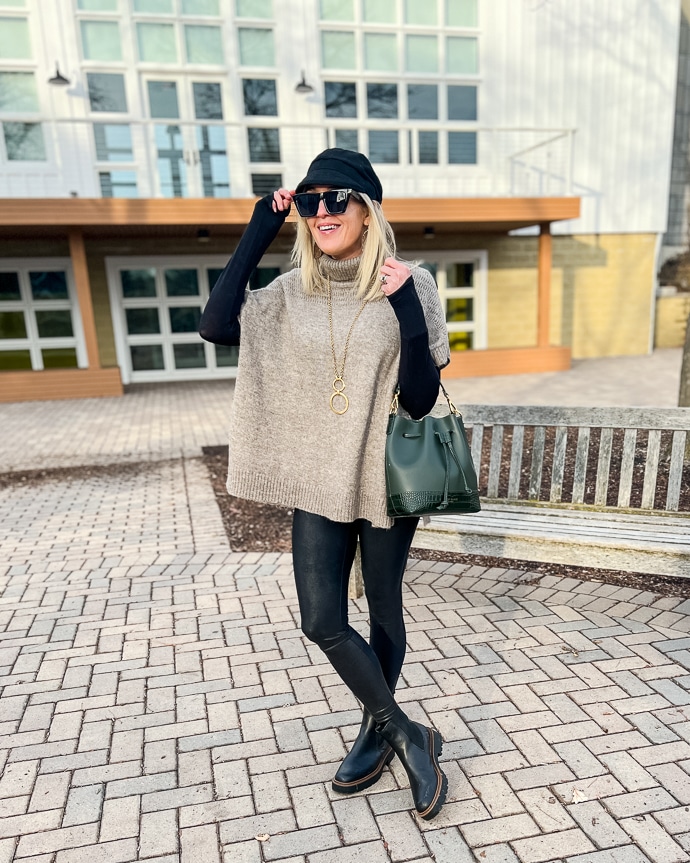 All the Pieces:
Poncho (similar) l Turtleneck (similar) l Leggings l Boots l Bag l Hat (similar) l Glasses
This poncho look is honestly perfect because it is both trendy and classic. These boots, bag, hat, and glasses are the perfect accessories for any look, all together or separately. If you were to purchase just 1 or 2 items from this look, I recommend the poncho and cozy black sweater. You can throw the poncho over any look, and the sweater will get you through the whole season in style. Plus, it is a closet staple that is super affordable! Overall, this look is one of my favorites!
Shop the Look:

Thursday Fashion Files Linkup
Thursday Fashion Files Linkup Guidelines
1 – Follow Jill: Bloglovin', Facebook, Instagram, Pinterest, Feedly, LIKEtoKNOW.it
2 – Follow Kellyann: Bloglovin', Facebook, Instagram, Pinterest, LIKEtoKNOW.it
3. Help spread the word and share our linkup with your community.
4. **By adding your links, you state that you have the proper licensing/rights to the images in your blog posts.**
Featured Blogger
Amber from Avec Amber is this week's featured blogger! I love how she winterized her floral dress!