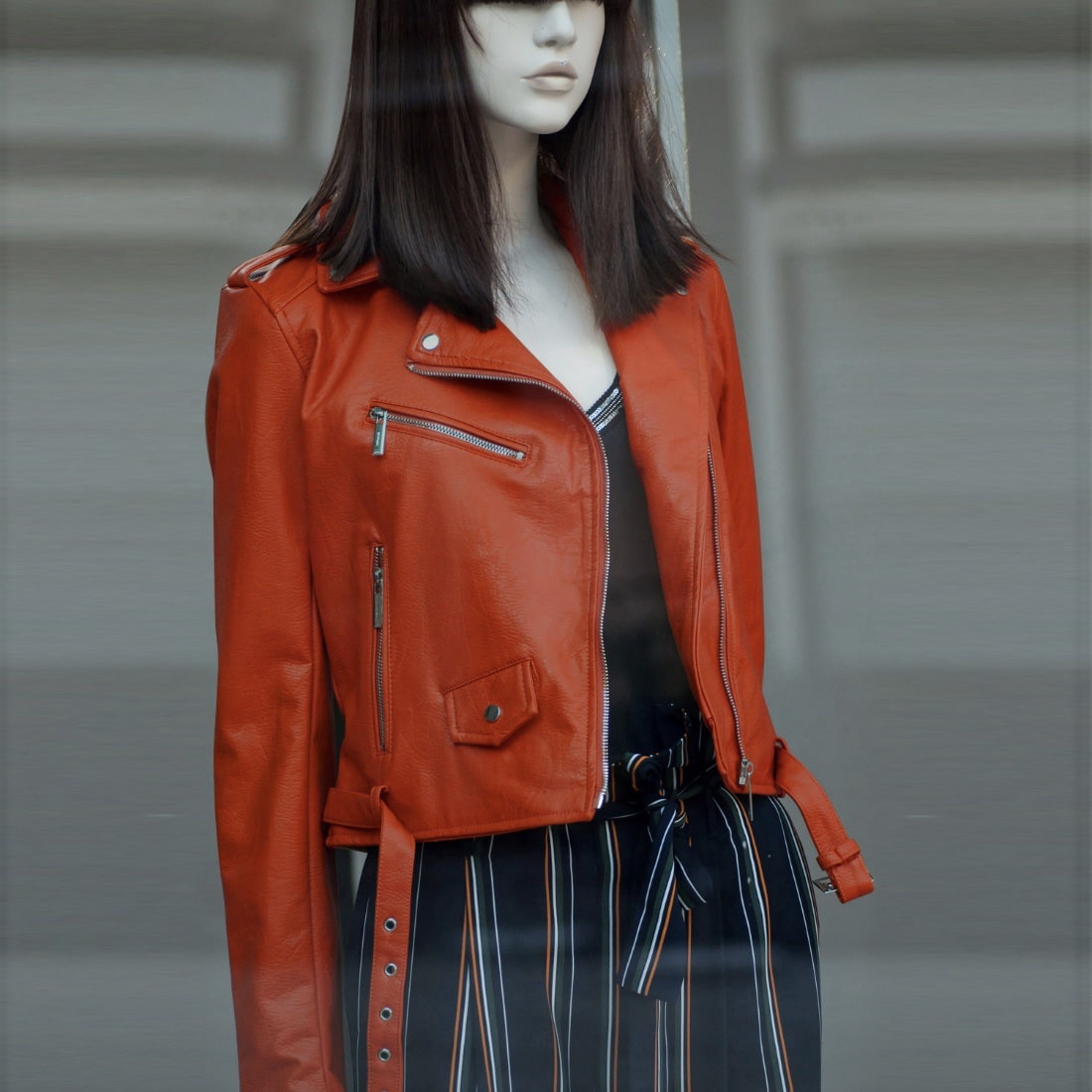 Clothing in bright colors is a great way to express ourselves, often helping us to transcend from a usual normcore style to a high-spirited look. As colored leather jackets are trending huge this year, one of the easiest ways to do it is to wear one over your casual clothing items or dressy outfits. We will lay down some orange leather jacket styling tips and no-fail ways to wear an orange leather jacket so that you can up the style quotient in an instant. 
*Guest Contribution
Women's Orange Leather Jacket: Diverging From the Classic Style
Brown and black leather jackets are timeless, without a doubt. They might be a go-to option for most of your outfits due to the versatility they offer. However, when we talk about outerwear made of leather, an orange jacket can be an asset to establish your winning sartorial sense. A lot of colors make an appealing combination with shades of orange, giving you a chance to outshine everyone else whenever you make an outfit with orange leather jackets.
Orange exudes energy and warmth, signifying happiness, optimism, and confidence. It has several shades, including red orange, apricot, tangerine, fire orange, burnt orange, or marigold. All of them are dominating the women's fashion scape for 2023, a major reason why you should go for an orange leather jacket.
Your dazzling jacket can be plain or have appealing details such as fringes or studs for an elevated look.
How to Style an Orange Leather Jacket?
Orange is a warm color, but the coolest thing about it is that it suits all skin tones. The colors that make an eye-pleasing combination with an orange leather jacket are blue, red, brown, black, khaki, navy, and sage. Neutrals such as grey, beige, white, and cream also complement orange, so pick your outfit items accordingly. 
Leather jackets in any shade of orange are a great way to round off your plain, printed, or textured clothing combos. It can look as good with jeans as a dress or jumpsuit.
Make a bold statement by pairing your orange leather jacket with items like leather pants and skirts. Try wearing it with different types of knitwear garments and tops and athleisure clothing items like hoodies, tank tops, or jogger pants.
Orange Jacket Outfit Ideas
If you want premium quality stylish leather jackets in orange, there is no need to opt for sellers that sell them at exorbitant prices. Leather Skin Shop is your go-to place to get jackets for men and women at an affordable prices. You can choose a style that goes well with your fashion sense and try any of the outfits suggested below. 
Orange Leather Motorcycle Jacket Outfits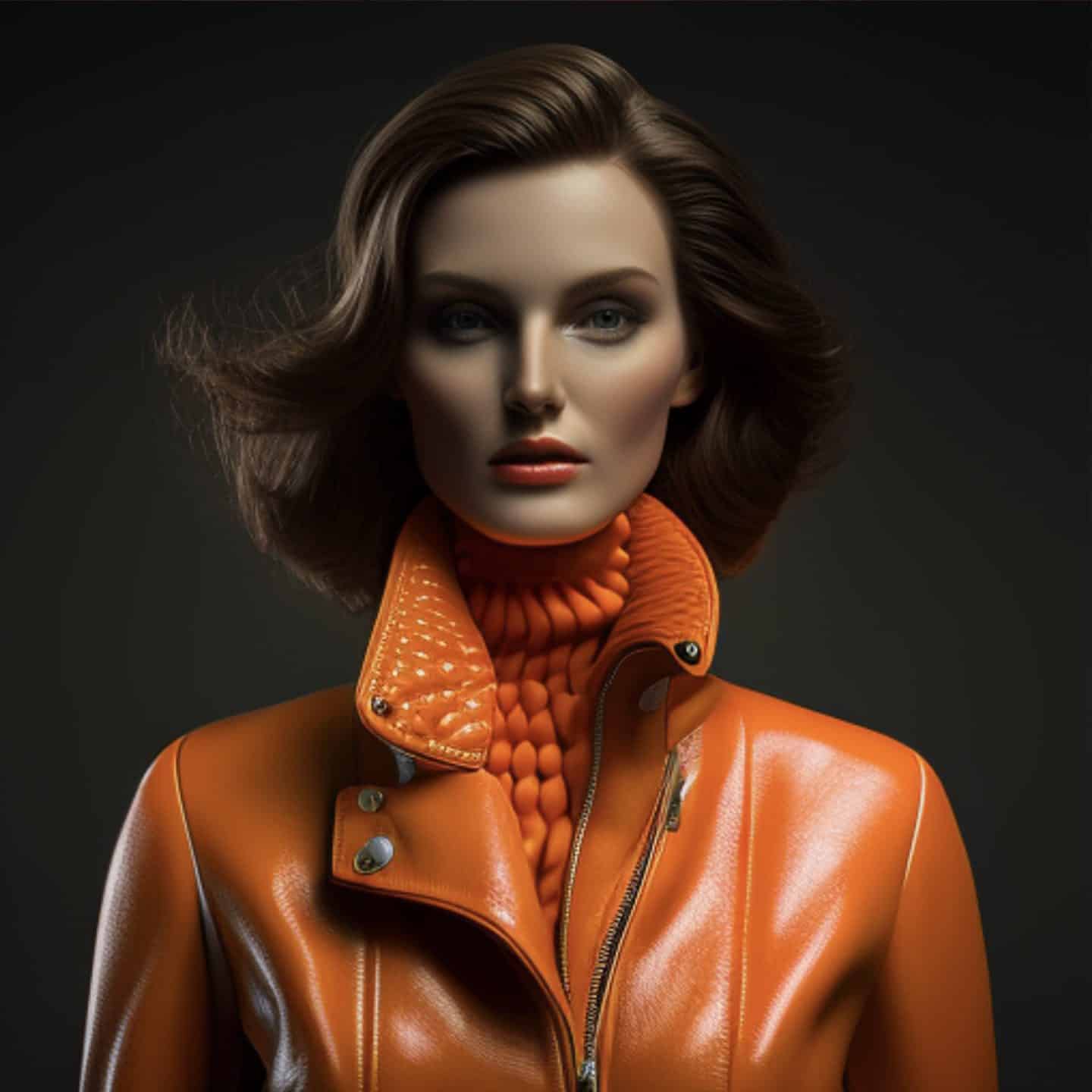 Leather motorcycle jackets in orange color are a statement-making piece and can elevate your casual jeans outfits. To slay a jeans and leather jacket look with aplomb, wear a printed white t-shirt and blue slim-fit jeans with a cropped orange moto jacket. Tie the shirt on the front for a chic look, and round off the outfit with brown suede-heeled boots. 
You can also wear a white tank top with black yoga pants and team it up with a moto jacket in orange color. Style this laid-back look with white chunky sneakers and a baseball cap.
Have a charcoal grey sweater dress in a high-neck style? All you need is an amber shade leather biker jacket, and grey pumps to make the dress look more stylish. Add hoop earrings for a baddie-inspired look.
Burnt Orange Leather Jacket Outfit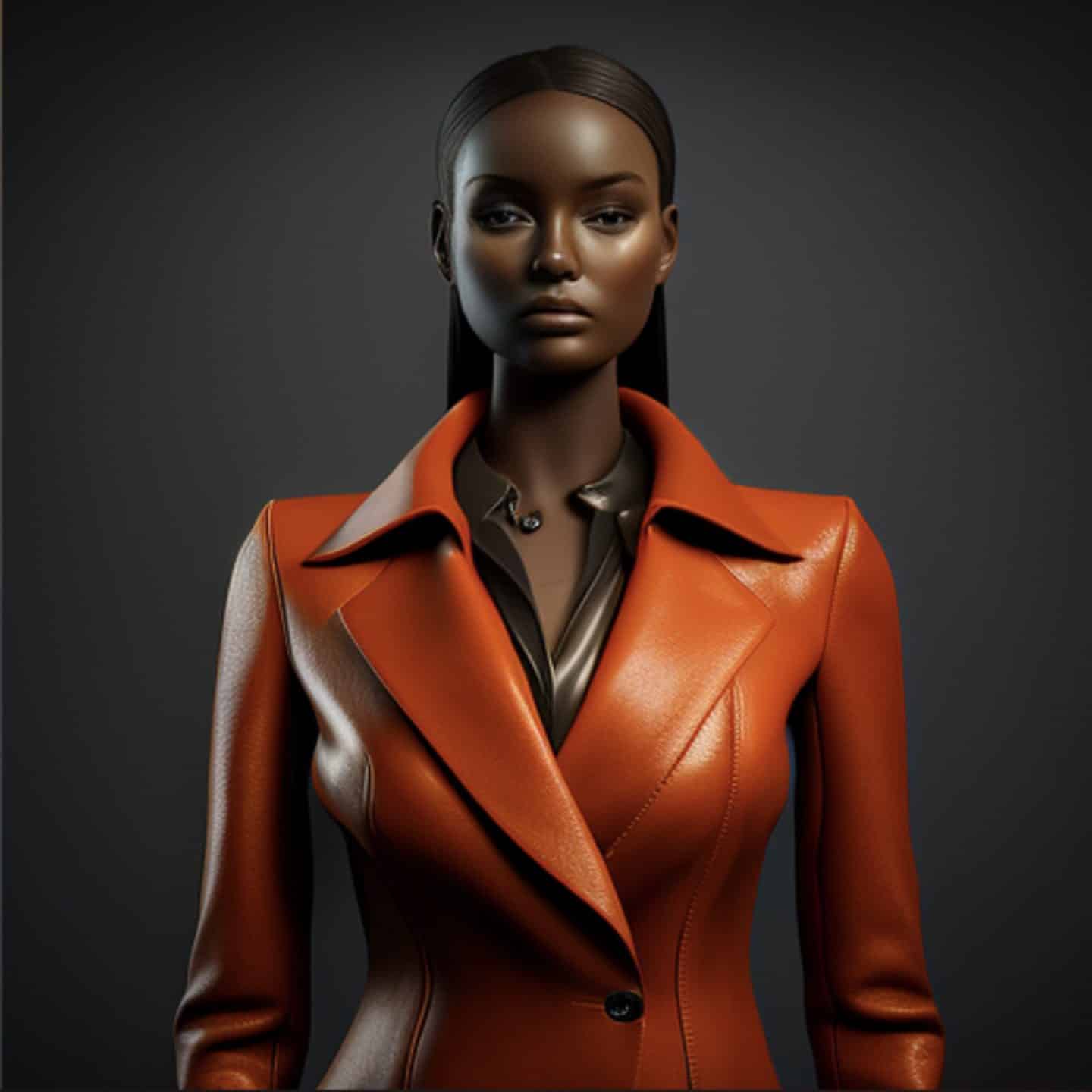 Leather jackets in burnt orange hue are excellent for a subtle look as they look less flashy than bright orange jackets. They come in handy when you want to wear a jacket over any of your sophisticated dresses, skirts, and jumpsuits. 
Wear a black satin jumpsuit with a burnt orange blazer for a gorgeous burnt orange jacket outfit, and complete the look with black pumps. Or, you can try a black and white striped bodycon dress layered with a cropped burnt orange jacket. Steal the show by wearing black ankle boots with this look.
Orange and Black Leather Jacket Outfits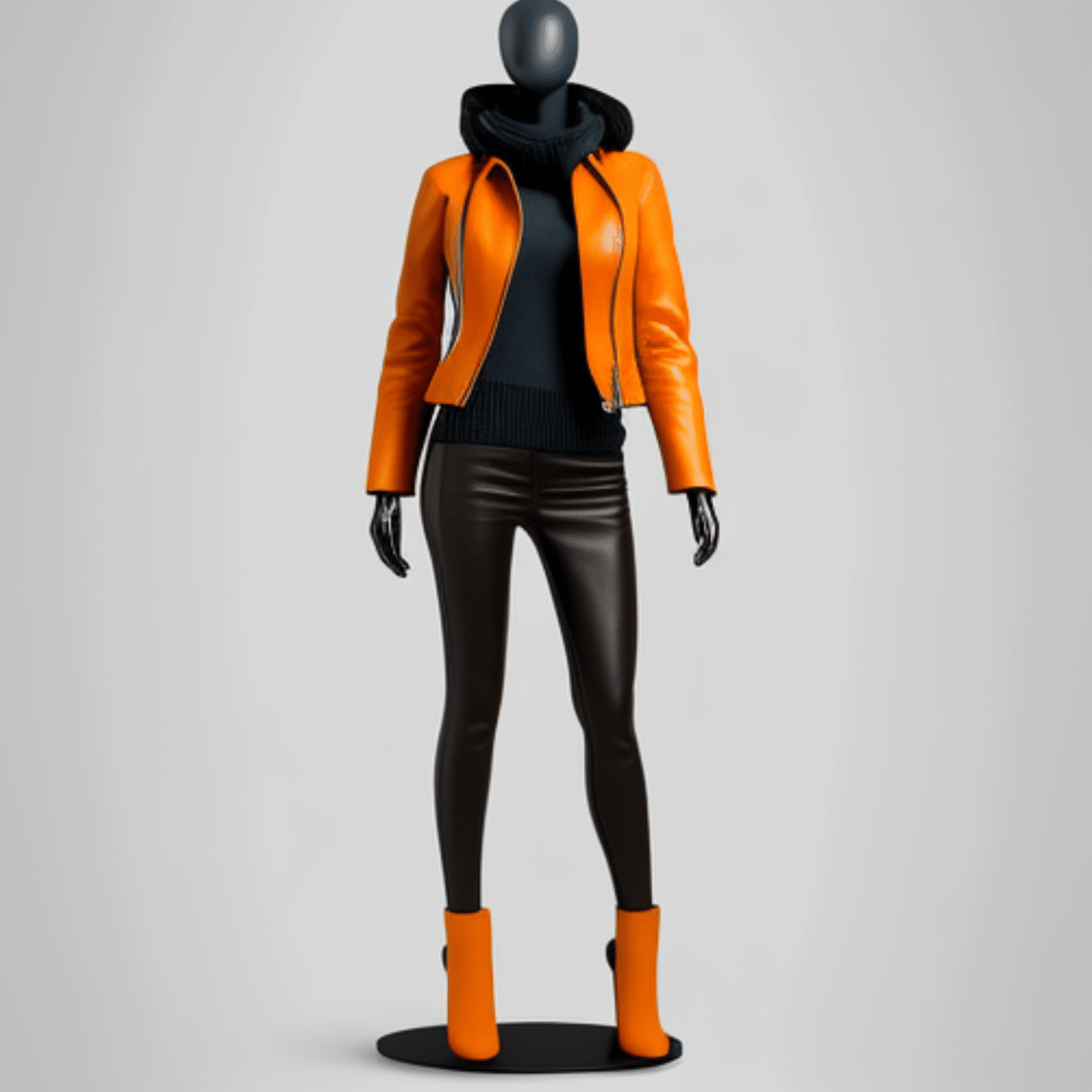 Orange and black jacket outfits are incredibly appealing. Here are a few ideas to rock the combo with ease.
Wear a white silk camisole and tuck it into a black midi skirt. Give a street inspired finish to this look with a marigold and black leather jacket. Black stilettos, a chained shoulder bag, and wide framed black shades will complete this ensemble.
Wear a white co-ord set of a sweatshirt and sweatpants and don a black and orange jacket over it to give an energetic feel to the look. Black combat boots will complete this look perfectly.
Orange Faux Leather Jacket with Leather Pants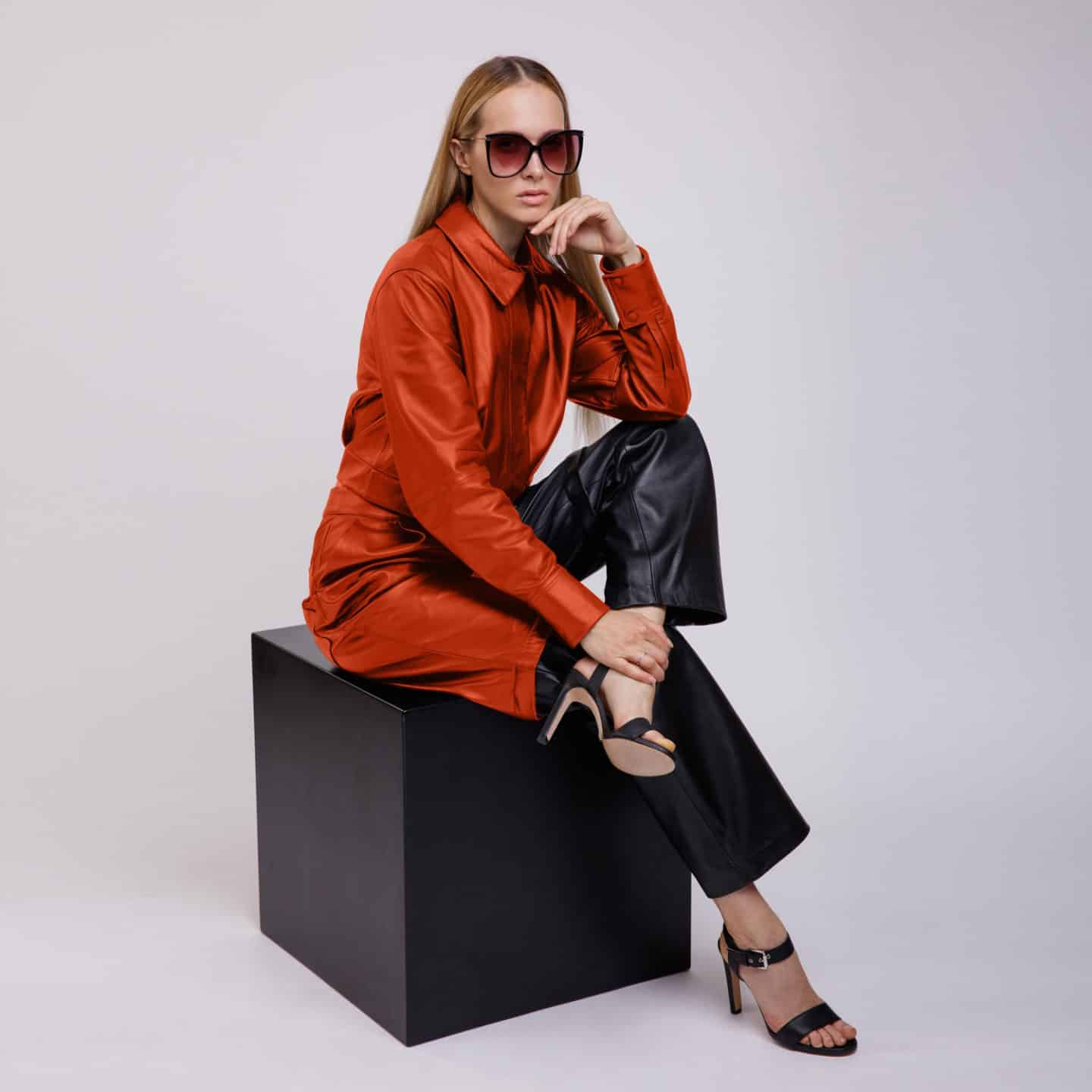 Even vegan leather pieces can be teamed up to give an edgy look. Wearing an orange belted leather jacket paired with black faux leather pants can make heads turn wherever you go. Use a black tube top as a base for this look, and add finishing touches with black heels and stylish shades.
Another orange leather jacket styling tip and way to nail this combo is to pick a black spaghetti top and black leather leggings and layer it with a rust faux leather coat. This off duty model style look can be completed with a pair of leopard print heels. 
Orange Jacket over a White Dress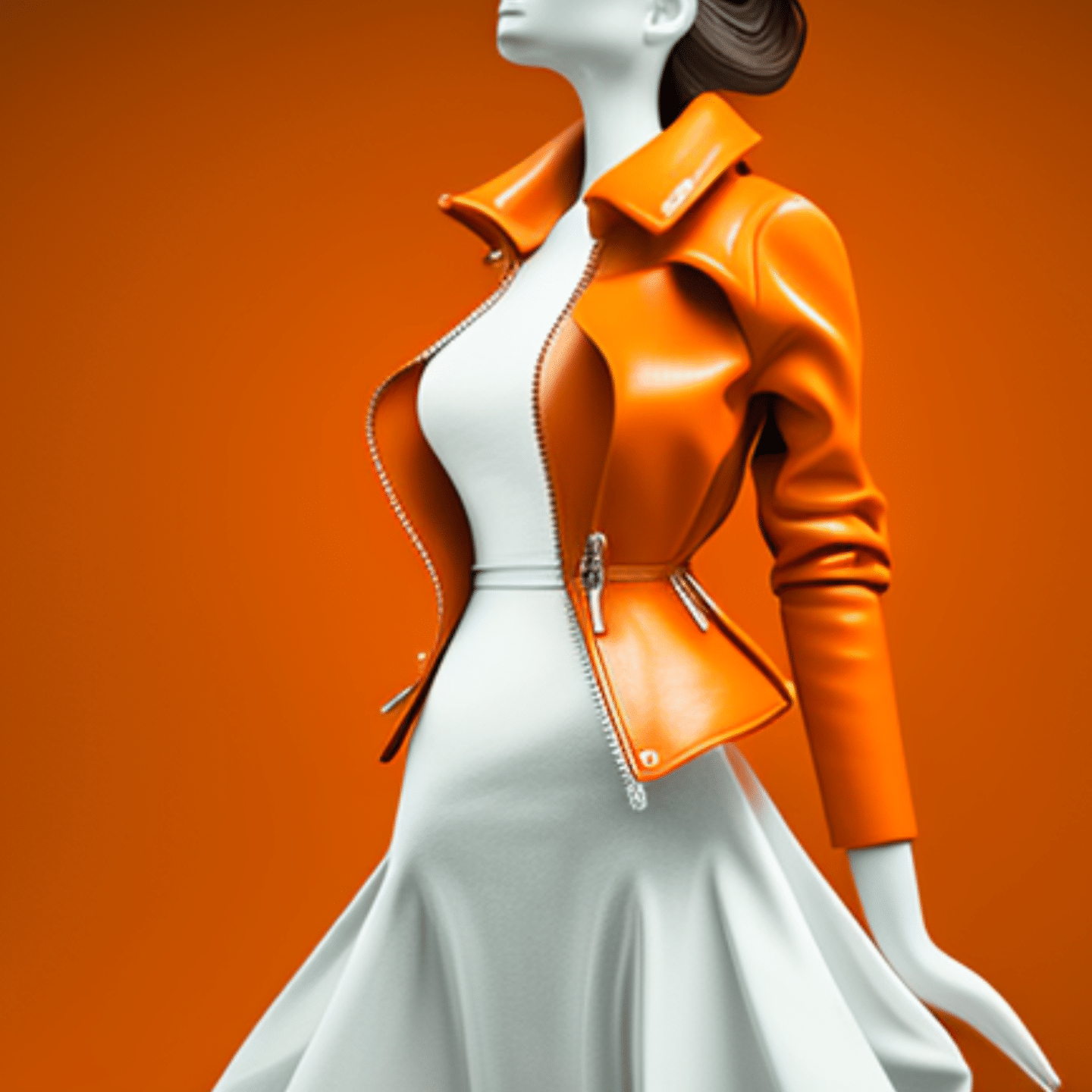 Both orange leather jackets and a white dress are incredibly versatile, and what could be better than teaming them up? Wear a white flared maxi dress and a stylish orangish yellow jacket made of real leather for an infallible look that exudes femininity and glamor. A statement necklace and white ankle strap heels will round off this outfit, making you look ethereal.
Outfits with Bright Orange Jackets
Women might hesitate to go for a leather jacket in a radiant shade of orange, thinking that it would be difficult to wear with many clothing items. The truth is that shades such as tangerine, marigold, or tiger shade give off cheerful vibes and can be easy to style with a little effort. 
Create a peppy look with a pink or white cropped top and white jeans, and don a bright orangish leather jacket over it. 
You can also try teaming up a sage sweater dress with a saffron colored jacket and balance the look with beige sandals. 
FAQs
What Colors Compliment An Orange Jacket?
An orange leather jacket goes nicely with several warm, cool, and neutral hues, including red, yellow, blue, green, pink, white, grey, navy, and beige. Jackets in a darker shade, such as rust or amber, look nice with dull gold, bronze, or champagne.
Which Clothing Goes With an Orange Jacket?
You can wear an orange jacket simply over a t-shirt in a complementary color and jeans. Or, layer it over sporty items like a grey hoodie and black leather leggings. Casual dresses in solid colors or prints, jumpsuits, and fashionable tops paired with skirts also look nice with an orange jacket.
Which Color Jacket Can You Wear with an Orange Dress?
You can create a monochrome look with an orange dress by wearing an orange jacket over it in a darker shade. If you want to make an appealing contrast, wear leather jackets in black, white, or grey over it.
Summing Up
There can be a lot of ways for women to slay an orange leather jacket look. You can wear it with a casual outfit or create edgy street style looks with it. It can even be paired along with dressier items, such as a pencil skirt, a jumpsuit, or a cocktail dress. Macy's has a variety of leather jackets, and if you sign up for Macy's email, you will get 25% off your first purchase.
It is well worth it to add dazzling leather jackets in saffron, orangish red, rust, or any similar shade to your wardrobe and channel the inner fashionista in any of the ways mentioned above. You can also give a spin by adding a personal touch with your favorite accessory to any of these looks with orange leather jackets.
Thank you for reading! I hope these orange leather jacket styling tips were helpful!
Also see: Burnt Orange Asymmetrical Tee and Faux Leather Trend: Casual Outfit Idea