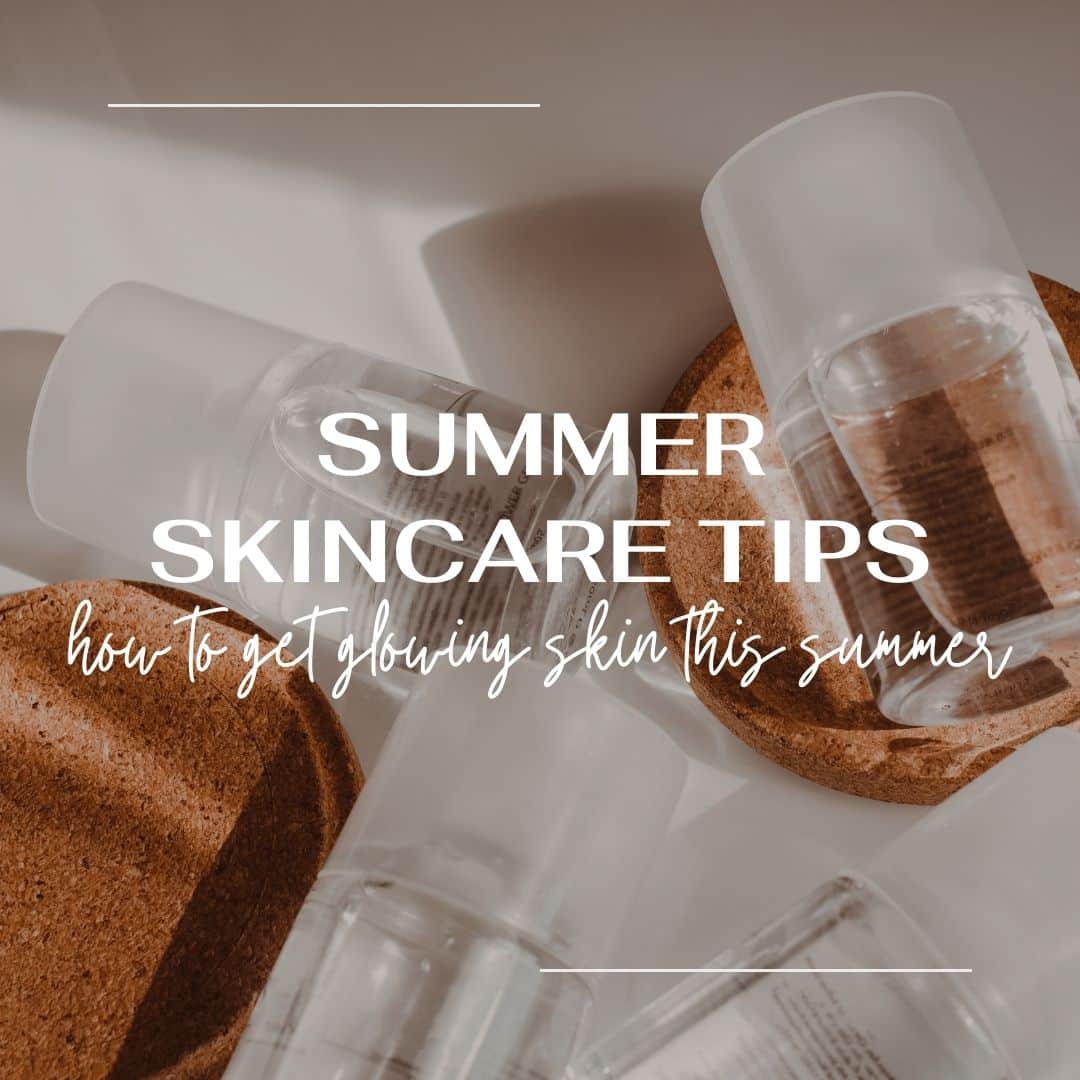 There's something about warmer weather that always brings a sense of excitement. It's such a great feeling when you can pack away the heavy winter layers, pull out cute summer dresses, shorts, and tank tops and spend more time outdoors. With the shift of seasons, we often think about updating our seasonal wardrobes, strolling farmer's markets, and planning outdoor concerts. But did you know you should also change your skincare routine? Our skin changes with the weather. In the summer months, we have more exposure to UV rays, and the humidity produces more oils and sweat, which also causes dehydration. Here are my summer skincare tips to keep you glowing all season long.
How to Get Glowing Skin This Summer
Sun Protection
Wearing sunscreen is my number one summer skincare tip. The sun isn't only stronger, but the days are also longer. UV rays damage our skin cells, and sun exposure is one of the most common causes of premature aging. Most of us are very good at protecting our skin from the sun outdoors on sunny days. But it's equally important on cloudy days and even when you won't be outside because UV rays can penetrate glass windows. I layer this sunscreen under my makeup daily. Don't forget about your hands. Did you know that a good percentage of hand aging is from being exposed to UV rays when we're driving? So, make sure you use an SPF-infused hand cream like this one.
Stay Hydrated
Hydration is vital at any time of year, especially in the summer, because we sweat more in warmer weather. Proper hydration regulates body temperature, improves our concentration and mood, and lubricates our joints. It also maintains our skin's elasticity and brings more blood flow to the skin, improving your skintone.
Exfoliate
This is a summer skincare tip that is easy to overlook. The humidity and heat lead to clogged pores and dull-looking skin. Exfoliating 1 – 2 times a week helps remove the build-up of dead skin cells, unclogs your pores, increases cell turnover, and smooths your skintone. I use this one weekly and have heard great things about this one.
Moisturize
It's still important to moisturize your skin in the summer because excessive heat can dry out your skin. Switch to lightweight formulas that keep your skin hydrated and do not feel too heavy to wear. Consider adding hyaluronic acid to your skincare routine to help maintain your skin's water balance. Apply to damp skin, followed by moisturizer and sunscreen. The Ordinary has an affordable option that is under $10.
Eat Antioxidant-Rich Foods
Antioxidants are known for their many benefits for our skin. Eating antioxidant-rich foods can help slow aging and protect against sun damage. Include leafy greens, berries, peppers, and citrus fruits in your diet. My favorite afternoon snack is fresh blueberries mixed into coconut or lemon yogurt.
Thank you for reading my summer skincare tips! What are some of yours? Let me know in the comments!
Also see: Summer Skincare Routine and Stylish Sun Protective Clothing
If you liked this post, you can subscribe here or follow me on Feedly | Bloglovin | Instagram | Pinterest | Facebook
Linking up with:
Away from the Blue  | Fine Whatever Blog | Between Naps on the Porch | I do de Claire | Elegantly Dressed and Stylish | {Walking in Memphis in High Heels & The Fashion Canvas} | The Style Splash | Straight A Style & Girl Meets Bow | IWe'dis Mutton? | Curated by Jennifer | Mummabstylish | Shelbee On the Edge | Nancy's Fashion Don't | Momfessionals | Marsha in the Middle | Sunday Showcase