Happy Monday! If you read my Fall goals post last month, you'll remember that I made a resolution to start reading one book a month. Well, I jumped right in on this one and read three books in August. Here's how I reviewed them on Goodreads: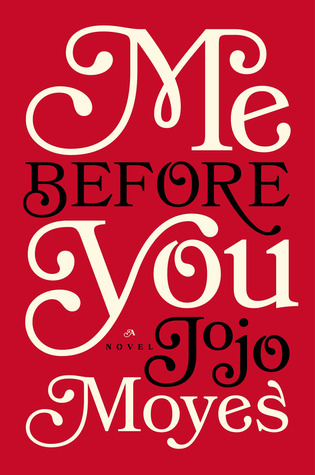 Me Before You, by JoJo Moyes, is not your everyday romance novel, it is a thought provoking love story that makes you think about life & death and will leave you in tears as you finish the book. Louisa has never been outside of her home town and is leading an average life working in a coffee shop. Will is a successful entrepreneur who has it all and leads a life of action and adventure.

Will's life is changed in a split second when he is in an accident that leaves him paralyzed and a quadriplegic. Will comes to the realization that he will never recover and his life will never be the same. He feels trapped inside his own body and makes a difficult personal decision that leaves his family desperate to find a way to change his mind.

Louisa loses her job at the coffee house and is hired on a contract basis by Will's family to be Will's caregiver. She is not told the reasons behind the contract but soon overhears a private conversation between Will's Mother and Sister. Realizing what the stakes are, Louisa makes it a personal mission to change Will's outlook on life.

Louisa and Will's relationship starts out rocky but as it evolves, it's interesting to see the effect they have on each other. Louisa does bring joy to Will's life while Will pushes Louisa out of her comfort zone to try new things and embrace what life has to offer.

Will's situation is described realistically and without any confusing medical jargon. The characters are likable, easy to relate to and are unforgettable. Their story is a reminder to live each day to the fullest and not take what you have for granted. My favorite quote in the book is "You only get one life. It's actually your duty to live it as fully as possible."
Brava, Valentine is the sequel to Very Valentine and the second book in the trilogy by Adriana Trigiani. The plot revolves around 35 year old Valentine who has gone along with the flow her entire life, letting other people make decisions for her and has never really grown up. Valentine is partners with her grandmother, running the families shoemaking business, the Angellini Shoe Company. She has also been her grandmother's roommate for many years and soon learns that her grandmother is remarrying, moving to Italy and is leaving the business for Valentine to run.

Valentine receives another blow when she learns that her grandmother has given her brother, the only family member that she does not get along with, the position of CFO of the company. Valentine is surrounded by her overbearing Italian family, her best friend Gabriel, who moves in with her and June, the family friend that has worked in the shoe shop with her grandmother for years.

When Valentine attends her grandmother's wedding in Tuscany, she is reunited with Gianluca, her grandmother's new stepson, and a long distance relationship develops filled with romantic love letters sent across the continents.

Valentine has always put all of her energy into the family business and has never made the time for serious relationships. Gianluca, who is 18 years older than Valentine, knows what he wants in life and a relationship and they soon break up when Valentine cannot reciprocate. The story takes you through Valentines journey of finding herself, growing up and taking over the reigns of her families shoe making business. I wish there was more closure to some of the other relationships in this story, but maybe that's for the next book in this series.
The One and Only by Emily Giffin, is about Shea, a thirty something football fanatic turned sports writer living in the tight-knit college town she grew up in and working at the same job she has had since college in the college's athletic department. She's been dating the same guy for awhile but does not see a future with him. Her best friend, Lucy, is happily married, has a young daughter and owns a clothing store in town. Lucy wants to see Shea settle down with the right guy.


Growing up, Shea was very close to Lucy's family. Since her parents divorced when she was young and her father was mostly absent, Shea has always held Lucy's father, Coach Carr, of the college football team, in high regard. After a family tragedy, Lucy starts to take an interest in Coach Carr but it is unclear if she is interested in him as a person or the legend.
At Coach Carr's urging, Lucy starts to make changes in her life; breaking up with her boyfriend, leaving her comfort job for her dream job and dating the quarterback of the Dallas Cowboys. Shea finds that after all of the changes, she is still right back where she started.
The storyline is about Shea's attraction to a much older man and finding if she really loves him or if it's because he represents a father figure. Shea has to steer through tricky situations with Lucy because of her new found relationship with Lucy's father.
The abundance of football jargon throughout the book did not bother me and while there was not much depth to the characters Shea and Lucy, they were likable. The story kept me interested but I was hoping that there would be more to it. After all the page turning, it was a predictable ending. I've been a fan of Emily Giffin books and while this was predictable, I recommend it for a summer beach read.
What are you reading? I'd love to hear your book suggestions!
Thanks for stopping by and reading today! I hope you will come back and I'd love it if you followed along with me on Facebook, Bloglovin or Google +.
Linking up with these fabulous bloggers here.