College basketball is a big deal in our house! We've always watched basketball together and consider it good family time fun. I love to entertain, and my husband likes to have get-togethers for sporting events. Today I wanted to share ideas for hosting a college basketball watch party so for The Big Tournament!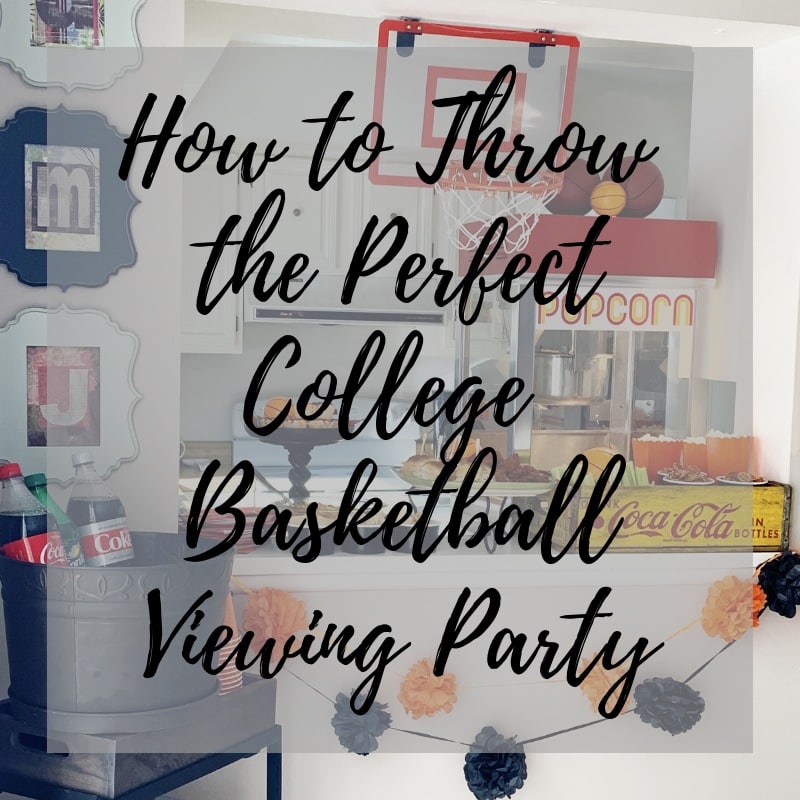 Disclosure: This shop has been compensated by Collective Bias, Inc. and The Coca-Cola Company. All opinions are mine alone. #CelebrateTheMadness #CollectiveBias
The great thing about The Big Tournament this month is that it spreads out across several dates, so you can effortlessly throw together a watch party and have lots of options for dates! Once you create your guest list, get the invitations out. Take advantage of a free online invitation service that offers college basketball themes. I love that you can send them by text now too! If you are going to start a bracket pool, send one out with your invites!
Basketball Themed Decor
Start thinking about your decorations right away. For decor, there are so many routes you can go! I decided on an orange and black theme, but you could also use your favorite team's color scheme. At the bare minimum, you will need some plates, napkins, cups, and any other fun details you want to add.
Watch Party Food
Plan your menu and create your shopping list. A watch party is a pretty low key so you can keep the food simple. Pick things that are easy to grab and go. Think hearty, concession stand, or tailgate-type appetizers.
Game Day Menu
Carrots & celery with ranch dip 
Pulled chicken sliders 
White chicken chili dip
Jewel Chicken wings
Popcorn
Pretzels
Cupcakes
You don't want to be stuck in the kitchen when the game is on, so I take advantage of the convenience and ease of picking up Open Nature Rotisserie Chicken and Jewel Chicken Wings from my local Jewel-Osco. They offer it in their deli area daily, and I used it to make the pulled chicken sliders and white chicken chili dip.
While shopping at your local Jewel-Osco, don't forget to stock up on drinks, including plenty of Coca-Cola products.
White Chicken Chili Dip
Every party needs a tasty dip! I made a few modifications to my white chicken chili recipe to turn it into a dip. You can make this a few days before and reheat it on game day.
DIY Basketball Cupcakes
I doctored up white frosted cupcakes to look like basketballs with orange food color spray and a black icing writing pen.
Pulled Chicken Sliders
To make the pulled chicken sliders, I cut a package of Hawaiian rolls in half lengthwise and placed it in a glass baking dish. Layer the pulled rotisserie chicken and provolone cheese slices on top of the rolls and put the lid back on. Mix 2 TBS melted butter, 2 TBS dijon mustard, and 1 TBS sugar. Brush the mixture evenly over the top—Bake at 350 for 20 minutes.
Simple Snack Ideas
Viewing Party Set-Up Tips
Plan out your decor and layout of your rooms. If you have plenty of space, set up more than one viewing area since there may be multiple games on simultaneously. Or, if your guests will be bringing kids, you might want to have a separate game area for them. Pull in extra seating from other rooms in your home and arrange it so that all of our seating faces the TV. Clear out your coat closet, so you have plenty of hanger space for your guest's coats.
DIY Watch Party Concession Stand
I thought setting up a concessions stand for my appetizers would be fun for my college basketball watch party. That way, whenever your guests want to eat, they can walk up and load up on whatever they want. I found the pom-pom garland at the dollar store, borrowed a nerf basketball hoop from a friend, and brought the popcorn machine up from the basement. Make sure to chill your favorite Coca-Cola products beforehand. They pair well with everything on my menu!
Countdown to Game Day Printable
A few days before, clean your house and decorate. The day before, arrange your furniture and prepare your make-ahead appetizers. On party day, chill your drinks, set up your serving area, and display your food. When guests arrive, you should be good to go so you can relax and enjoy The Big Tournament with them! Here's a handy countdown to game day printable checklist for you:
I hope these ideas for throwing a college basketball watch party are helpful! How do you celebrate college basketball season? Pin this post so you can reference it later!
Thank you for reading!
Also see: Pumpkin Spice Dip and Teen Mardi Gras Birthday Party
If you liked this post, you can subscribe here or follow me on Feedly | Bloglovin | Instagram | Pinterest | Facebook
Linking up here.