How was your weekend? The hubs and I went out for fajitas and spicy margaritas on Saturday night. Our favorite Mexican restaurant has a great outdoor patio with heaters, but the patio is now closed. So we braved it and ate in the bar area. I did feel pretty comfortable with plexiglass between each booth. But, I doubt that we will be going out that often now that al fresco dining season has ended. October really flew by, didn't it? Since it's the end of the month, it's time to share my October purchases. My budget is $75/month, and posting what I buy helps keeps me accountable.
October Purchases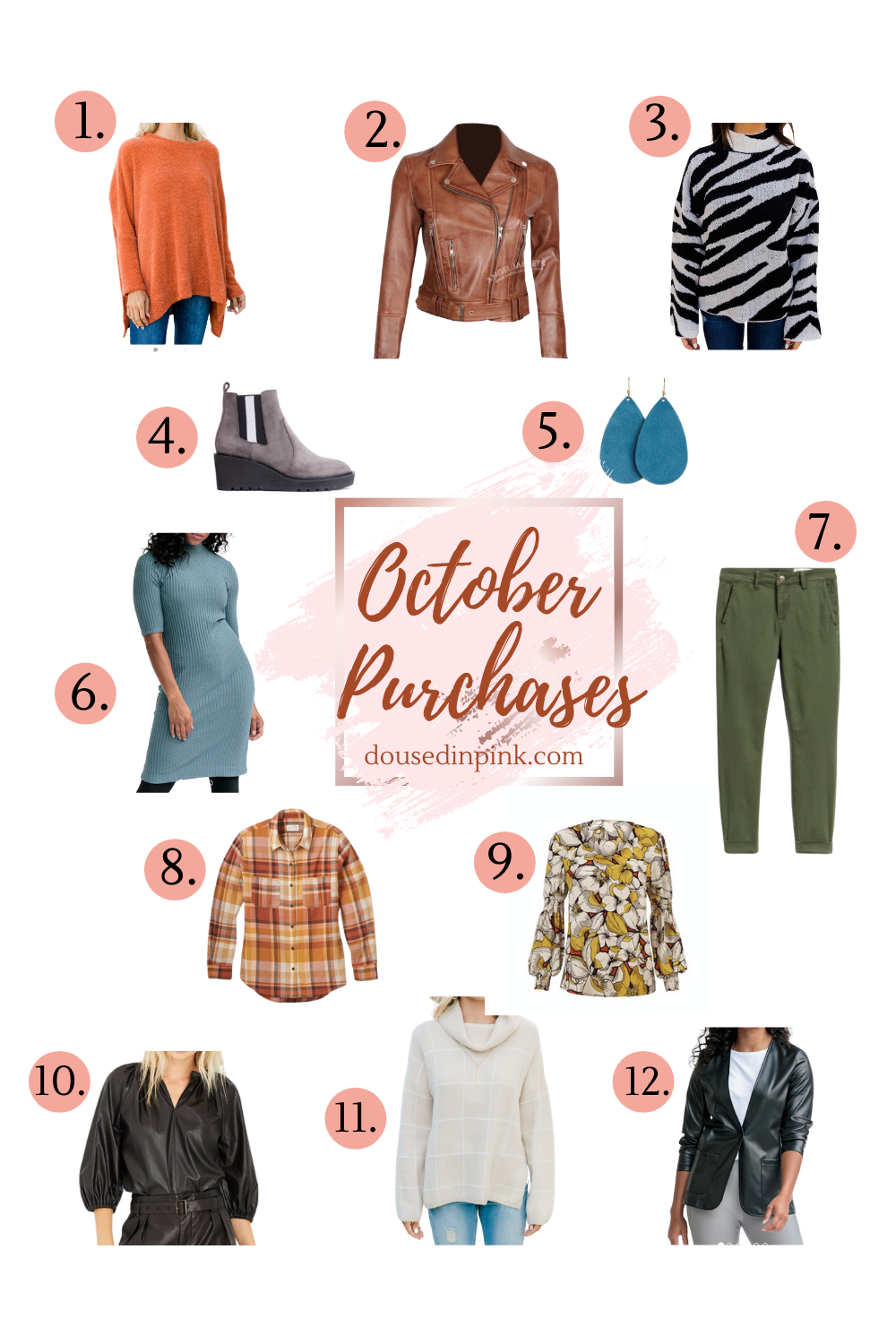 The olive skinny pants are probably my favorite purchase this month. They were the only piece I kept from my fall Stitch Fix box and with 2 referral credits, they were a steal at $38. They are so comfortable, I've been wearing them non-stop.
Are you a fan of leather earrings? The pretty peacock blue color was the Nickel & Suede September earring of the month and I pulled the trigger on September 30th. Did you know if you join the Nickel & Suede Facebook group, you'll get free shipping on all of your orders?
1 – Orange Tunic c/o Mint Julep
2 – Cognac Leather Jacket c/o Angel Jackets
3 – Zebra Print Sweater c/o Mint Julep
4 – Wedge Booties c/o Cecelia NY
5 – Leather Earrings $22
6 – Sweater Dress  c/o Peach
7 – Olive Skinny Pants $38
8 – Flannel $16.00
9 – Printed Blouse c/o Cabi
10 – Faux Leather Top $26.40
11 – Windowpane Sweater c/o Mint Julep
12 – Faux Leather Blazer c/o Peach
Total: $76.
My October purchases were right on budget this month! November is my birthday month and I know I'll be using my birthday coupons and discounts so I'll have to be extra diligent with my budget. I'll be searching for a pair of calf hair booties at a more affordable price point. I've also got a grey or tan fedora hat and a white belt on my November wishlist. What's on yours?
As always, thank you for reading! Stay healthy and safe!
If you liked this post, you can subscribe here or follow me on Feedly | Bloglovin | Instagram | Pinterest | Facebook
Linking up here.