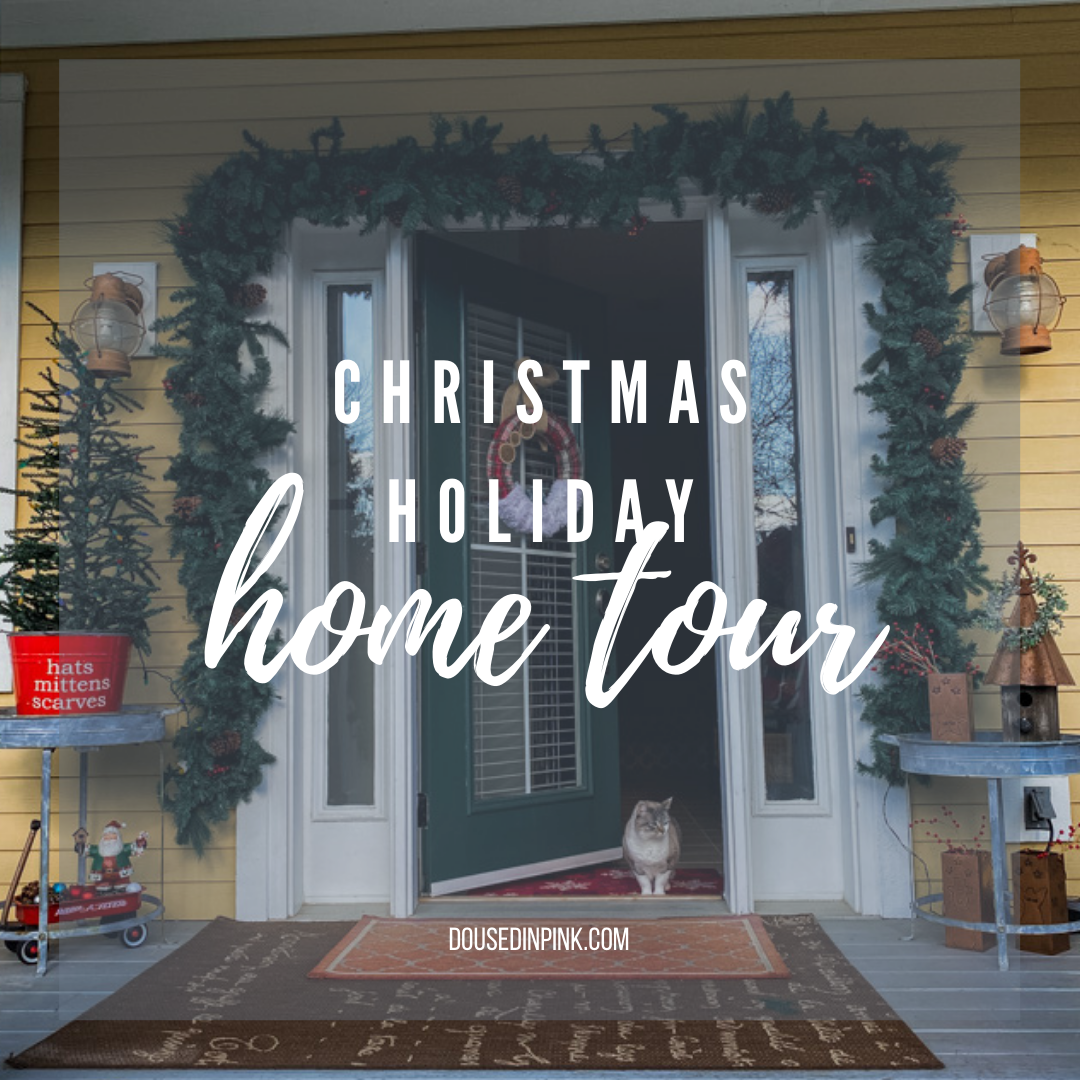 I love seeing other people's decor no matter what time of year but especially around the holidays. I normally go all out with holiday decorating but with living temporarily with family and most of our belongings in storage, I had to tone it down a little bit. I debated whether or not to share my home tour this year on the blog, but then, I decided we all need a little festive inspiration, especially this year. In past years, I had Christmas trees and garlands in every room. They are buried somewhere in our storage unit, and I was not able to find them. But, I always wanted a flocked tree, and Home Depot came to the rescue with a tall and narrow option perfect for our tiny space. I hope you enjoy this photo loaded post of my Christmas home tour!
Holiday Porch Decor
Let's start with our front porch in the day and lit up at night. I didn't do much decorating on our porch this year. Just a little garland, a wreath, and a few holiday decor pieces. I made my let it snow wreath the year I was on my blogging break, so I don't have a tutorial for it. But, if you are interested in an easy DIY wreath, you can check out my candy cane wreath tutorial here.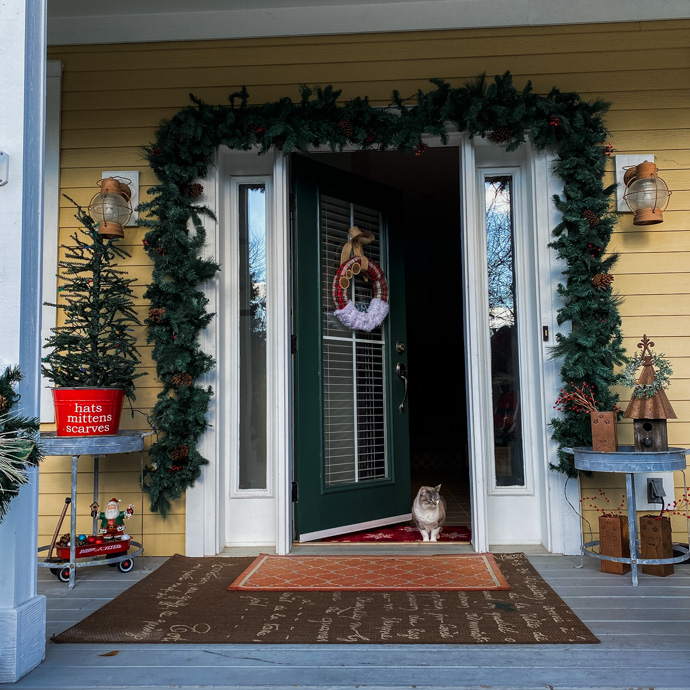 Entryway
You can find my easy gnome tutorial here.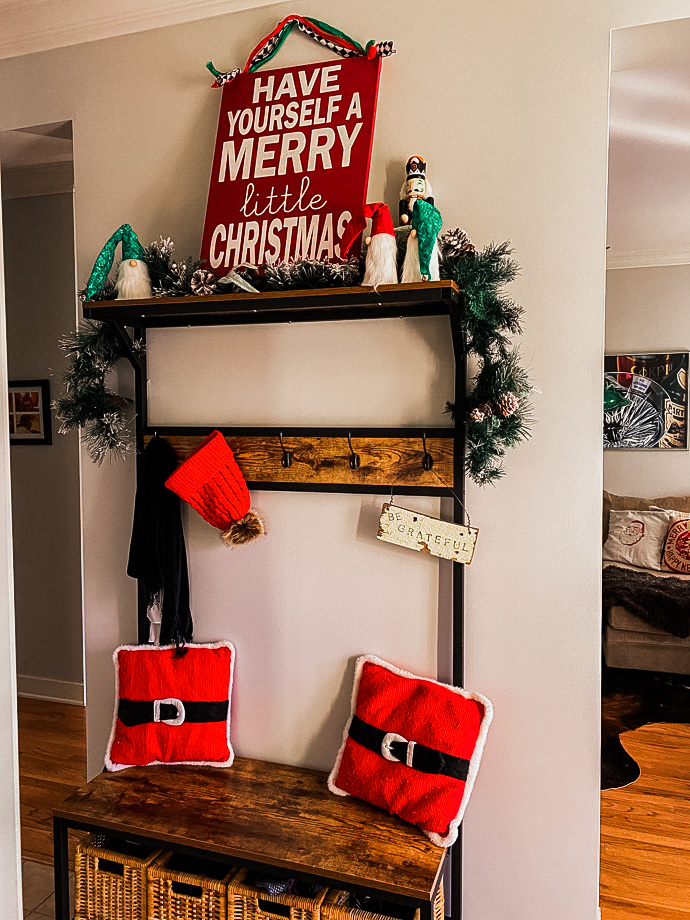 Don't mind my photobomber, Richard Parker. She follows me around and stares at me all day and wants to be part of the action.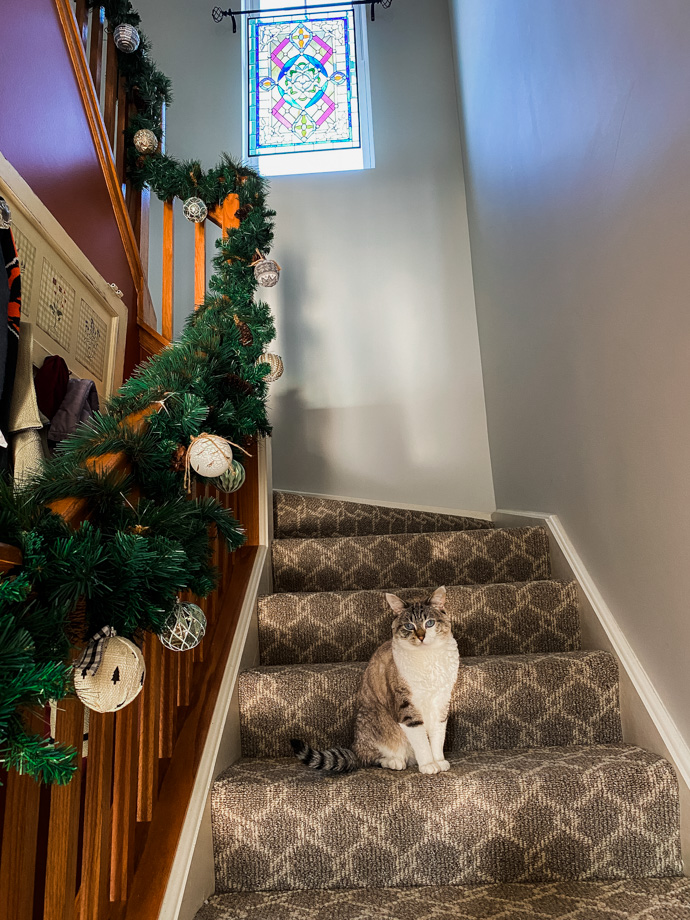 Christmas Home Tour Living Room
I've never really followed a theme when decorating our tree, just a mix of ornaments we've collected over the years. My parents gave my sister and me an ornament every Christmas, and I carried that tradition down to our daughter. It's fun to pull them out every year. The mason jars on the sideboard were a DIY I shared my first year of blogging. You can check out the tutorial here.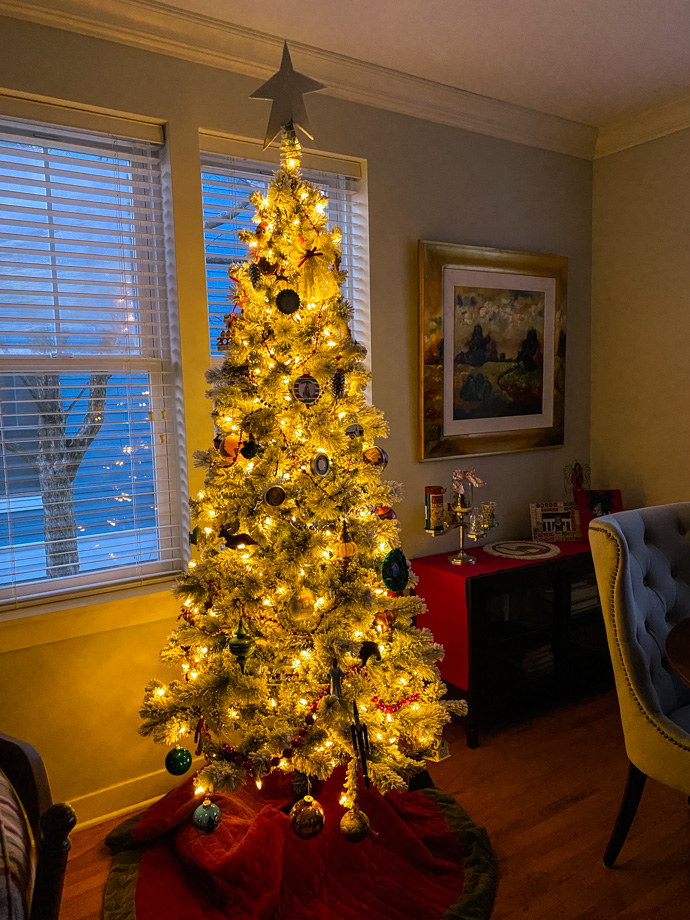 Cozy Christmas Kitchen
I wanted this space to be a hot chocolate bar but didn't get very far with my theme. We have an eat-in kitchen with a huge dining table. I'm so glad I was able to bring most of my Rae Dunn collection to display on the dining shelves. It has been hard not to add a few pieces every time I go to TJMaxx but so far I have not given in.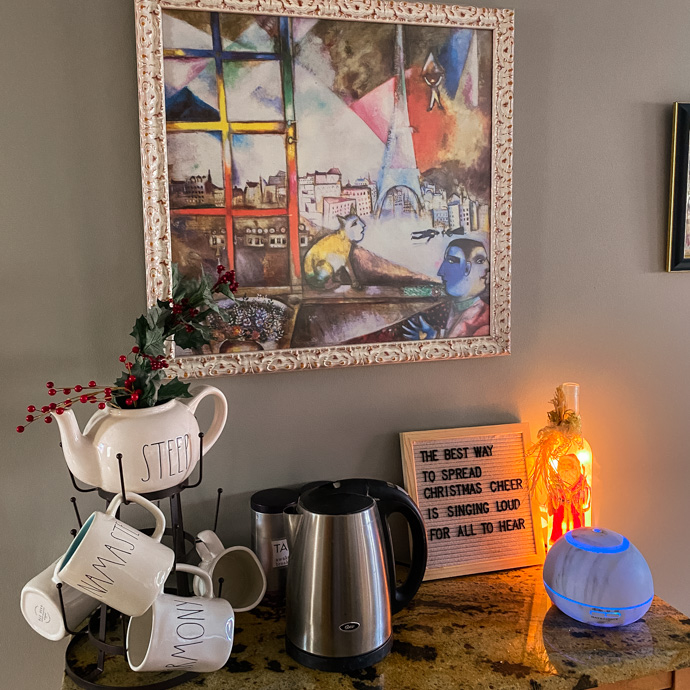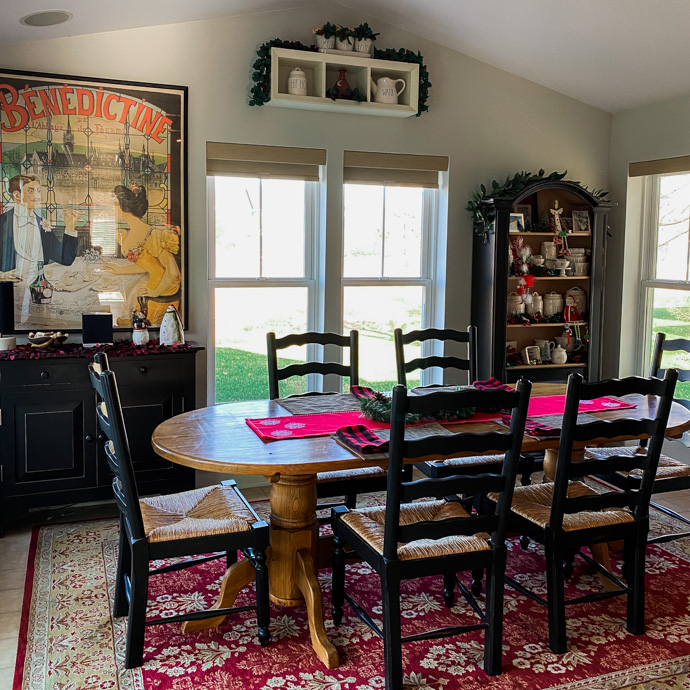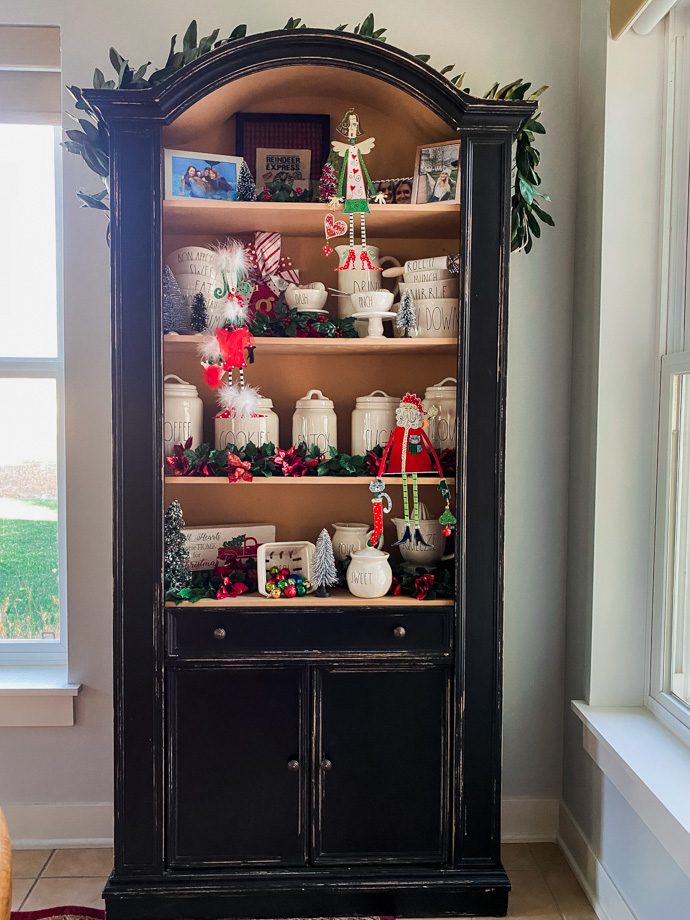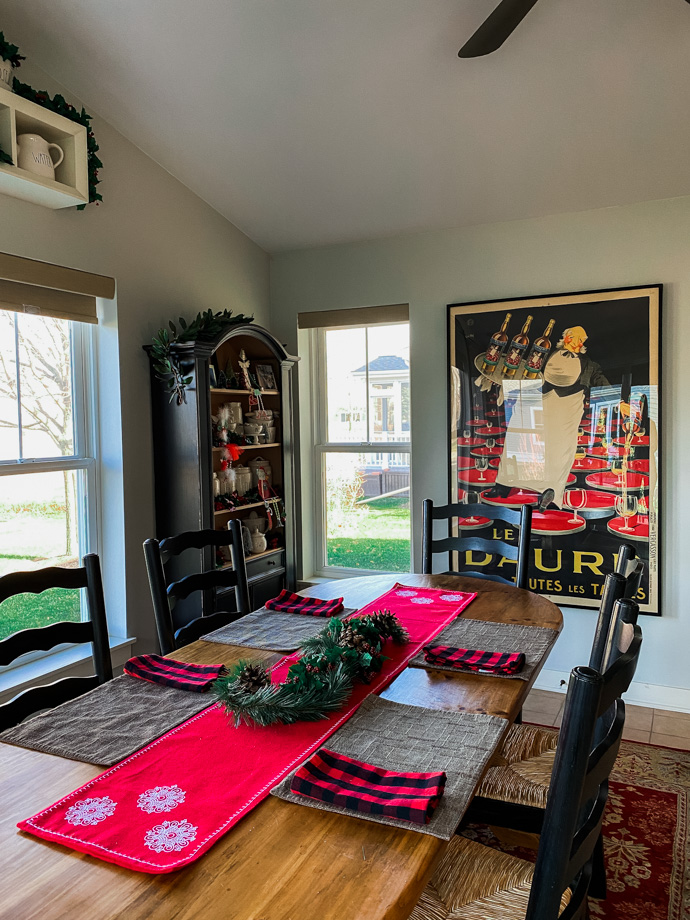 That wraps up my Christmas home tour.
What's your favorite room in the house?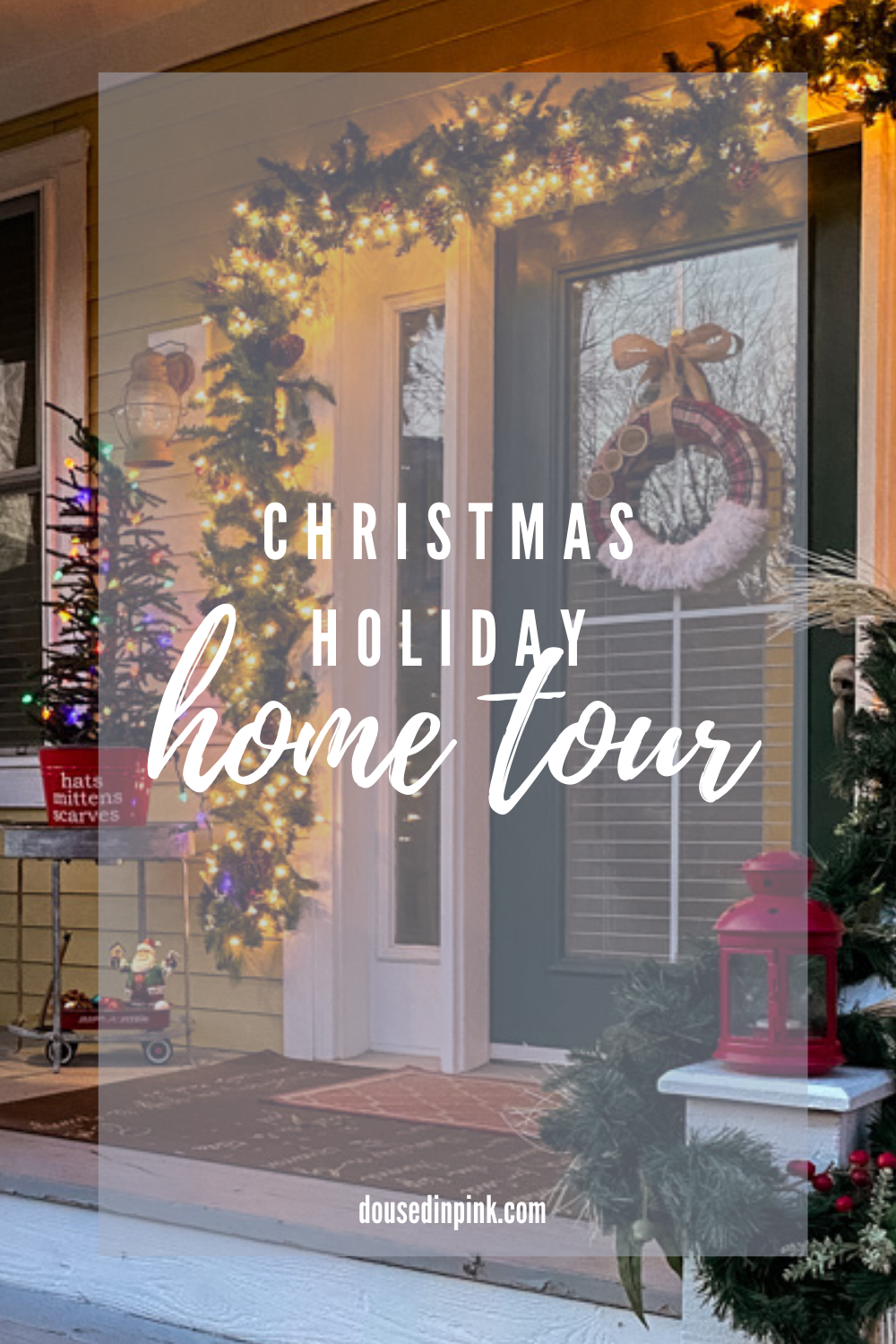 As always, thank you for reading! Stay healthy and safe!
If you liked this post, you can subscribe here or follow me on Feedly | Bloglovin | Instagram | Pinterest | Facebook
Linking up here.