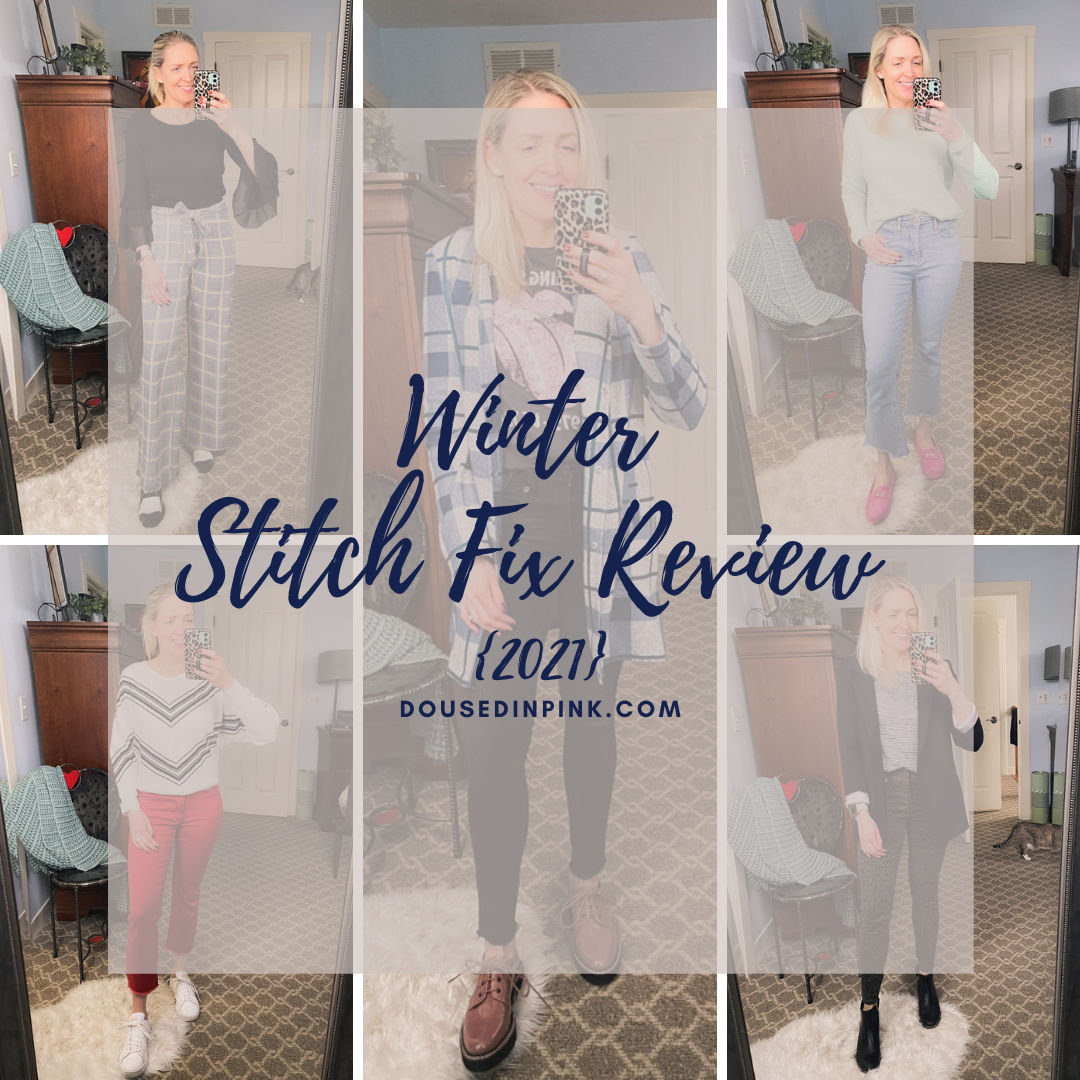 I'm excited to share my winter Stitch Fix review. I've reviewed Stitch Fix a few times on the blog before. You can read my previous Stitch Fix reviews here, here, and here. Since my last Stich fix was in the fall and I had a referral credit, I thought it would be fun to see what they would pick out for me this winter.
What is Stitch Fix?
But before we get to my winter stitch review, let me tell you what Stitch Fix is all about (and if you are already familiar, go ahead and scroll down). Stitch Fix is a personal shopping service that shops for you and delivers five pieces of clothing and accessories to your door for you to try. You can schedule your deliveries monthly or on-demand. They also offer luxe pieces. These are premium brands that are pricier but are more investment pieces. If you want luxe pieces, you can click a box or let your stylist know.
The charge for the monthly styling fee is $20. If you decide not to keep anything, you send it back in a prepaid envelope and only charged the $20 styling fee. If you keep one or more pieces, you'll receive a credit for the $20 styling fee you paid upfront towards your purchase. And, if you purchase all five pieces, you receive a 25% discount. You can try Stitch Fix using my code to get $25 off your first fix!
I'm all about the cozy winter fashion but want pieces that I can wear from season to season. I left a note for my stylist that I was interested in unique sweaters/tops that I could mix and match with the basics already in my wardrobe. I really wanted pieces that had unique details that you would not see on everyone if you were out and about. My Fall 2020 Stitch Fix was a bust, and I was thrilled that my stylist heard my message for this fix.
What Was in My Winter 2021 Stitch Fix Box
Sadella Textured Crewneck Pullover ($54)
When I put this sweater on, I didn't want to take it off. It's a super soft knit and gives you all the cozy vibes. The mint green is on-trend for spring. Overall this sweater is a great spring transition piece. This was a keeper, and you guys agreed on my story poll.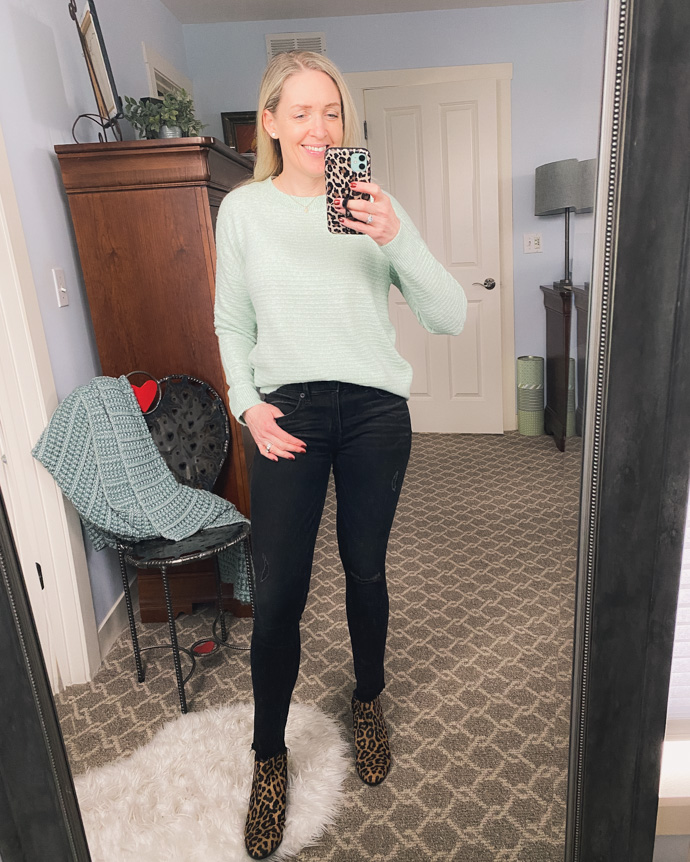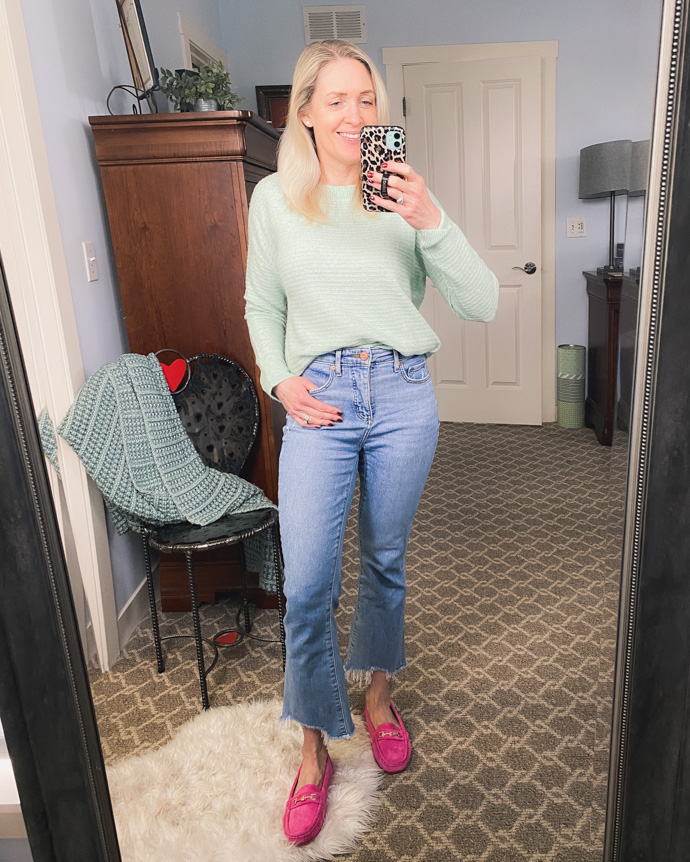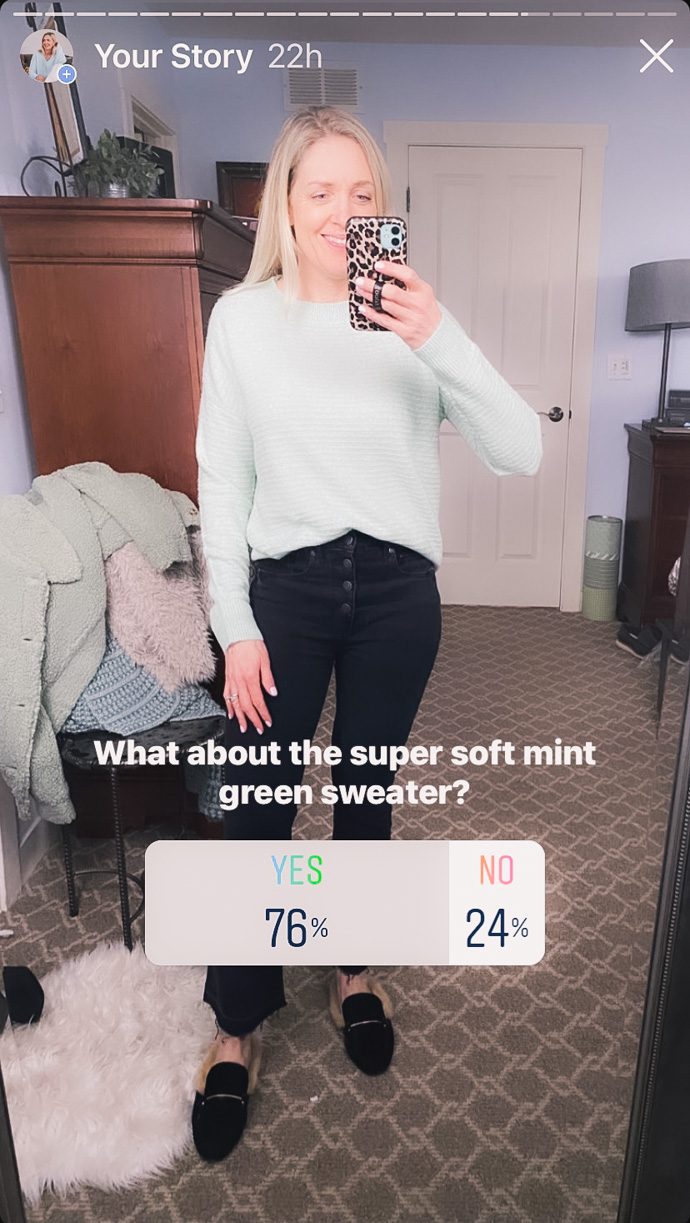 Ethelda Ruffle Bell Sleeve Pullover ($58)
When I first saw this sweater, I thought there were so many styling possibilities. The fine rib-knit hugs your body, and the chiffon ruffled bell selves are an interesting detail. While this sweater is tunic length, it's also body-hugging and doesn't really look great with leggings. The poll results were almost 50/50 with this one. In the end, I sent it back because I didn't love the fit.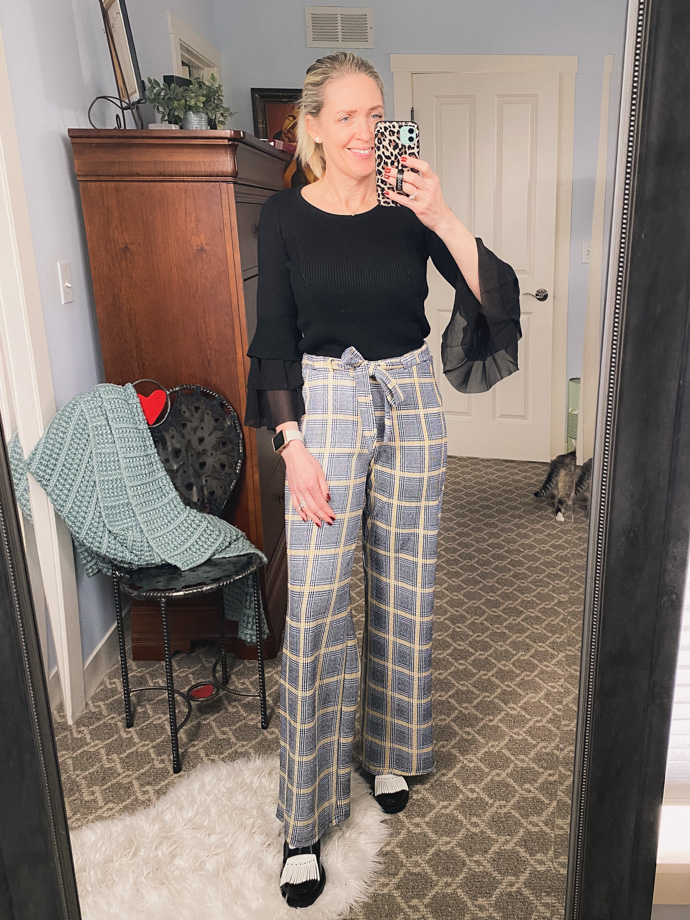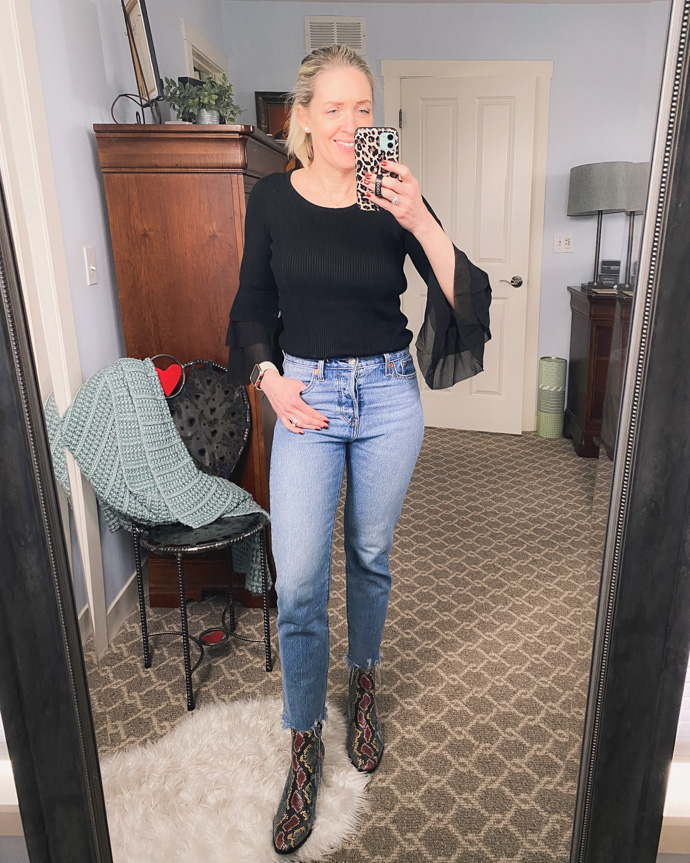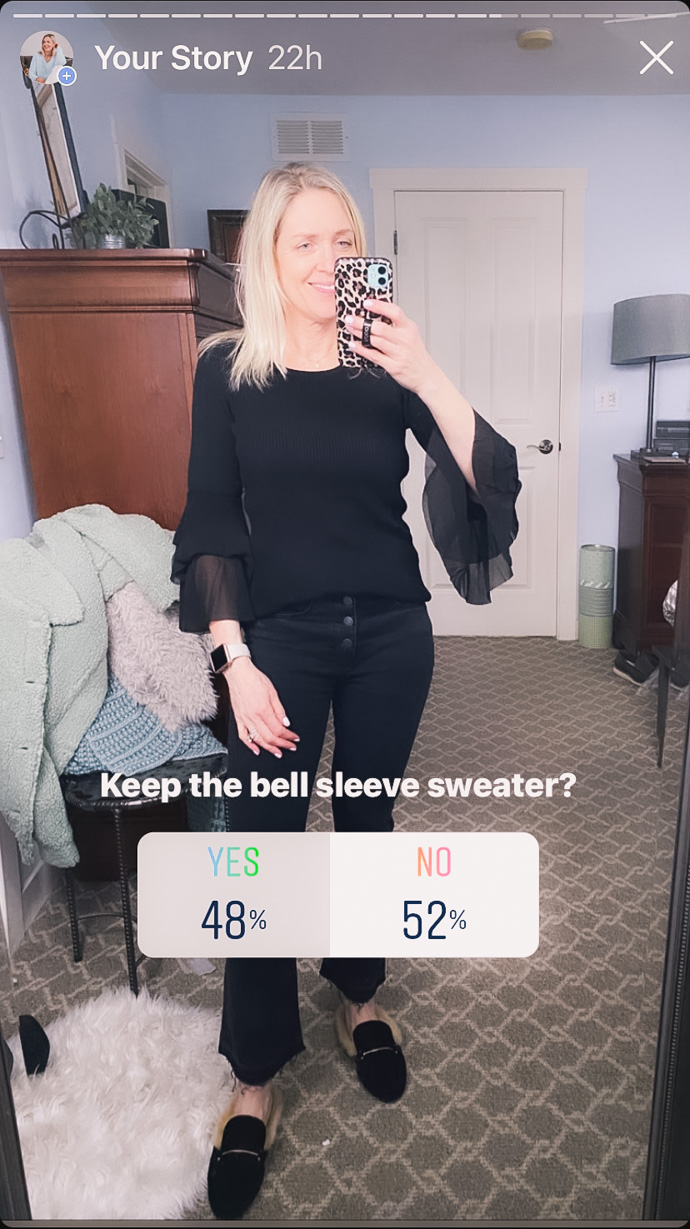 Tibi Dolman Sleeve Mitered Pullover ($64)
I knew this sweater was a winner when I took it out of the package. You can never go wrong with black and white, and there something about chevron stripes that gets me every time. Despite the poll results, I loved this sweater but not the price point, so I sent it back.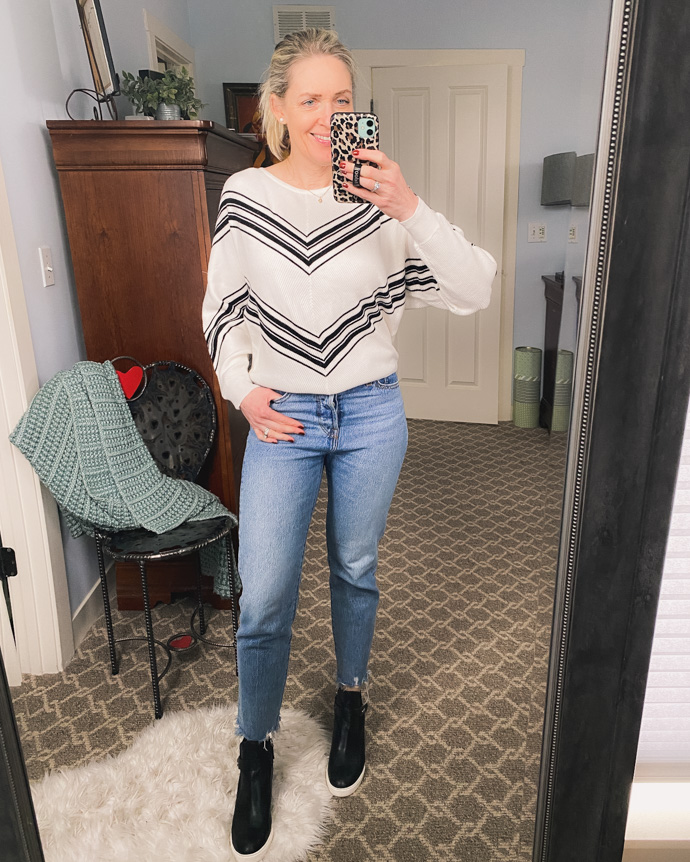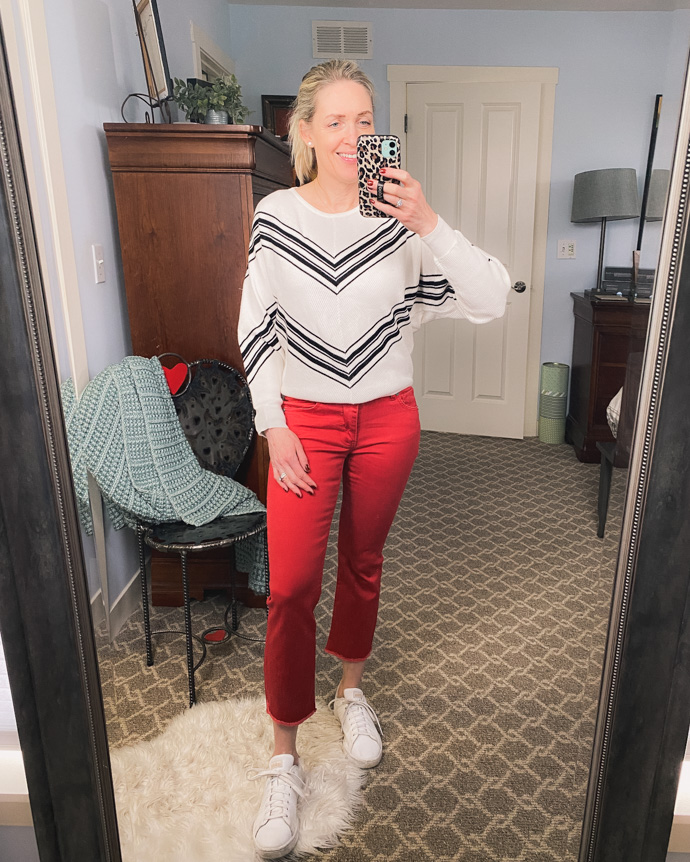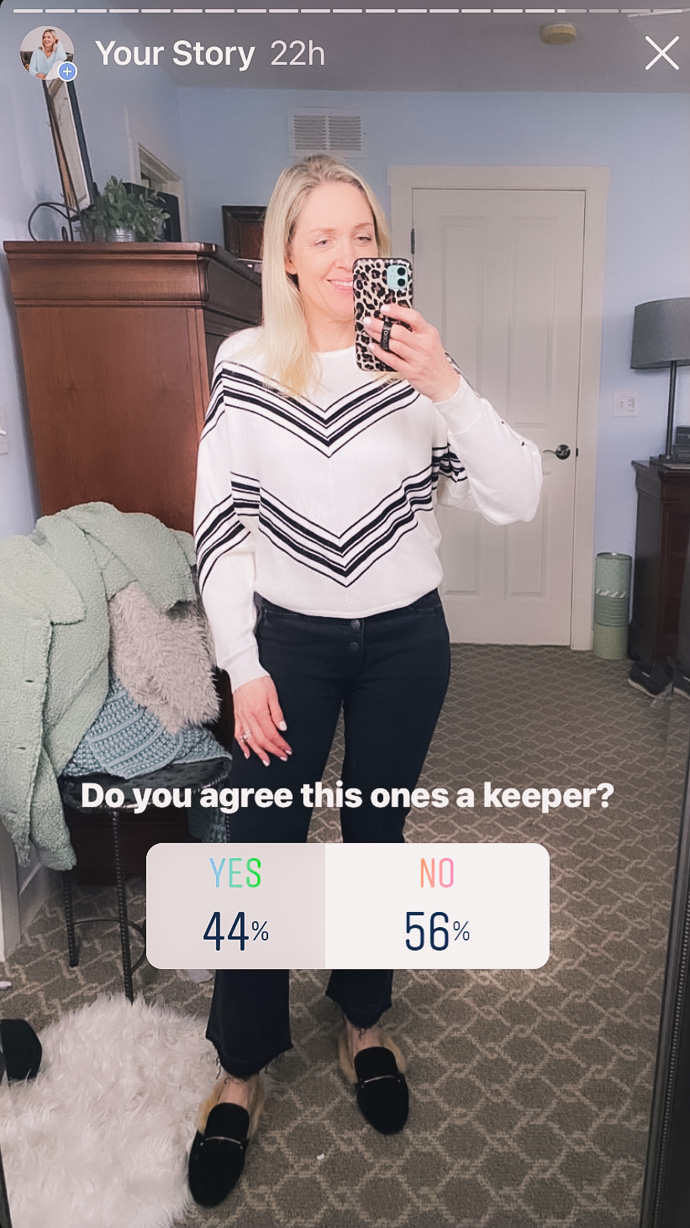 Carson Knit Jacket ($58)
A flannel plaid jacket? Yes, please!  60% agreed this was a keeper. I went back and forth on this but decided to send it back. We're headed into spring, and I knew I'd wear this a few times and then pack it away until fall. I'd instead save my budget for some spring and summer pieces. But I am regretting not keeping this jacket.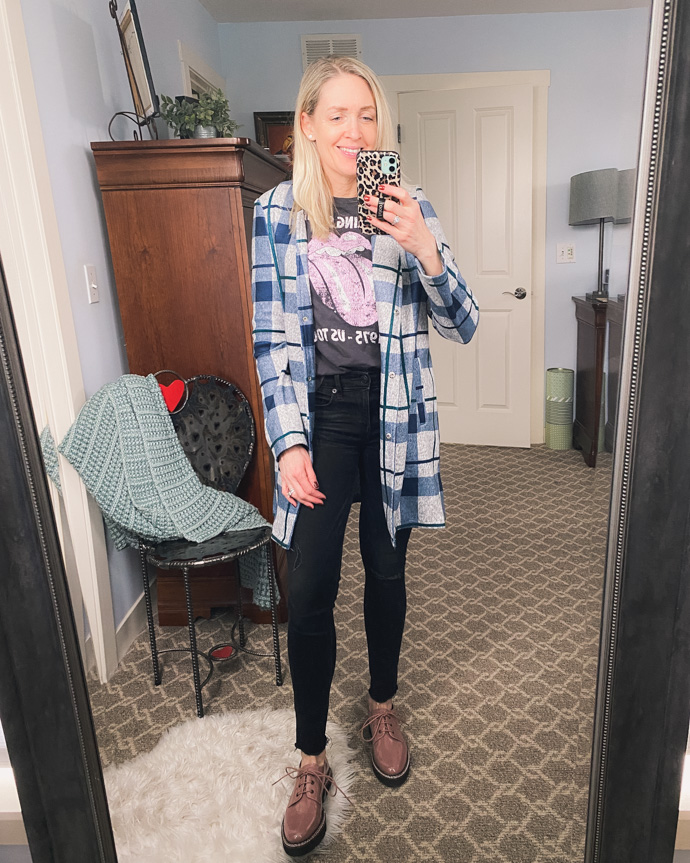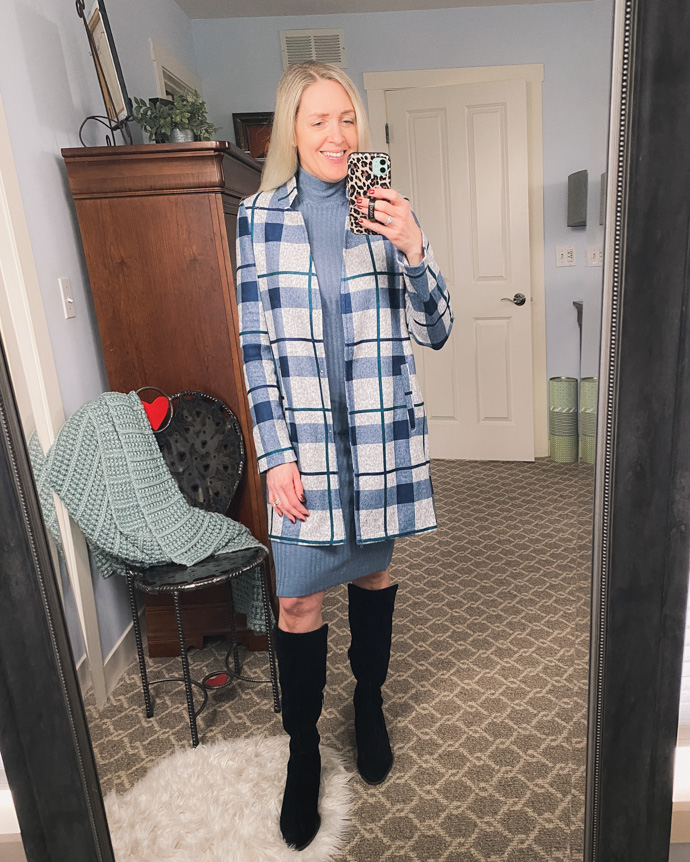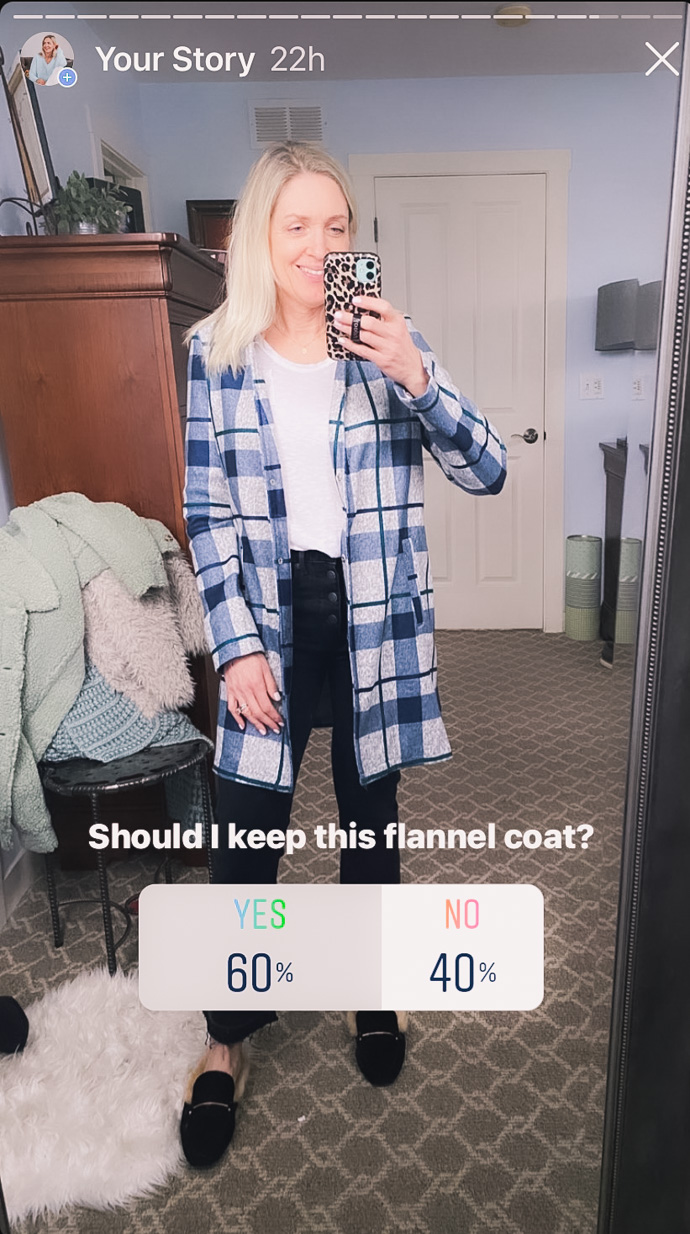 Hannah Cargo Printed Skinny Pant ($88)
I've always had good luck with Stitch Fix pants, and these are no exception. I love the fit, the animal print, and the moto details. While the price tag is hefty, it's a feat to find pants that fit perfectly. Poll results were 64% for keeping. I went back and forth until the minute I had to check out and make a decision. Since I was hesitant, I thought it was best to send them back.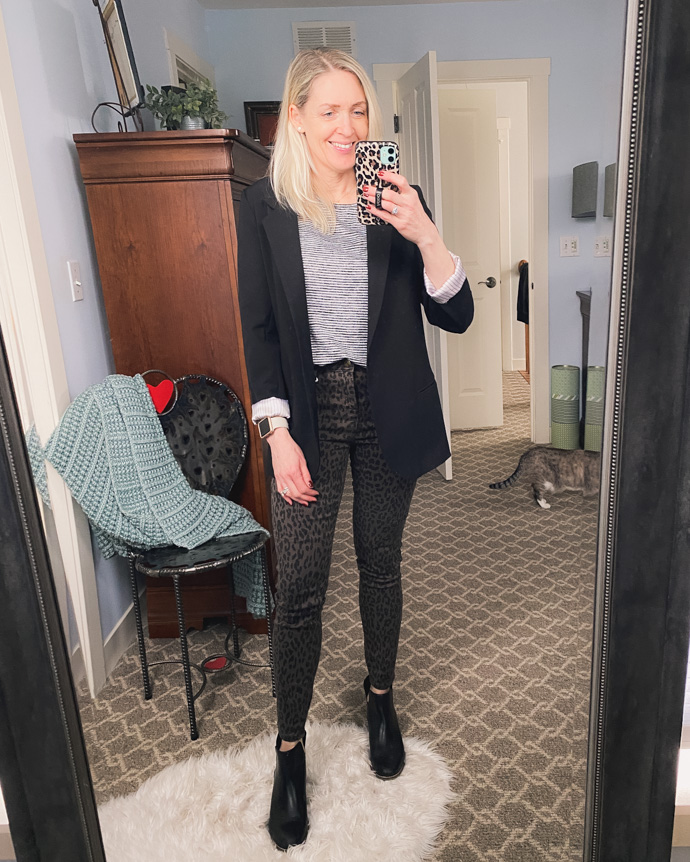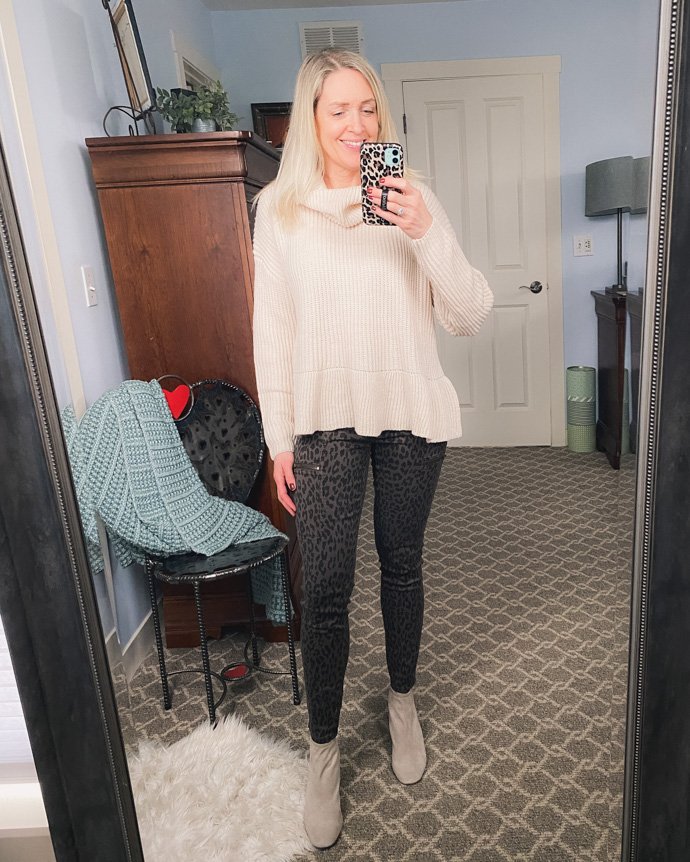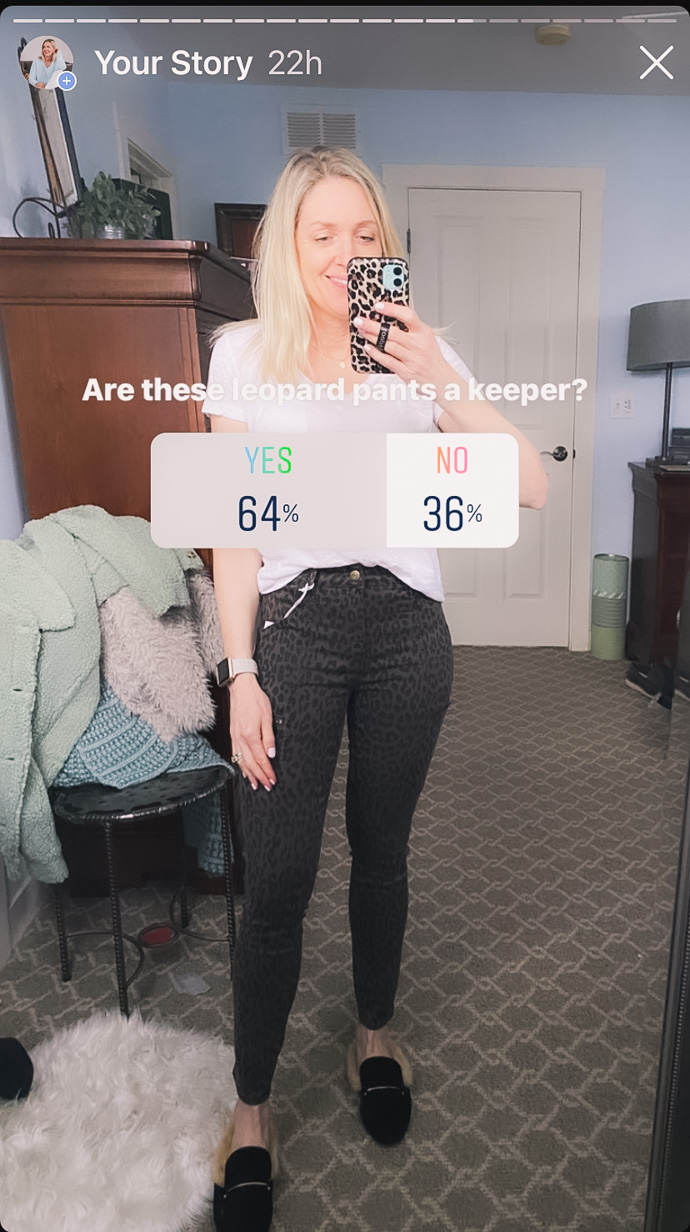 Stitch Fix Final Thoughts
I thought this was a great box, and I had fun trying everything on. The clothes were of high quality, and the price points wouldn't break the bank for the most part. I loved that the pieces had unique details that immediately grabbed my attention. I recommend Stitch Fix if you are looking to update your wardrobe with a few key pieces or treat yourself by having someone shop for you. You can try Stitch Fix yourself using my code to get $25 off your first fix! 
Let me know in the comments if you are interested in a Stitch Fix Luxe Review!
As always, thank you for reading!
If you liked this post, you can subscribe here or follow me on Feedly | Bloglovin | Instagram | Pinterest | Facebook
Linking up here.
Now onto the linkup! I can't wait to see your outfits!
THURSDAY FASHION FILES LINKUP
Welcome to Thursday Fashion Files! Carrie at Curly Crafty Mom and I are excited to have you here and would love to have you link up one of your latest outfits with us at the bottom of this post. Don't forget to check out our Thursday Fashion Files Pinterest board and click HERE if you'd like to contribute!
Follow Jill:
Bloglovin', Facebook, Instagram, Pinterest, Feedly, LIKEtoKNOW.it
Follow Carrie:
Bloglovin', Facebook, Twitter, Instagram, Pinterest
Link Up Guidelines:
1. Feel free to grab our button to display on your blog sidebar. Help spread the word and share about our link up community.
2. **By adding your links, you are stating that you have the proper licensing/rights to the images in your blog posts.**
3. 
Melissa from Fresh Air & False Lashes is this week's featured blogger!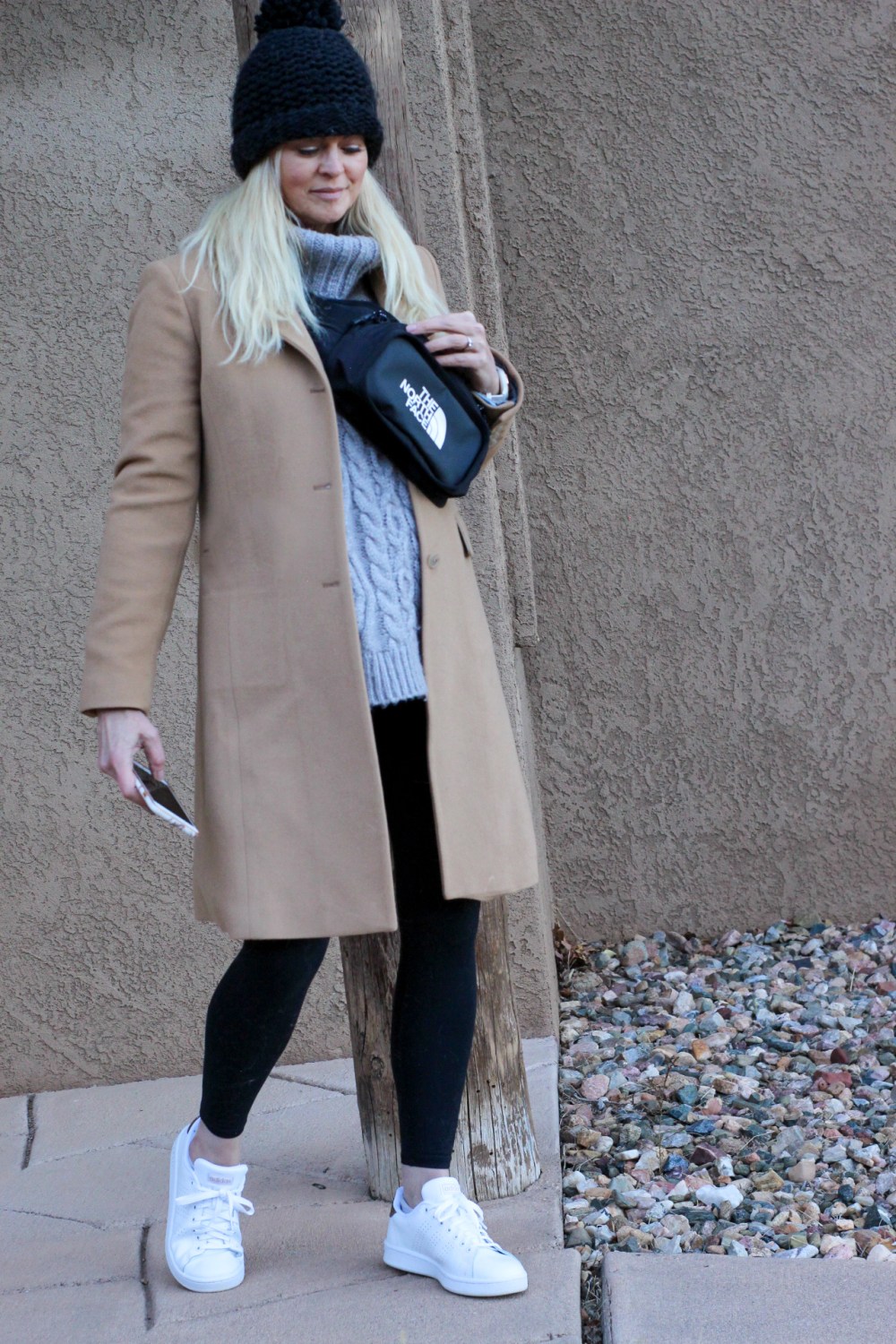 You are invited to the Inlinkz link party!