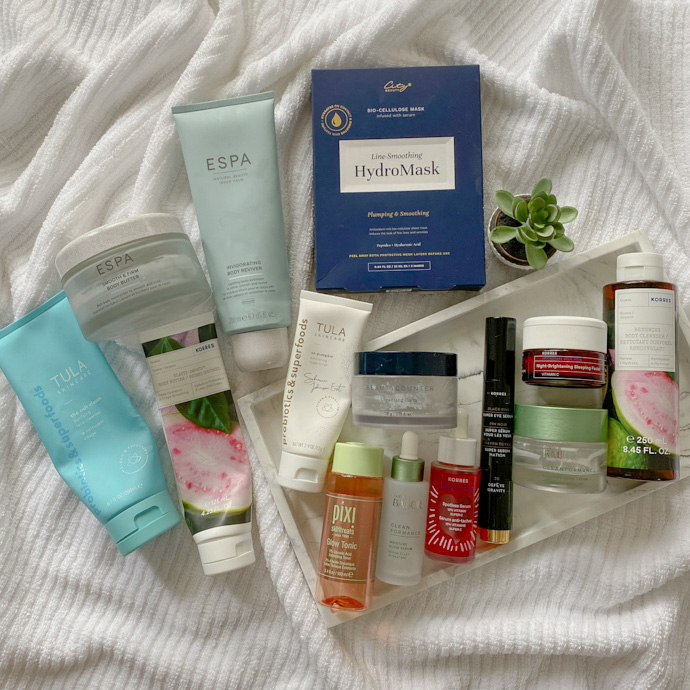 Product empties are some of my favorite posts to read when I want to discover new brands that perform. Hearing other's reviews has helped me discover some amazing beauty and skincare staples and I hope it will help you too. Since I've been letting my product empties build-up for the past 6 months, I wanted to share some of the skincare products I've used up and my reviews. Let's get started!
Cleansers
Babor Clay Multi-Cleanser
Does double duty as both a cleanser and a mask. I used it mostly as a cleanser. My skin felt super clean and balanced and it's on sale here.
Tula Purifying Face Cleanser
A cult classic gel-based cleanser that removes dirt and makeup. This has been my go-to for the past year. Leaves your face feeling clean and fresh. Get 15% off with code INPINK15 here.
Beautycounter Cleansing Balm
Another tried and true cult classic that I've been using for several years. I love it because it removes all of my makeup, including lipstick and waterproof mascara! There's no need to double cleanse! It also works great as a replenishing overnight mask. Check it out here.
Serums
Babor Moisture Glow Serum
This serum gives you a glow with its light-reflecting pigments and helps to even out your skin tone. It's lightweight and rapidly absorbs into your skin. I saw results and bonus that it gives you an allover glow. On sale here.
KORRES Wild Rose Brightening Serum
I love a powerful vitamin C serum and I've purchased this one multiple times.  This one helps reduce dullness, dark spots and improve your skin's overall tone. It feels luxe on your face and gives you a dewy glow. Try it for yourself here and use code DOUSEDINPINK20 for 20% off your purchase.
Moisturizers
Babor Moisture Glow Cream
Just like the Babor Moisture Glow serum, this moisturizer has light-reflecting pigments and increases the moisture levels in your skin. While I don't think my skin looked anymore hydrated, it did feel softer to the touch. Get it on sale here.
KORRES Wild Rose Brightening Sleeping Facial
I've been using this sleeping facial for several years. Absorbs quickly into your skin, working its magic overnight so you wake up with smooth, glowing skin. Try it here and use code DOUSEDINPINK20 for 20% off.
Eye Creams/Serums
KORRES Black Pine 3D Eye Lift Super Serum
My eye area looked tighter and lifted. It's not hydrating so if you have dry skin, top it with an eye cream. Get it here and use code DOUSEDINPINK20 for 20% off your purchase.
Extra's
Pixi Glow Tonic
This is another cult classic that's been praised for years but a new to me product that I received in my Kinder Beauty Box. I've never really used a facial toner as part of my routine. This toner gently exfoliates, brightens your complexion and preps your skin for serums and moisturizers. Check it out here.
Tula So Pumpkin Exfoliating Sugar Scrub
I love the way this product makes your skin feel. It's a natural, gentle sugar scrub that delivers smoother and brighter skin. The pumpkin spice scent smells amazing. Use my coupon code INPINK15 for 15% off.
City Beauty Hydromask
My favorite type of mask is a sheet mask. And this line smoothing mask from City Beauty has got to be my all-time favorite. It's made with a unique bio-cellulose material that clings to your skin's surface so the ingredients absorb more than 50% more deeply into your skin than other masks. Try it here and get 15% off with code CITYPARTNERS15.
Body Care
KORRES Renewing Body Cleanser and Body Butter in Guava
Body care products that transport you to somewhere warm and tropical every time you use them are a definite must in the winter months.  The guava scent is divine and leaves your skin buttery soft. Also offered in 4 other scents. Shop here and use code DOUSEDINPINK20 for 20% off.
ESPA Invigorating Body Reviver
This is definitely a splurge product but worth it. It's a foaming exfoliating cleanser that leaves your skin soft, hydrated, and smooth. Love the uplifting scent. Right now you can get 15% off one product or 20% off two on all things energizing and restful at ESPA.
ESPA Smooth & Firm Body Butter
Another splurge but so good if you want to create a spa-like experience at home. This moisturizer smells amazing and is rich and nourishing. It also helps improve skin elasticity. Right now you can get 15% off one product or 20% off two on all things energizing and restful at ESPA.
Thank you for reading! Let me know what your recent product empties are and if you've tried any of the skincare I've mentioned!
Also see: Spring Skincare Routine and KORRES White Pine Meno-Reverse Review
If you liked this post, you can subscribe here or follow me on Feedly | Bloglovin | Instagram | Pinterest | Facebook
Linking up here.