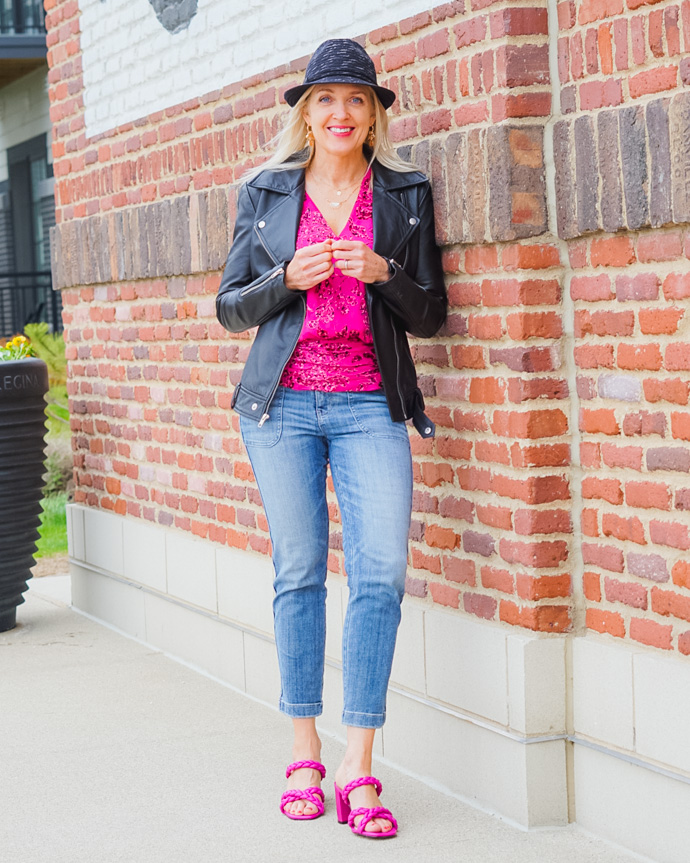 It seems like everywhere you look, lately, you see bright pink. Pantone's Raspberry Sorbet, a gorgeous shade of pinky red, is trending strongly with everything from fashion to home decor. Bright pink, also known as hot pink, was all over the fashion runways and clothing stores throughout 2022 and shows no sign of slowing down as we head into 2023. Still, if you're unsure of how to wear bright pink in real life, then consider yourself in good company!
My blog is called Doused in Pink and I still get intimidated by hot pink clothes and accessories sometimes!
While paler pinks are calming colors and typically represent femininity and sweetness, bright pink is youthful and vibrant. Wearing this bold color instantly makes a statement and gives off a playful vibe.
It can feel a little overwhelming – and is certainly a good way to call attention to your outfit – but it's also such a fun trend you won't regret trying! Ready to learn how to wear hot pink? Keep reading for some foolproof bright pink outfit ideas.
How to Wear Hot Pink (5 Different Ways)
You don't need to walk a runway to wear hot pink. This bright hue can be found on everything from pants and blazers to shoes and hats. Here are some everyday ways to wear bright pink.
How to Wear a Bright Pink Top
Choosing a statement piece like this bright pink top is a simple way to incorporate the hot pink trend into your wardrobe. When I came across this pretty poppy print top, I knew it would be a versatile addition to my closet.
It pairs well with blue, white, black, and even olive denim. Or style it with neutral trousers, Bermuda shorts, or a pencil skirt. Wrap style tops are figure-flattering and this blouse has the added bonus of the ruched waistline.
For an extra colorful punch, I styled my top with my bright pink braided sandals. If you're hesitant to wear this cheeky color, accessories are another way to ease the color into your outfits.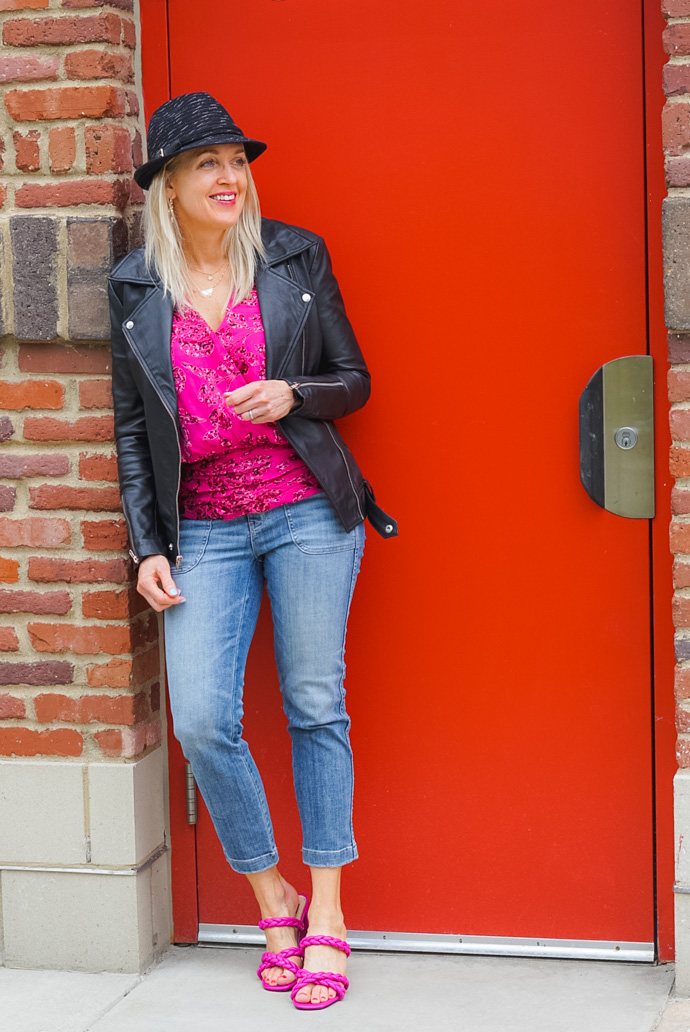 Blouse c/o WHBM | Denim c/o WHBM | Sandals c/o WHBM | Earrings c/o WHBM | Necklace | Fedora
How to Style Hot Pink Pants
While bright pink pants are definitely a bolder choice than a pink top, they're so fun! And they're actually easier to wear than you might think. Just like hot pink shirts, hot pink pants can be easily paired with white, black and even olive green.
If you're struggling with what to wear with hot pink pants, finding a patterned top with bits of bright pink is a great solution that really ties an outfit together. I also love the idea of pairing a chunky knit sweater in a neutral color with hot pink pants for fall and winter.
If you're feeling really bold, consider matching hot pink pants with a hot pink blazer. This is the ultimate statement-making outfit that is sure to turn heads!
What to Wear with a Hot Pink Dress
A bright pink dress is always a fun choice! They're perfect for spring and summer, but the right shade of hot pink and the right style dress could easily be worn in fall and winter too.
I can totally picture a long-sleeved, hot pink cocktail dress styled with black tights and black boots for an eye-catching New Year's Eve or holiday outfit!
A hot pink wrap dress, on the other hand, could easily be worn to brunch, a dinner party or maybe even the office (depending on where you work).
Just be sure to tailor your accessories to the occasion. If you want a more understated look, keep shoes and jewelry neutral. For a bigger statement, go for contrasting accessories that will really stand out.
What to Wear with Hot Pink Sneakers
Hot pink sneakers could be the most fun application for this trend. There are just so many ways to wear bright pink shoes – especially sneakers!
I could see adding a bright pink pop to all-white or all-black athleisure wear. Or, wearing bright pink sneakers with a T-shirt dress for a cool, sporty look.
I also love wearing sneakers with a sweater dress. Adding hot pink sneakers would make that kind of outfit even more fun.
What Color Goes with Hot Pink?
If you're thinking about getting in on the hot pink trend, the key to wearing it well will be knowing what colors coordinate with this bold hue.
Hot pink is often paired with black, but it can look equally good with white. And you don't need to shy away from other bright colors. Hot pink looks great with aquas, yellows and even other shades of pink!
Wearing hot pink with light pink, for example, creates a soft, summery palette for warmer weather. Wearing hot pink with a deep berry hue, on the other hand, would be beautiful for fall or winter.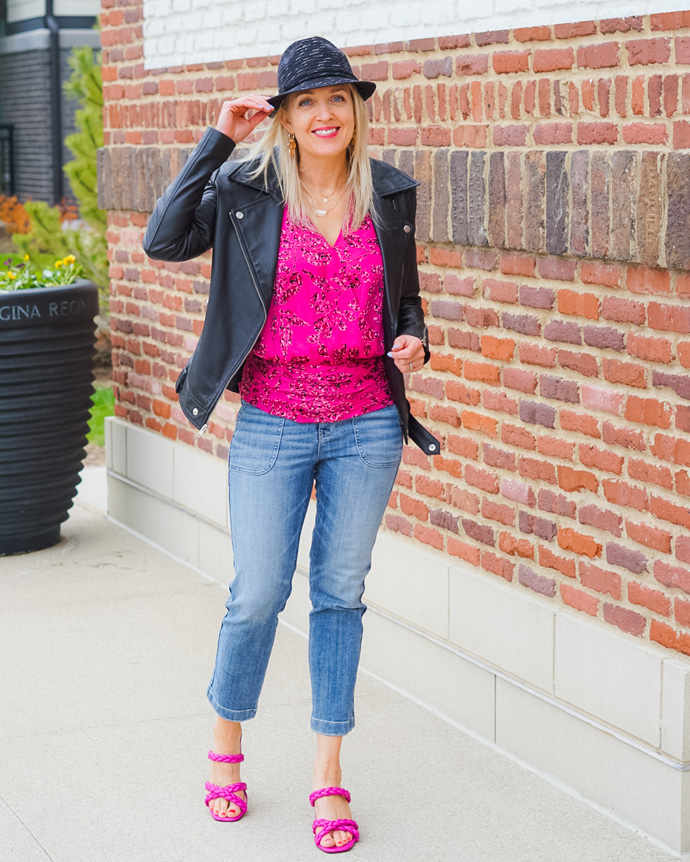 Can You Wear Bright Pink Over 40?
I've seen this question being asked a lot online, and as a blogger focusing on fashion for women over 40, I knew I needed to address it. The short answer is…YES! You can absolutely wear hot pink over 40!
Look at red carpets and other celebrity events and you'll see that bright pink has no age limit. A-list stars like Julieanne Moore, Tracee Ellis Ross and Cate Blanchett have all worn hot pink on the red carpet – and looked amazing!
If nothing else, this hot pink trend has proven that pink is not just for young women. With so many different shades and so many different ways to wear pink, there's a bright pink outfit for everyone.
Ready to rock hot pink this season? Shop my look featured in this post via the links below and start creating your own hot pink outfits!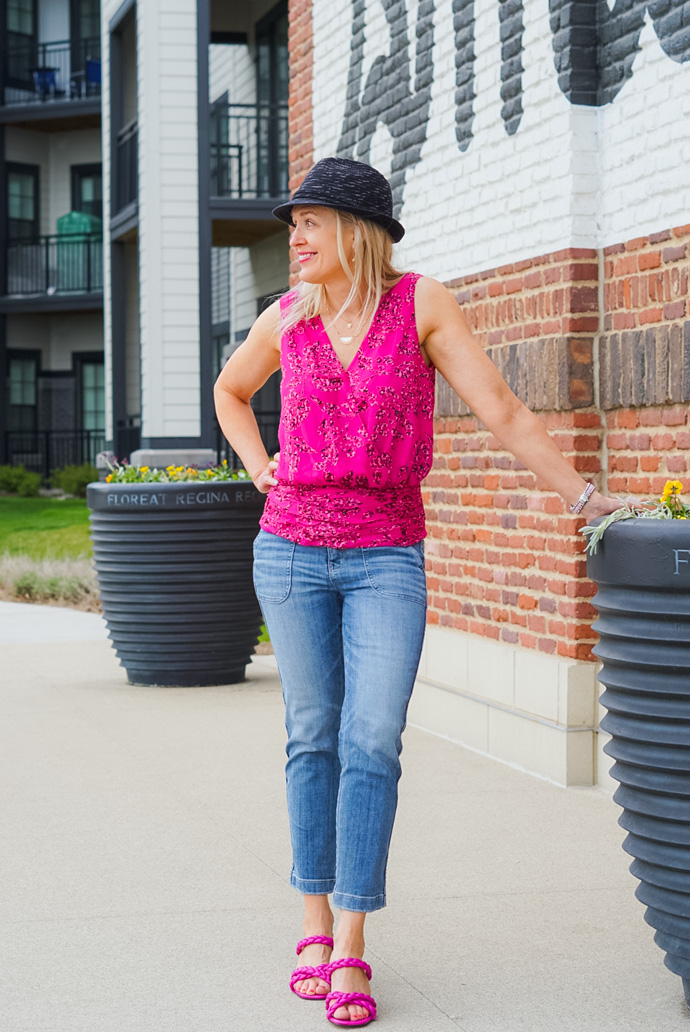 Blouse c/o WHBM | Denim c/o WHBM | Sandals c/o WHBM | Earrings c/o WHBM | Necklace | Fedora
Shop the look:

Thank you for reading How to Rock Bright Pink this Season!
Also see: Bright Summer Outfit and March Pinspired Outfits Cozy, Classic & Bright
If you liked this post, you can subscribe here or follow me on Feedly | Bloglovin | Instagram | Pinterest | Facebook
Linking up here.
Now onto the linkup! I can't wait to see your outfits!
THURSDAY FASHION FILES LINKUP
Follow Jill:
Bloglovin', Facebook, Instagram, Pinterest, Feedly, LIKEtoKNOW.it
Follow Carrie:
Bloglovin', Facebook, Twitter, Instagram, Pinterest
Link Up Guidelines:
1. Feel free to grab our button to display on your blog sidebar. Help spread the word and share about our link-up community.
2. **By adding your links, you are stating that you have the proper licensing/rights to the images in your blog posts.**
 Laura from I do deClaire is this week's featured blogger!
You are invited to the Inlinkz link party!