Do you swap out your closet seasonally? We have limited storage so it's something I've gotten used to. A few weeks ago, I packed up all of my fall and winter pieces and brought out my spring and summer. I also got rid of 3 bags of clothing that I hadn't worn the past 2 years, as well as things that I knew I would never wear again.
Living in the Midwest, I would say that I have more fall and winter clothes than spring and summer. And, I've always been in a short supply of short sleeve tops. But after my purging exercise, I had about 5 short sleeve tops left hanging. I took advantage of Target's promotion where you'd get a $10 gift card with every $50 purchase in clothing. I added several new tops and a few cute dresses.
My annual clothing budget is $1200. Instead of meeting a monthly goal for 2021, I am subtracting from my annual budget each month. Where I end up at the end of the year will be interesting to see. Anyway, here's what I added to my closet this spring, and I included shopping links at the bottom of the post!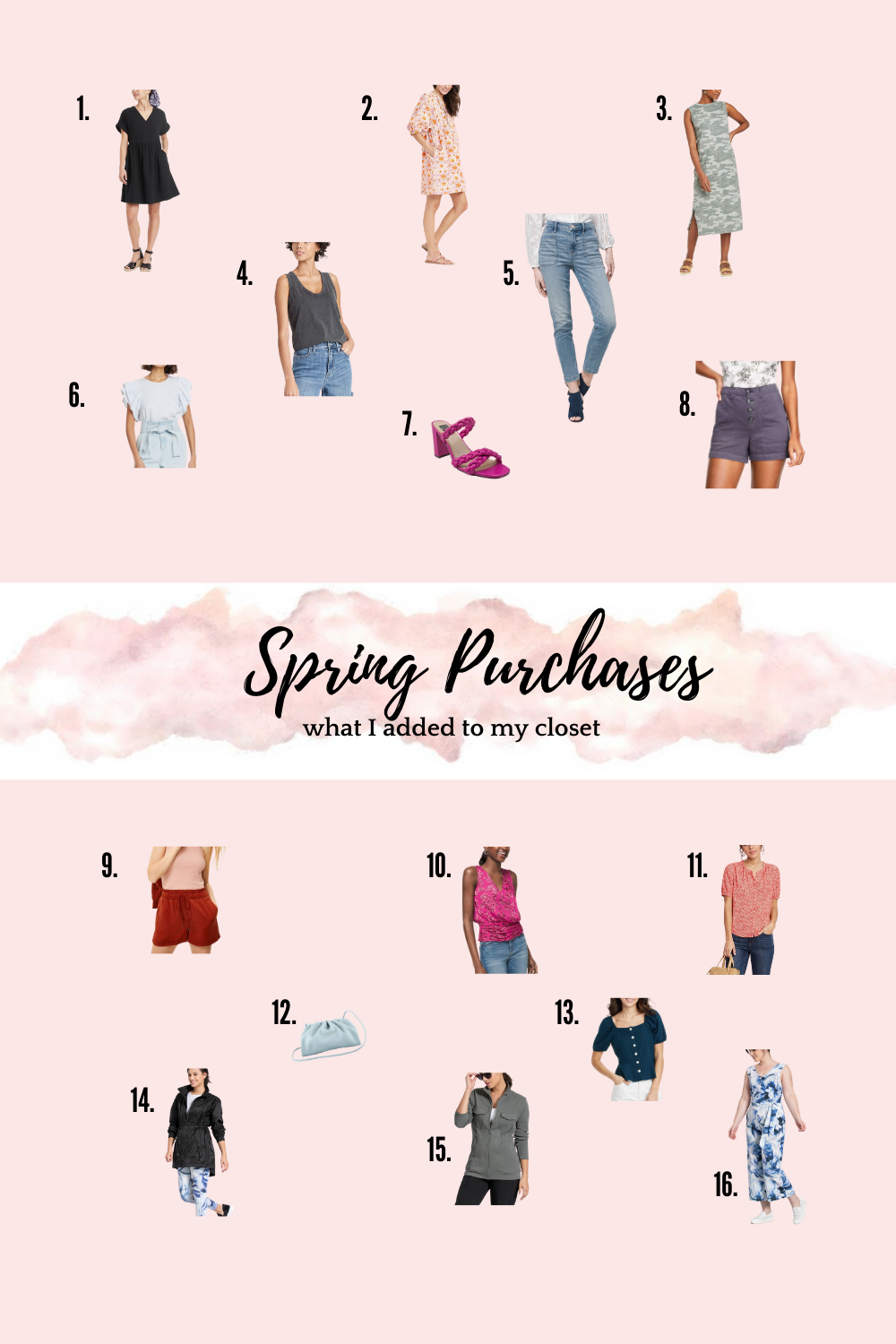 Spring Purchases
1 – Black Shirtdress $20
2- Printed Puff Sleeve Dress $25
3 – Camo Midi Dress $20
4 – Tank Top (also bought in white) $5 each – $10
5 – Crop Jeans c/o White House Black Market
6 – Striped Ruffle Sleeve Top $20
7 – Braided Bright Pink Sandals c/o White House Black Market
8 – Utility Shorts $27
9 – Pull-On Shorts $25
10 – Bright Pink Wrap Tank c/o White House Black Market
11 – Tie Front Blouse $18
12 – Pouch Bag c/o Teddy Blake
13 – Puff Sleeve Peplum Blouse $20
14 – Anorak Jacket c/o Peach
15 – Utility Jacket c/o Peach
16 – Jumpsuit c/o Peach
March & April Total $165
Remaining balance $1013.14
Shop my Spring Purchases:

Thank you for reading Spring Purchases – Closet Additions!
Also see: February Purchases | What I Bought and 10 Cute Spring Outfit Ideas to Wear Now
If you liked this post, you can subscribe here or follow me on Feedly | Bloglovin | Instagram | Pinterest | Facebook
Linking up here.