Dad's are hard to buy for, aren't they? I wonder if it's because they always say they don't need anything or if everything they want is expensive (think tickets to sporting events or electronic equipment). So, if you are not sure what to get your husband, dad, grandfather, son, brother, or best guy friend for Father's Day, I've got you covered with a Father's Day gift guide to help make your shopping simple! I've rounded up 15 Father's Day Gifts Dad Will Love. I've covered all price points and the majority of these gifts you can purchase on Amazon with Prime shipping! Let's get shopping!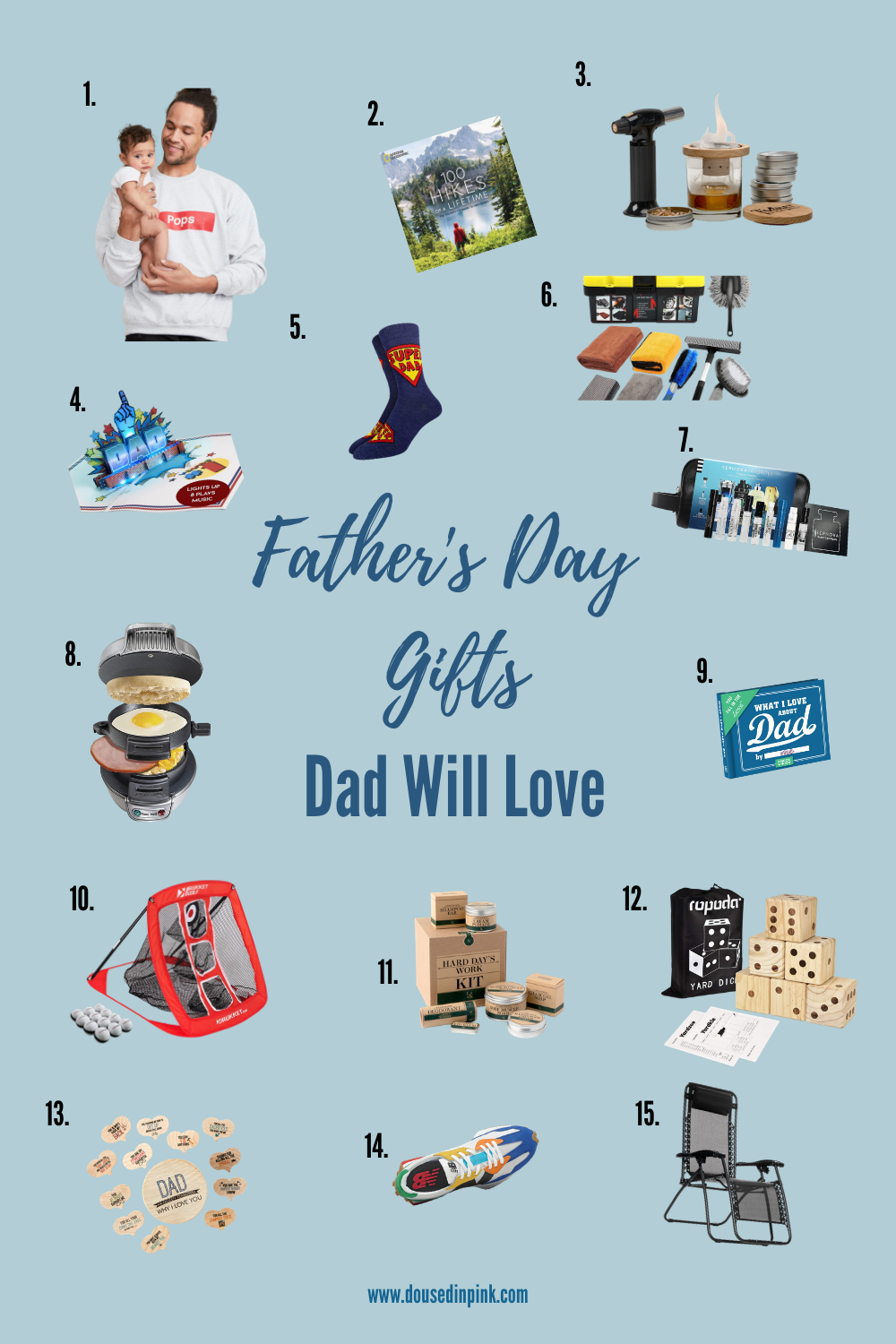 1 – Pops Sweatshirt Dad will love this comfy, classic pullover.
2 – 100 Hikes of a Lifetime: The World's Ultimate Scenic Trails A guide to the best hiking trails around the world.
3 – Cocktail Smoker Help Dad up his mixology game.
4 – Father's Day Pop-Up Card Lights up and plays the Superman theme song.
5 – Super Dad Socks And to go with the card above, how fun are these novelty socks?
6 – Auto Detailing Kit This kit has everything needed to keep his car looking its best.
7 – Men's Fragrance Sampler Set 9 colognes to try, and you get a voucher for a full-size of your favorite.
8 – Breakfast Sandwich Maker Makes breakfast sandwiches in minutes. For keto and paleo diets, eliminate the bread.
9 – What I Love About Dad Book Perfect gift for Dad from the kids. Fill in the blanks.
10 – Pop Up Golf Chipping Net Great for sharpening those golf skills.
11 – Hard Day's Work Grooming Kit Mini spa for Dad in a box. Includes shampoo, hand and body cream, non-toxic deodorant, pomade, lip balm, and bath soak.
12 – Giant Wooden Yard Dice Game This looks like such a fun outdoor game for summer BBQs and, it's under $25.
13 – A Dozen Reason I Love You Dad Container filled with customizable messages for Dad.
14 – New Balance Sneaker These will add a pop of color no matter what he is wearing.
15 – Zero Gravity Chair I gave this to my husband a few years ago, and he loves it!
Shop Father's Day Gifts Dad Will Love:

Thank you for reading!
Also see: Father's Day Gift Ideas for the Dad Who Doesn't Want Anything and Unique Gift Ideas for the Dad that has Everything
If you liked this post, you can subscribe here or follow me on Feedly | Bloglovin | Instagram | Pinterest | Facebook
Linking up here.