Hi friends! Did you enjoy the long weekend? Ours was a busy one. We had a disco-themed 50th birthday party on Friday night, a Christmas in July party on Saturday night, and on Sunday, our neighbor hosted some amazing fireworks. And in between all of that, we were finally able to get into our house. The floors have been refinished and stained, so we can finally start moving in.
With all of the work we've been doing on the house, my nails have taken a toll. So, today's post is all about the prettiest nail polish colors for summer. There's a rainbow of polish colors out there, and sometimes it's not easy picking the perfect shade to carry you through the season. While neutrals always go with everything and reds are a classic, summer is the time to have some fun with brighter hues and bold colors.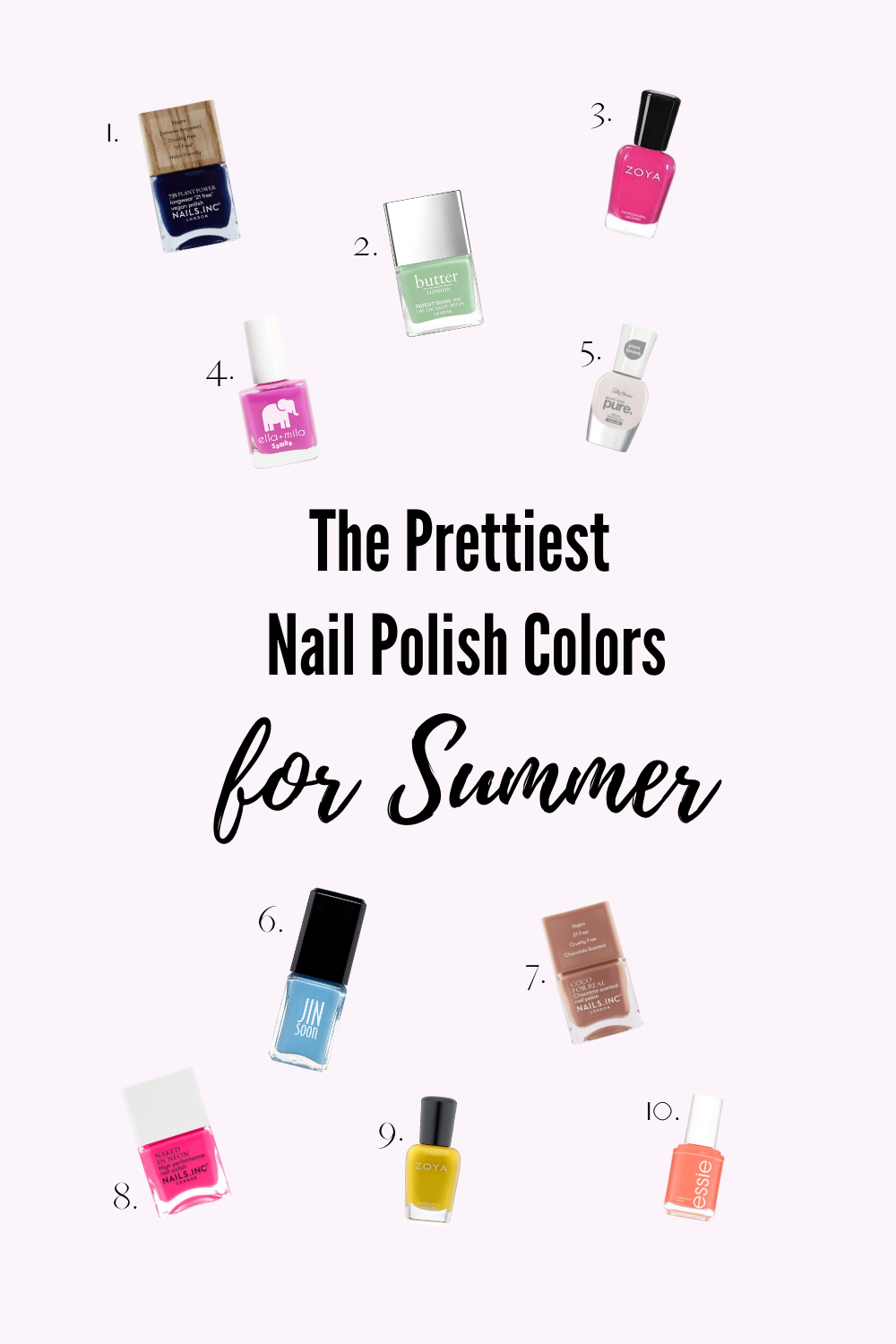 1 – Nails Inc  | Spiritual Gangster Dark blue isn't just for the cold winter months. This hue will go well with your bright tops and anything neon.
2 – Butter London | A Soft Sage Switch it up with this soft dusty green shade. It's versatile and goes with everything.
3 – Zoya | Dacey A classic hot pink and perfect pedi color for the pool and beach.
4 – Ella + Mila | Sun Has Set Go bold with this hot purple with pink undertones.
5 – Sally Hansen Pure | White Tea Plant-based and 15 free. This chic white polish color is the ultimate neutral.
6 – JINsoon | Aero A light and fresh baby blue that is toxic-free and has UV filters to keep your mani from fading.
7 – Coco For Real | Coco Kisses Calling all chocolate lovers. This rich deep brown color smells amazing with its subtle coco scent.
8  – Nails Inc | Sun Street Passage This bold neon pink polish screams summer.
9 – Zoya | Pippa Bright, sunny, cheerful, and one of Pantone's colors of the year.
10 – Essie | Check In to Check Out 3-free polish in a gorgeous coral hue.
Thank you for reading! Which polish color is your favorite?
Shop the Prettiest Nail Polish Colors for Summer:

Also see: Home Pedicure Essentials and Clean Beauty Favorites
If you liked this post, you can subscribe here or follow me on Feedly | Bloglovin | Instagram | Pinterest | Facebook
Linking up here.