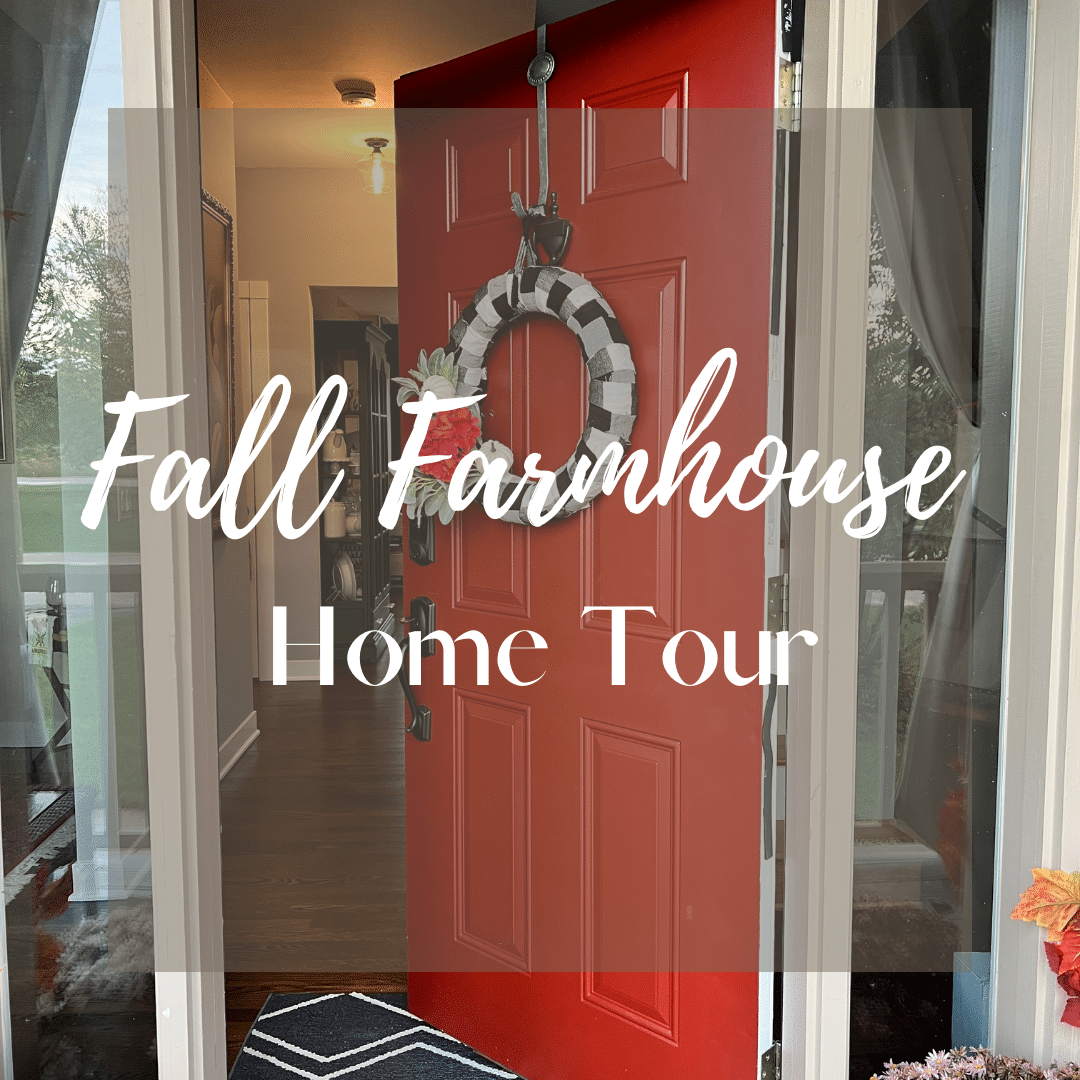 If you're looking for fall decorating ideas, you've come to the right place. Fall is by far my favorite season to decorate, and I'm excited to share my modern farmhouse fall decor ideas with you today! A few weeks ago, I showed you my fall porch tour, and today I'm opening up the doors to our home with a fall home tour.
Decorating your home for fall doesn't have to break the bank. I always shop for end-of-season sales, hit the Target bullseye shop, and resale stores to gradually build up my collection. I have several simple fall craft tutorials that I've shared over the years, and I'll link to them throughout this post.
I have so many modern farmhouse fall decor ideas to share with you, so let's get started! You can always make some simple swaps to refresh your home for fall, starting with the entryway. A fall-themed wreath on your front door adds a cozy element and instant curb appeal. You can find two of my favorite fall DIY wreath tutorials here and here.
Modern Farmhouse Fall Home Tour
Fall Decor Inspiration for the Dining Room
Anything burlap adds a rustic touch, and I've had this runner on my table for years. The wood and metal risers are from my Decor Steals summer box. I gussied up my Rae Dunn pitcher with some floral stems and twine. The faux pumpkin spice latte decor was easy to DIY. All you need is a mug, spackle, and cinnamon from Dollar Tree.
Wood box signs are fun to add a festive touch and are easy to incorporate into your existing decor. On the sideboard, I added two wood box signs and another faux pumpkin spice latte mug.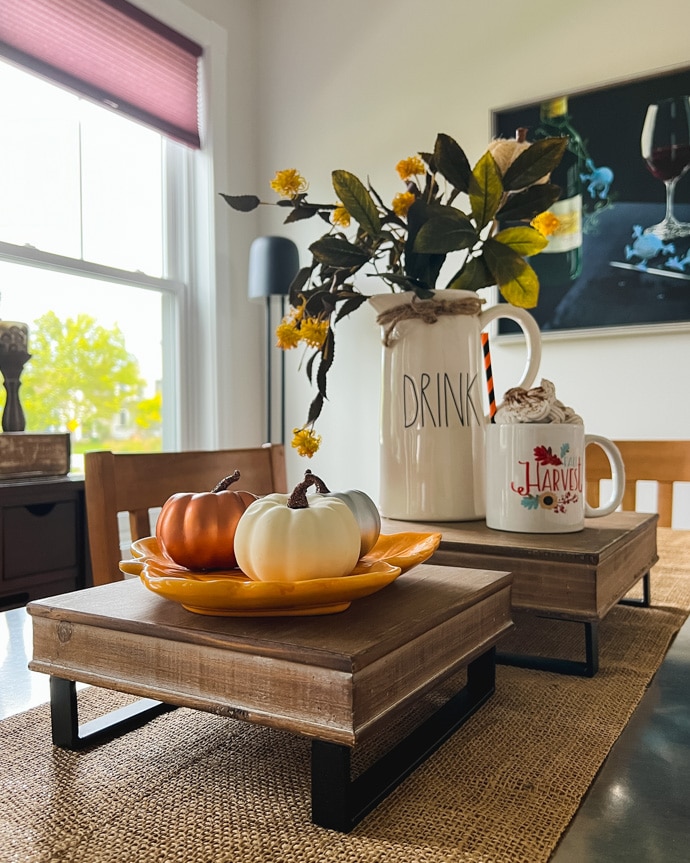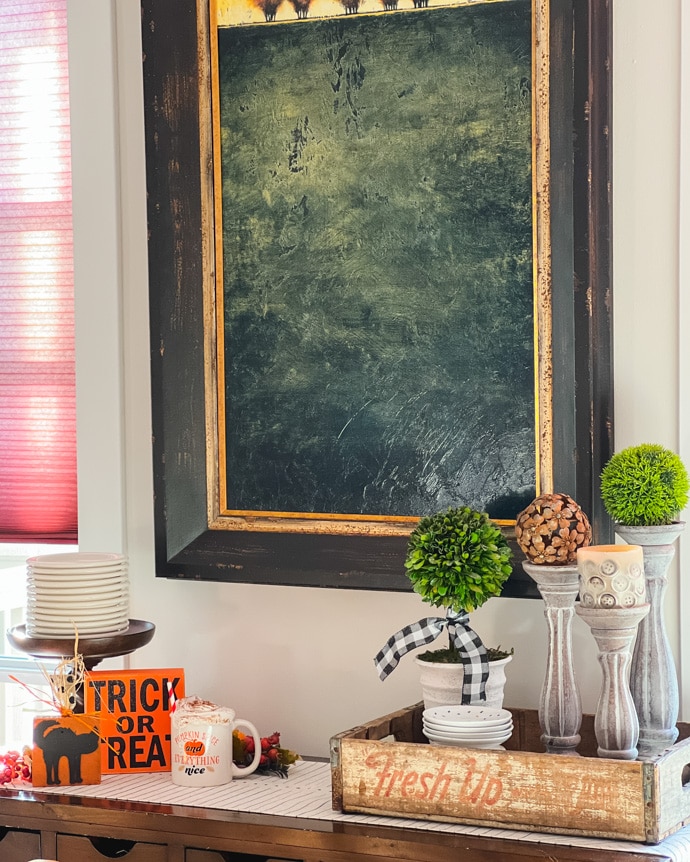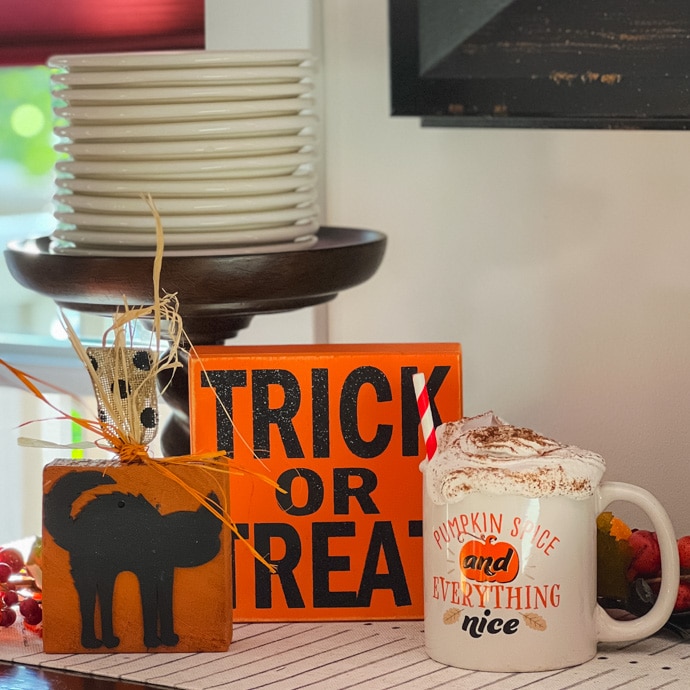 Incorporate Halloween Decor into Your Living Room
If you've been following along with me, you know that we had all of our belongings in storage for the past year and a half and just recently moved into our new home. It's been fun to pull out my modern farmhouse fall decor and decorate. And it's helped me not buy anything new because everything seems new to me again.
I added boxwood wreaths to the willow baskets on the wall. The throw pillows were a clearance find at Hobby Lobby, and the faux fur throw is from Target.
Once October rolls in, I always incorporate a few Halloween pieces. The pumpkin, tombstones, and faux books on the entry table are from the Target dollar spot.
An easy way to add a festive vibe to your decor is to create a centerpiece with faux pumpkins and floral stems. I took a vintage soda crate, filled it with pumpkins, added the candlesticks, and topped one with a fall leaf mason jar candle holder and the other with a pumpkin.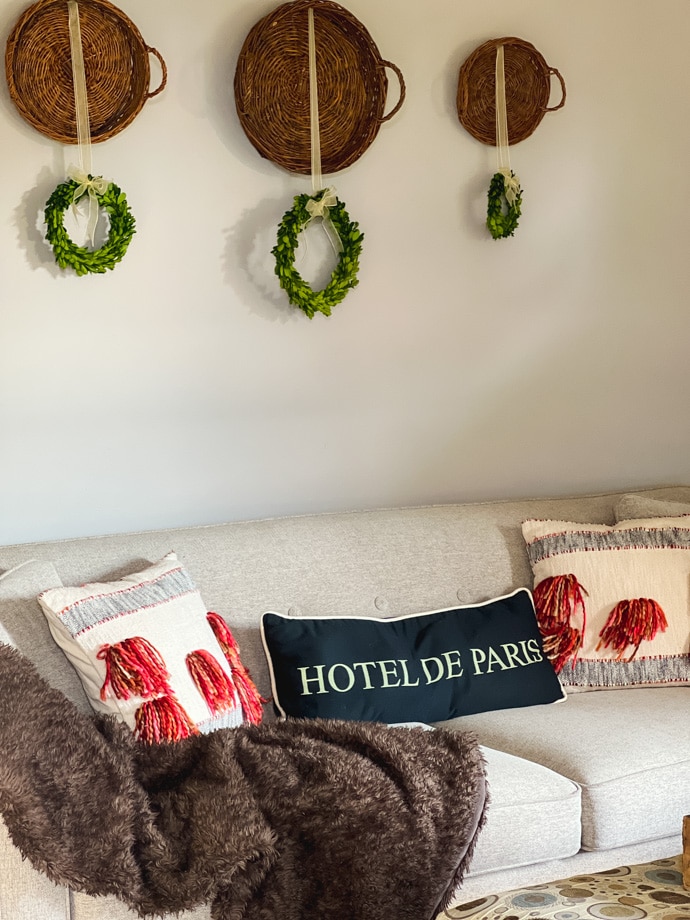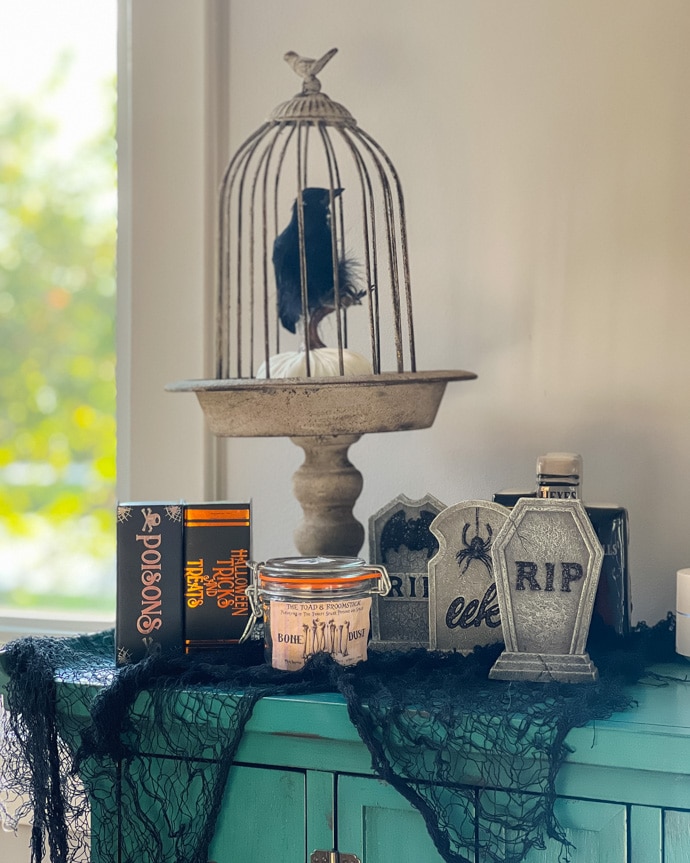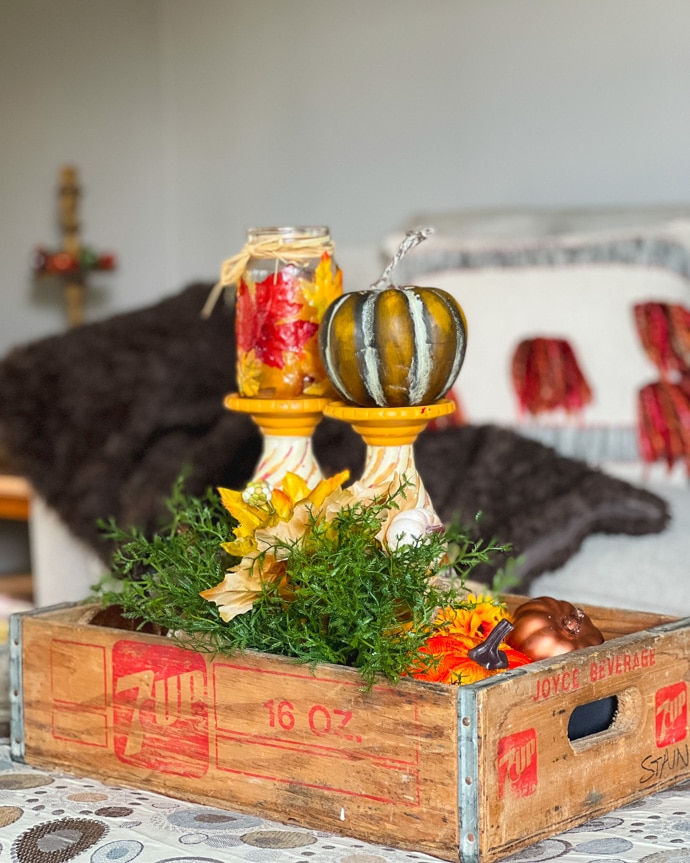 Fall Decor Ideas for the Family Room
Last on my list of modern farmhouse fall decor ideas is our family room. It's the coziest room in our home, so I saved it for last. One of the simplest ways of incorporating seasonal touches into your home is by switching out the throw pillows on your sofa. I found the pumpkin and truck throw pillows at Costco, and they were a steal at $5 each! Candles are another easy and affordable way to up the cozy factor to your space.
I decorated our new cedar mantel with garland and swapped candles for pumpkins to top the candlesticks. I loaded up the fireplace hearth with faux pumpkins. You can find my 5-minute plaid pumpkin tutorial here.
Did you notice the black floor lamp in the corner? It's the Geo floor light from Gantri. Gantri has unique lighting designs that are functional and that you also won't find anywhere else. Even better, they collaborate with leading global designers and make their lamps sustainably with plant-based materials. Pretty cool, right? Check out Gantri's beautiful lighting collection and use code DOUSEDINPINK20 for 20% off!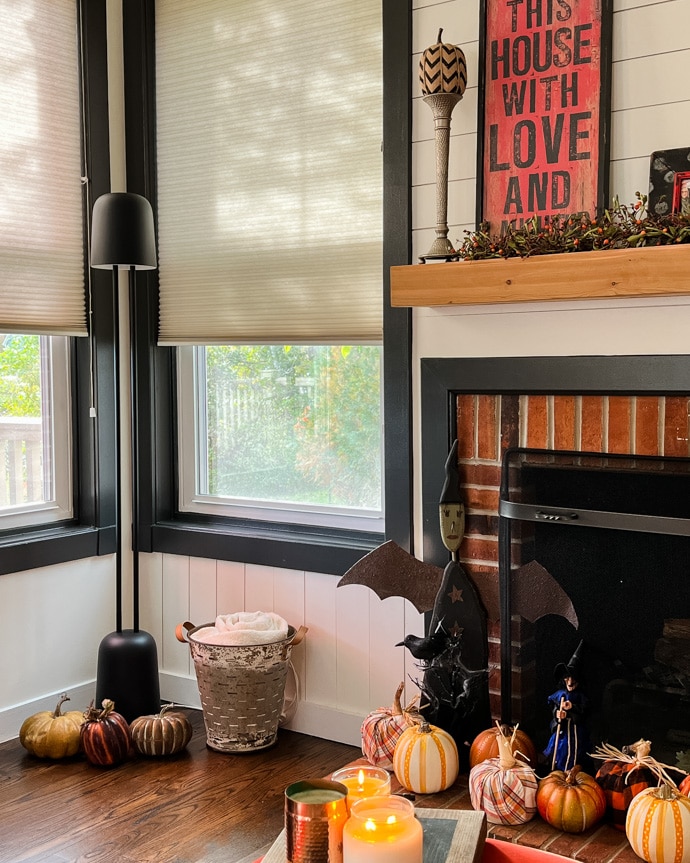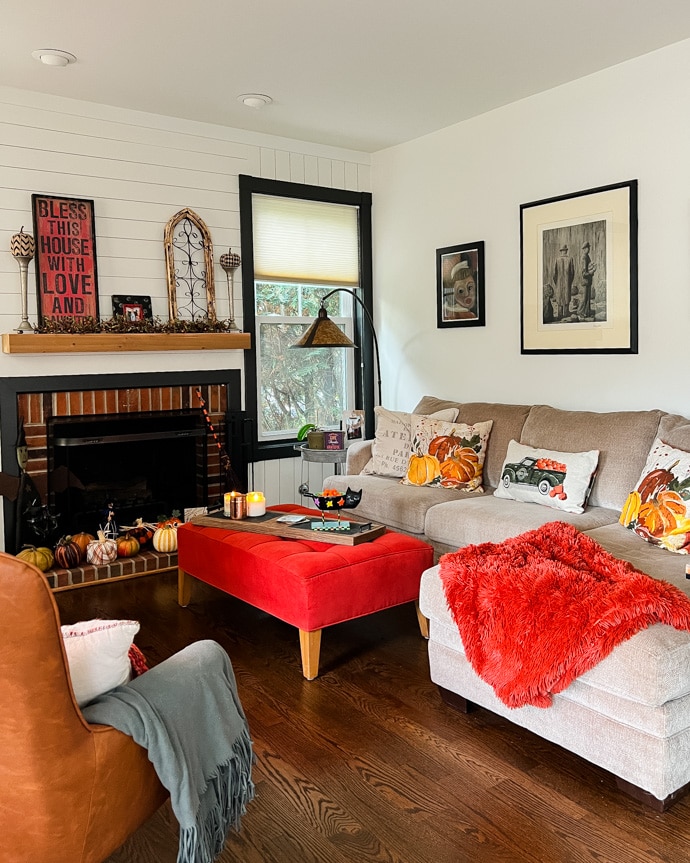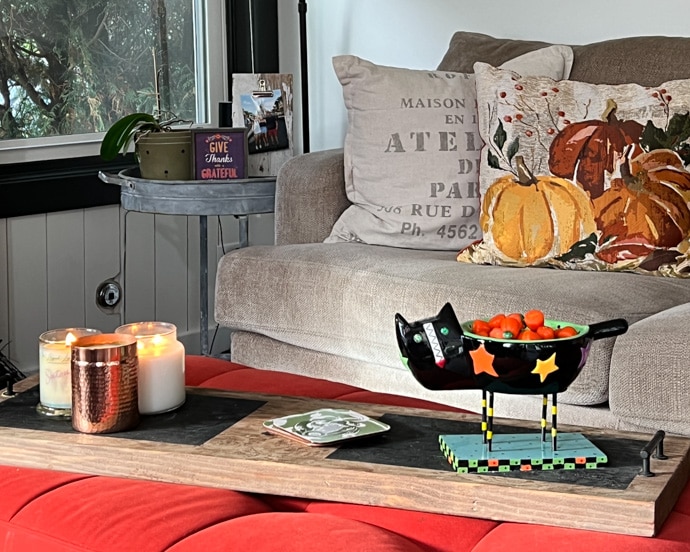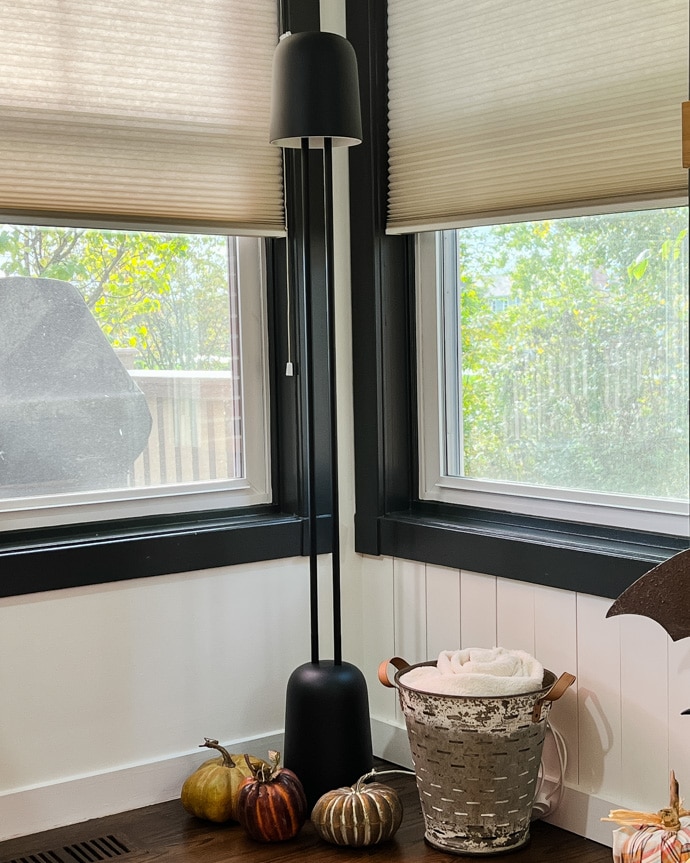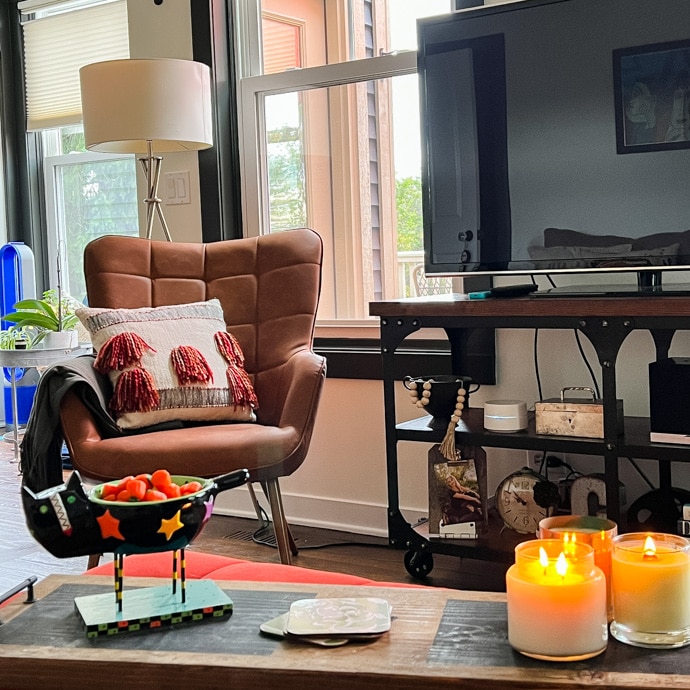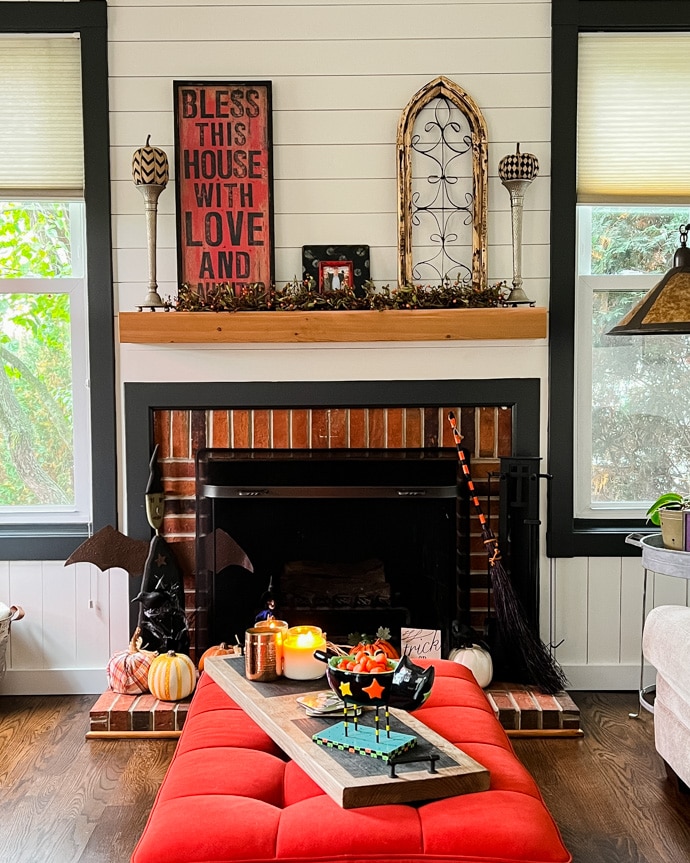 Thank you for reading! I hope my modern farmhouse fall decor ideas inspired you to decorate your home!
Also see: Easy Halloween Raven Wreath Tutorial and Fall Home Tour 2019
If you liked this post, you can subscribe here or follow me on Feedly | Bloglovin | Instagram | Pinterest | Facebook
Linking up here.