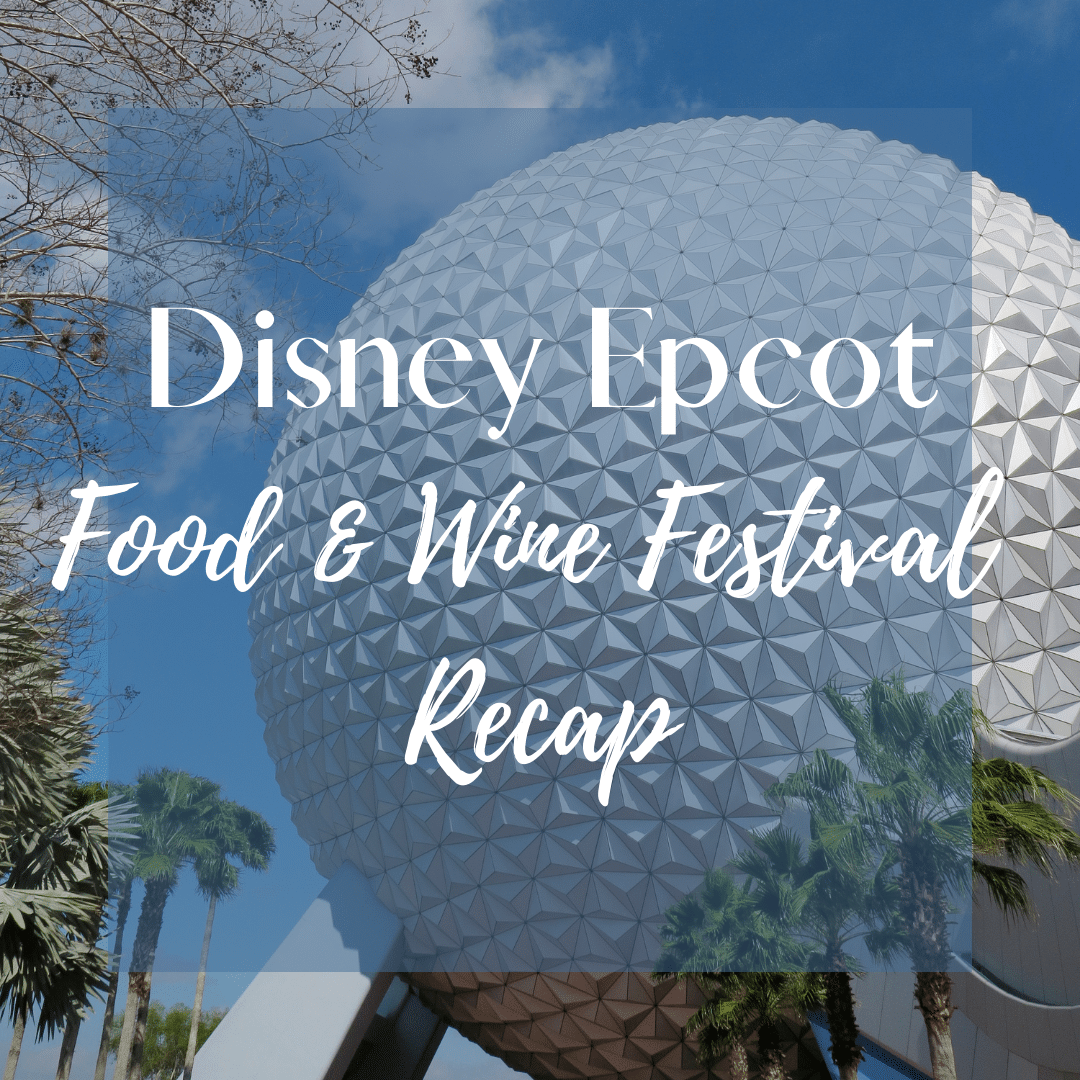 Hi Friends! A few weeks ago, we went to the Disney Epcot Food & Wine Festival with my sister, brother-in-law, and mom, and today I wanted to share my recap with you. The annual festival runs through November 20th and has a fantastic roundup of World Showcase pop-up food booths. The festival at Epcot is free, but you do need to purchase admission to the park.  It was a quick trip; we arrived on Tuesday afternoon and left on Saturday morning. We bought a two-day park hopper. We planned to go to Food and Wine for two days and spend one day relaxing by the pool.
Where We Stayed
We stayed at Disney's Beach Club Villas, a charming New England Style beach hotel within walking distance to Epcot.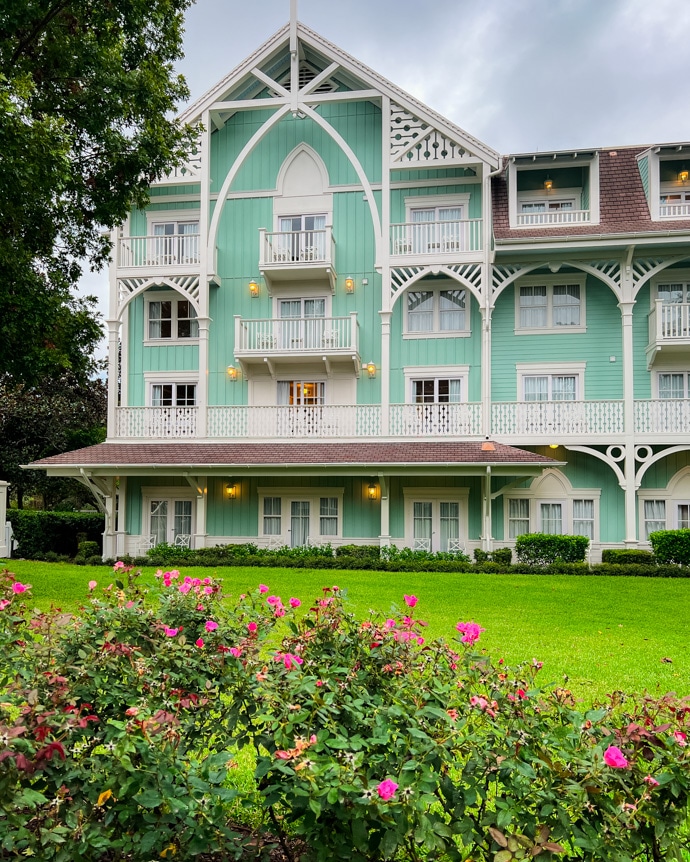 Night One – Cocktails at the Rivera and Dinner at California Grill
Disney has had a new gondola system since the last time we were there in 2018. The first night we took the gondola over to the Rivera Resort for cocktails on their rooftop bar before our dinner reservations. The views were stunning.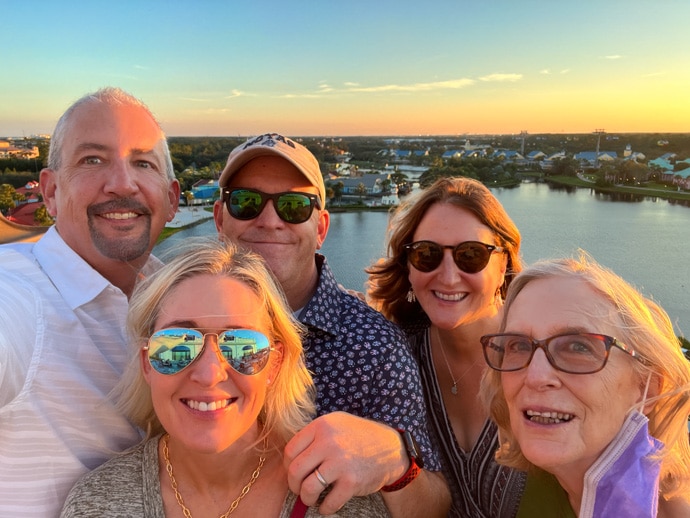 After cocktail hour, we headed over to the Contemporary Resort to watch fireworks before our dinner reservation at California Grill to celebrate my sister's birthday.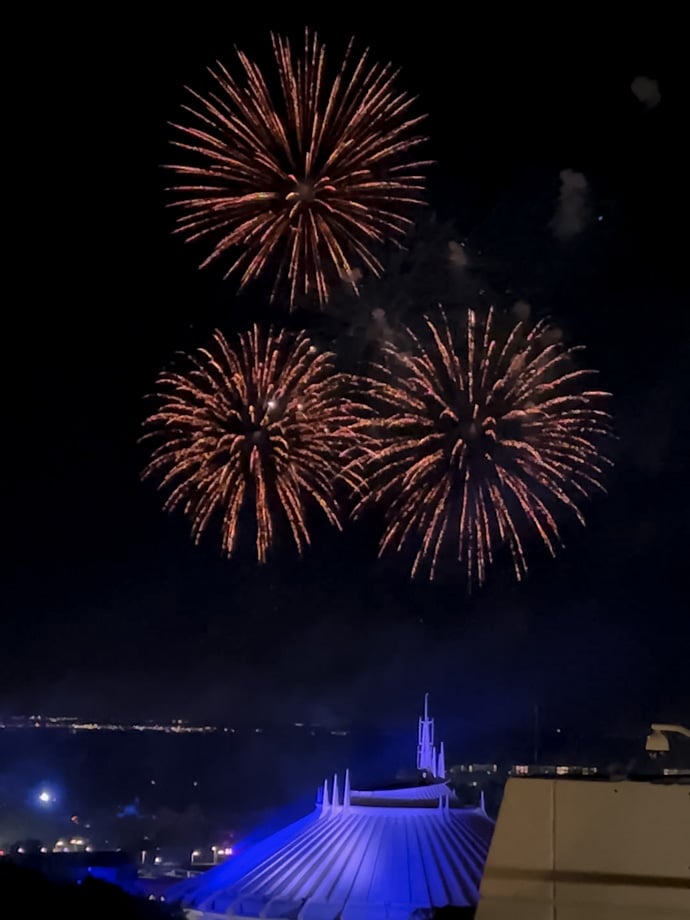 California Grill offered a prix fixe menu in celebration of Disney's 50th anniversary. I started with a lobster and parsnip bisque. My main course was a grilled pork tenderloin with goat cheese polenta, trumpet mushrooms, heirloom apple lacquered pork belly, black mission figs, and a zinfandel glaze. Dessert was lavender sugar donuts with coconut, blueberry gin jam, and pistachio crumble. The photo below does not do this dessert justice.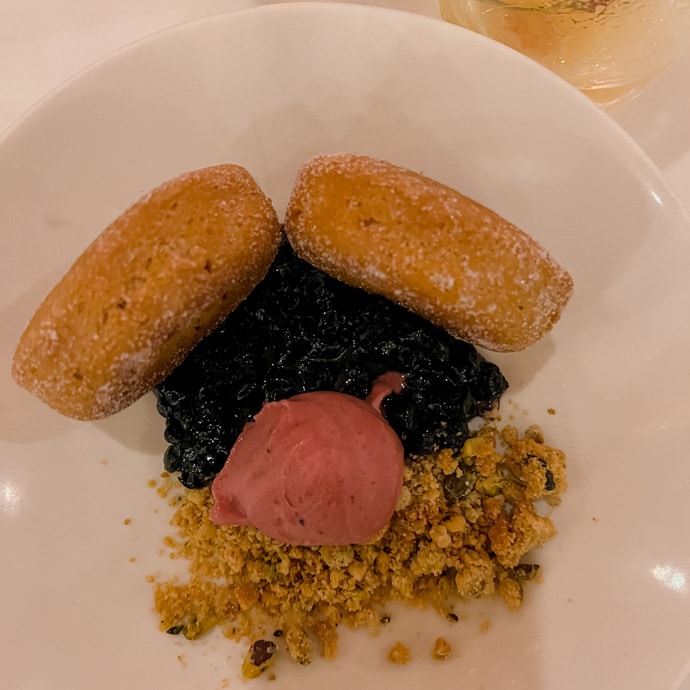 My sister was presented with this special dessert.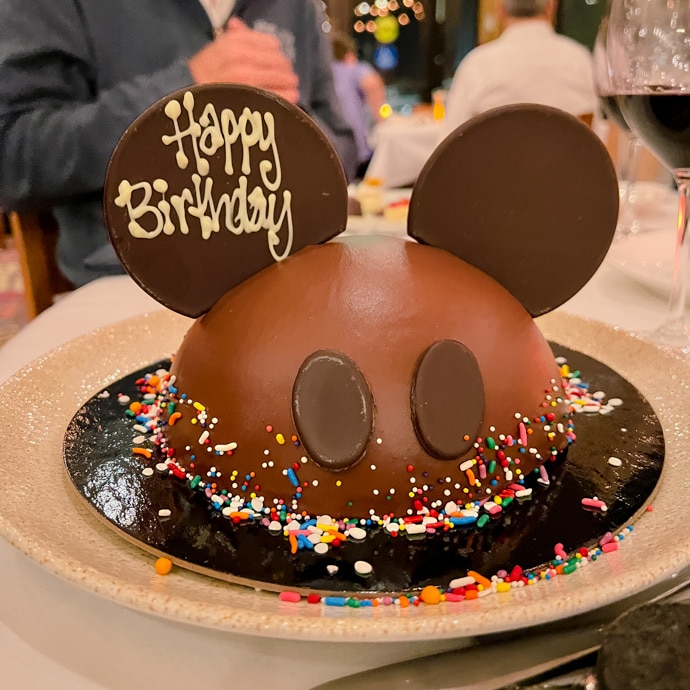 Day 2 Animal Kingdom and Epcot Food & Wine Festival
Animal Kingdom
The following day we got up bright and early to be at the gates of Animal Kingdom when they opened. Avatar is my favorite ride, and since Disney no longer has fast passes, we needed to go on that ride first. It turned out the Animal Kingdom was pretty empty, and we covered everything in the park that we wanted to do in 4 hours. We saw lots of animals up close on the Kilimanjaro Safari.
Lunch at Sanna
Due to the COVID pandemic, you have to make a park reservation for the first park you want to visit that day. Then you can't go to your second park until 2 pm. We headed over to the Disney Wilderness Lodge to have a light lunch at Sanna, a fusion of African and Indian cuisine. They also happen to have one of my favorite wines, Chakalaka. I purchased an extra bottle to bring home with me.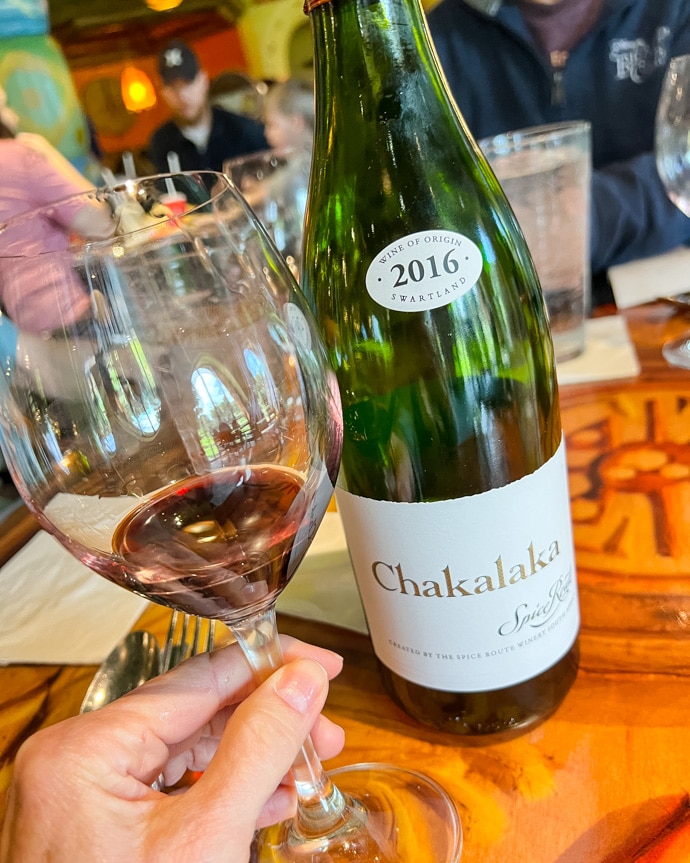 Epcot Food & Wine Festival
Once the 2:00 hour struck, we were stuffing ourselves with more food at the Disney Epcot Food & Wine Festival. Here are some of our favorite food booths that we visited.
France
This was our first stop and we had the Beignet aux Trois Fromages ($5.75) , Croissant aux Escargots ($6.25) and Coq au Vin ($6.25). Washed down with a Strawberry Rose Mimosa ($8.50). We dove into this food so fast I forgot to take a photo. But, you can catch the video in my Travel highlights on Instagram.
Hawaii
Tuna Poke with eel sauce, spicy mayonnaise, and crispy shrimp chips ($7.00).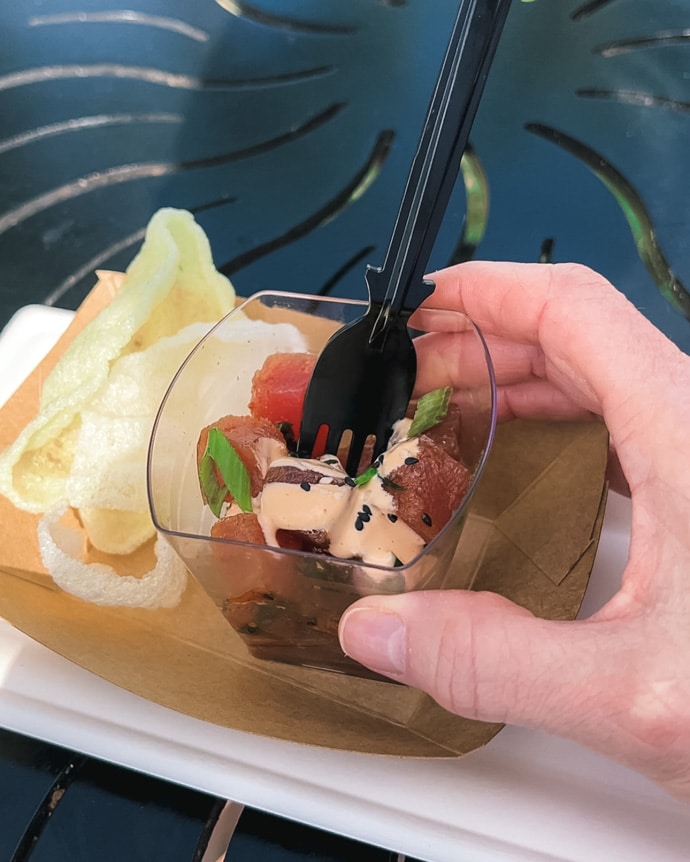 Donut Box
Crispy Chicken on a Sriracha Glazed Donut ($8.50). My cholesterol probably took a huge hit eating this, but it was hands down my favorite thing I tried.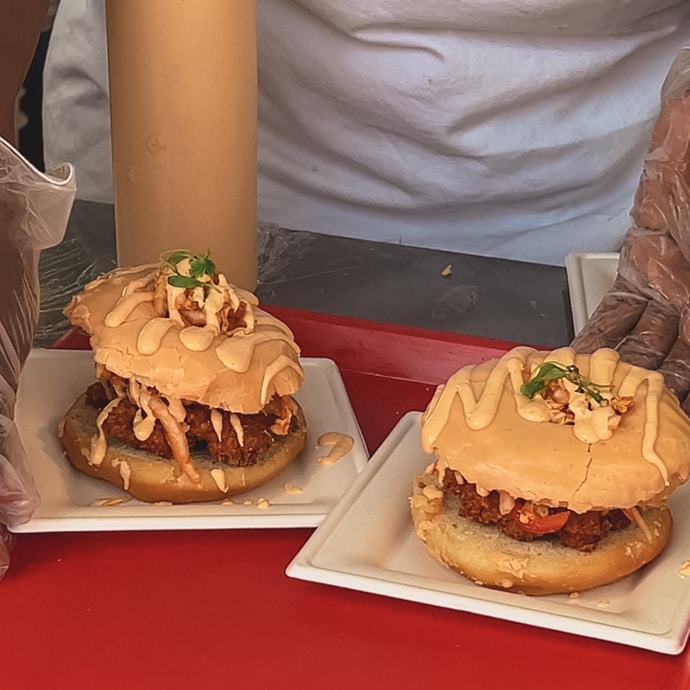 Lobster Landing
Baked Lobster Dip served with Old Bay chips ($5.50) and New England Lobster Tail with a lobster bisque sauce ($14.00).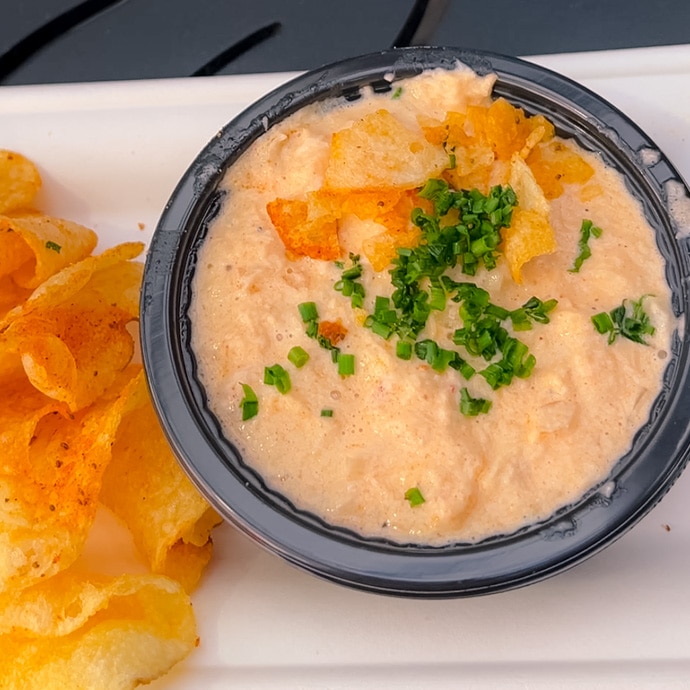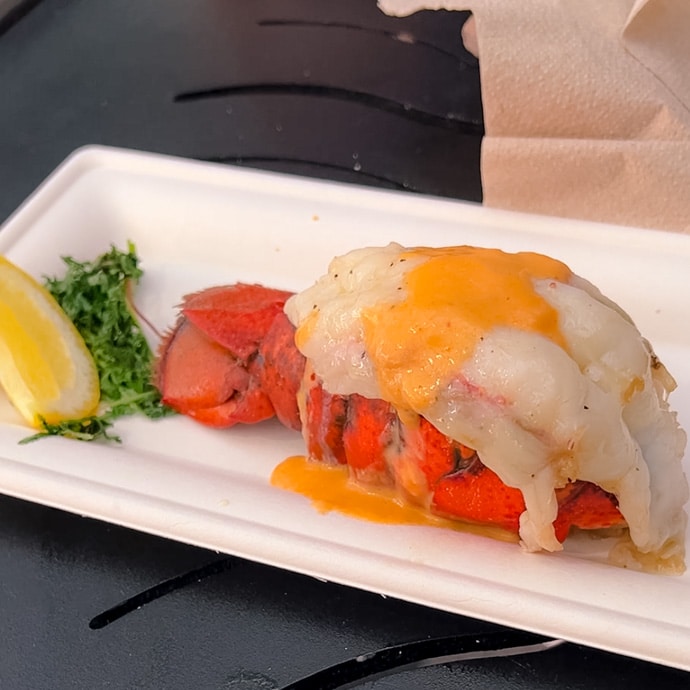 Day 3 Plan B
If you want to change your park reservations, you have to do so by midnight the day before. There was talk about a massive storm hitting Orlando and the threat of tornados all week, so we opted to trade our pool day for a park day. But, we did not lose the day. My sister and I attended a cabi Clothing virtual fashion show (more on that on Thursday). And, later in the afternoon, there was a break in the rain, so we took an Uber to Disney Springs. But, right when we arrived, it started downpouring again, so we spent the afternoon at the Boathouse restaurant with a few rounds of cocktails, oysters, and, if you know me, I couldn't resist the lobster roll.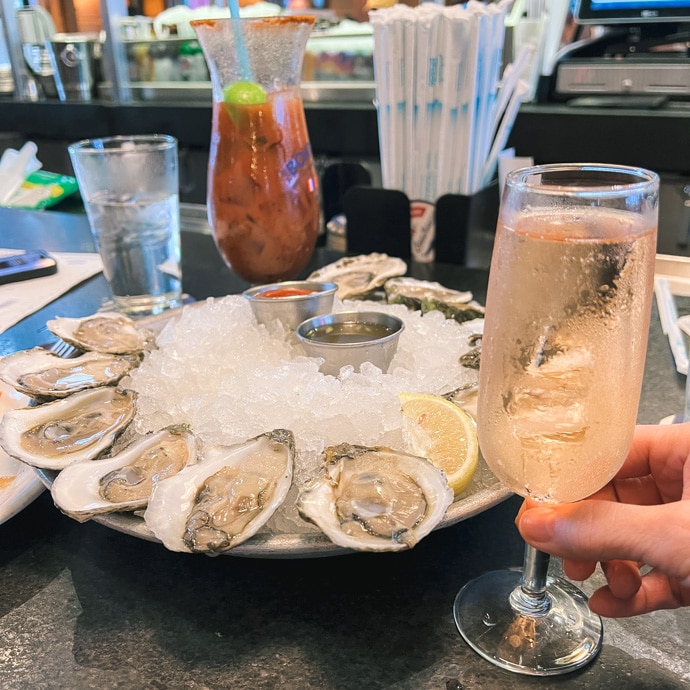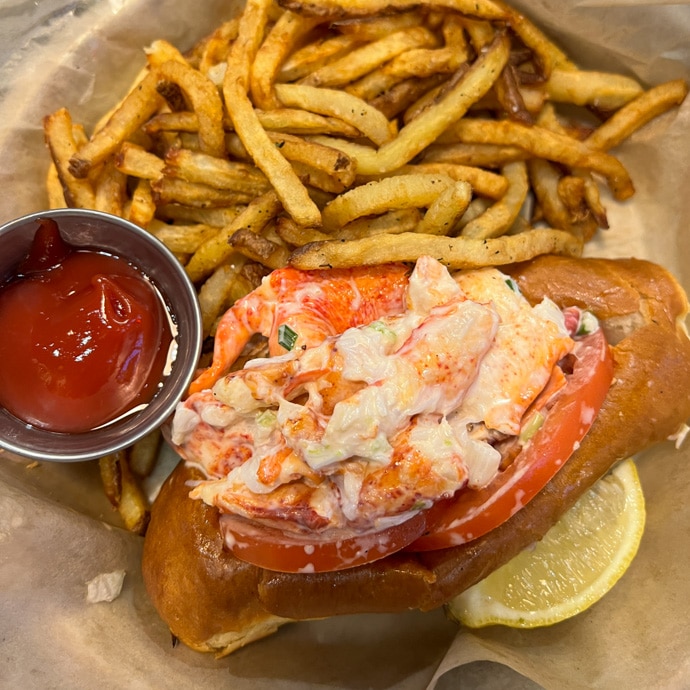 Day 4 Epcot Food & Wine Festival and a Blogger Meet-Up
Meet-Up with Kellyann
This day was extra special because I got to meet Kellyann from This Blonde's Shopping Bag. We met for coffee at the Boardwalk Bakery, and the hour flew by.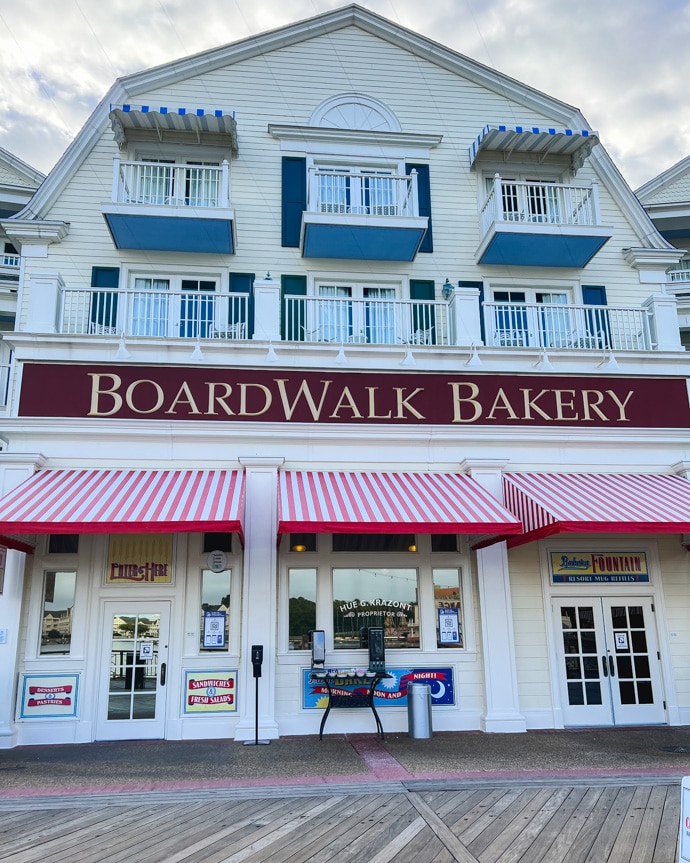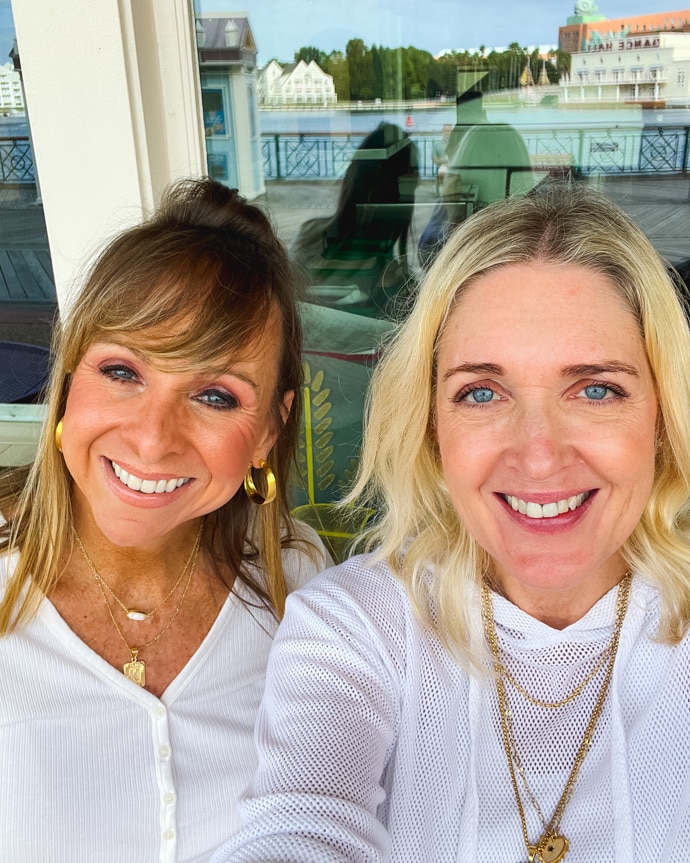 Epcot Food & Wine Festival
Epcot opened at 10 am, and we were back to it, eating all of the food.  Here are our favorite food booths that we visited.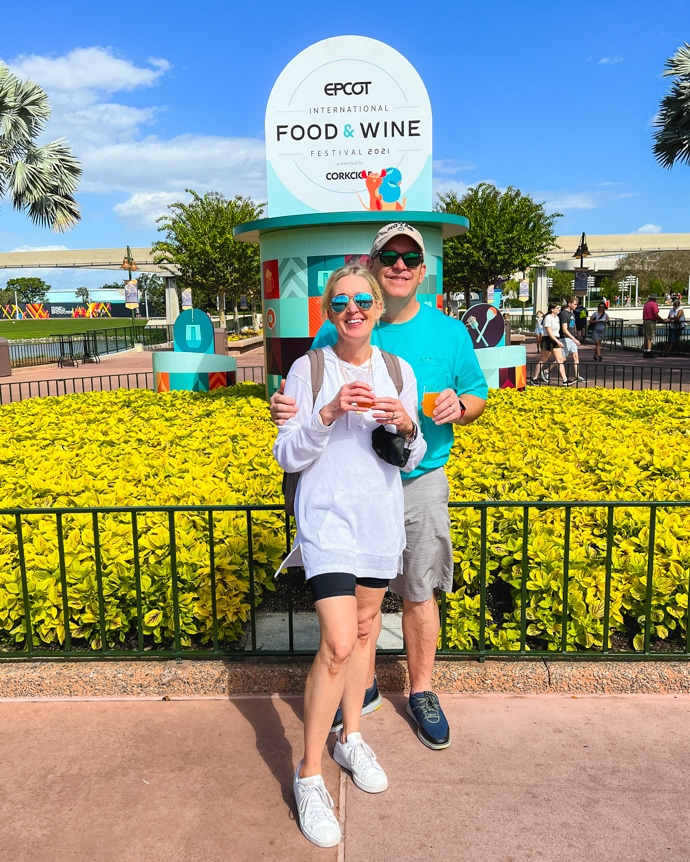 Simmering Sips
The mimosa flight included a Tropical, Key Lime, and Blood Orange mimosa for $13.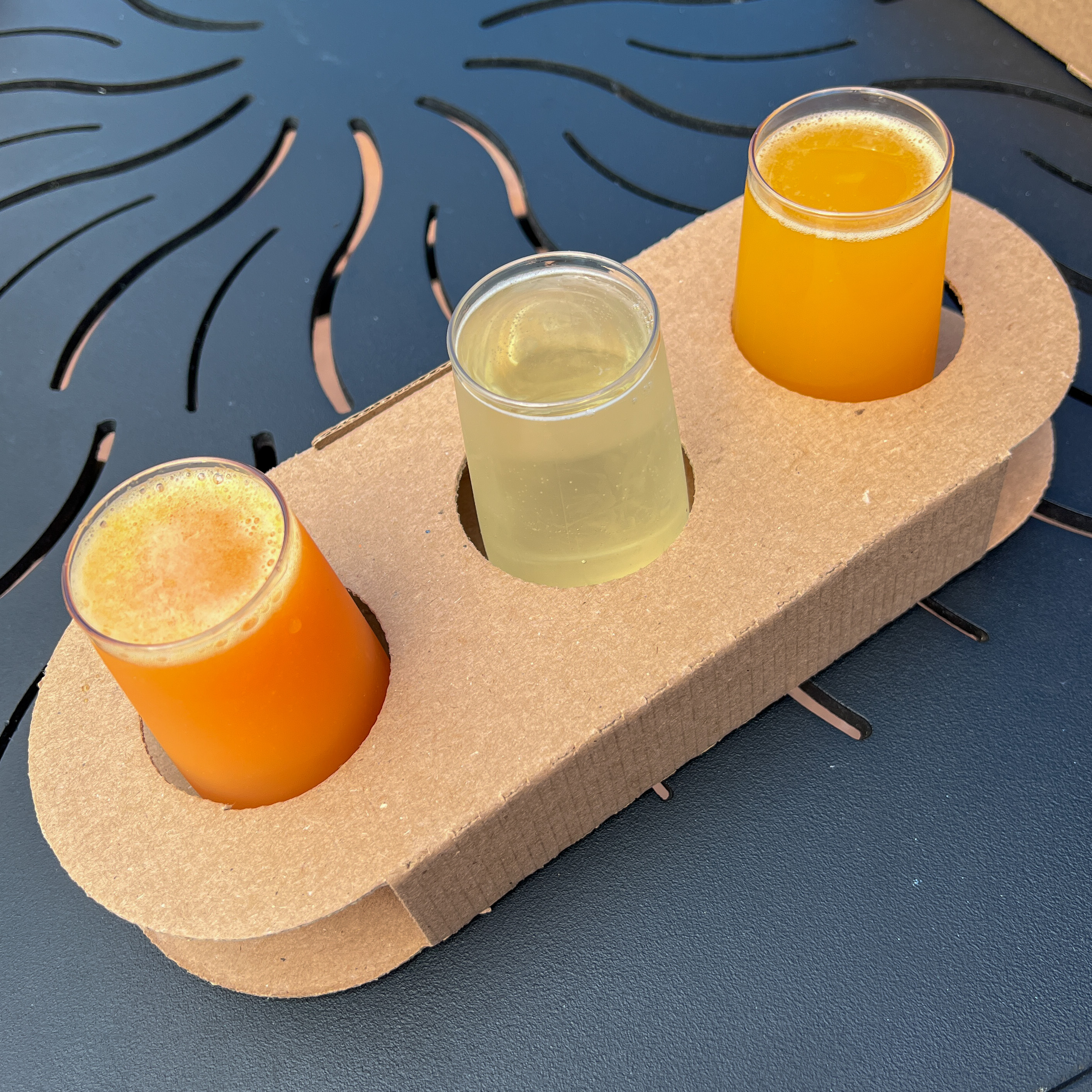 Canada
Canadian Cheddar and Bacon Soup served with a pretzel roll. $5.75.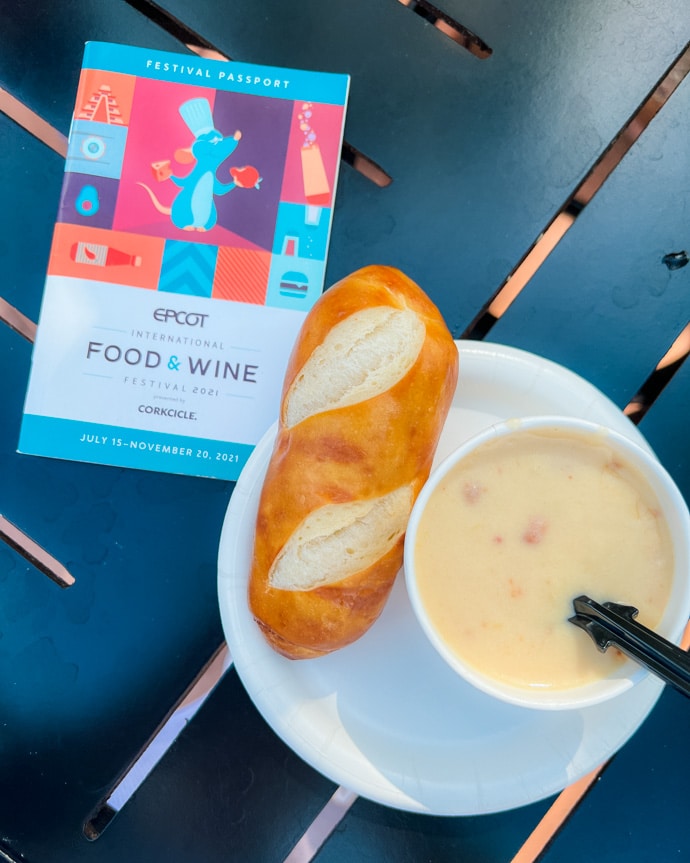 Spain
Charcuterie with Spanish meats, cheeses, and olives ($6.50) and a wine flight (a deal at $6.25) of Avaline White Blend, Faustino VII Rioja Rosado, and Espelt Garnacha.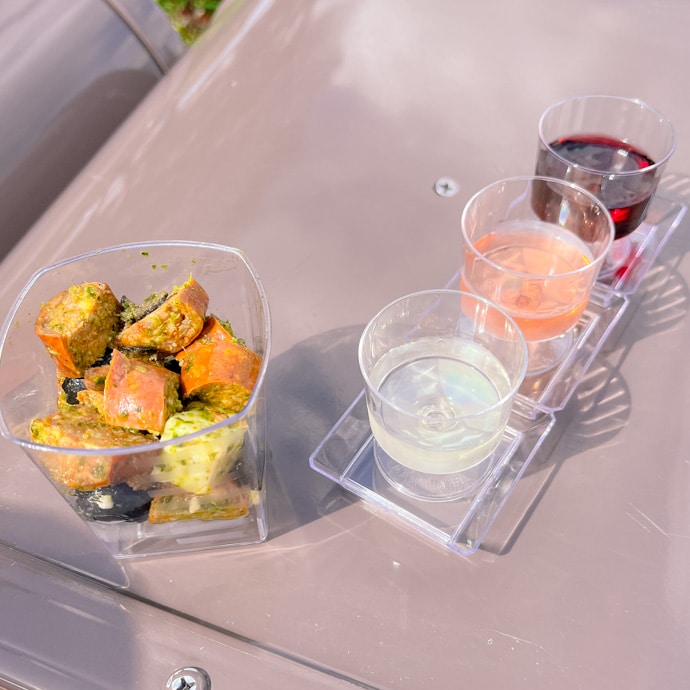 Mexico
Taco de Ribeye with red onion, poblano peppers, ranchera salsa, cotija cheese, and chives ($7.00) and an El Tigre Margarita made with pomegranate, prickly pear, pineapple, ginger served on the rocks with a hibiscus salt rim ($11.50).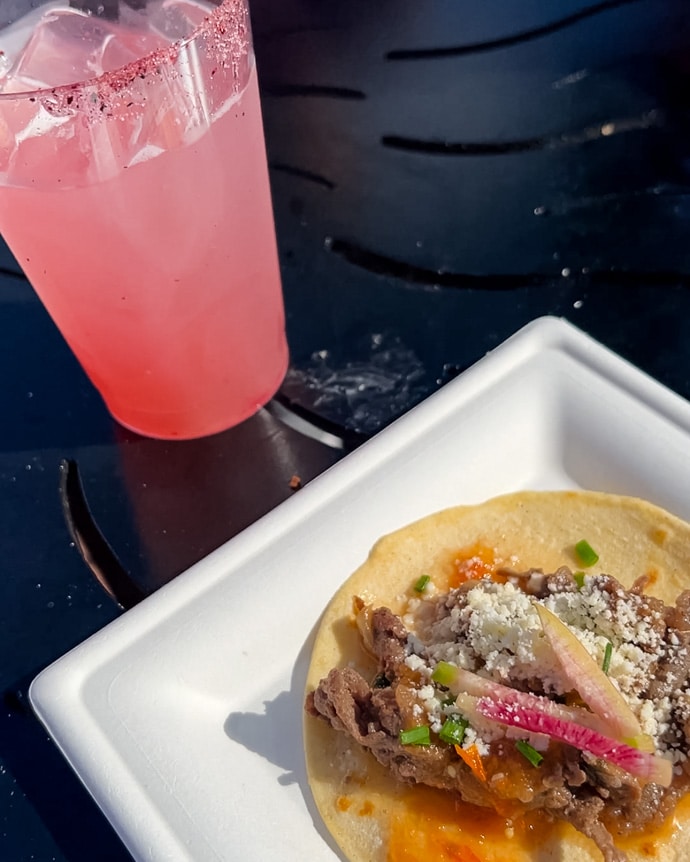 Magic Kingdom
At 2 pm, we headed over to the Magic Kingdom so I could ride on Space Mountain. There's something about that ride that I love. It was a high attendance day at the park, and the lines were long, so we could only get on a few rides.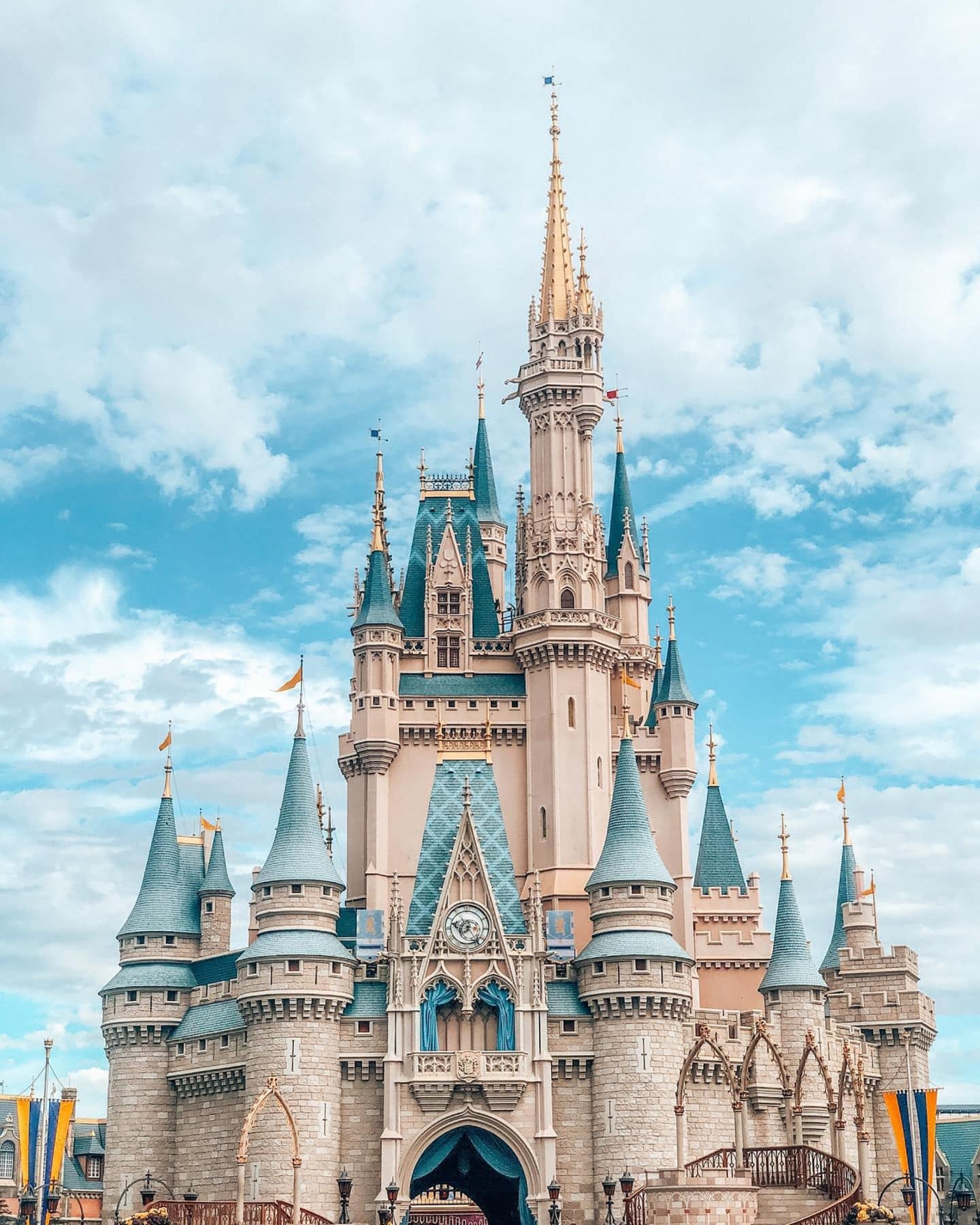 Wine Bar George
We ended our trip with dinner at Wine Bar George. It's the only wine bar led by a Master Sommelier and it was amazing. We had a lovely evening sitting outside, drinking wine, sharing small plates, and listening to live music. We were up bright and early on Saturday morning to head home.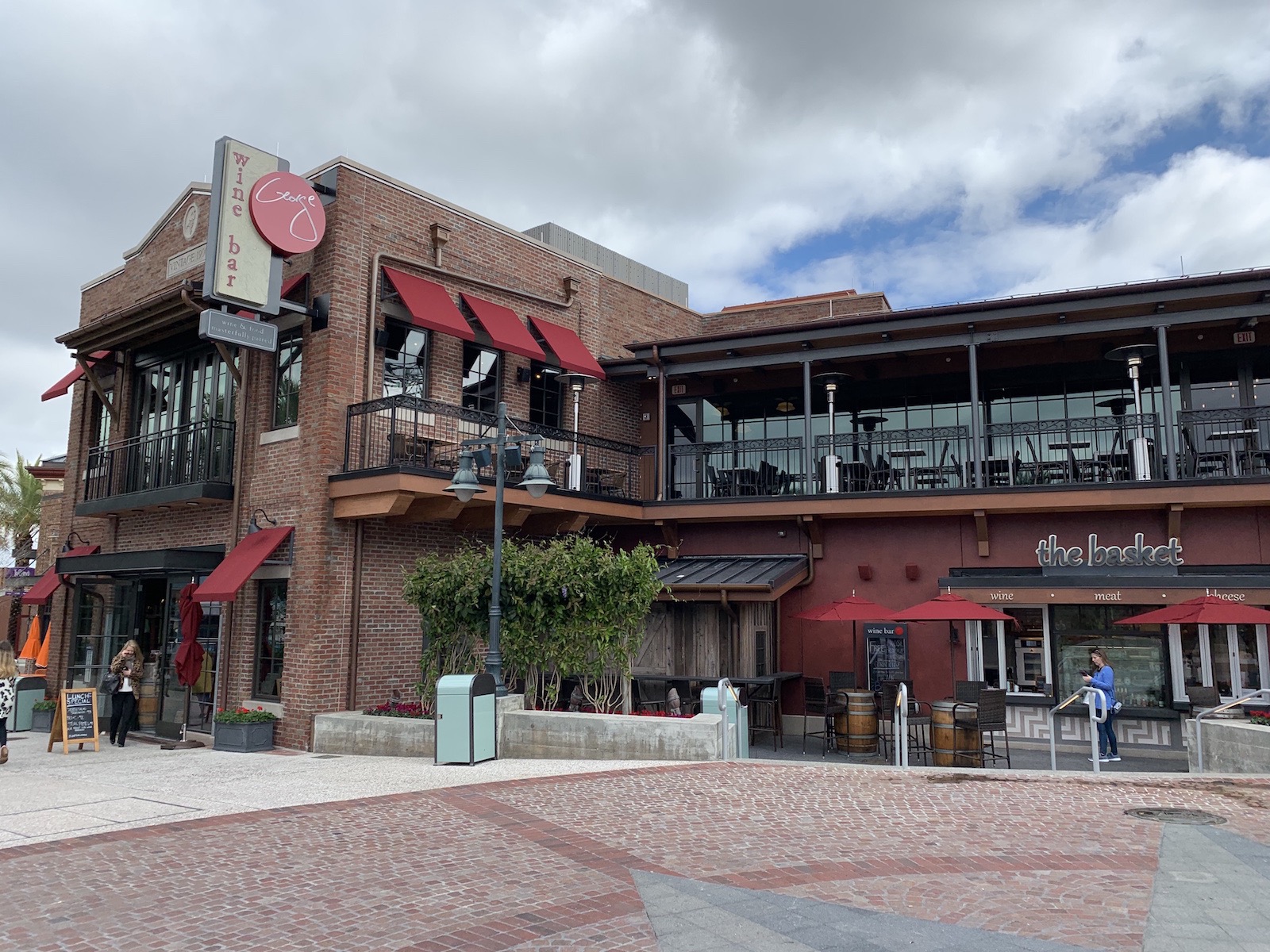 That's a wrap! Have you ever been to the Disney Epcot Food & Wine Festival?
Thank you for reading!
Also see: Chicago Staycation and Road Trip Recap – Saugatuck Michigan
If you liked this post, you can subscribe here or follow me on Feedly | Bloglovin | Instagram | Pinterest | Facebook
Linking up here.