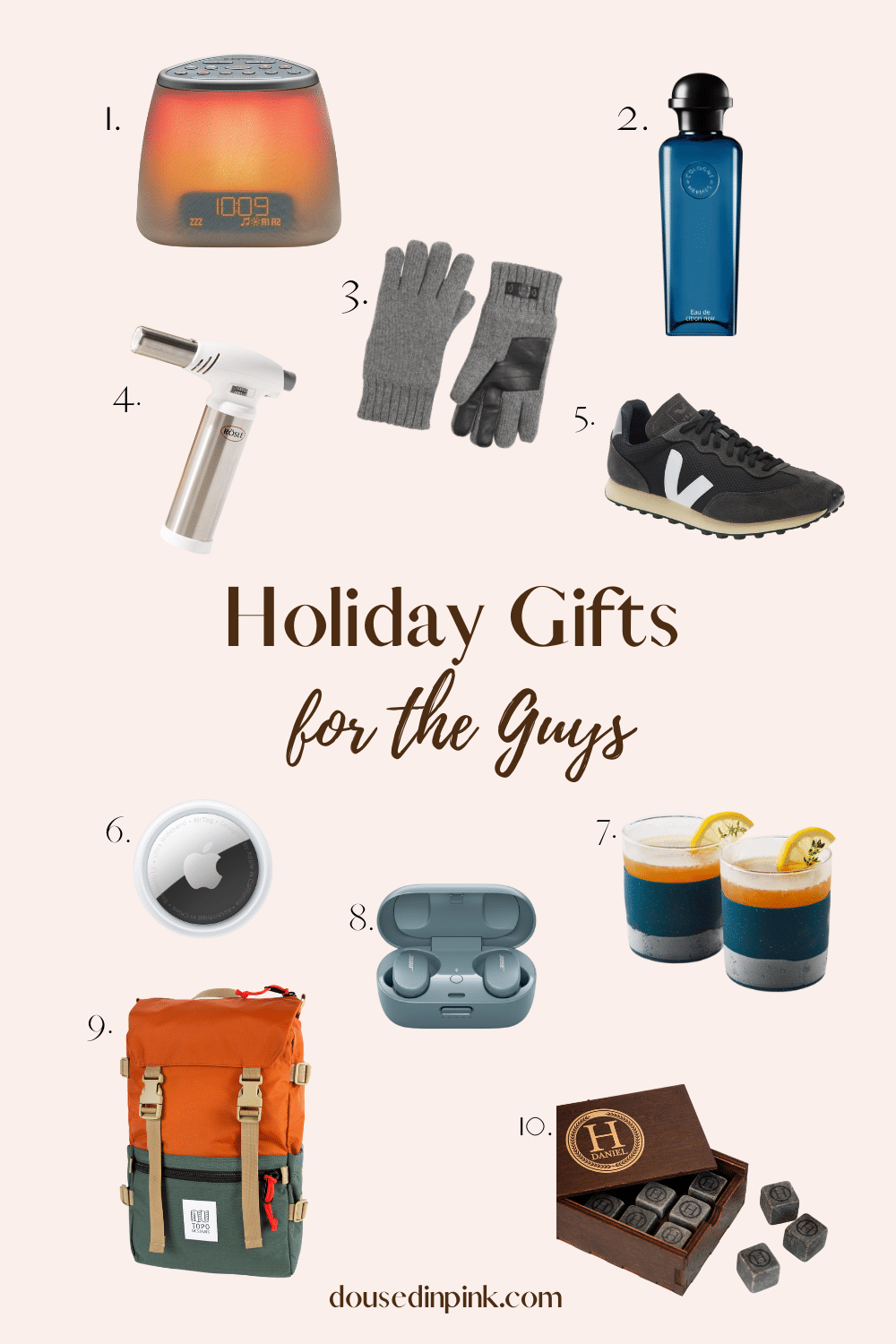 Holiday Gifts for the Guys
Hello Friends! I hope you had a wonderful Thanksgiving! Did you take advantage of any Black Friday or Cyber Monday deals? I did a little online shopping over the weekend and got lots of gifts checked off my list. I spent the rest of my weekend decorating. It feels so good to be in our own home again, and it was almost like Christmas unpacking all of our holiday decor that had been in storage.
I had planned to share my holiday home tour today, but, the weather has been so dark and dreary, it was impossible to take photos. So today, I've got another installment of my gift guide series, Holiday Gifts for the Guys.  Whether you're looking for a gift for your husband, boyfriend, dad, brother, or son, I've got you covered with ten husband-approved gift ideas that he is sure to appreciate.
Holiday Gifts for the Guys
1 – Sleep Therapy Machine – This little machine has it all; Bluetooth audio, sound and light therapy, and a battery backup.
2 – HERMÉS The Colognes Eau de Citron Noir – Citrus fruits combined with subtle smoky and woody notes of black lime.
3 – Tech Gloves – Wool-enriched knit gloves with touchscreen-compatible conductive-leather palms and fingertips.
4 – Kitchen Torch – Great for roasting peppers, toasting bread crumbs, or caramelizing that crème Brulee he'll make you for dessert.
5 – Veja Sneaker – Earth-conscious construction with recycled polyester lining and mesh insets made from organic cotton and recycled plastic bottles.
More Gifts for Him
6 – Apple Air Tag – Attach to your keys, bag, or anything you might lose. Hooks up to your iPhone or iPad to keep track of your stuff.
7 – Freezable Whiskey Glasses – Sip whiskey and other cocktails perfectly chilled without ice, so your drink doesn't get diluted.
8 – Bose QuietComfort Ear Buds – Noice canceling, high fidelity audio, and quiet and aware modes.
9 – Topo Designs Rover Backpack – Classic style rucksack/daypack is durable, versatile, and lightweight.
10 – Engraved Whiskey Stones – Personalized whiskey stones in an engraved box.
Shop Holiday Gifts for the Guys:

Thank you for reading!
Also see: Casual Glam Outfit for the Holidays and Red Vintage Bucket Ornament Tutorial
If you liked this post, you can subscribe here or follow me on Feedly | Bloglovin | Instagram | Pinterest | Facebook
Linking up here.