Happy Friday, Friends! Do you have any fun plans for the weekend? I'm getting together with a few of my girlfriends tonight to celebrate a birthday. And, on Saturday, my sister is coming into town to visit. We'll be heading into the city for some fun holiday happenings. Anyway, you know I'm all about finding the best deals and like to share affordable holiday gifts. But, sometimes, it's fun to splurge and give a little extra, so I've rounded up eleven luxe holiday gifts for her. If you have a little bit higher budget, these are sure to put a smile on her face!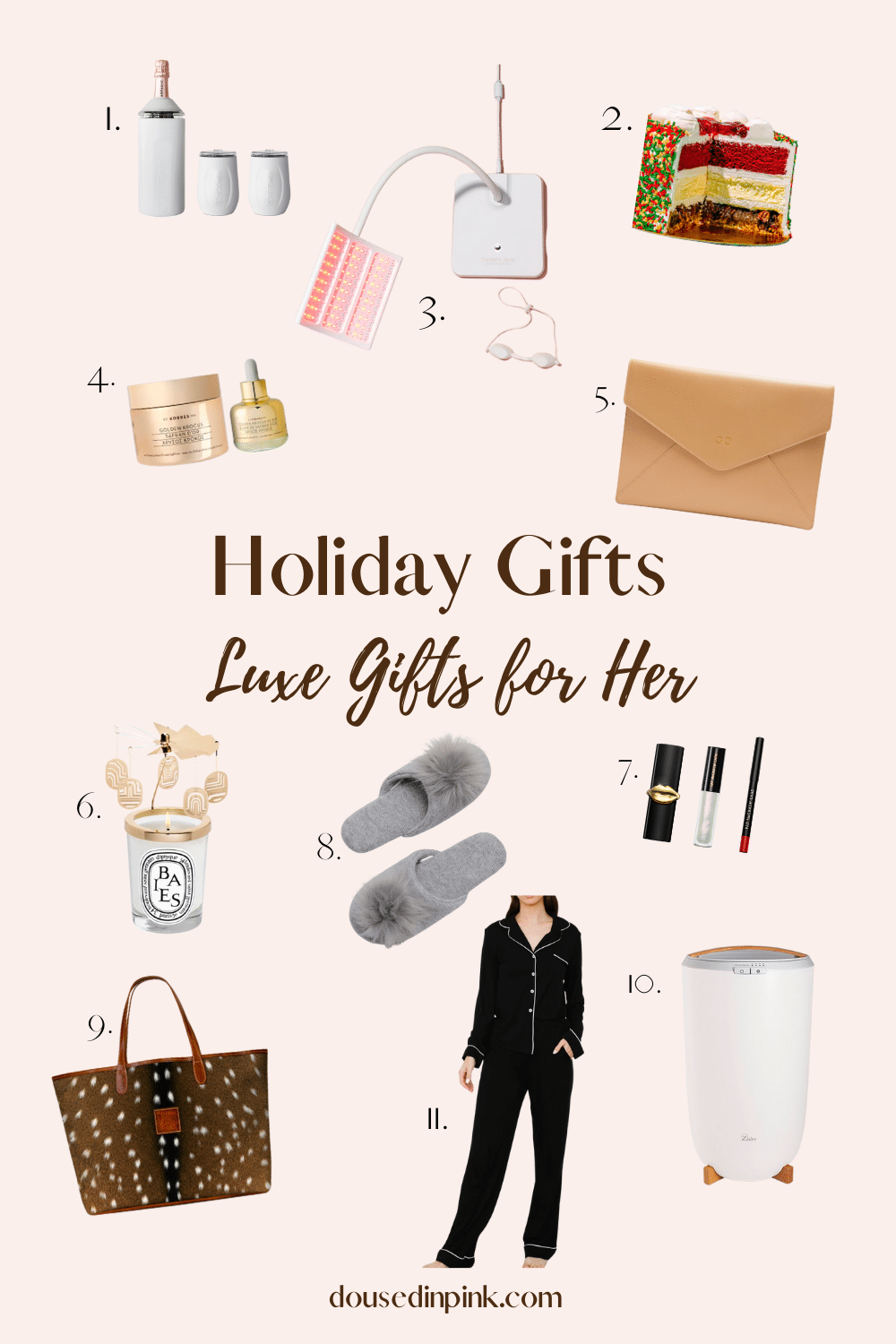 Luxe Holiday Gifts for Her
1 – Vinglace Gift Set Wine chiller + two wine glasses. Comes in multiple color options.
2 –
Christmas Piecaken
The spectacular PieCaken features pecan pie, eggnog cheesecake, and red velvet cake layered together with amaretto buttercream and topped with sweet and tart cherry pie filling. Yum!
3 –
RejuvaliteMD Anti-Aging Light Therapy
Ageless LED treatment that reduces the appearance of fine lines and wrinkles with state-of-the-art red light therapy.
Use code JILL for 10% off.
4 – KORRES Golden Ageless Skincare Duo A luxurious two-step holiday skincare set that targets aging and hydration to reveal smoother, radiant, ageless skin. Use code DOUSEDINPINK20 for 20% off.
5 – Leather Laptop Sleeve Protect your laptop with this chic, lightweight, personalized laptop sleeve. Offered in multiple colors.
6 – Diptyque Limited Edition Carousel Set 190g Baies (Berries) candle accompanied with a carousel that rotates due to the heat released by the flame of the candle, revealing a dance of light.
7 – Pat McGrath Labs Mini Red Fantasy Lip Set Trio Includes the MatteTrance Lipstick in shade Elson 3, the LUST: Gloss in shade Aliengelic, and the PermaGel Ultra Lip Pencil in shade Bloodlust.
8 – Cashmere Pom Pom Slippers Takes comfy-chic to a whole new level.
9 – Barrington Tote A classic, personalized, everyday bag.
10 – Towel Warmer Generously sized to warm throw blankets, robes, and towels. Automatically shuts off for safety.
11. – Bonus gift idea! Cozy Earth Bamboo Pajama Set. Use code DOUSEDINPINK45 for 45% off through December 31st!
Shop Luxe Holiday Gifts for Her

Thank you for reading!
Also see: How to Stay on Track During the Holidays and 20 Winter Outfit Ideas to Copy
If you liked this post, you can subscribe here or follow me on Feedly | Bloglovin | Instagram | Pinterest | Facebook
Linking up here.