Can you believe Christmas is less than two weeks away? Do you have everything bought, wrapped, and under the tree? I still have a few more gifts to purchase and wrapping to do. This gift guide is my final installment of the season, and I saved the best for last. I've rounded up ten excellent stocking stuffers under $20 that are fun, functional that everyone on your list will appreciate.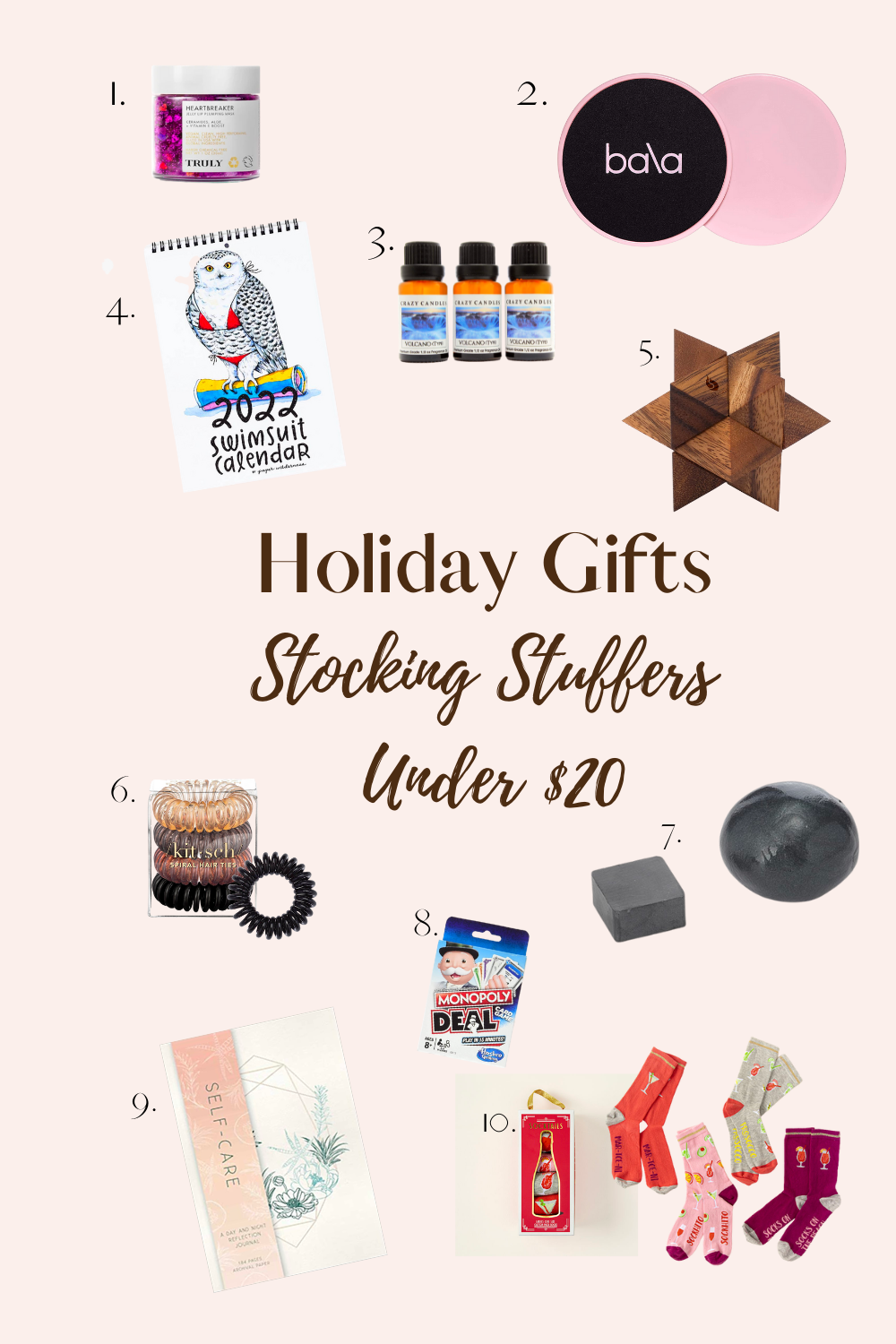 Stocking Stuffer Gift Ideas
1 – Truly Heartbreaker Lip Plumping Mask – a lip gloss that is safe, organic, effective, and super cute.
2 – Bala Slidders – these sliders help engage your core and intensify your workouts.
3 – Crazy Candles Volcano Essential Oils – if you're a fan of the Capri Blue Volcano candle, you will love this essential oil trio.
4 – 2022 Animal Swimsuit Calendar – Not your typical swimsuit calendar. This one will give you a giggle every time you turn a new month.
5 – Shooting Star Puzzle – 3D brain teaser wood puzzle.
6 – Spiral Hair Ties – the spiral construction helps prevent tangling and hair breakage when you remove them.
7 – Super Magnetic Putty – Made with micron-sized iron-based particles, the moldable magnetic putty takes on the properties of a magnet when placed in close contact with the included Neodymium Iron Boron magnet.
8 – Monopoly Deal Card Game – this card game is a great way to play the Fast-Dealing Property Trading Game in as little as 15 minutes!
9 – Self Care Journal – helping you develop positive thinking, overcome challenging and stressful experiences and negative emotions, and cultivate a general sense of well-being and a healthy lifestyle.
10 – Socktail Gift Set – Celebrate happy hour in style with 4 fuzzy cocktail-themed socks.
Shop Stocking Stuffers Under $20:

Thank you for reading!
Also see: Holiday Gifts for Beauty Lovers and Christmas Holiday Home Tour 2021
If you liked this post, you can subscribe here or follow me on Feedly | Bloglovin | Instagram | Pinterest | Facebook
Linking up here.