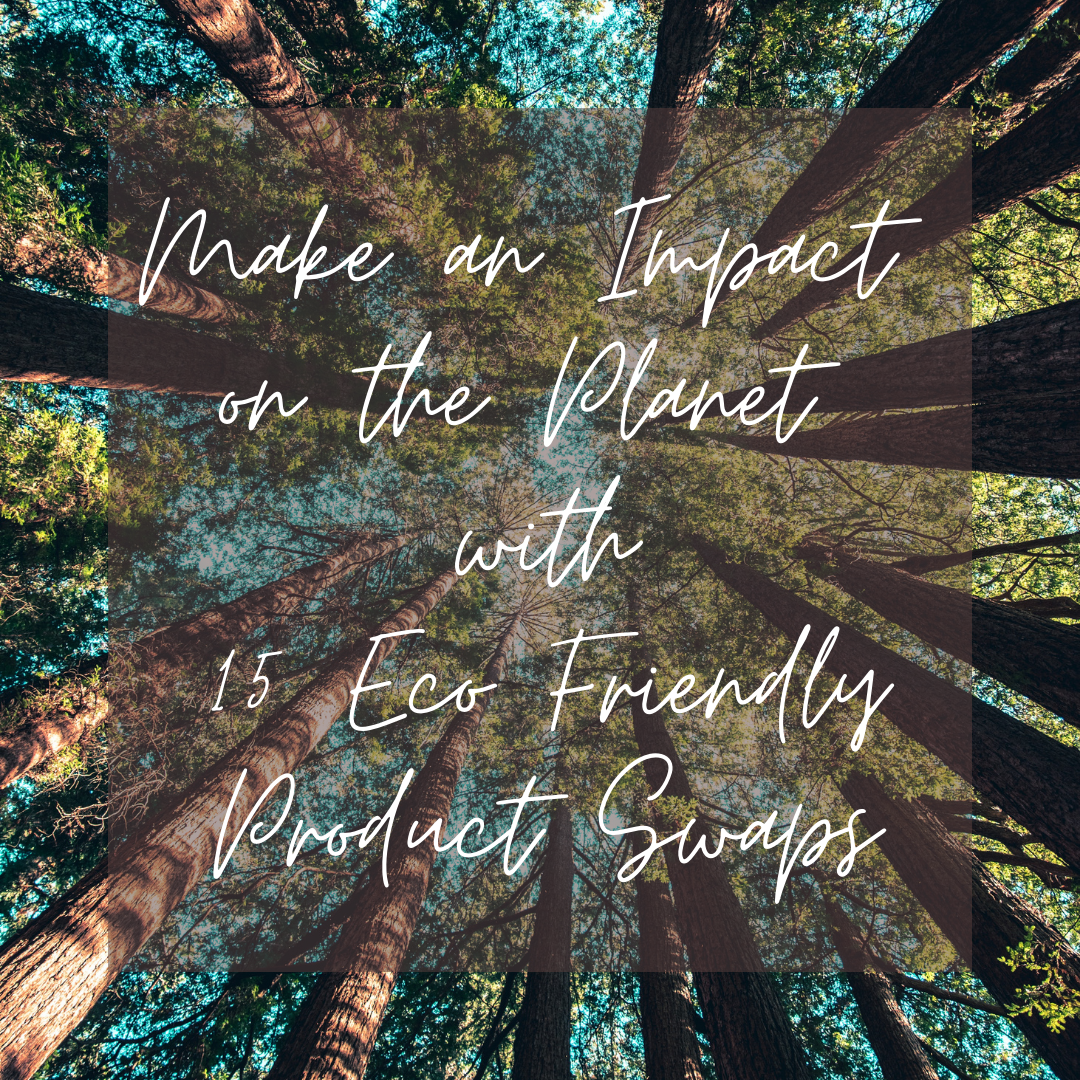 Eco Friendly Product Swaps
Did you know that we produce over 300 tons of plastic in the world every year? 50% of that is for single-use items like straws, water bottles, shopping bags, and containers.  And, less than 10% is recycled. Disposable plastic is not biodegradable and can take hundreds to thousands of years to decompose. And studies have shown that plastic can have adverse effects on our health.
Living a sustainable lifestyle is not something you can flip a switch and do overnight. But, let's face it, there are changes that we can all make to be less wasteful. And all it takes are slight changes to make a significant impact on the environment.  I've been slowly making changes over the past several years. Here are 15 eco friendly product swaps that you can make to have a healthier home and impact the planet by reducing your carbon footprint.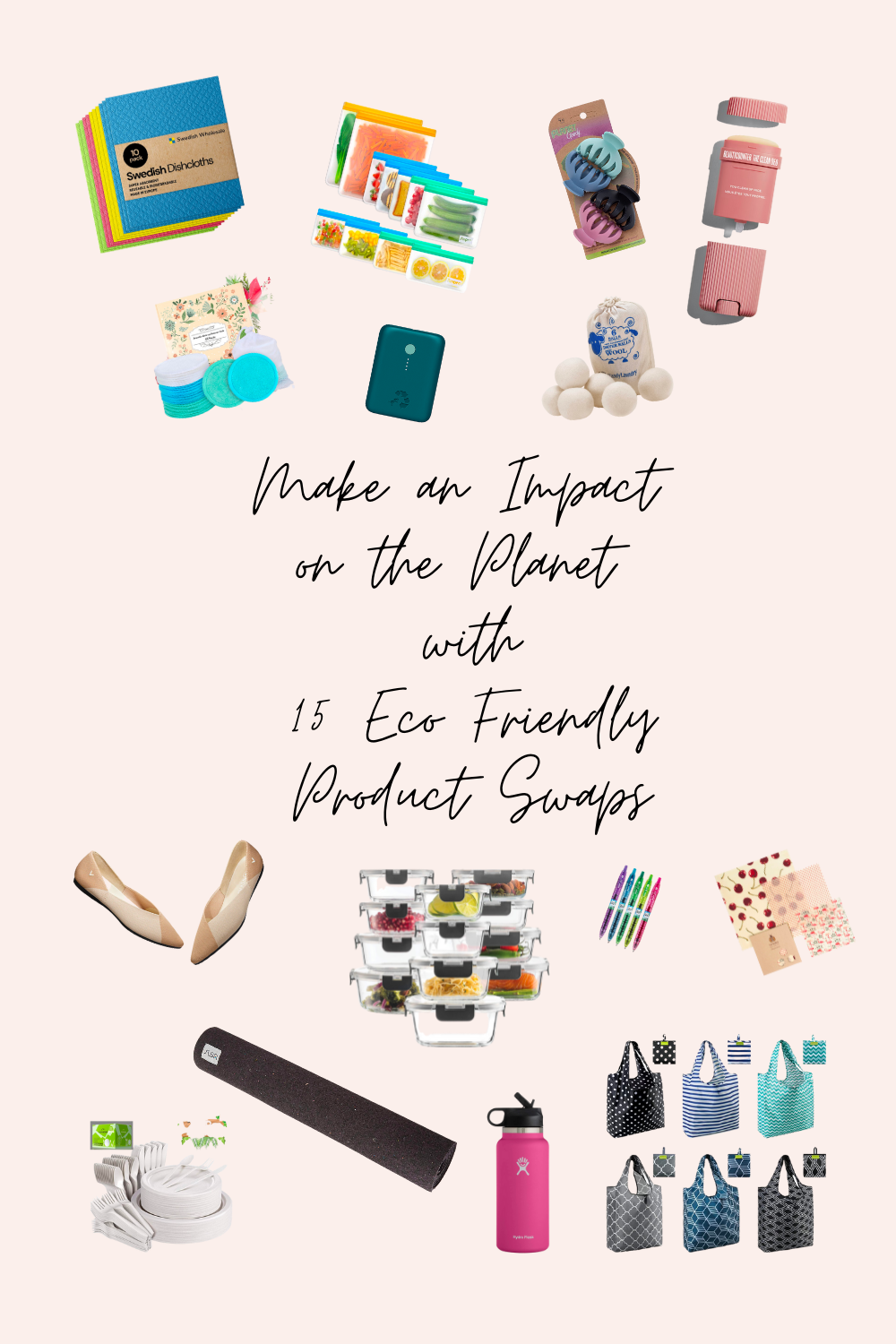 Products That Are Good for the Environment
1 – These washable Swedish Dish Cloths are absorbent, reusable, biodegradable, and a great alternative to paper towels.
2 – Instead of using plastic ziplock bags, use BPA-free reusable storage bags.
3 – The Planet Goody collection is the first ever line of sustainable hair accessories made with renewable plant-based materials.
4 – Too much aluminum can have adverse effects on your body.  Beautycounter's Clean Duo is refillable and recyclable.
5 – One of these reusable makeup remover pads is equivalent to 1000 cotton pads.
6 – Eco Friendly Portable Charger packs more power than charges twice its size.
7 – Wool dryer balls are a chemical-free alternative to dryer sheets and reduce drying time.
8 – Vivaia Shoes has a gorgeous collection of stylish shoes made from plastic water bottles.
9 – Plastic containers can release chemicals into your food. Swap out your plastic food storage for glass food storage containers.
10 – Go green with these Bottle to Pen Refillable & Retractable Rolling Ball Gel Pens.
11 – Substitute beeswax wrap for anything you would wrap in plastic wrap.
12 – Summer BBQ season is right around the corner. Use this earth-friendly biodegradable partyware for your upcoming gatherings.
13 – Strike your yoga poses on a yoga mat made in the USA from 100% recycled wetsuits.
14 – Reduce plastic waste by refilling a stainless steel water bottle to stay hydrated. 
15 – Plastic grocery bags can pile up quickly. I have a tote bag of reusable grocery bags that I keep in my car. 
What are some of your favorite eco friendly products?
Shop Sustainable Products:

Blog Announcement
I mentioned in this post that I am starting a new job this month. While I'm getting settled in, I will be pausing my Tuesday blog posts going forward and only be posting on Thursdays.
Don't worry! So we can still keep in touch, I'll be replacing my Tuesday post with a weekly newsletter. If you are not already signed up to receive the latest blog posts, newsletter, and exclusive content, click here.
Thank you for reading!
If you liked this post, you can subscribe here or follow me on Feedly | Bloglovin | Instagram | Pinterest | Facebook
Linking up here.