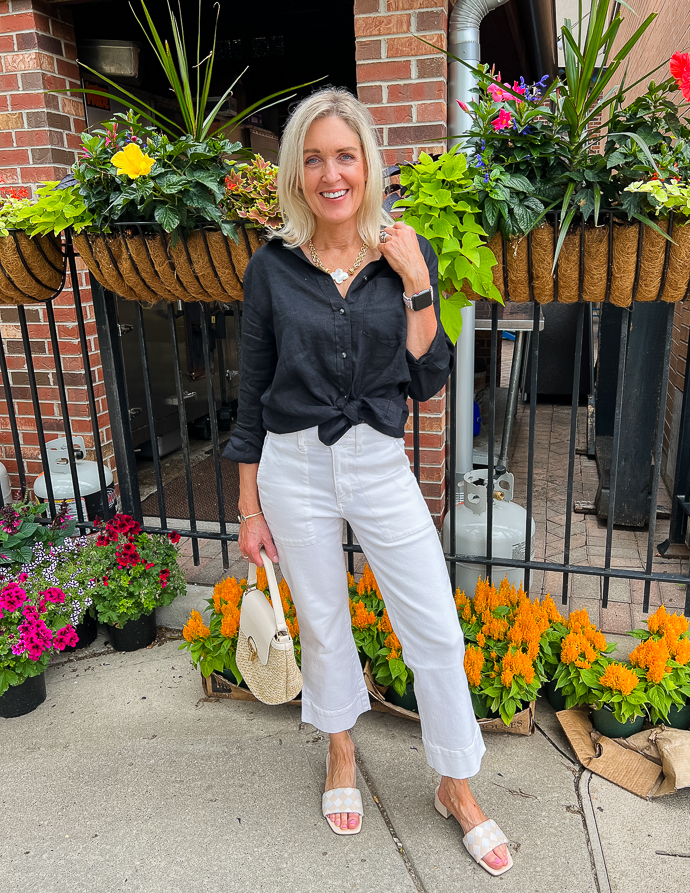 Oversize jewelry and statement necklaces are everywhere this season, and I immediately jumped on board with the trend. They're not only a great way to express your personality, but a statement necklace will instantly take your outfit from basic to extraordinary by making it the focal point. Don't think that statement jewelry is just for dressy occasions. You can elevate your casual outfits with a statement necklace too. Here's how.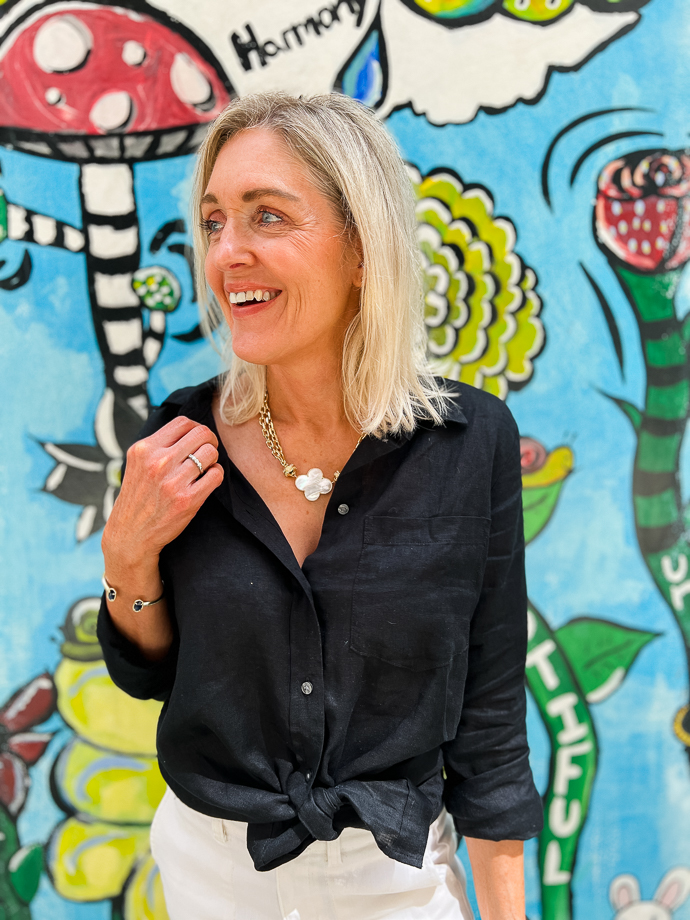 Clara Williams Jewelry
I love supporting women-owned businesses, and I'm excited to introduce you to Clara Williams. Clara graduated from Harvard's MBA program with a career in technology, and metalsmithing has always been one of her passions. So when her friends and family took notice of her unique, one-of-a-kind pieces, she embraced that opportunity, and the Clara Williams Company was born.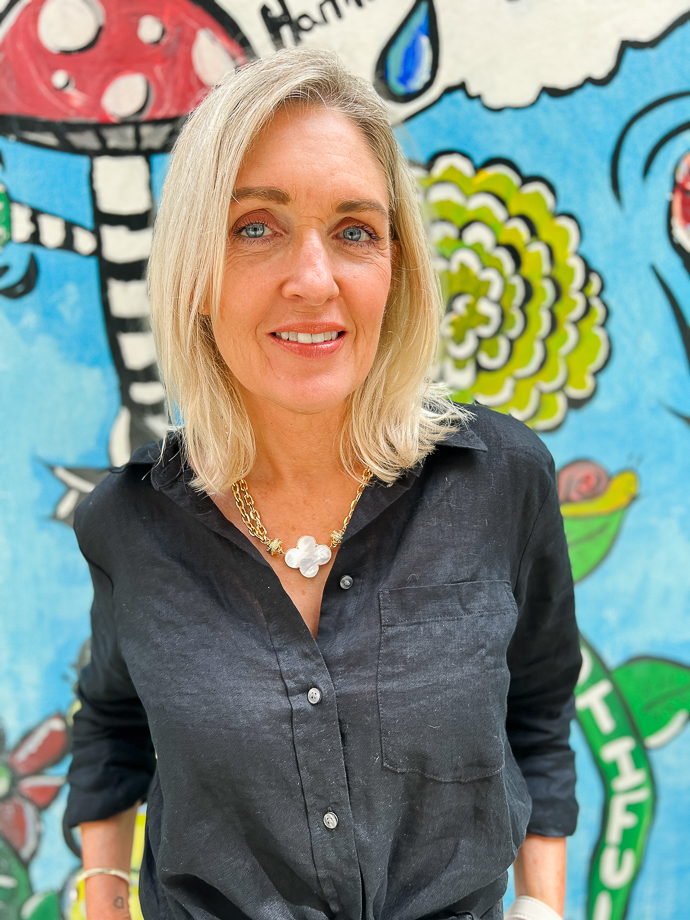 Inspired by color, her travels, and nature, Clara takes high-quality materials and handcrafts them into wearable works of art in her Chicago showroom. One of the unique details I love about Clara Williams's jewelry is the magnetic element. Not only does a magnetic clasp make it even easier to get ready, but it also allows you to switch out centerpieces for a personalized look effortlessly. Mixing and matching styles allow for endless possibilities.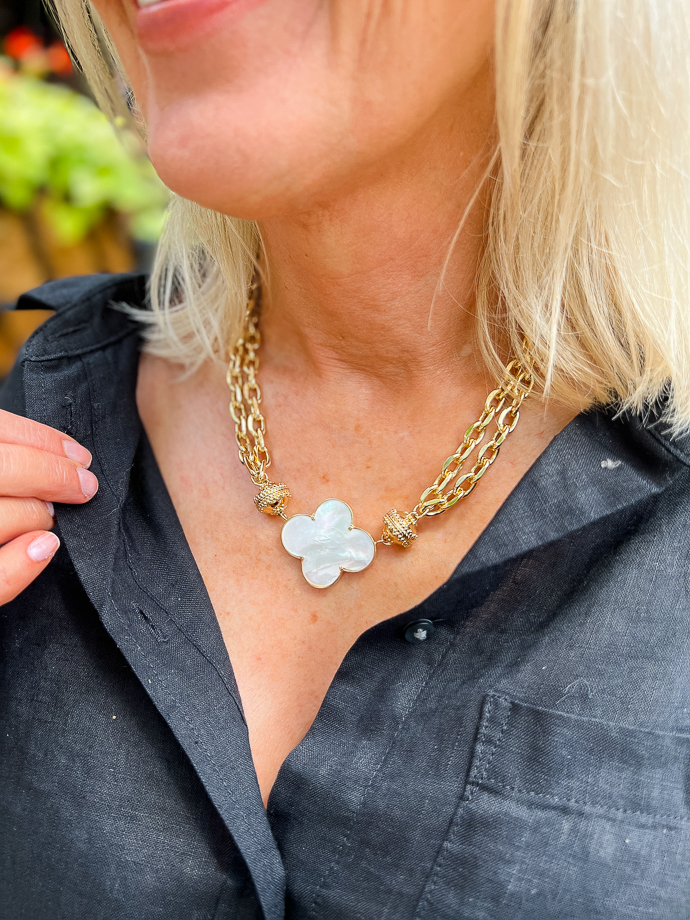 Necklace c/o Clara Williams. Use JILL15 for 15% off your purchase.
Large link jewelry makes a statement on its own or mixed with other pieces. I'm wearing Clara's Sheridan Double Strand Necklace with the Mother of Pearl Petal Centerpiece. A 16″ choker style necklace goes with almost every type of neckline, and I love that you can wear this versatile gold chain as I have here or long. Fun side note, her necklaces are named after Chicago streets. How cool is that?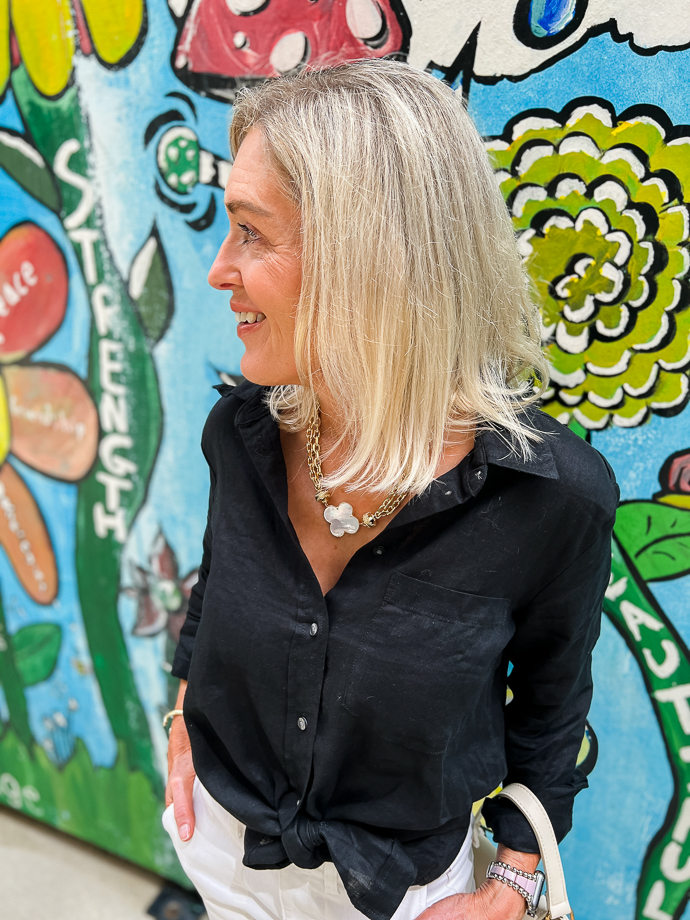 Necklace c/o Clara Williams. Use JILL15 for 15% off your purchase.
How to Shop Clara Williams Jewelry
Designed to feel like home, you'll find unusual treasures sourced from Clara's extraordinary travels in her showroom. You can follow her pieces from raw stone to a breath-taking statement with a personal tour of her remarkable Metalsmithing Studio. You'll also receive complimentary services such as personalized styling and a private shopping experience. If you are not local to Chicago, you can experience the showroom with remote styling sessions or virtual store visits. And, when you visit, make sure to use my promo code JILL15 for 15% off your Clara Williams purchase.
Style Tips for Wearing a Statement Necklace:
1 – Wear a statement piece that feels personalized to you. It will give you an extra confidence boost.
2 – Less is more. Wear a statement necklace that compliments your outfit, not overpowers it. My necklace stands out in my classic black and white outfit.
3 – Keep a balance with your other jewelry. Think stud earrings or one bracelet instead of a stack to pull the entire look together.
4 – Don't distract from your statement necklace. Avoid other embellishments near your neckline.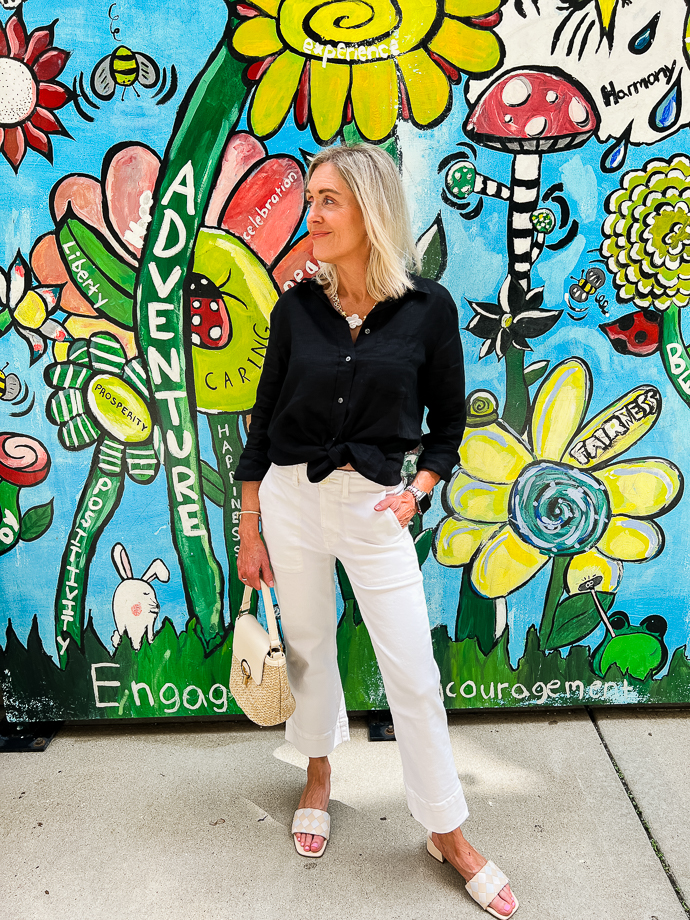 Necklace c/o Clara Williams. Use JILL15 for 15% off your purchase.
Shop the post:

Thank you for reading!
Also see: Necklace Layering 101 and  This Chic Summer Date Night Outfit is Under $100 and Won't Break the Bank
I'm replacing my Tuesday blog posts with a weekly newsletter while I get acclimated to my new job. Make sure you SUBSCRIBE HERE so you don't miss out on fashion tips, what's on my radar, life updates, giveaways, and exclusive content! 
If you liked this post, you can subscribe here or follow me on Feedly | Bloglovin | Instagram | Pinterest | Facebook
Linking up here.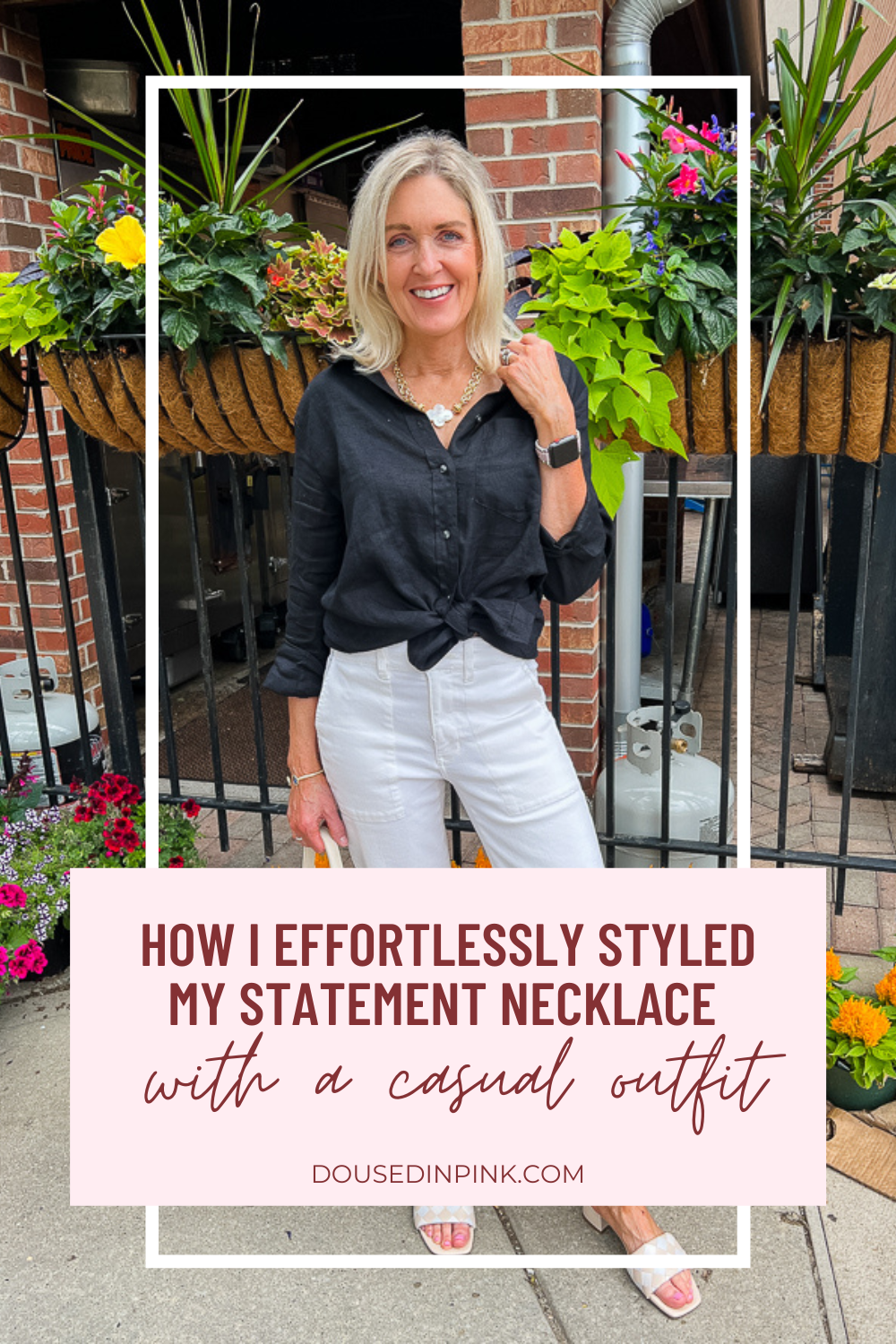 I hope my casual outfit with a statement necklace gave you some summer-style inspiration! Now onto the linkup! I can't wait to see your outfits!
THURSDAY FASHION FILES WEEKLY LINKUP
Welcome to Thursday Fashion Files! Kellyann and I are excited to have you here and would love to have you link up one of your latest outfits with us at the bottom of this post. Don't forget to check out our Thursday Fashion Files Pinterest board and email me at hello@dousedinpink.com if you'd like to contribute to the board!
1 – Follow Jill: Bloglovin', Facebook, Instagram, Pinterest, Feedly, LIKEtoKNOW.it
2 – Follow Kellyann: Bloglovin', Facebook, Instagram, Pinterest, LIKEtoKNOW.it
3. Help spread the word and share our linkup with your community.
4. **By adding your links, you are stating that you have the proper licensing/rights to the images in your blog posts.**
Katie from Hello Katie Girl is this week's featured blogger!
You are invited to the Inlinkz link party!