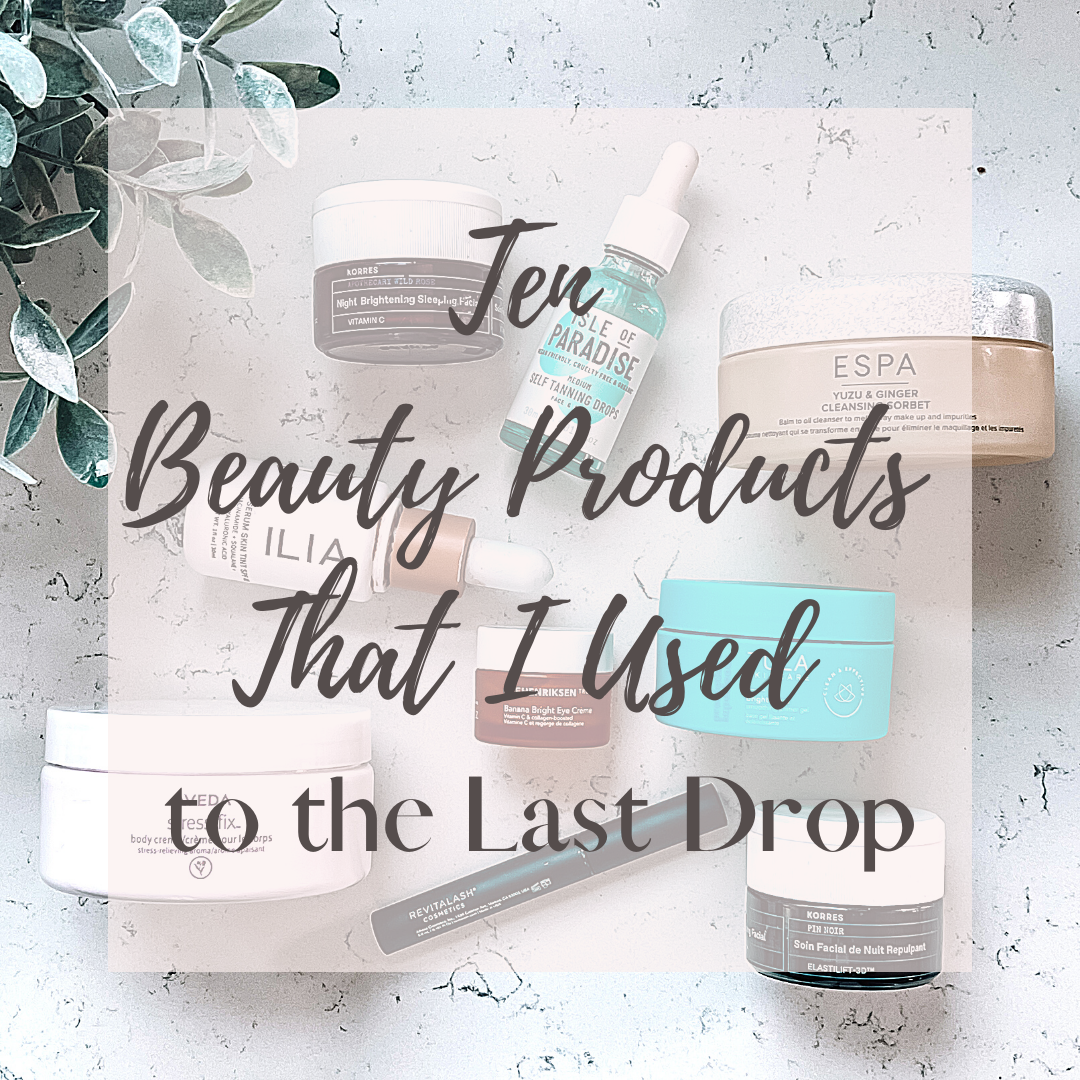 Do you love reading beauty product empties posts as much as I do? It's helpful to read honest reviews and find out if a product lives up to its claims. Plus, it's a great way to discover new products. I've tried out many beauty products over the past several months, and today I wanted to share my favorites. These are the products that I used to the last drop and have repurchased over and over.
Ten Beauty Products That I'll Purchase Again
I've repurchased OLEHENRIKSEN Banana Bright Eye Crème multiple times. It disguises dark circles, illuminates the under-eye area, and hydrates the delicate skin around your eyes.
I don't like anything heavy on my skin and just replenished Ilia's Super Serum Skin Tint SPF 40 Foundation. Ilia is a clean brand, and this product gives you light, dewey coverage plus protection with mineral SPF.
My eyebrows are blonde and have become more sparse as I've aged. Revitabrow Eyebrow Conditioner and Serum is a splurge item for me but worth every penny. I initially purchased the trial size and was hooked. My eyebrows are fuller and more defined.
I've tried other tanning drops but always go back to Isle of Paradise. Just mix a few drops with your moisturizer for a healthy, natural glow.
For the past several years, the Laneige Lip Sleeping Mask has been a must-have in the winter months. It's the last step in my nighttime skincare routine.
I love a facial in a jar and am a fan of both KORRES Black Pine Plump Up Sleeping Facial and Wild Rose Brightening Sleeping Facial. Both of these rich creams absorb quickly into your skin and work their magic overnight, so you wake up with smooth, glowing skin. Try them here and use code DOUSEDINPINK20 for 20% off your purchase.
TULA Brighten Up Smoothing Primer Gel is hands down one of my favorite primers. It's silicone-free, glides on, and instantly smoothes out your skin. Use my coupon code INPINK15 for 15% off.
ESPA Yuzu Ginger Cleansing Sorbet is a balm to oil cleanser that turns into a cleansing milk when adding water. It leaves my skin soft and refreshed.
Every year during my birthday month, I treat myself to Aveda's Stress Fix Body Cream. This calming, ultra-rich body cream is infused with lavender and sage and gives your skin 24-hour hydration.
Shop beauty at Ulta and get free standard shipping on any $35 purchase.
Thank you for reading! Do you use any of these products? Which ones are your favorites?
Shop My Beauty Product Empties:

Also see: How to Make a Simple and Delicious Grilled Watermelon & Feta Appetizer and
Preserve Your Photo Memories with this Easy DIY Photo Coaster Tutorial
If you liked this post, you can subscribe here or follow me on Feedly | Bloglovin | Instagram | Pinterest | Facebook
Linking up here.