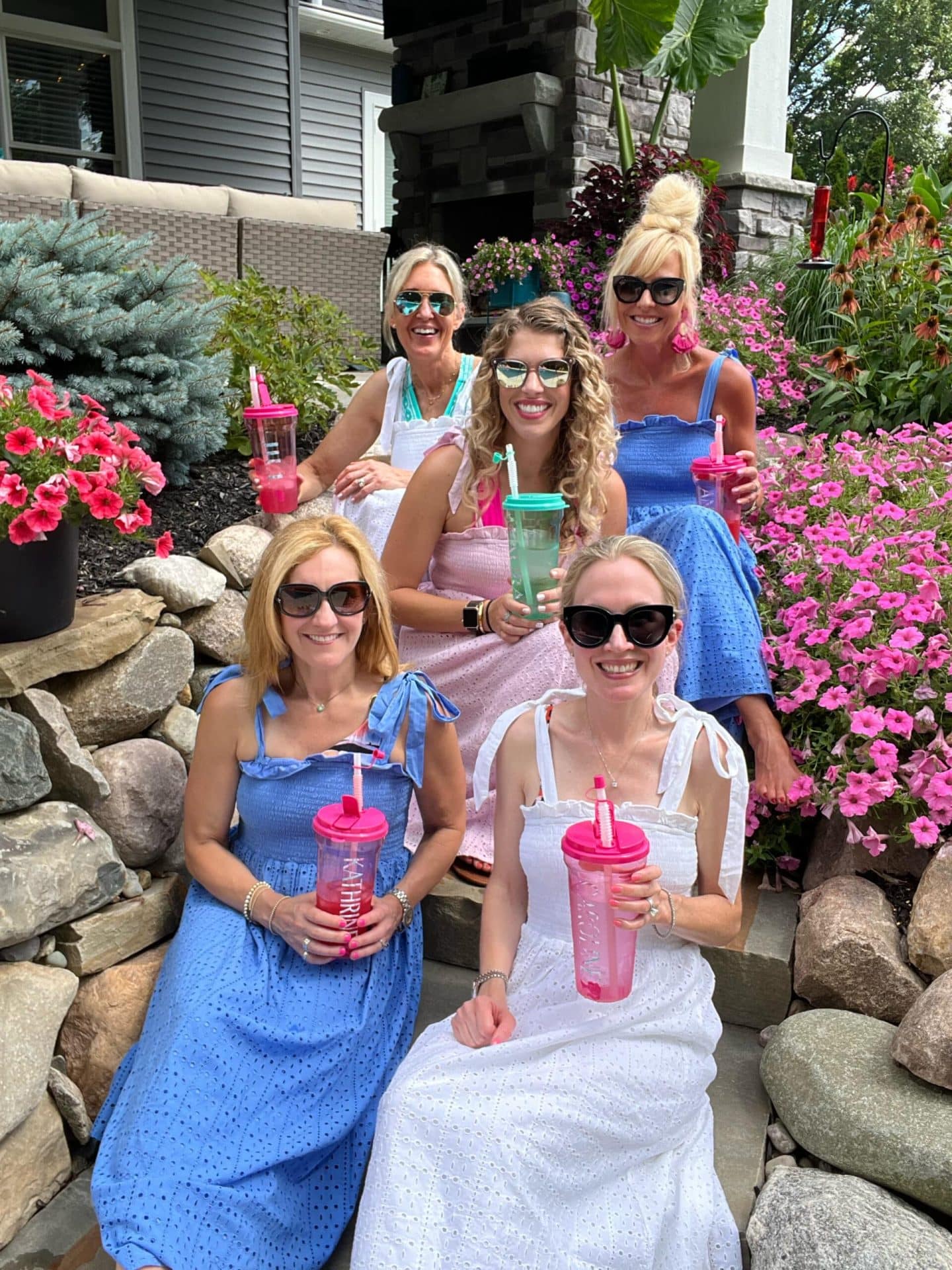 A few weeks ago, I hinted that I was heading out of town for a girl's weekend getaway with Andrea (Living on Cloud Nine), Laura (I Do DeClaire), Kathrine Eldridge Wardrobe Stylist, and Caroline (The Petite Fashionista). Today, I wanted to share the recap of our weekend. It was the perfect balance of relaxation, socializing, and fun. You can watch all my videos on my Instagram stories #theblondsquad highlight.
Initially, we planned a weekend in the city, but when Andrea offered to open up her home to us, we didn't think twice. Andrea's home is a beautiful retreat, and she outdid herself as a hostess. We left bright and early on Friday morning. Kathrine was kind enough to drive and picked up Laura and then headed into the city to pick up Caroline and me.
When we arrived at Andrea's, she greeted us with rum punch and raspberry vodka lemonades. And after getting settled in, the most fantastic lunch spread was waiting for us, including a colossal charcuterie board from a local business, Graze by Erica.
There were lots of gifts exchanged. Laura made us the prettiest etched wine glasses monogrammed with our initials and the #theblondsquad logo she created for our last trip.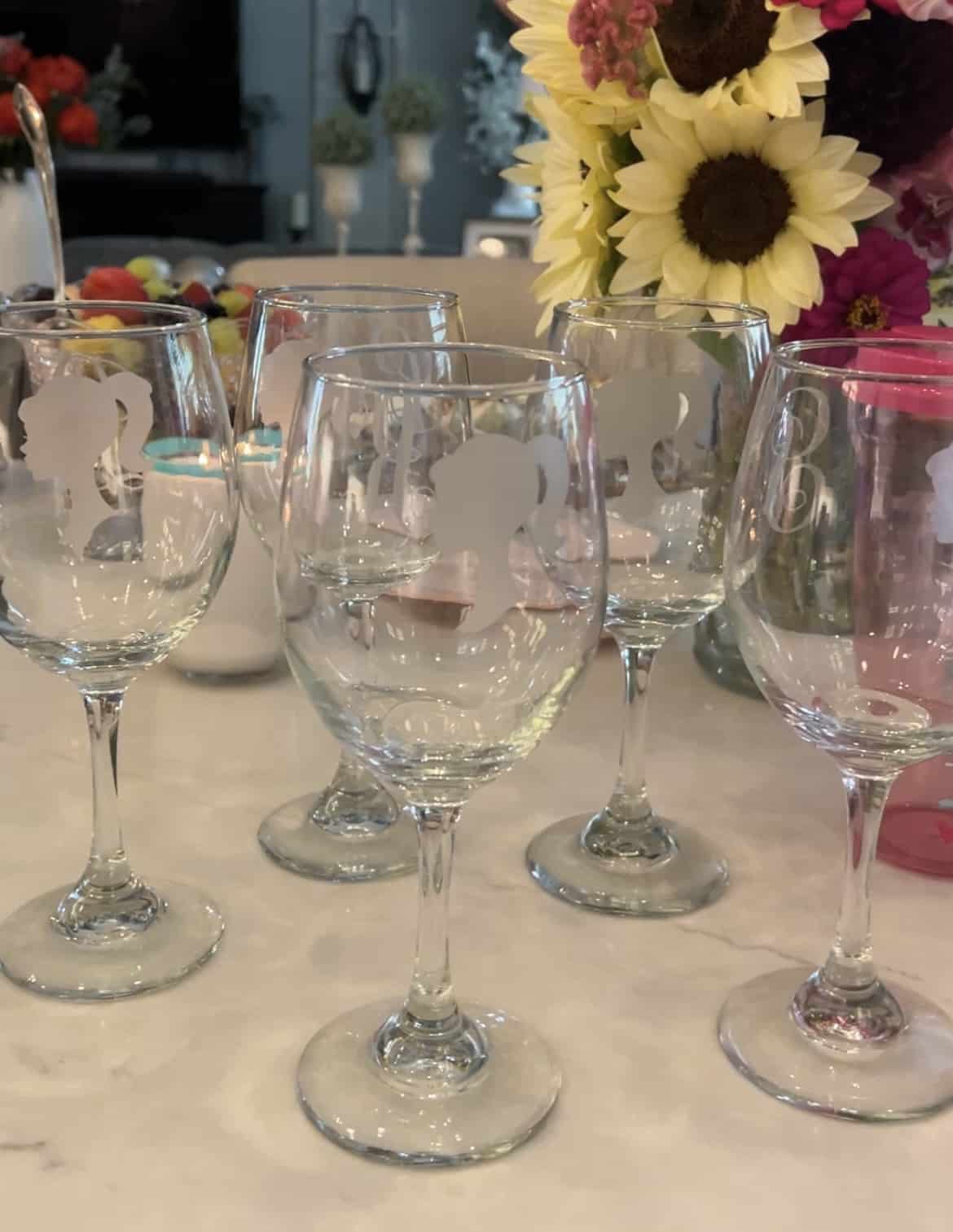 We are very grateful for the brands that donated goodies for our girl's weekend getaway. Andrea had the prettiest flower bouquets from Farm Grown Flowers spread throughout her home. We were gifted the cutest custom candles made with the #theblondsquad hashtag from Moondance Botanicals, and we each received a pair of killer Teddy Blake heels.
Inside the tote bags were beach towels and beach powder from Confetti Betti, chocolate-covered pretzels from Pretzee Co Pretzels, soaps from Princess City Soaps, candles and hand cream from Thymes Fragrances.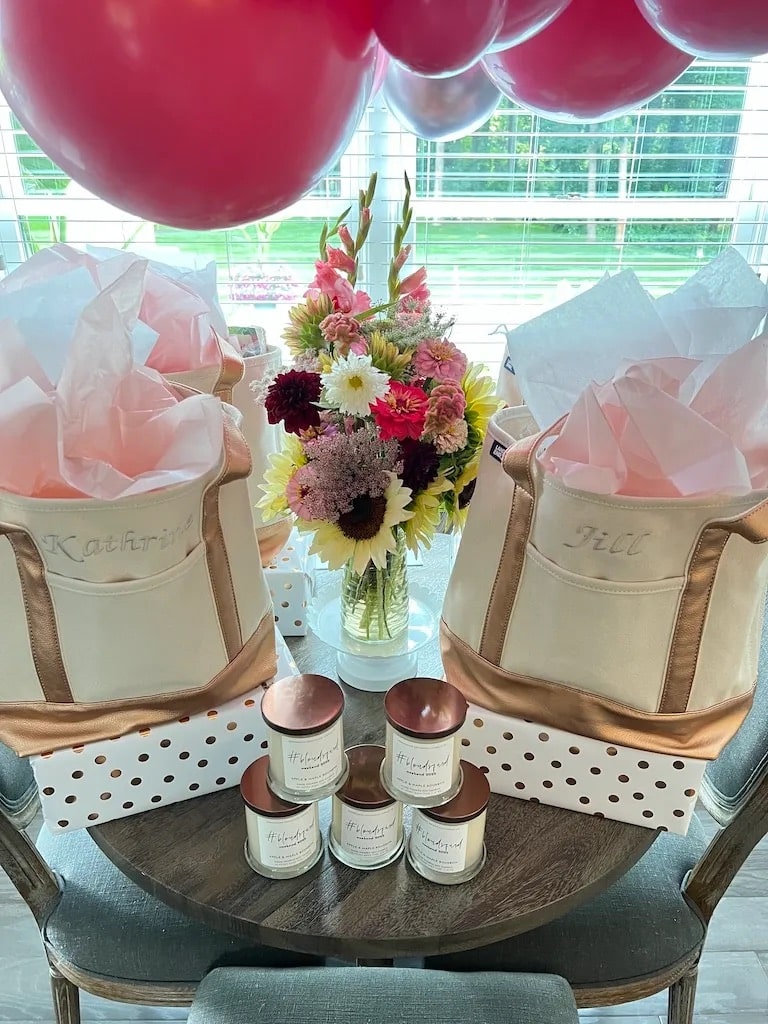 There is no better way to spend a hot day than in a pool. That's precisely what we did until it was time to change and head into town for dinner. We did squeeze in some blog work and filmed Instagram reels for Cozy Earth, Cabana Life, Emi & Kay, and Teddy Blake. But, it didn't seem like work because we were having a blast.
We ate at the coolest restaurant, Artisan, and the food was incredible. After dinner, the plan was to go across the street to a rooftop bar, but it was so hot outside, so we decided to go back to Andrea's for her mom's homemade key lime pie and spend the rest of the evening in the pool.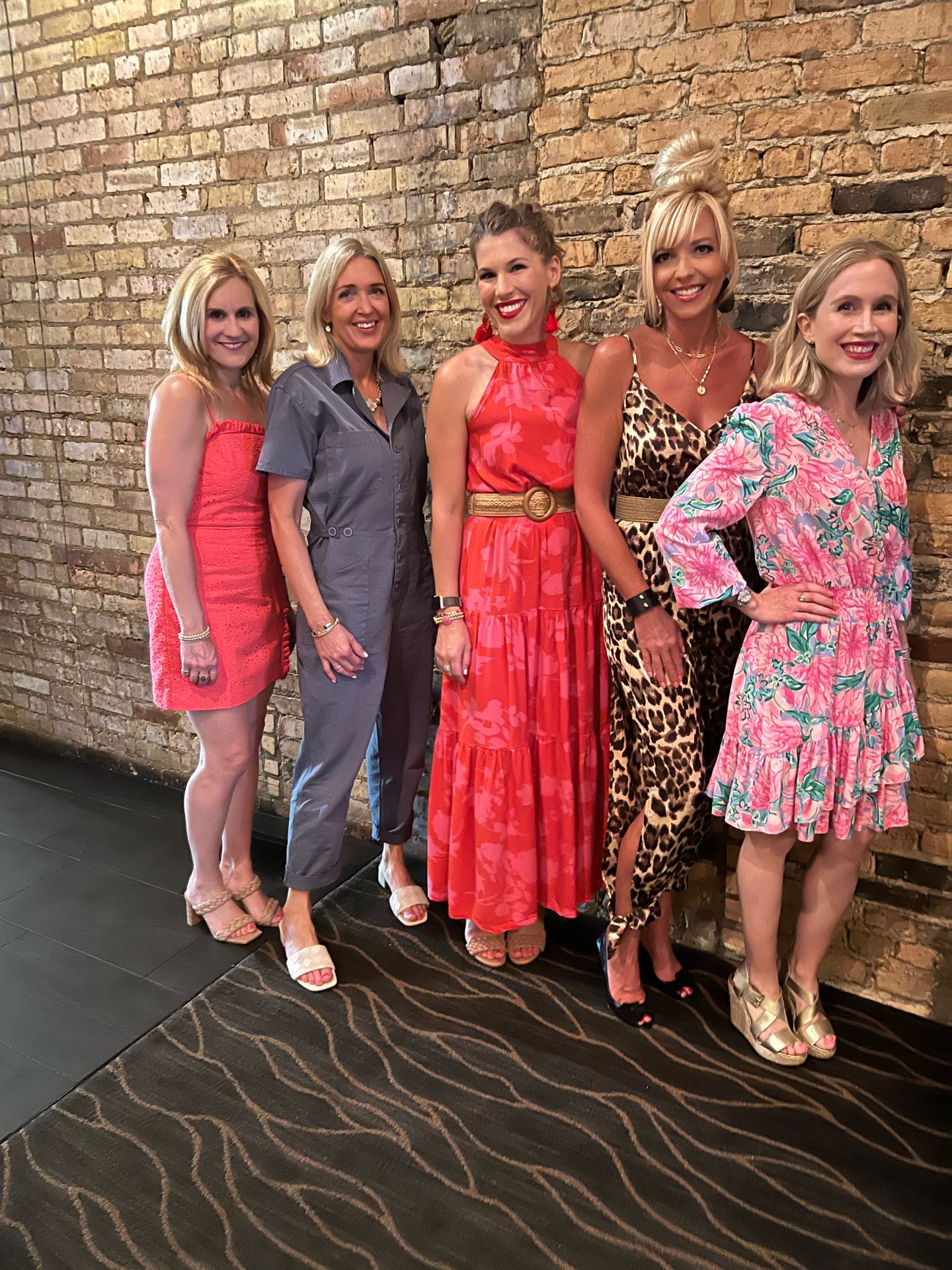 Andrea had a fun day planned for us on Saturday. After another yummy spread for breakfast that included gluten-free donuts, enormous cinnamon rolls I've ever seen, and yogurt parfaits, we drove up to St Joseph, Michigan. From there, we spent the day going to different towns and beaches for lunch, cocktails, snacks, and shopping. The weather was still unbelievably hot, so we skipped a few outdoor spots on our itinerary. Our last stop of the day was Four Winds casino, where I immediately lost my cash allotment in a blackjack game, which reminded me why I'm not particularly eager to gamble.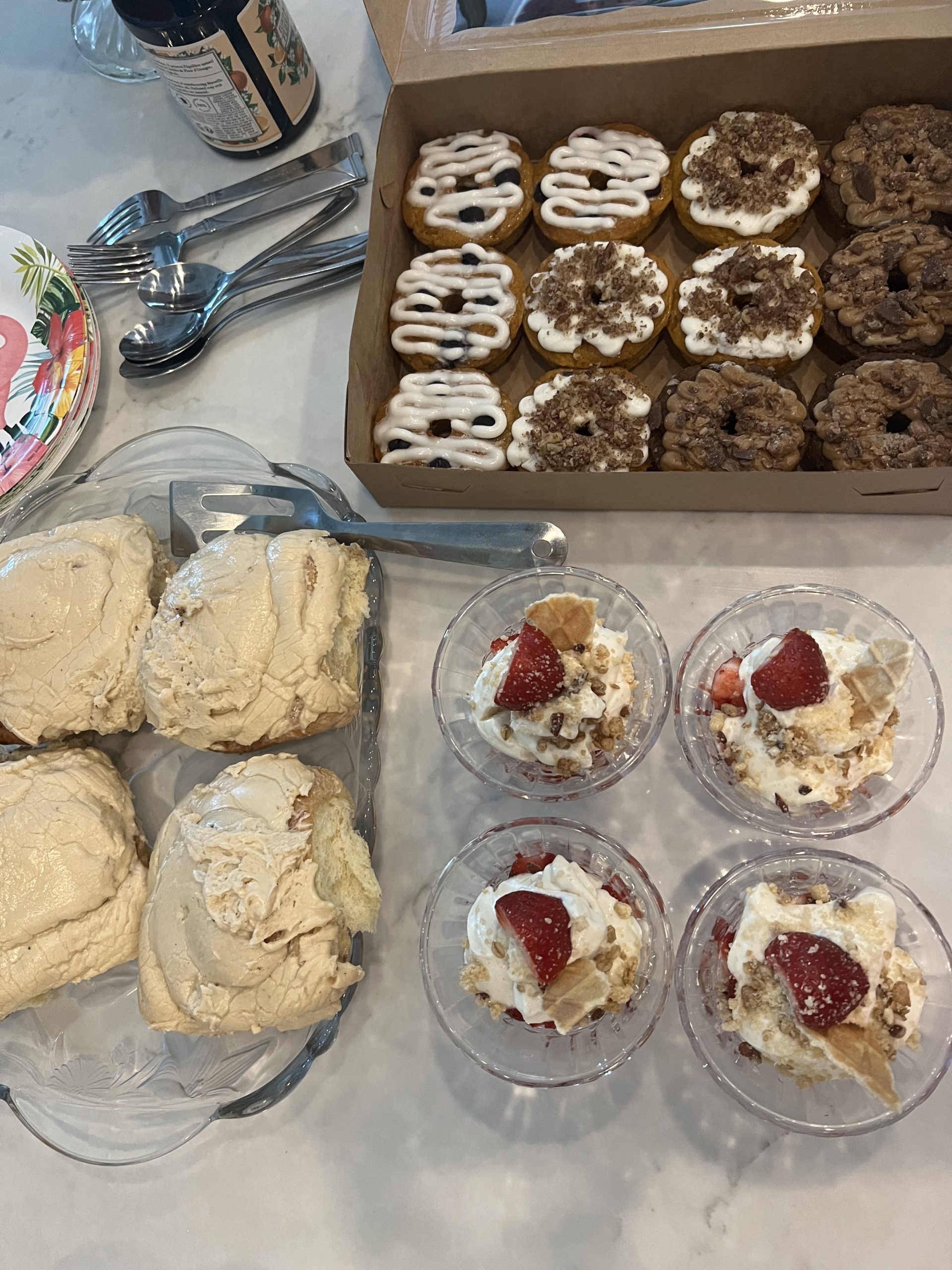 Andrea whipped up a delicious crustless quiche for breakfast on Sunday morning. After a wrap-up reel (check my Instagram stories tomorrow) and lots of hugs, our girl's weekend getaway ended, and we headed back to Chicago.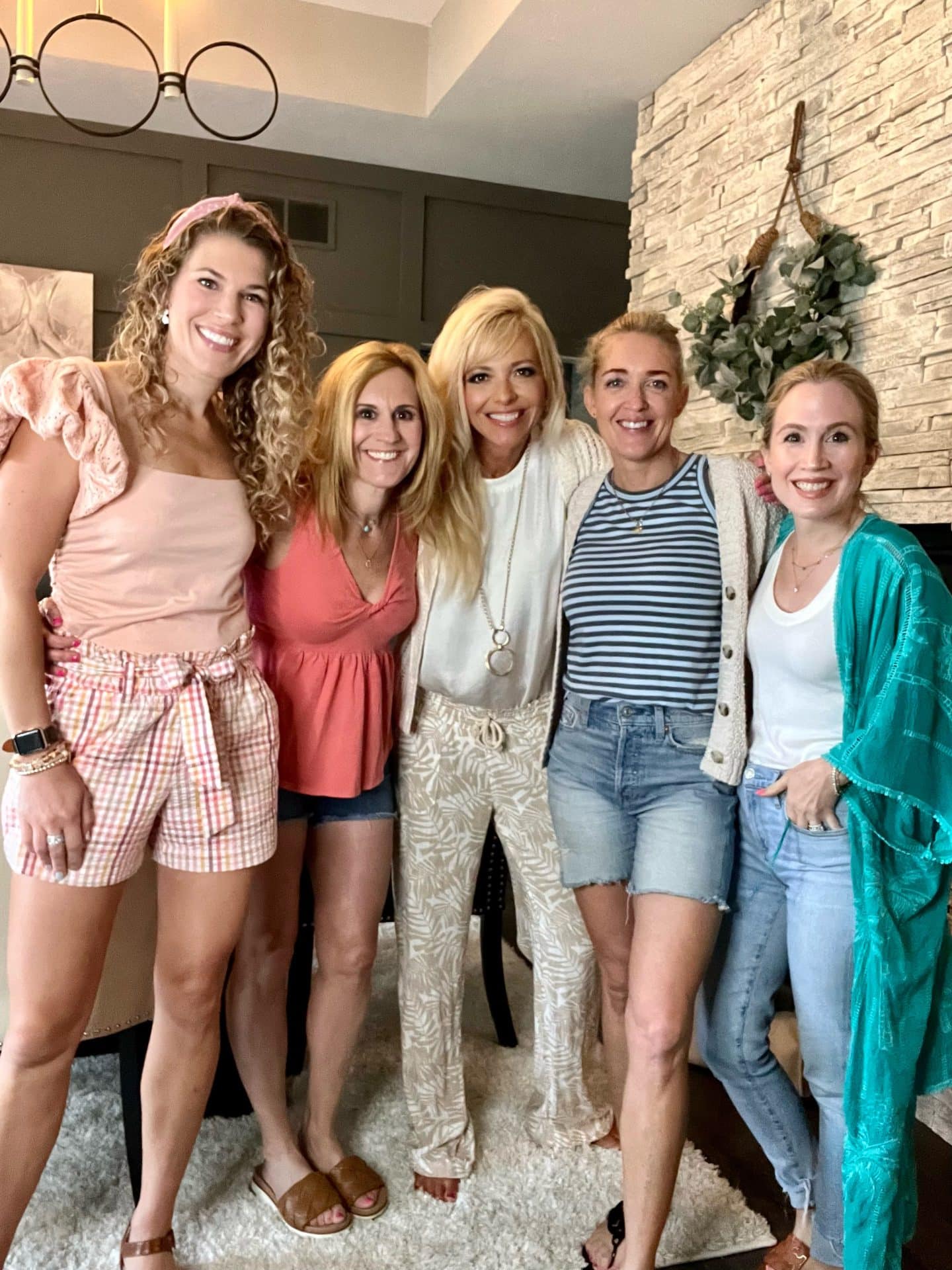 Tips for Planning A Successful Stress-Free Trip
1 – Determine your Location
Choose a destination where you can relax and enjoy yourself. If you need to book a hotel room or rent an Airbnb, reserve one early so you won't have to worry about finding a last-minute deal. I recommend renting a house so you can have coffee and breakfast together in the morning and have a place to hang out.
2 – Coordinate Dates
Everyone's busy with their families and lives. Find a date that works for everyone and lock it in. We started planning for our August weekend at the beginning of June.
3 – Plan Activities
You don't have to have every minute of the day scheduled for your girl's weekend getaway, but you want to have some structure, so you don't waste the weekend. Research what you're going to do and how much it will cost. Create an itinerary with some flexibility padded in for last-minute changes and spontaneity. Pick activities that are a short drive away, so you don't spend the day in the car.
4 – Have a Backup Plan
It's also important to consider what happens when things don't go as planned or if the weather doesn't cooperate. Having plan B ensures that you'll still be able to enjoy your trip.
5 – Make Sure Everyone's on the Same Page for Out-of-Pocket Costs
Ensure you're running ideas by the entire group and getting their input. We knew we would potentially be spending a lot on Saturday for our beach hop, so we made sure that everyone was on board with the restaurant selection for Friday night.
6 – Give Matching Pajamas
A girl's weekend getaway wouldn't be complete without matching pajamas. Thank you to Cozy Earth and Emi & Kay for gifting us the cutest PJ sets!
7 – Remember to Have fun
A given, but sometimes, being away from home can be stressful. Remember that you are making memories with your tribe, so make sure you embrace every moment.
I hope you enjoyed my girl's weekend getaway recap!
Thank you for reading!
Also see: This Capsule Wardrobe is All You Need for a Fall Weekend Getaway and Casual Weekend Outfit
If you liked this post, you can subscribe here or follow me on Feedly | Bloglovin | Instagram | Pinterest | Facebook
Linking up here.
THURSDAY FASHION FILES WEEKLY LINKUP
Welcome to Thursday Fashion Files! Kellyann and I are excited to have you here. We'd love to have you link up one of your latest outfits with us at the bottom of this post. Don't forget to check out our Thursday Fashion Files Pinterest board and email me at hello@dousedinpink.com if you'd like to contribute to the board!
1 – Follow Jill: Bloglovin', Facebook, Instagram, Pinterest, Feedly, LIKEtoKNOW.it
2 – Follow Kellyann: Bloglovin', Facebook, Instagram, Pinterest, LIKEtoKNOW.it
3. Help spread the word and share our linkup with your community.
4. **By adding your links, you state that you have the proper licensing/rights to the images in your blog posts.**
Lucy from Lucy Bertoldi is this week's featured blogger!
You are invited to the Inlinkz link party!