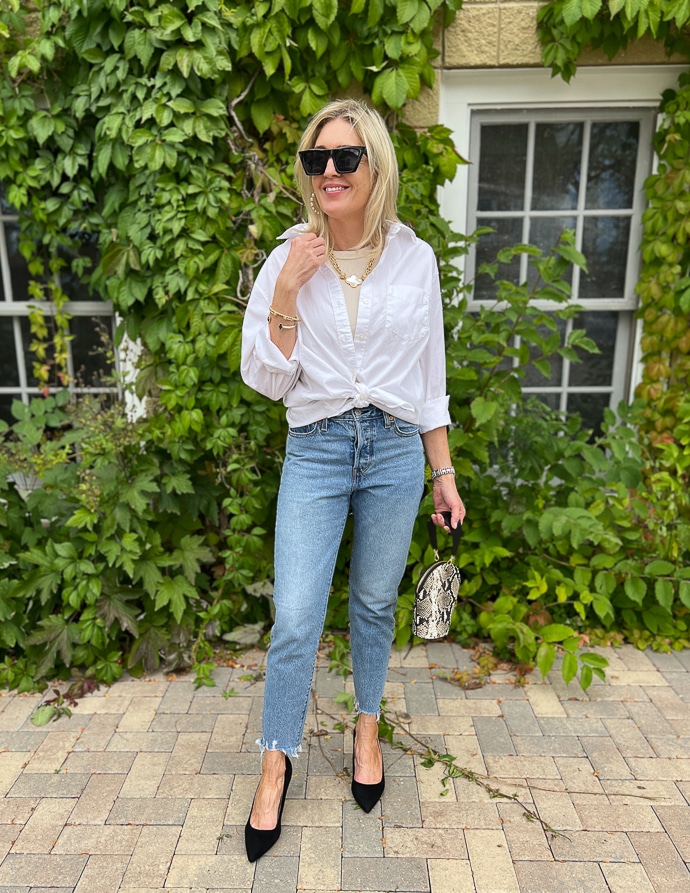 Jeans and Heels Outfit
I remember a time in the late 80's when pumps were my go-to shoe for the office and going out to the clubs. I must have had a pair of pumps in every color of the rainbow. But, if I had to pick one color to invest in for a closet staple, it would be a black suede pump. They go with everything from professional workwear to elevating a casual look. And suede is a luxurious texture that is never dated. Pumps take a basic look up a notch, even a simple jeans and heels outfit.
Shoes that Go with Everything
Just like a little black dress, pumps are a vital staple in your wardrobe because they never go out of fashion. They're simple yet highly versatile and have been around for centuries. So, whether you are wearing a power suit at work, attending a formal event, or meeting friends for brunch, a heeled pump will take you from day to night.
While high heels were mainstream in the '80s and '90s, I've gravitated more towards flats as I've gotten older. Because my feet always hurt. Probably from wearing uncomfortable shoes for years. With that said, there are many occasions where I wish I had a comfortable heeled pump to wear out, like a black tie event, a work meeting, or a date night in a jeans and heels outfit. The problem has always been finding this classic shoe that's also comfortable.
Ally Shoes
Enter Ally Shoes. Ally is an innovative fashion brand designed for women by women. They make luxury power heels minus the pain, and I love that! Renowned for designing pain-free heels for power women, they've re-engineered the statement heel with a podiatric surgeon to create a flexible shoe that secures your foot and looks fabulous.
Black Suede Pumps
Fast Company called ALLY Shoes "the most comfortable heels to wear to work," and I couldn't agree more. I ordered their black suede pump. The second I put them on, I could feel the difference. They molded right to my feet and were comfortable and easy to walk in. When I wore them out, at the end of the evening, my feet felt as good as when I put the shoes on.
What Makes Ally Shoes Unique
Ally has put precise cushioning under the three pressure points in your feet (heel cup support, arch support, and toe crest support) to alleviate pain. They also have an inclusive size range in 18 sizes (US 4 – 12, EU 34 – 45), quarter –  half sizes, and four widths available (narrow, medium, wide, extra wide).
Ally offers everything from classic pumps to bold block heels, dressy straps, kitten heels, and flats. I used their fit finder to help me determine my exact size. But, a feature that I think is fabulous is their At-Home Trial. Tell Ally your size and color preferences, and their fit stylist will curate a box of 1-2 pairs of shoes to be delivered right to your doorstep. Pay $0 upfront and try them on at home. Keep the ones you love, and return the others. Click here and use my promo code JILL40 ($40 off first pair of heels) JILL10 (10% off first pair of flats).
Can You Wear Jeans with Pumps?
Jeans are part of my daily uniform, and there is nothing more classic than pairing jeans with pumps. You don't have to worry much about what to wear on top because anything from a tee and a blazer to a pretty blouse or cozy sweater looks good with this jeans and heels outfit formula. My go-to is a white button-up (have you downloaded my free e-book showing 24 ways to wear a white button-up?).
Casual Chic Outfit with Heels
No matter what denim style you prefer, straight, flare, or skinny, pumps will look great with them. Keeping with the classic vibe, I originally was going to style this outfit with a pair of dark wash denim. Then, I decided on a well-worn pair of straight Levi's with a frayed hem for some edgy vibes. I layered a neutral tank top with my oversized white button-up tied at the waist to soften the look.
I wore this outfit out for a low-key date night with my husband and received many compliments on it. Another option would be to wear the button-up open and don a few layered necklaces. If you have a relaxed dress code at work, swap out the worn denim for dark wash or corduroy, tuck in the button-up, and add a belt. Try a white or black tee with a duster or moto jacket for an outing with friends.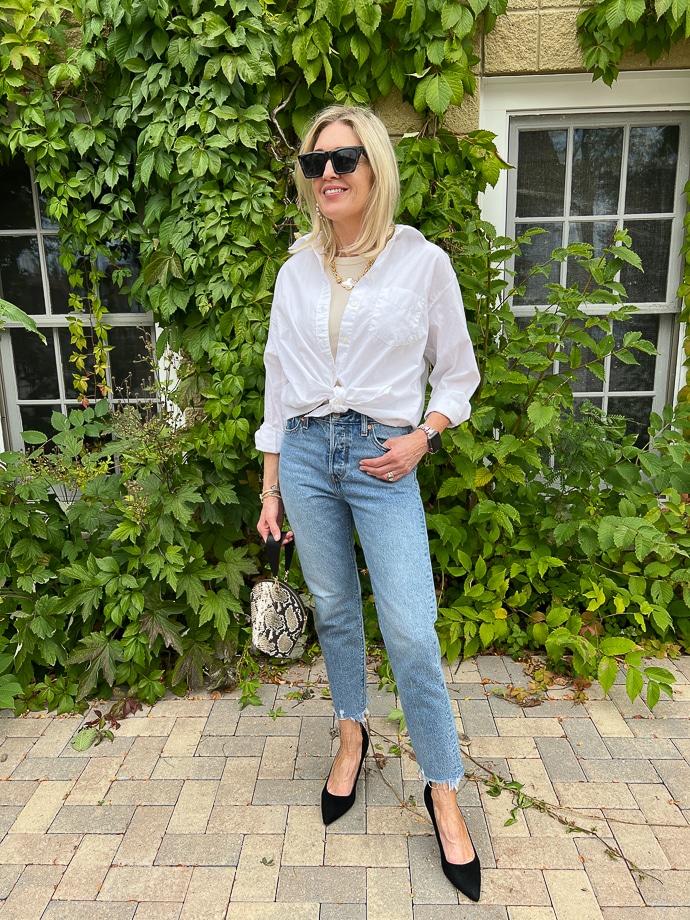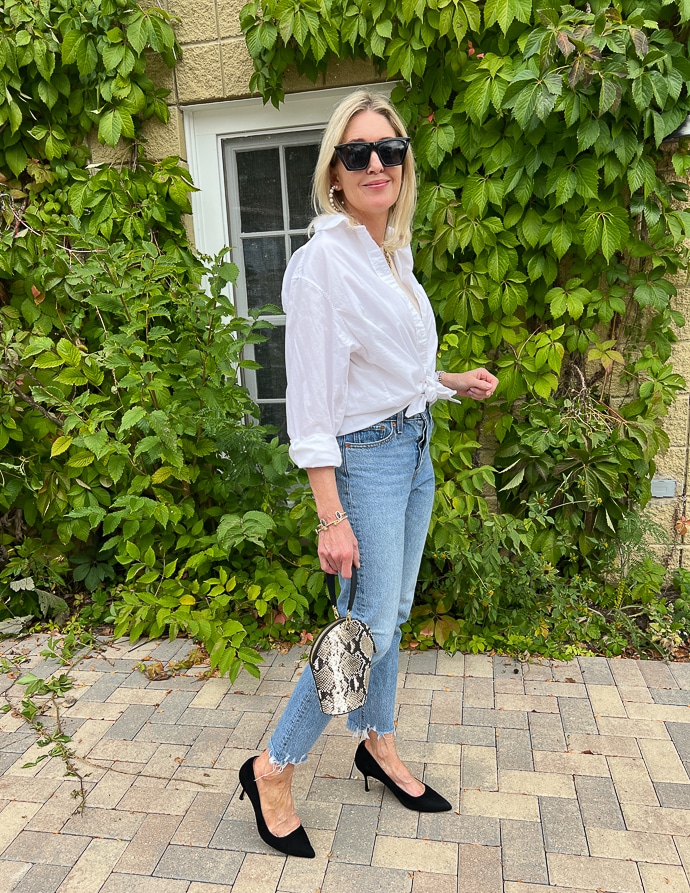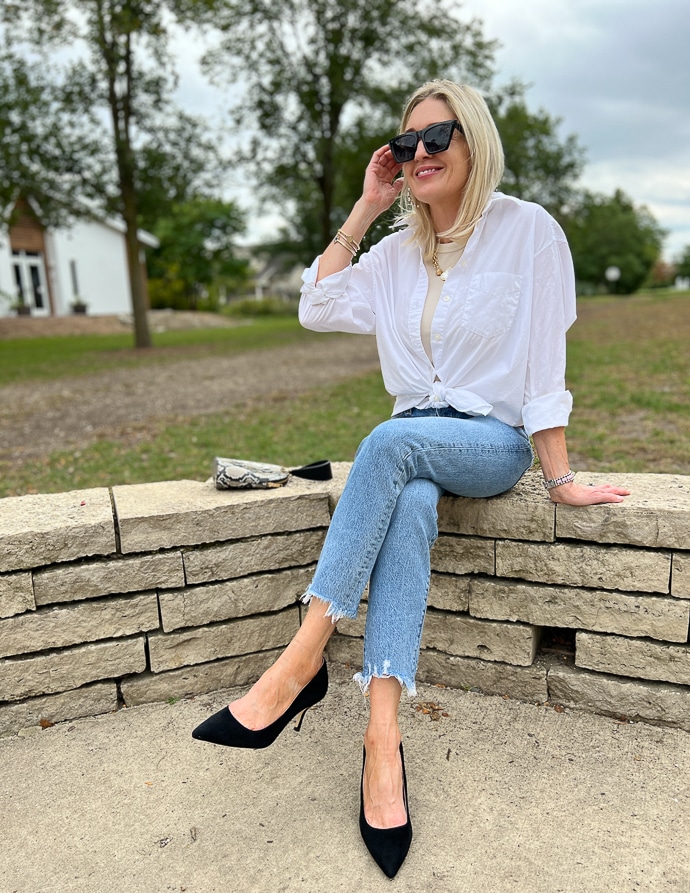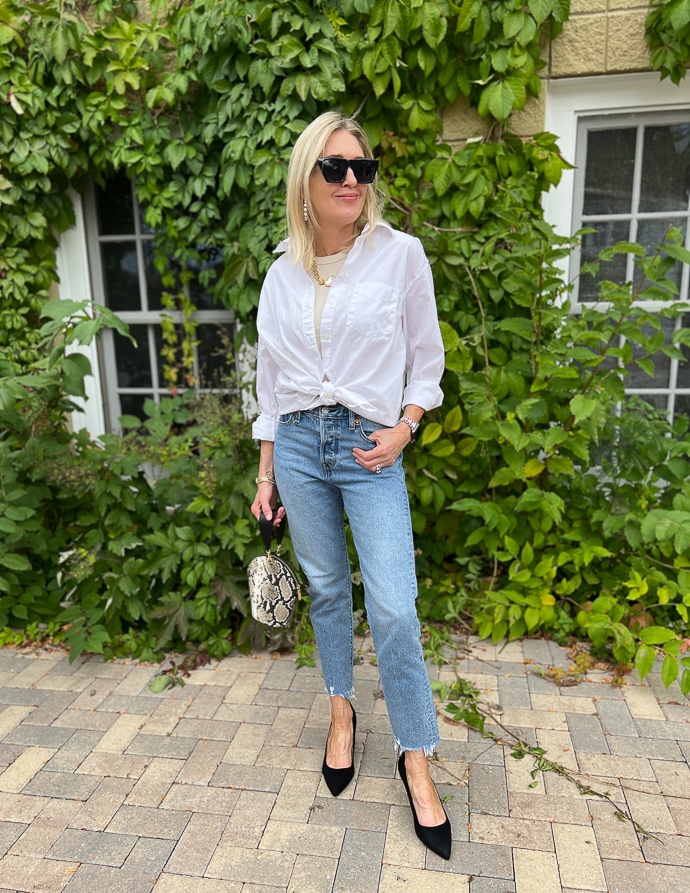 Ready to try a pair of Ally Pumps or Flats? Use my promo code JILL40($40 off first pair of heels) JILL10(10% off first pair of flats).
Thank you for reading Jeans and Heels Outfit Idea!
How many pairs of pumps do you own? Let me know in the comments!
Also see: How to Style Straight Leg Jeans and How to Wear Denim Shorts Over 40
If you liked this post, you can subscribe here or follow me on Feedly | Bloglovin | Instagram | Pinterest | Facebook
Linking up here.
THURSDAY FASHION FILES WEEKLY LINKUP
Welcome to Thursday Fashion Files! Kellyann and I are excited to have you here. We'd love to have you link up one of your latest outfits with us at the bottom of this post. Don't forget to check out our Thursday Fashion Files Pinterest board and email me at hello@dousedinpink.com if you'd like to contribute to the board!
1 – Follow Jill: Bloglovin', Facebook, Instagram, Pinterest, Feedly, LIKEtoKNOW.it
2 – Follow Kellyann: Bloglovin', Facebook, Instagram, Pinterest, LIKEtoKNOW.it
3. Help spread the word and share our linkup with your community.
4. **By adding your links, you state that you have the proper licensing/rights to the images in your blog posts.**
Cheryl from Cheryl Shops is this week's featured blogger!
You are invited to the Inlinkz link party!