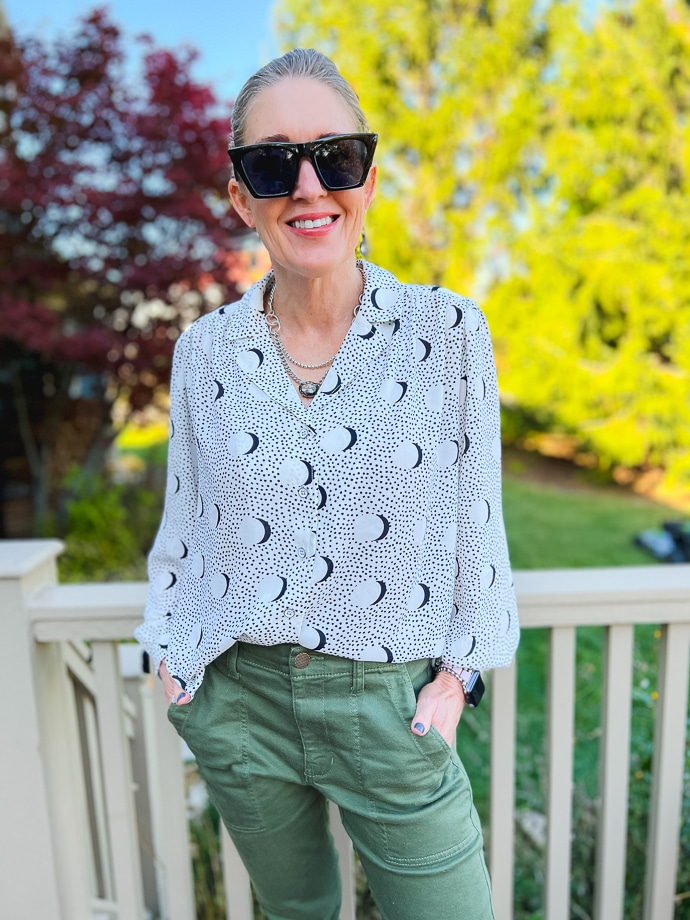 Friends, fashion, and fun go hand in hand, don't you agree? One of my girlfriends hosted a cabi party (Fashion Experience) a few weeks ago, and it was a blast. And what was even better is that my good friend Andrea, from Living on Cloud Nine, made the trek from Indiana to Chicago to join me for it!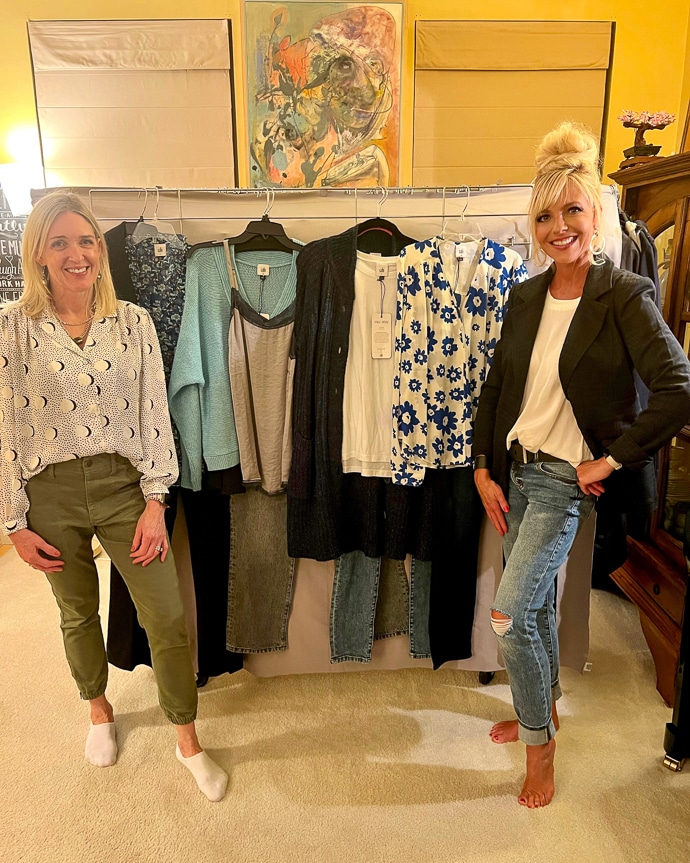 What is cabi?
cabi launched in 2001 and stands for Carol Anderson by Invitation. It's a clothing line sold online and at home parties. Carol Anderson initially sold her designs in department stores but was frustrated that shoppers could only experience what the buyers deemed best for the stores. After brainstorming a better way for women to shop, cabi was born, and the rest is history. cabi is celebrating its 20th anniversary this year!
The Fall '22 collection is made up of pieces to live in, reflecting each woman's personal style and beauty. From streetwear to couture, animal prints to a classic blazer, timeless denim to sumptuous sweaters, warm to cool, and day to night, cabi brings you the latest fall trends that come to life when you wear them.
How Does a cabi Party work?
cabi has redefined how women shop with their at-home styling events. cabi's Fashion Experience brings their uniquely styled clothing right to your home and allows you to relax with friends and hear about the latest trends. Shopping in the comfort of your home at a cabi party eliminates the frustration that sometimes comes with shopping. And I have always preferred to try on clothing at home rather than in the store.
You can also enjoy seeing the latest Collection on cabi's virtual runway while your cabi Stylist shares helpful styling tips and personalized advice. It's a great way to get together with your girlfriends and shop together virtually.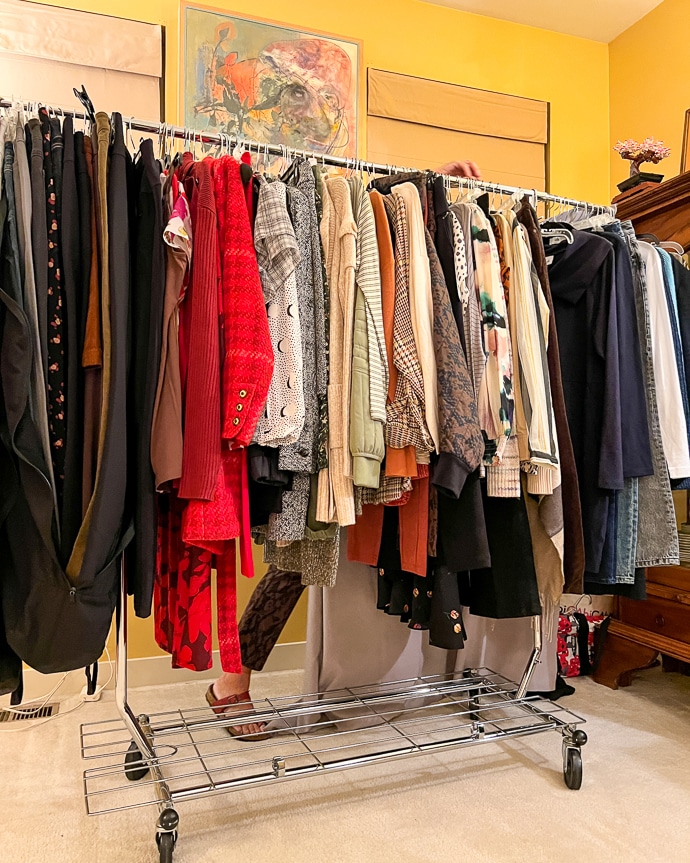 What I Wore to the cabi Party
I couldn't go to a cabi party without wearing some of my favorite cabi pieces already in my closet. I'm wearing the Eclipse Blouse and Compass Pant. I accessorized this outfit with the Stellar Earrings and Necklace and completed the look with my combat boots to add some edgy vibes.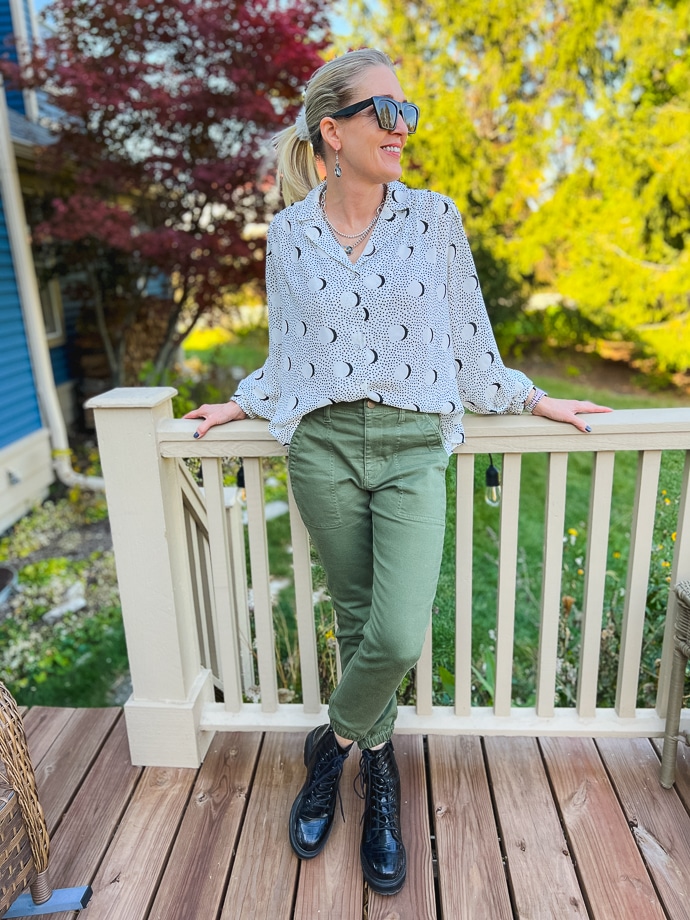 CABI FASHION EXPERIENCE
cabi is a company run by women for women. When you attend a cabi Fashion Experience, you get an expert stylist who gets to know you so you can discover your personal style. Your stylist will help you find pieces that fit your body and lifestyle. They put an end to the looming question of "what do I wear today." It's just like having your own personal styling service. And, when you shop with cabi, you support the Heart of cabi Foundation. Dedicated to serving and empowering women in need, the foundation provides entrepreneurial opportunities for women in developing countries.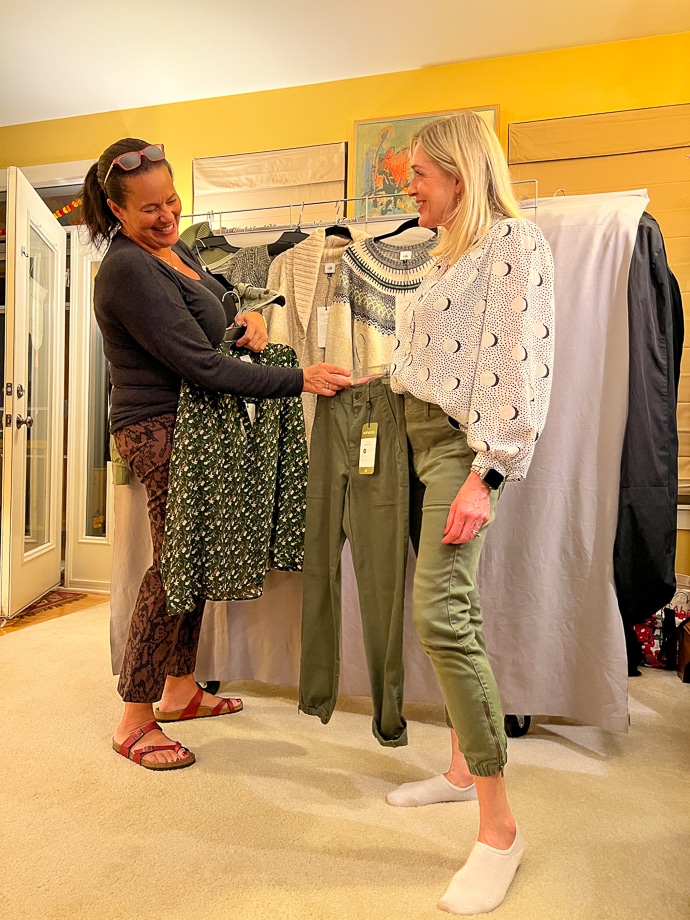 What is a cabi Stylist
cabi Stylists share cabi's seasonal Collection and provide personalized styling services to women. Through cabi Fashion Experiences, personal styling sessions, or anytime services such as cabi Tap and Curated by cabi, they bring styling expertise to women. Each client's needs are different, and cabi was designed to meet you where you are with options to serve you in person or virtually…gathered with girlfriends at a cabi party or one-on-one.
HOW CABI'S IN-PERSON STYLING EXPERIENCE WORKS
The cabi party started with enjoying happy hour with wine and apps. Then, our stylist Sonnelle walked us through the gorgeous spring collection, pointing out the details of each piece and offering fit suggestions and styling tips. The Collection is divided into multiple groupings, each with a theme that all coordinates with each other.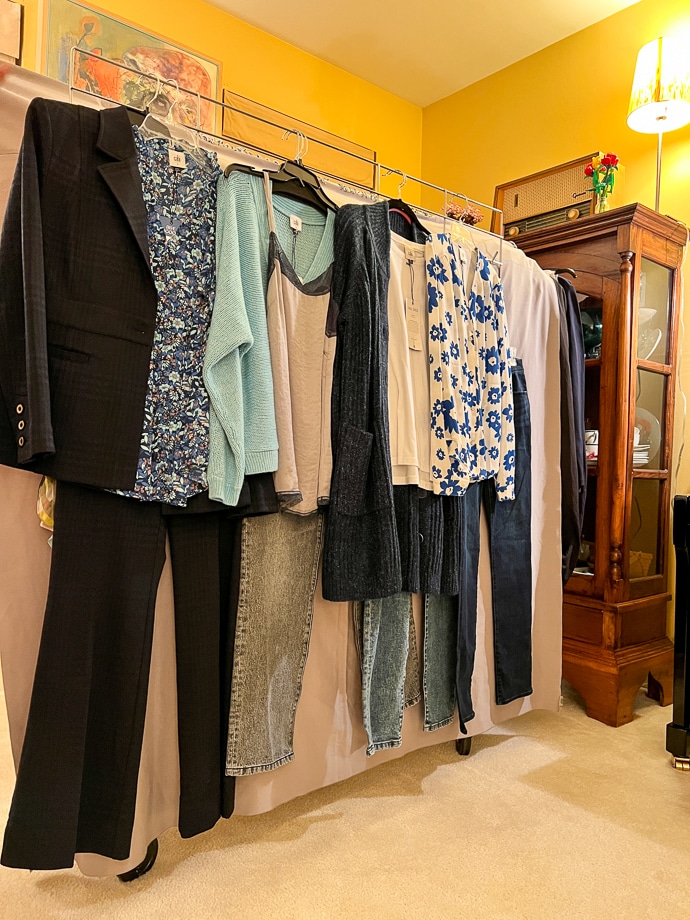 cabi Accessories
Did you know that cabi has beautiful accessories, too? Accessories take fashion to another level by putting a signature touch on your look. My all-time favorite cabi accessory is the arm warmers that recently dropped. Watch my Instagram reel to see how versatile they are.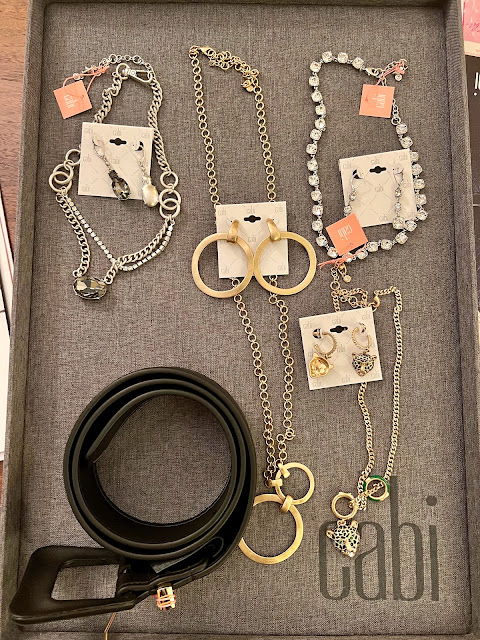 cabi Sizing
I've found cabi to run a bit large, so size down, especially if you don't like an oversized fit. I recommend referencing the size charts and noting the size and height the models are wearing on their site. cabi offers extended sizes in 15 fall must-haves available up to size 20 or XXL. Additionally, 20 fall pieces are offered in size 00 or XXS.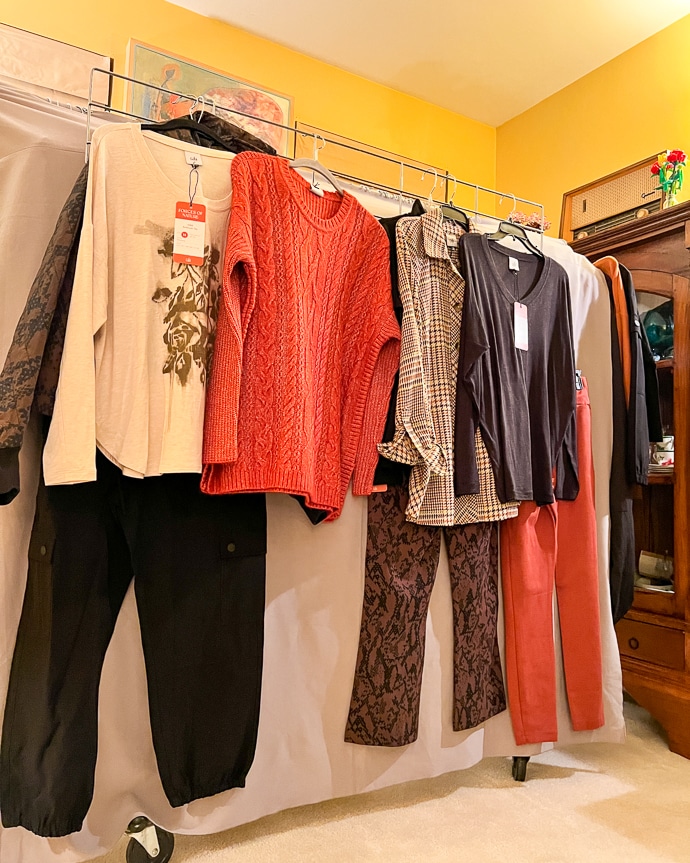 THE BEST PART OF THE CABI FASHION EXPERIENCE
The best part of the cabi party was that when the presentation was over, we could try on all of our favorite pieces to get input from our friends, fit tips from our personal stylist, and decide what we wanted to purchase. One of my favorite things about cabi is that each season's collections build on each other. Mixing and matching the previous season's pieces with the new ones is easy to create a functional wardrobe filled with quality pieces.
I debated between the vibrant red printed shirt dress and the cobalt blue knit dress. Can you guess which one I landed on?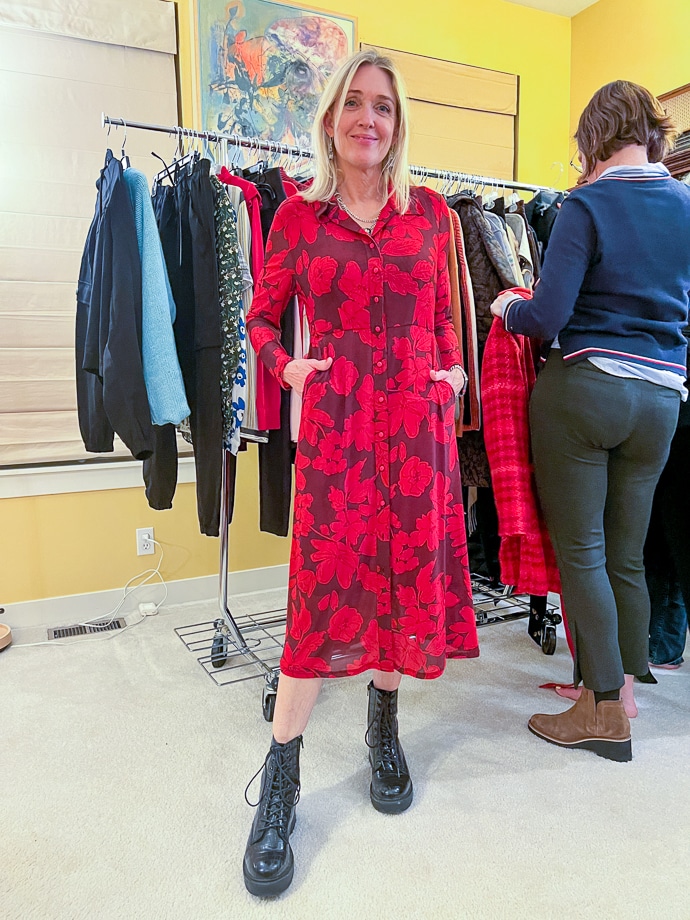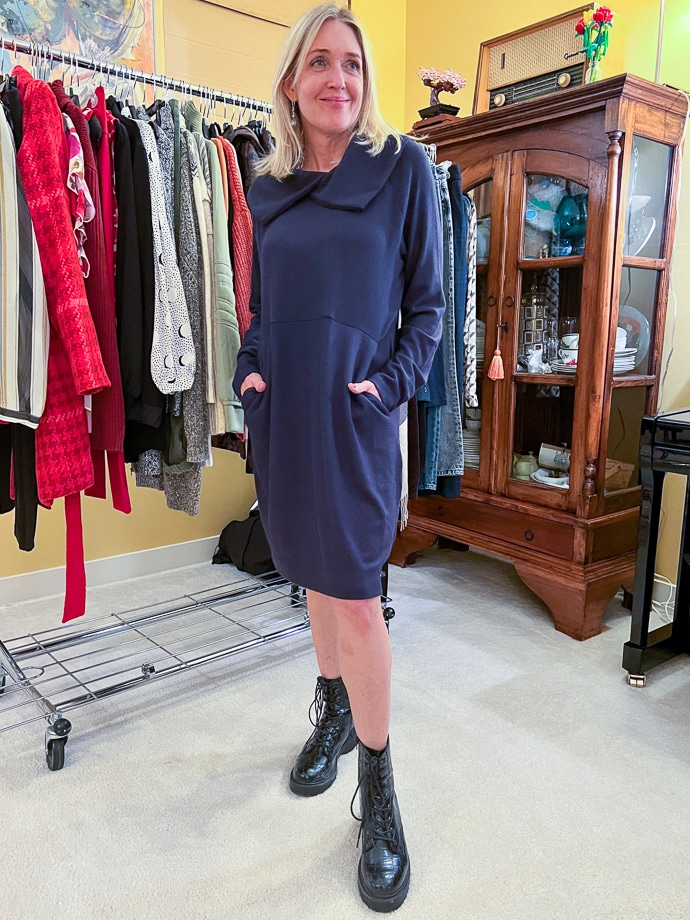 What I Bought at the cabi Party
Quantum Hoodie
This is the perfect hoodie for fall weather. The contrasting fabric takes this pullover up a notch and makes it easy to dress up or down.

Round-Up Dress
As much as I loved the shirt dress, a few things sold me on the Round-Up Dress. First, it has pockets, and I love the oversized collar. But I couldn't resist the brushed fabric. It feels like you are wearing pajamas. Being dressed up yet, feeling cozy too? Yes, please! And you can wear it loose or belted.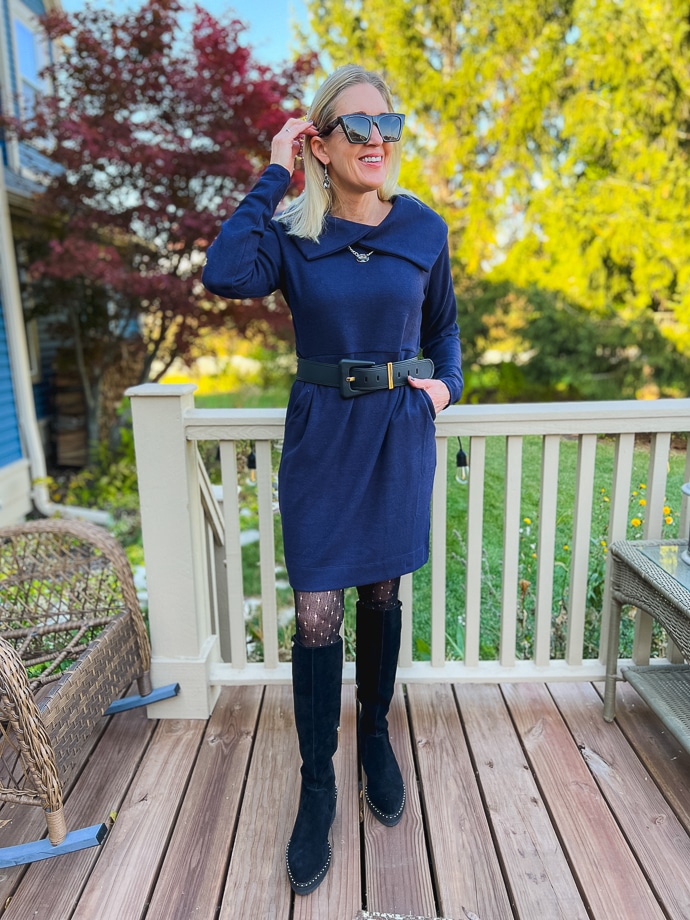 cabi Return Policy
cabi wants to be sure you love your cabi pieces, so returns and exchanges are easy! Just contact your cabi Stylist within 30 days of your order delivery to let her know you'd like to make a return or exchange, and she'll help process it.
HOST A CABI FASHION EXPERIENCE
Are you interested in using cabi's personal styling service to have a stylist help you and your friends discover your unique style together? You can give the gift of style by hosting a cabi Fashion Experience. You and your friends will have a fun shopping experience, and as a hostess, you will receive a 50% discount for hosting the event.
Thank you for reading! You can shop the entire cabi Fall Collection here.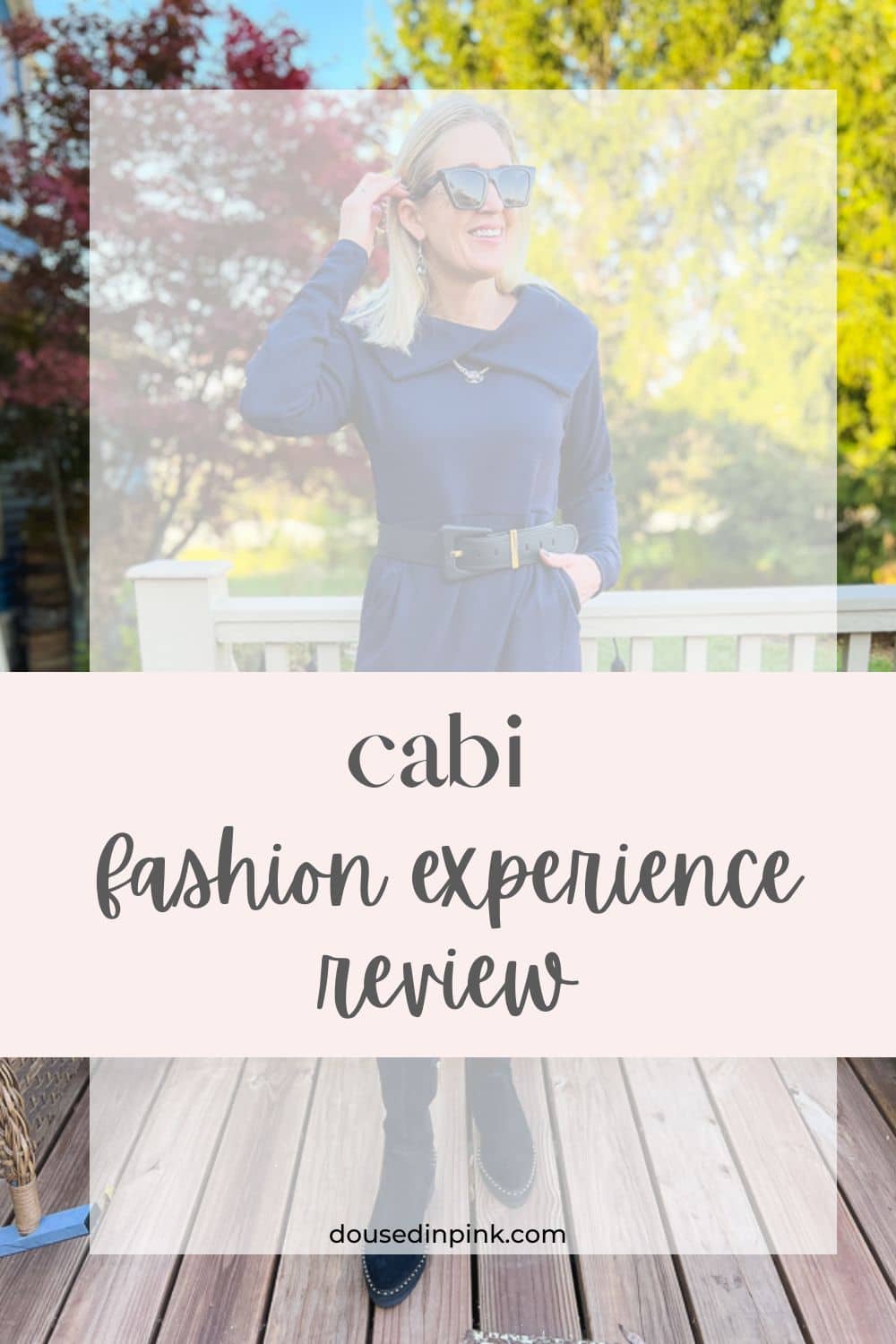 If you liked this post, you can subscribe here or follow me on Feedly | Bloglovin | Instagram | Pinterest | Facebook
THURSDAY FASHION FILES WEEKLY LINKUP
***Kellyann and I will be taking next Thursday off from Fashion Files to enjoy Thanksgiving! The link-up will return on December 1st***
Welcome to Thursday Fashion Files! Kellyann and I are excited to have you here. We'd love to have you link up one of your latest outfits with us at the bottom of this post. Don't forget to check out our Thursday Fashion Files Pinterest board and email me at hello@dousedinpink.com if you'd like to contribute to the board!
1 – Follow Jill: Bloglovin', Facebook, Instagram, Pinterest, Feedly, LIKEtoKNOW.it
2 – Follow Kellyann: Bloglovin', Facebook, Instagram, Pinterest, LIKEtoKNOW.it
3. Help spread the word and share our linkup with your community.
4. **By adding your links, you are stating that you have the proper licensing/rights to the images in your blog posts.**
Ashley from Le Stylo Rouge is this week's featured blogger! I love her cozy striped sweater and wide-leg denim!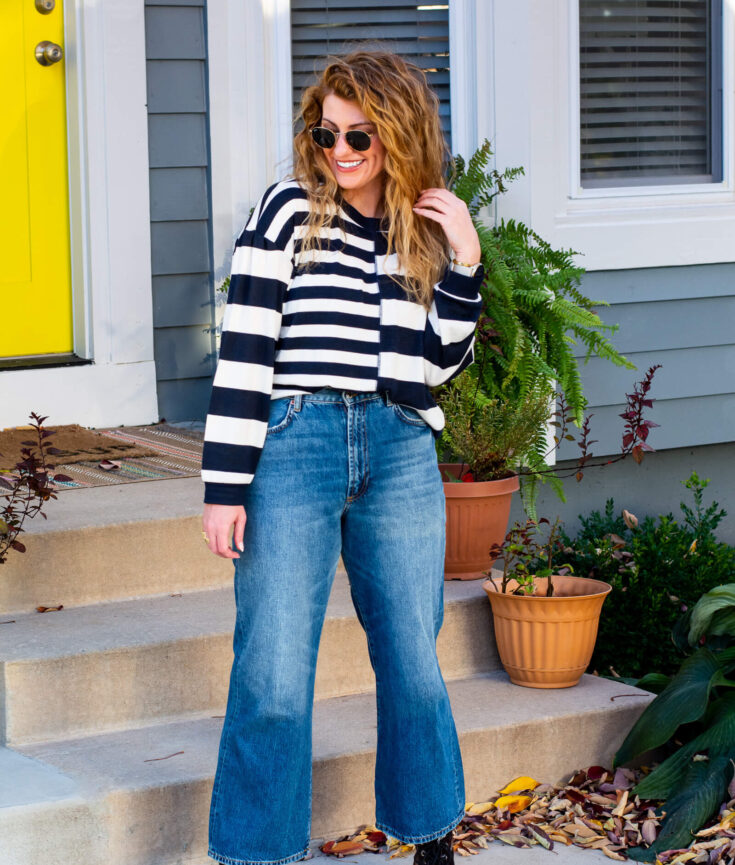 You are invited to the Inlinkz link party!