Happy April, friends! Did you have a great weekend? If you are in the midwest, I hope you are okay after the severe storms on Friday night. The temps during the day on Friday got up to 70, which was amazing, but once the sun set, we had high winds and thunderstorms. Luckily, we didn't get hit too badly, and most of the storm passed by us. I hope that you were okay too.
My Saturday was spent on the couch reading Daisy Jones and the Six, and I am 3/4 of the way through. I want to finish reading it before I watch the series on Prime. Have you read the book or watched the show? On Sunday, I helped my husband with some prep work for the home improvement project we're taking on. When we moved in, we weren't sure what to do with our staircase, and it's been driving me nuts having it unfinished. So, we will finally stain our stair banisters and replace the current wood spindles with rod iron.
Anyway, I'm kicking off the month with my March Amazon haul today. Here's what I bought on Amazon last month.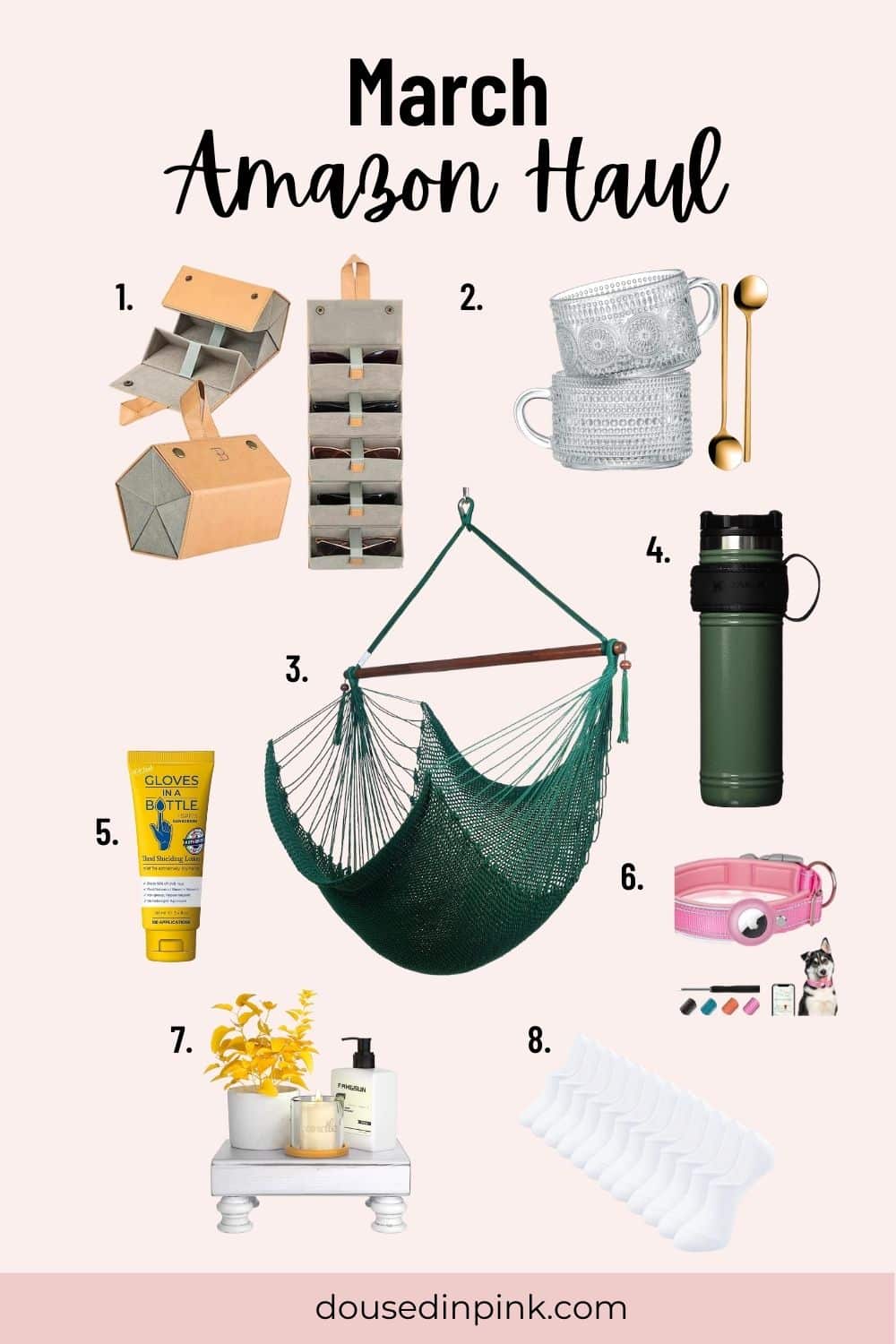 March Amazon Finds
1 – I had been looking for sunglass storage, and everything I ordered was too big and bulky until I came across this sunglasses organizer case. It's not only cute, but it's also functional. It holds five pairs of glasses and folds into a compact case, making it perfect for travel.
2 – I'm a daily tea drinker, and these pretty coffee mugs immediately caught my eye. The vintage glass reminds remind me of something you would find at Anthropologie.
3 – We got this chair hammock for my mom for her birthday. My husband will install it on a big maple tree in her backyard when it warms up.
4 – My husband has used promotional coffee mugs for ages and wanted a proper travel mug. I picked up this never leak mug that keeps your coffee hot for up to 7 hours. And it's dishwasher safe!
5 – Gloves in a Bottle kept my hands hydrated all winter long. I always forget to put sunscreen on my hands and discovered it now comes in SPF 15.
6 – We don't let our dog go out into the yard unsupervised, but I thought this reflective air tag dog collar was a good idea if she ever takes off chasing a squirrel. They also have them for cats.
7 – Pedestals are great for rallying a few things together on your countertops. I got this small wood pedestal to hold our hand and dish soaps in our kitchen.
8 – I tried Bombas but found they still slipped off. I swear by these no-show socks. They're comfortable and have heel grips that keep them on your feet.
What have you purchased from Amazon lately? Let me know in the comments!
Shop my Amazon storefront here and my March Amazon haul:

Also see: March Style Budget and What I Bought on Amazon Lately
If you liked this post, you can subscribe here or follow me on Feedly | Bloglovin | Instagram | Pinterest | Facebook
Linking up with:
The Other Side of the Road | Away from the Blue  | Fine Whatever Blog | Between Naps on the Porch | I do de Claire | Elegantly Dressed and Stylish | {Walking in Memphis in High Heels & The Fashion Canvas} | The Style Splash | Straight A Style & Girl Meets Bow | Is This Mutton? | Curated by Jennifer | Mummabstylish | Shelbee On the Edge | Nancy's Fashion Style  Momfessionals | Sunday Showcase