Hi friends! Did you have a good weekend? We went to see the BoDeans on Friday night, and they sounded amazing. Chris Trapper opened for them, and he was pretty good too. The show was at an old local theater with a speakeasy complete with a hidden door and a roulette wheel. On Saturday, we met up with friends and tried a new Indian restaurant which was delicious. I started my Sunday taking Lana to the neighborhood dog play group, met a friend for brunch, and did some work around the house. We're at the home stretch of finishing our stairway, and I'll share it with you soon.
Anyway, can you believe it's May 1st? This year is flying by! I'm kicking off the month with what I bought from Amazon in April. This month's purchases were a mix of household items, two cute fashion pieces, and the best travel charger. Keep scrolling for my haul!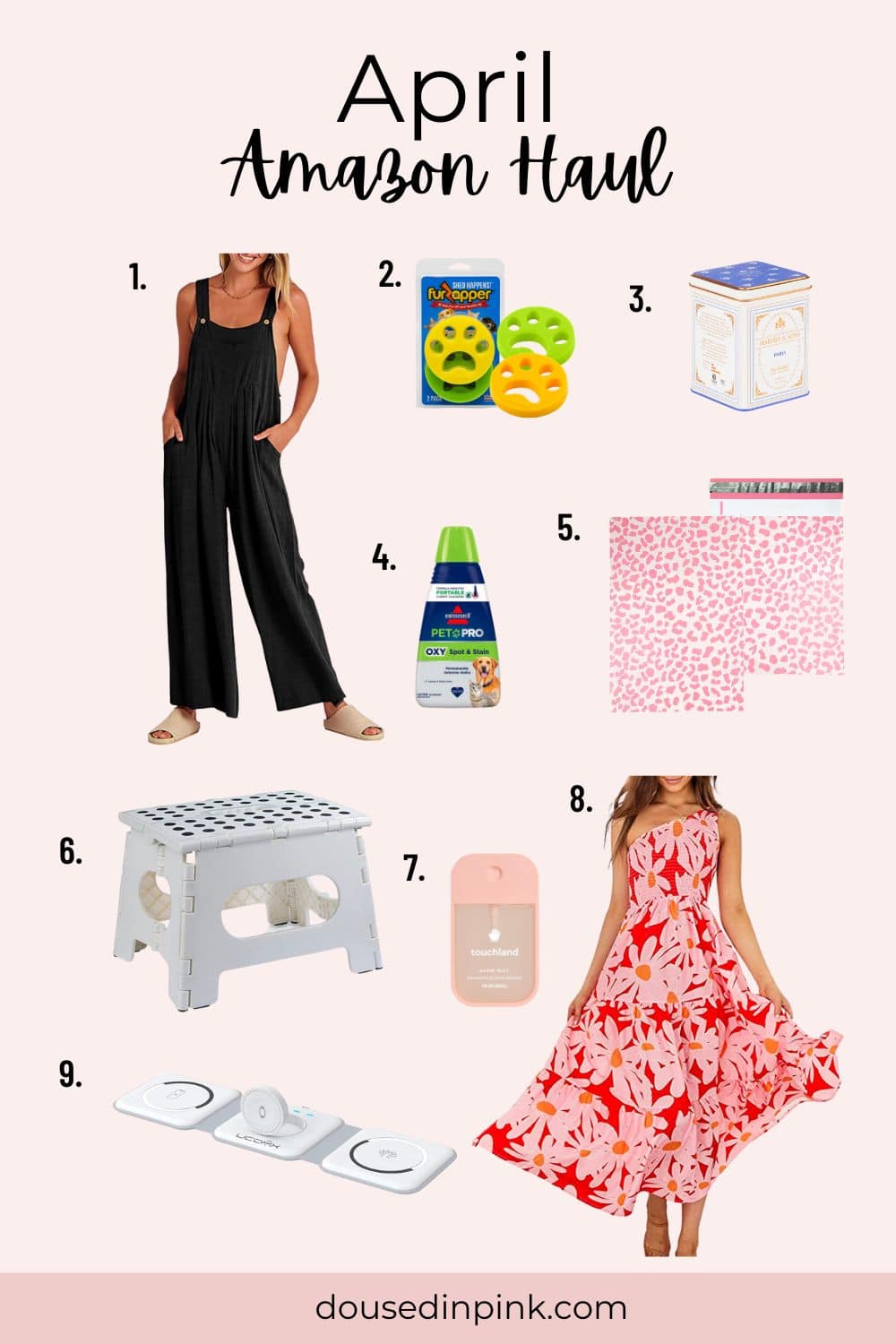 April Amazon Haul
1 – I've been wearing these overalls non-stop. The oversized fit is so comfortable. If you don't like black, they're offered in 15 color options. Size down.
2 – FurZapper Pet Hair Remover Tool is a non-toxic, reusable, and effective pet hair remover tool that goes into your washer and dryer to gently remove pet fur, hair, dander, and lint, from your clothing.
3 – Harney & Sons Paris is one of my favorite teas. It's a fruity black tea with vanilla and caramel flavors and a hint of lemony bergamot.
4 – We are constantly restocking Bissell Pet Pro Oxy Spot and Stain for our BISSELL Little Green Portable Carpet Cleaner with two pets in the house.
5 – I ordered these Pink Cheetah Mailers to send out my Poshmark sales. Pack contains 20 poly mailers in 10×13″ size.
6 – This Folding Step Stool has come in handy, keeping my sweaters in order when I reach for them in my closet.
7 – How darling is this One Shoulder Smocked Dress? I'm considering wearing it to my daughter's graduation dinner later this month.
8 – Touchland Glow Mist Hand Sanitizer This dermatologist-tested formula is packed with good-for-you ingredients like hydrating Aloe Vera and a blend of essential oils to leave hands soft and healthy while keeping them 99.9% germ-free.
9 – There never seem to be enough outlets in the hotel room when we travel. This 3-in-1 Charging Station is so handy and charges your iPhone, Apple Watch, and AirPods at the same time.
What did you buy from Amazon in April? Let me know in the comments!
Shop my Amazon storefront here and my April Amazon haul:

Also see: Amazon Fav's Summer Edition and Eco-Friendly Products on Amazon
If you liked this post, you can subscribe here or follow me on Feedly | Bloglovin | Instagram | Pinterest | Facebook
Linking up with:
The Other Side of the Road | Away from the Blue  | Fine Whatever Blog | Between Naps on the Porch | I do de Claire | Elegantly Dressed and Stylish | {Walking in Memphis in High Heels & The Fashion Canvas} | The Style Splash | Straight A Style & Girl Meets Bow | Is This Mutton? | Curated by Jennifer | Mummabstylish | Shelbee On the Edge | Nancy's Fashion Style  Momfessionals | Sunday Showcase