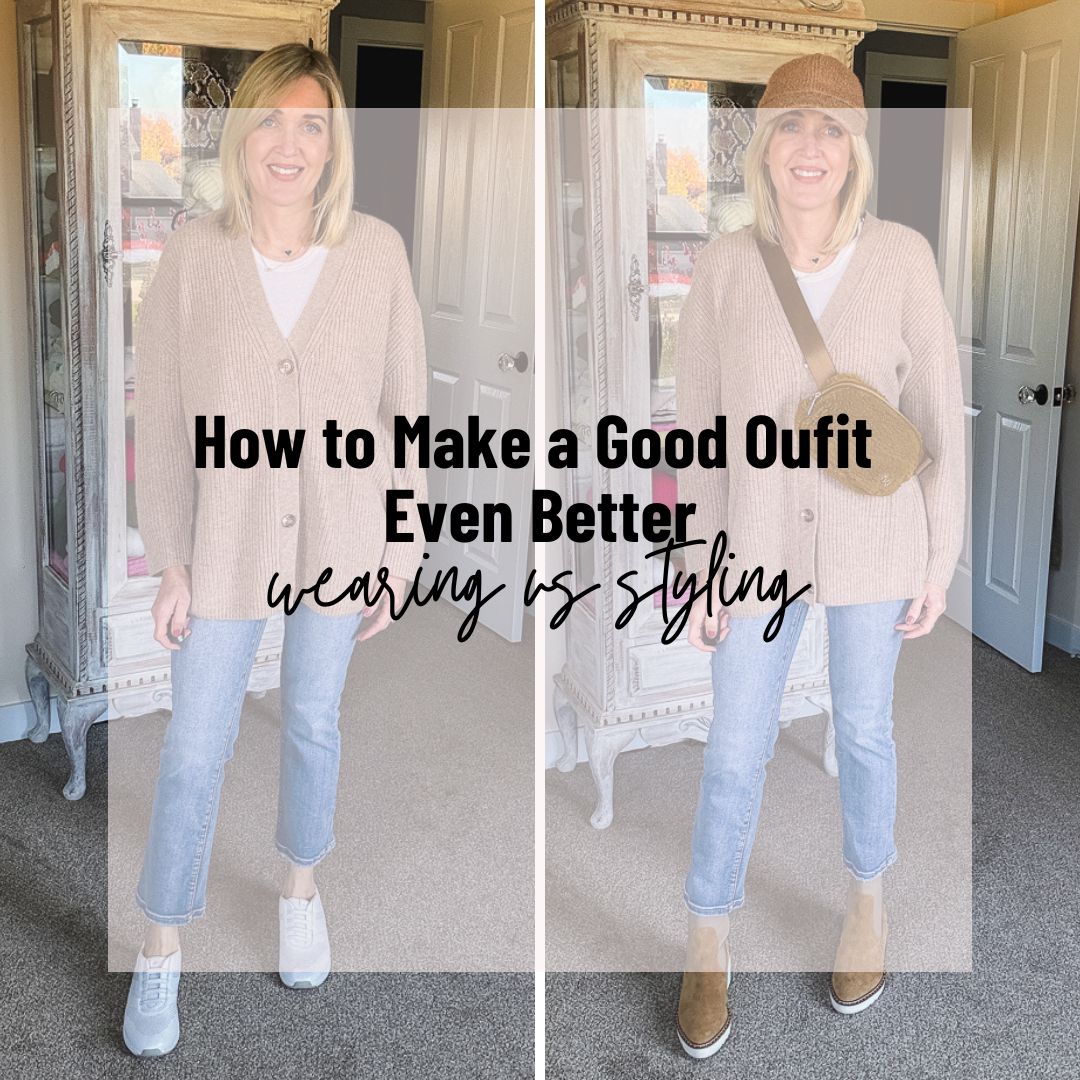 Hi friends! Today's post is all about wearing vs styling an outfit. Wearing an outfit is the straightforward act of putting on clothing without much thought beyond the basics of covering your body. It's practical, but it doesn't necessarily make a fashion statement.
Styling an outfit involves selecting and combining pieces, paying attention to details, and creating a cohesive, visually appealing ensemble. Styling allows you to express your personality and individuality. I'm taking two good outfits, one weekend casual and one workday casual, and showing a few simple steps on how to make them even better.
How to Make a Good Outfit Better
Outfit 1 – Weekend Casual Outfit
A Good Outfit:
My base outfit is medium-wash straight jeans, an oversized cardigan sweater, and sneakers. It's casual, comfortable, and perfect for running around on the weekend. There is nothing wrong with this outfit, but there are a few tweaks I can make to transform it into something even better.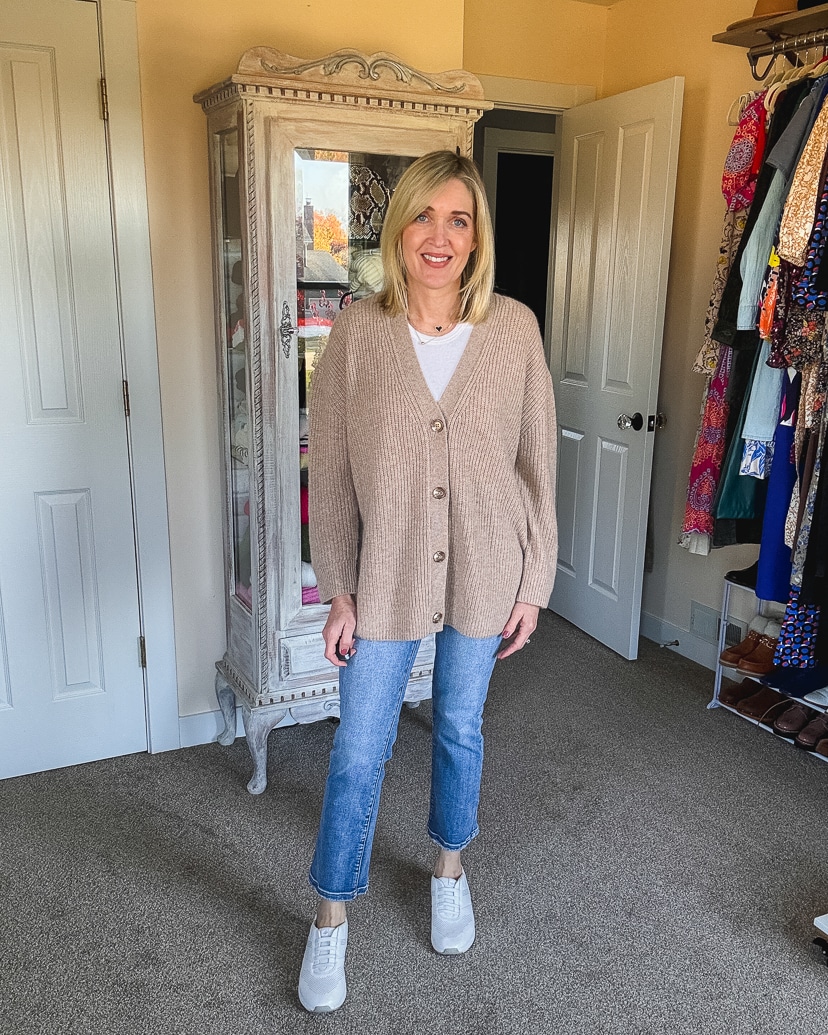 Better: Swap the Shoes
One of the easiest style tricks is to swap out your shoes. The wedge-heeled suede booties with the studded toe detail instantly elevate this look and give it a bit of edge.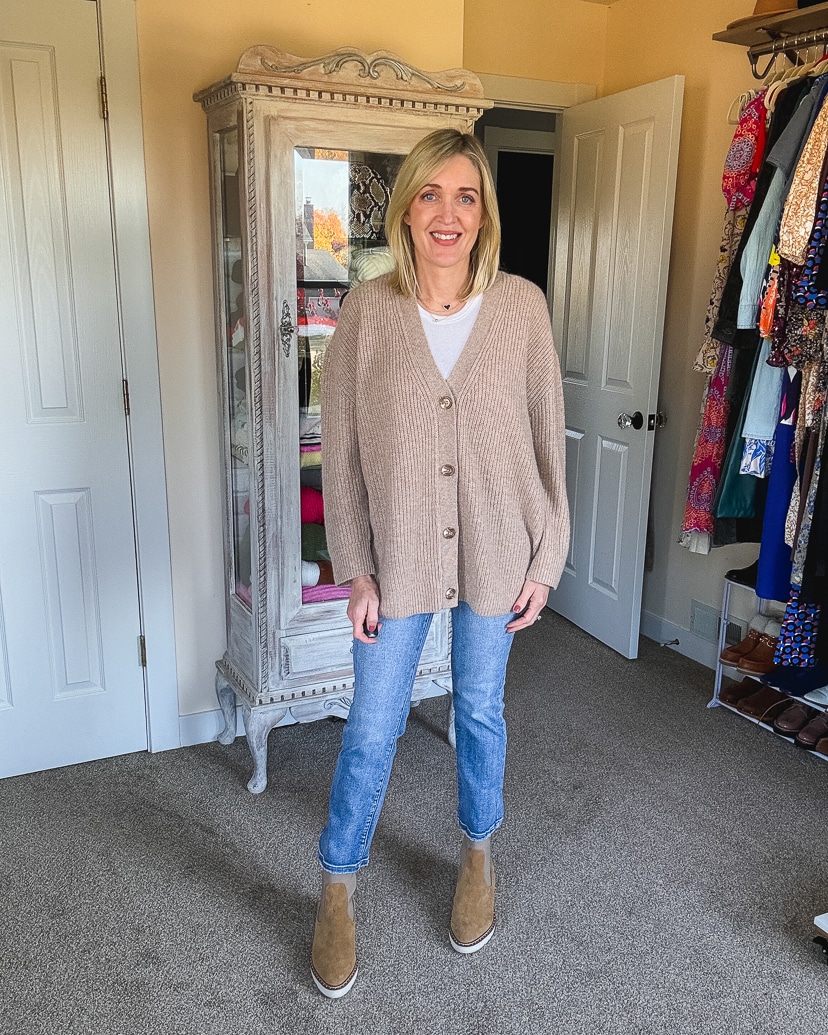 Best: Add Accessories
The final step to wearing vs styling this outfit is adding a few accessories to complete the look. The wool hat and fleece cross-body bag give the outfit added texture and dimension.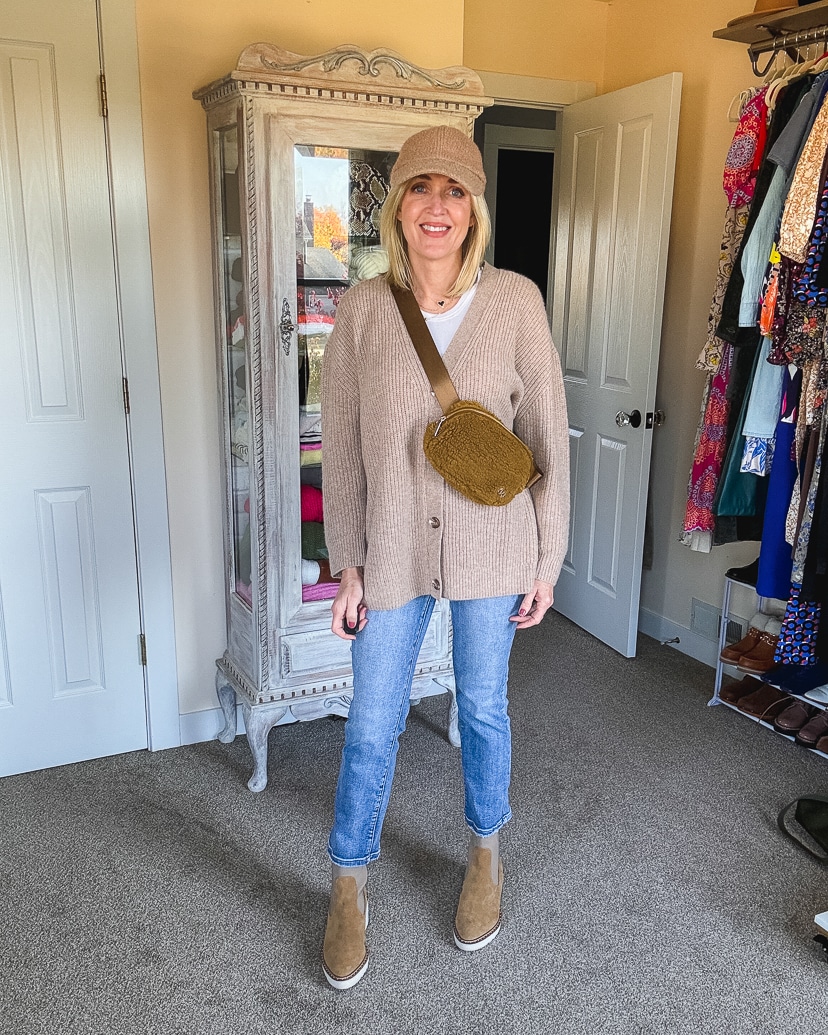 Outfit 2 – Workday Casual Outfit
A Good Outfit:
My base outfit is a pair of dark wash trouser jeans, a dark floral blouse, and classic loafers. This ensemble is classic and versatile, but there are ways to add a few creative touches to make it stand out.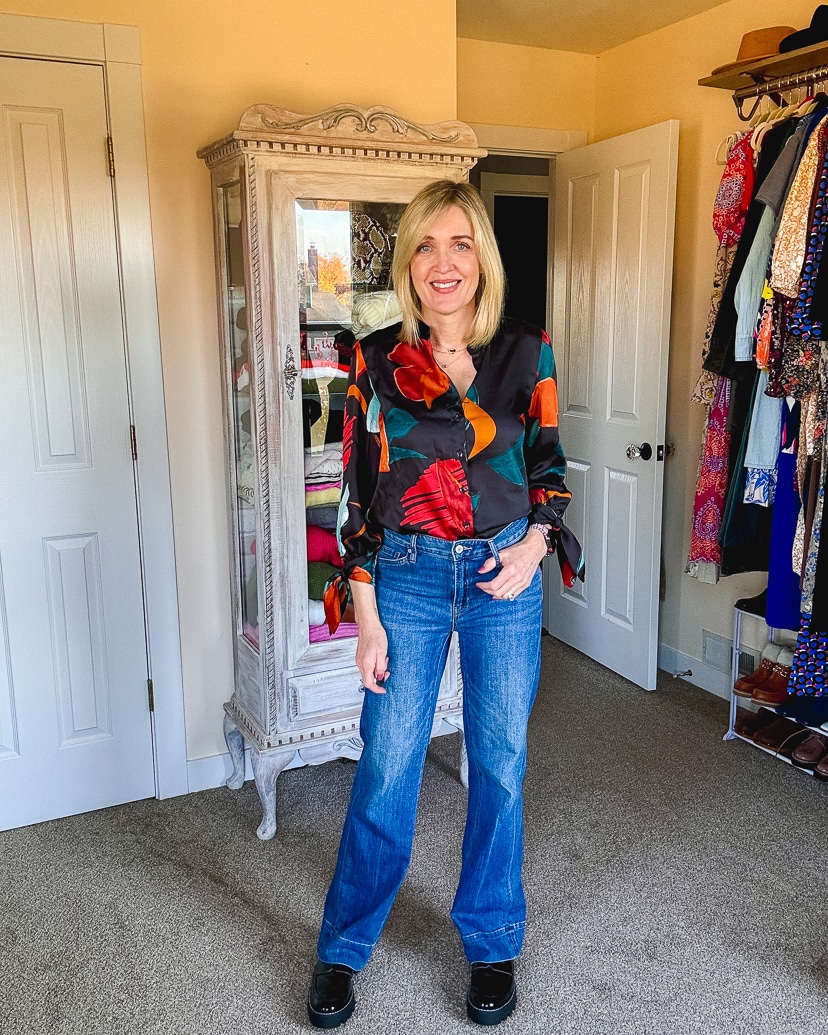 Better: Add a Belt and Swap the Shoes
Cinch your waist with a belt. It not only adds definition but also offers a stylish accent to your look. Swap the classic loafers for ankle boots. Opt for a pair with a slight heel and rounded or pointed toe to elongate your legs.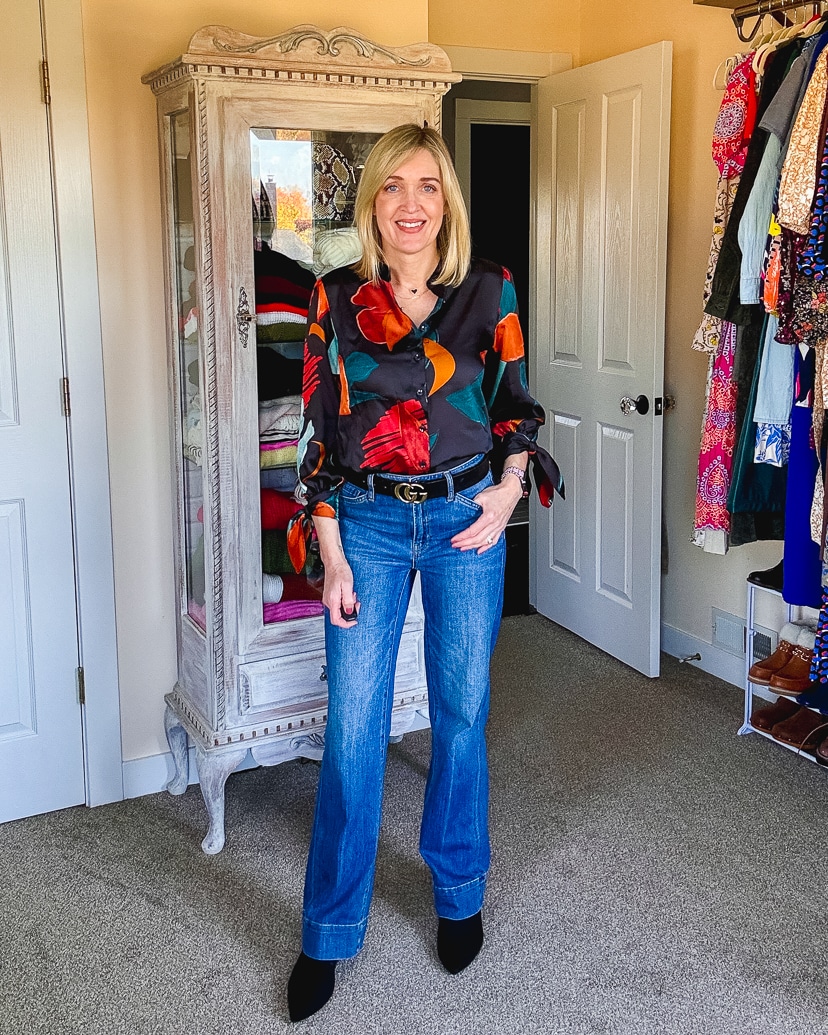 Best: Add Layers
Wearing a faux leather vest is a nice change from a cardigan or blazer and gives the outfit added interest and a luxe vibe.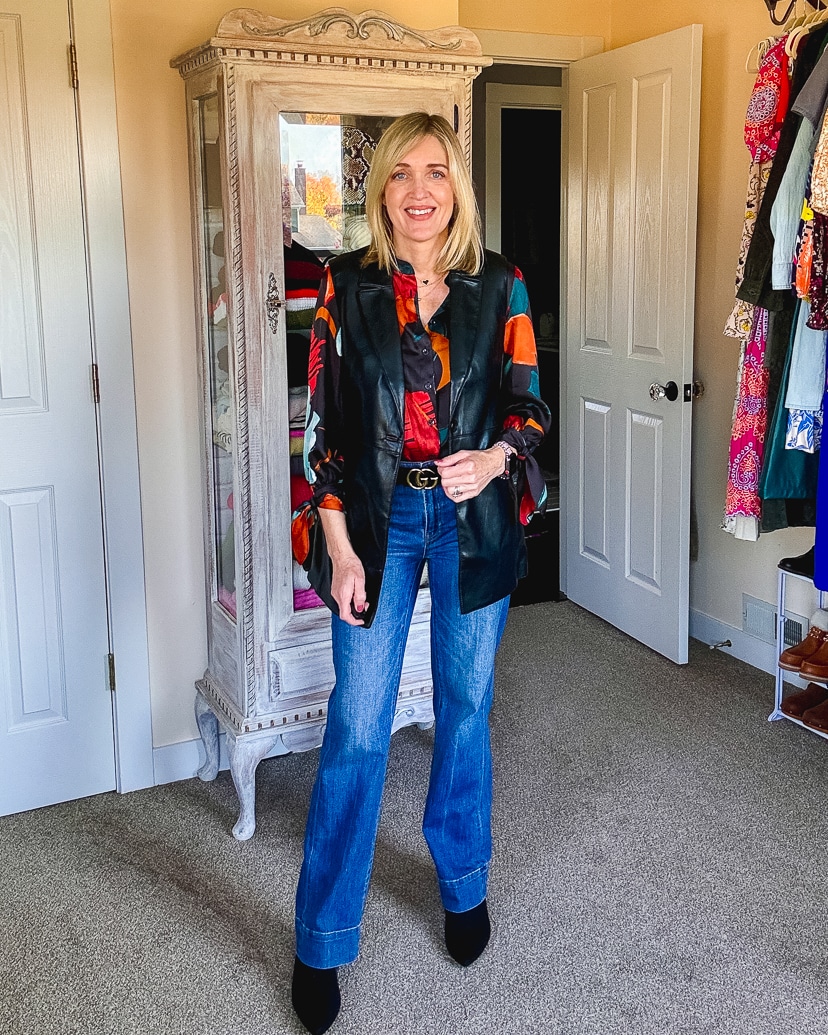 I hope this post gives you ideas on how you can wear vs style your outfits. The most important styling tip is to wear your outfit with confidence. It's the ultimate game-changer. If you feel good in your clothes, it will show!
Thank you for reading Wearing vs Styling: How to Make a Good Outfit Even Better!
Also see: Pink Style Ideas and Back to School: Fall Outfit Outfit Inspiration
If you liked this post, you can subscribe here or follow me on Feedly | Bloglovin | Instagram | Pinterest | Facebook
Linking up with:
Away from the Blue  | Fine Whatever Blog | Between Naps on the Porch | I do de Claire
Elegantly Dressed and Stylish | Walking in Memphis in High Heels & The Fashion Canvas
The Style Splash | Is This Mutton? | Curated by Jennifer
Mummabstylish | Shelbee On the Edge | Nancy's Fashion Style
Momfessionals | Marsha in the Middle | Sunday Showcase
Thursday Fashion Files Linkup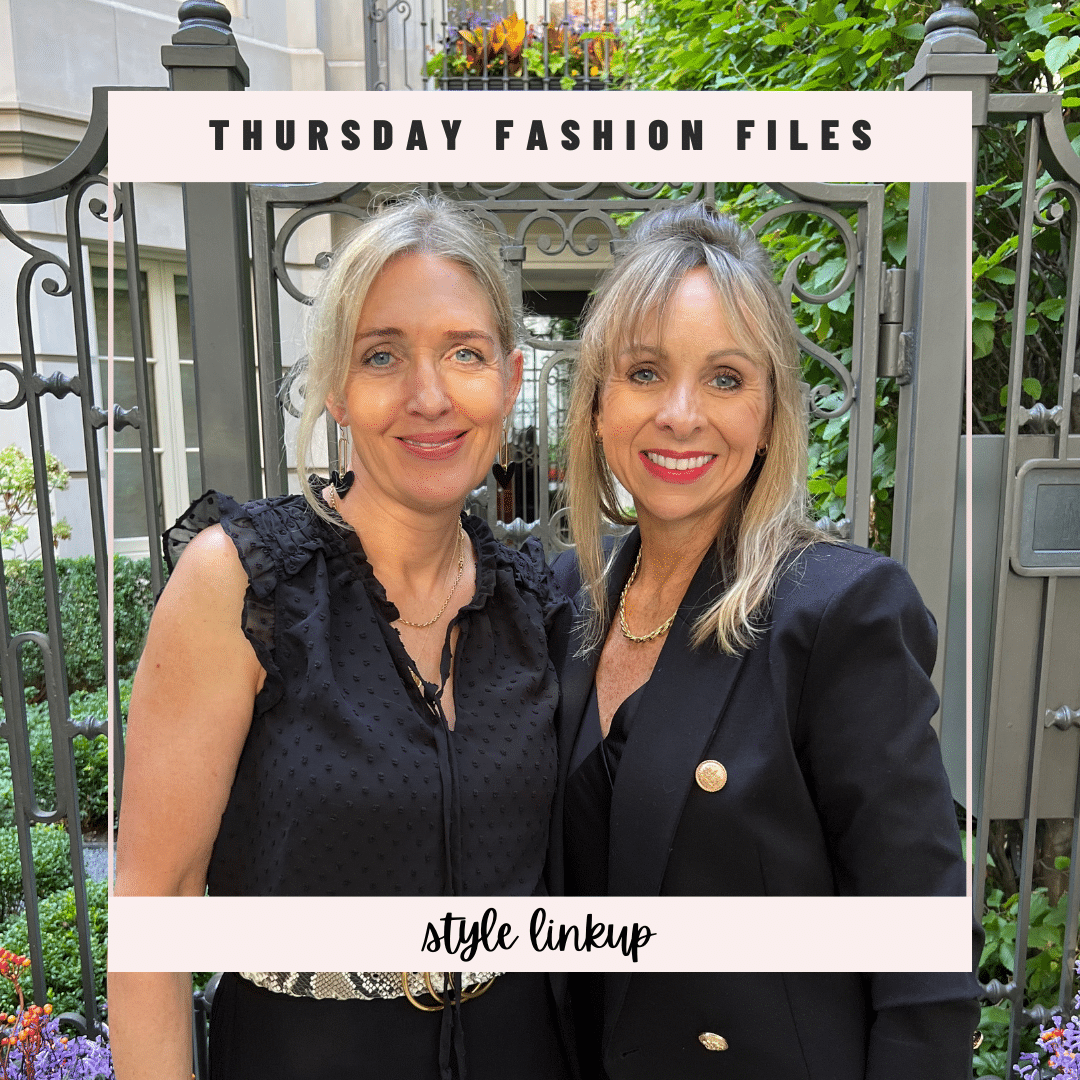 Welcome to Thursday Fashion Files! Kellyann and I are excited to have you here. We'd love to have you link up one of your latest outfits with us at the bottom of this post. Don't forget to check out our Thursday Fashion Files Pinterest board. Email me at hello@dousedinpink.com if you'd like to contribute to the board!
Thursday Fashion Files Linkup Guidelines
1 – Follow Jill: Bloglovin', Facebook, Instagram, Pinterest, Feedly, LIKEtoKNOW.it
2 – Follow Kellyann: Bloglovin', Facebook, Instagram, Pinterest, LIKEtoKNOW.it
3. Help spread the word and share our linkup with your community.
4. **By adding links, you state that you have the proper licensing/rights to the images in your blog posts.**
You are invited to the Inlinkz link party!