About Simply Earth
I'm partnering with Simply Earth again this month to review their July Recipe Box packed with everything you need to make family-friendly/kid and pet-safe essential oil recipes.  Simply Earth Essential Oils are globally sourced and tested for 100% purity. Plants are grown throughout the best regions where they will thrive. After they are harvested, the natural essential oils are collected through cold-pressing or steam distillation. Simply Earth's mission is to make your home natural at an affordable price.
Receive a free bonus box and a $40 gift card with your first recipe box that you can use on a future purchase. Use my referral link and to sign up and code DOUSEDINPINKFREE. 
Social Good
Simply Earth gives back by helping people whose beauty has been abused. 13% of their profits go to help fight human trafficking. Each month one organization is highlighted so you can learn more and get involved. There are 40+ million people estimated to be trapped in prostitution, and 98% are women and girls.
This month, Simply Earth is partnering with and giving 13% to Freedom Cry. Located in Sheboygan, WI, Freedom Cry offers help to trafficking survivors. Necessities, mentoring, safe houses are some of what Freedom Cry provides. They also educate the community on warning signs and the prevention of human trafficking.
What You Get
What makes Simply Earth different is that they not only sell essential oils at honest prices, but they also make using essential oils easy by teaching you how to use them. They also give subscribers free access to the Essential Oil Hero course, where you can gain confidence and clarity using essential oils to create your own recipes.
Every month Simply Earth gives you everything you need – the ingredients, containers, and extras to make six natural essential oil recipes. This is great if you love natural DIY products but don't have time to gather all the ingredients! But, you don't need a subscription to purchase from Simply Earth. They sell their oils individually as well!
Coupon Code + Free Gift
Use my referral link and code DOUSEDINPINKFREE to receive a $40 gift card with your first Simply Earth essential oils recipe box that you can use on a future purchase or next box! When you subscribe, you will also get a bonus box that includes fractionated coconut oil, almond oil, coconut oil solid, beeswax, six 5 ml amber bottles, and ten 10 ml roll-on bottles.
Family/Kid & Pet Safe
The July Simply Earth essential oils recipe box is inspired by their new Homebody essential oil blend. Its calming aroma is made with essential oils generally considered safe for kids and pets. The recipes are safe for the whole family and create a calming and peaceful atmosphere.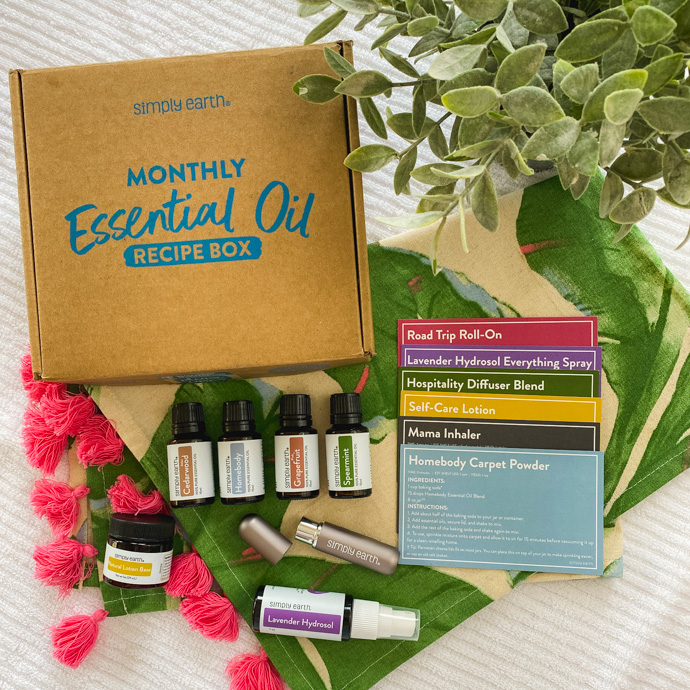 Essential Oils:
Spearmint Oil – uplifts, aids digestion, and stimulates
Grapefruit Oil- energizes, cleans
Cedarwood Oil – calms, supports respiration
Homebody Oil – family-friendly, calms
Extras:
Lavender Hydrosol created during the essential oil distillation process
Lotion Base made with natural ingredients to create your own custom lotion
Aluminum Inhaler for easy on-the-go aromatherapy support
Family-Friendly Essential Oils Recipes
Hospitality Diffuser Blend
This month's diffuser blend is Hospitality, a mix of Grapefruit, Homebody, and Cedarwood essential oils. It smells amazing and gives your home a welcoming vibe.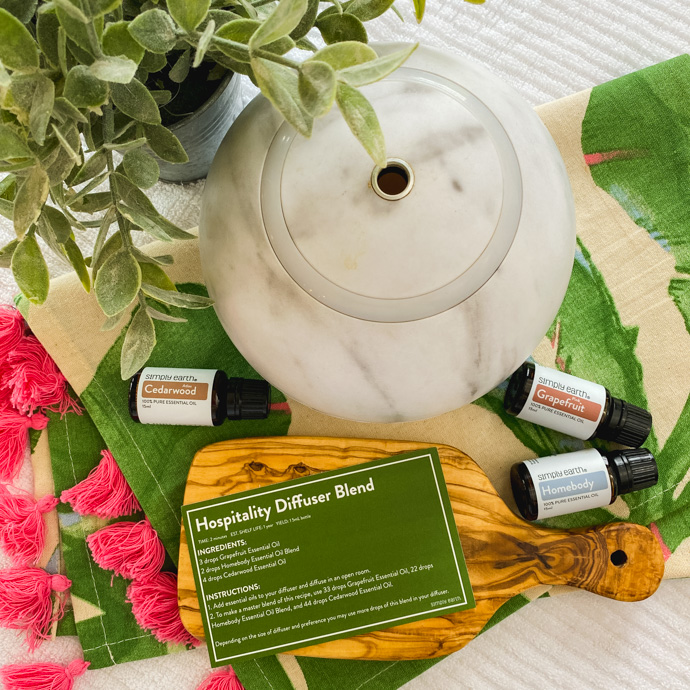 Self-Care Lotion
This recipe takes less than a minute to make. Add essential oils to the all-natural lotion base and mix well. A little bit goes a long way.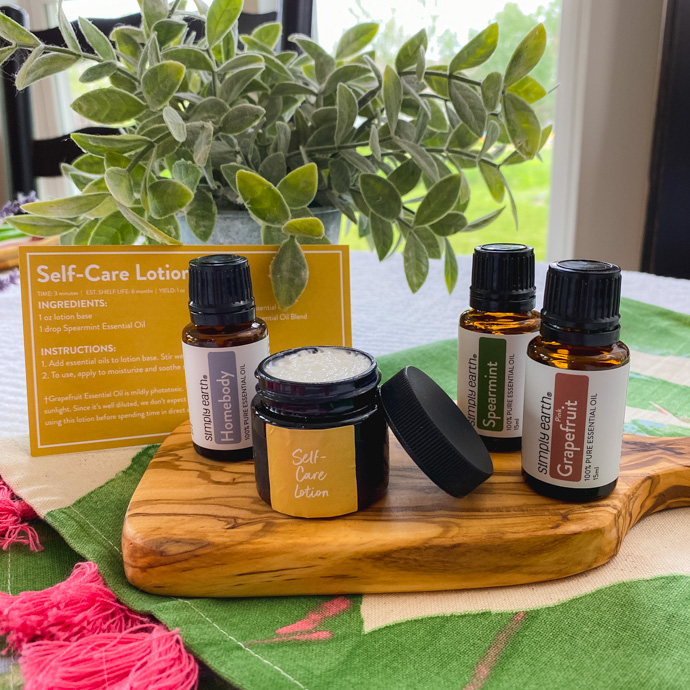 Homebody Carpet Powder
This carpet powder smells amazing! Sprinkle the powder mixture onto your carpet or furniture. Wait 15 minutes and vacuum.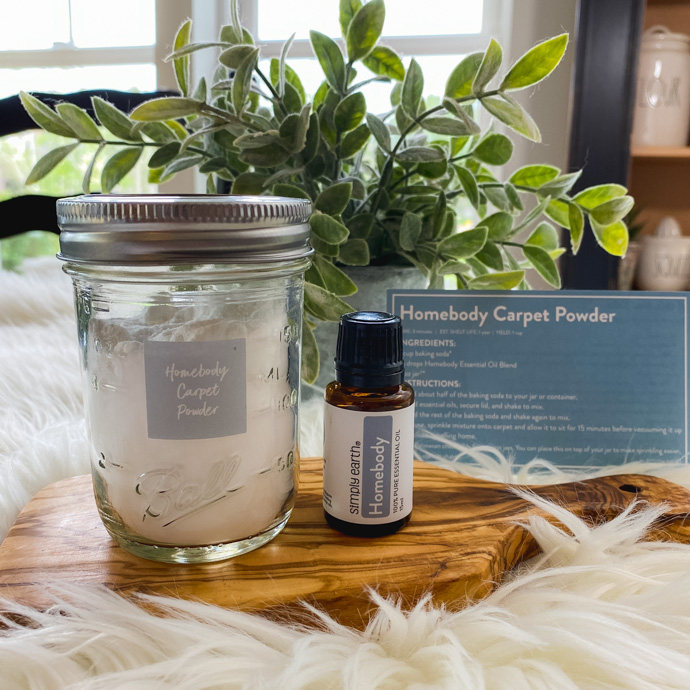 Lavender Hydrosol Everything Spray
Lavender Hydrosol is a versatile ingredient. You can add it to your skincare, use it as a body or room spray or add it to your bath.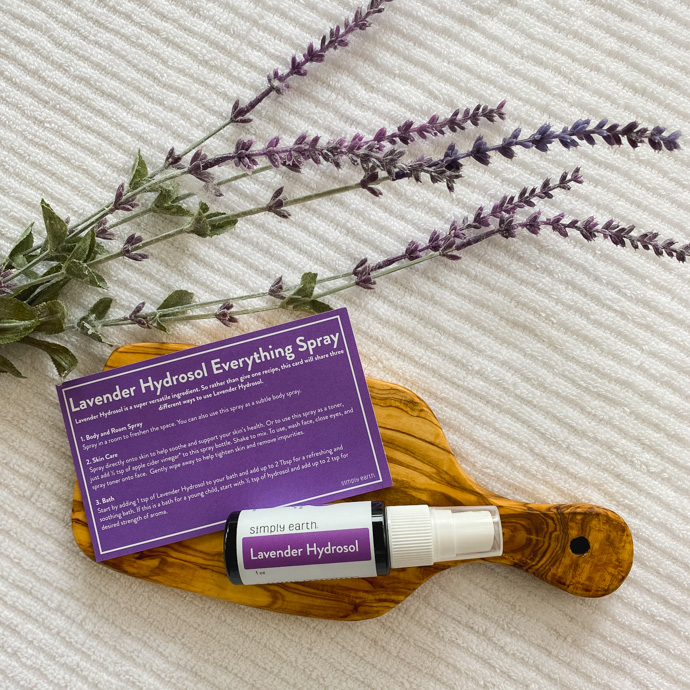 Road Trip Roll-On
Road trips can take their toll. Apply this roll-on infused with calming essential oils to your pulse points whenever you need a time-out.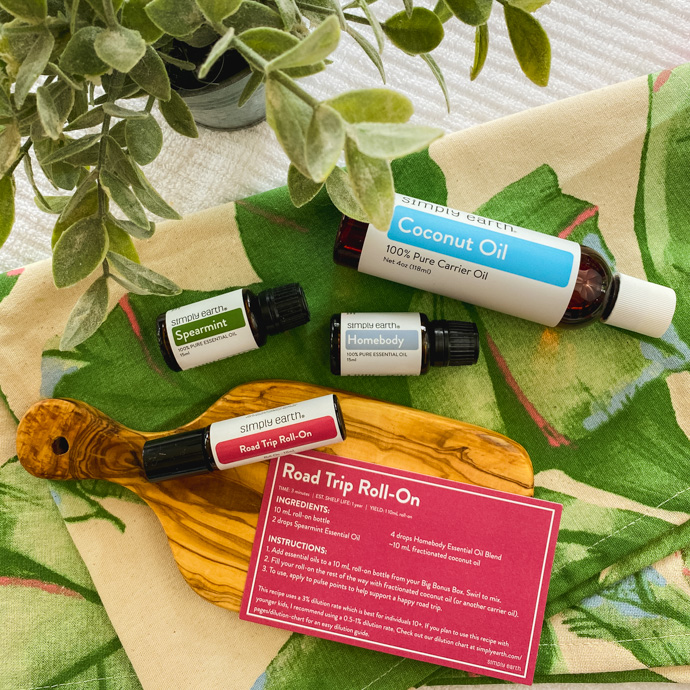 Mama Inhaler
Infused with calming and uplifting essential oils, this inhaler will both relax you and give you the energy to continue your busy day.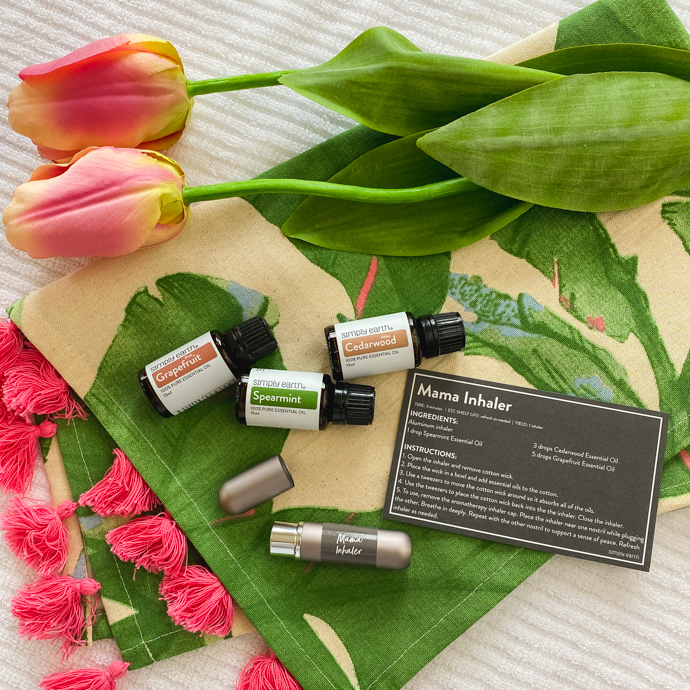 Simply Earth Essential Oils Recipe Box is a great DIY solution if you are interested in getting started with essential oils or growing your current collection. I love that they mail everything that you need for these fun and easy DIY projects right to your door!
Receive a free bonus box and a $40 gift card with your first recipe box that you can use on a future purchase. Use my referral link and to sign up and code DOUSEDINPINKFREE.  The bonus box is filled with extras you'll want to have on hand in including:
Almond Oil
Coconut Oil
Fractionated Coconut Oil
Beeswax
Six 10 ml Roll-On Bottles
Six 5 ml Amber Glass Bottles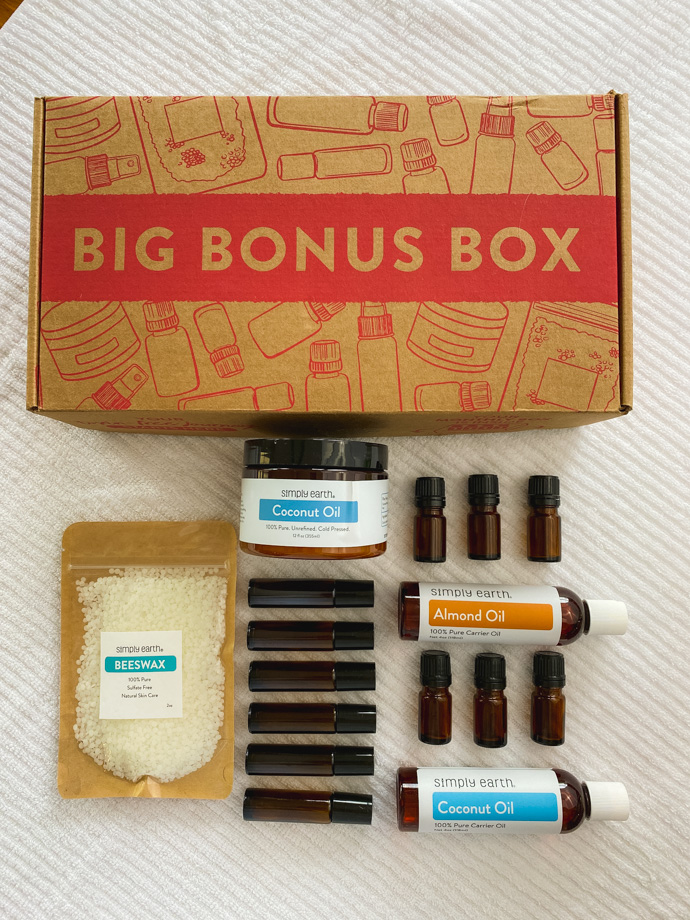 Which family-friendly essential oil recipes were your favorite?
Thank you for reading!
Also see: Simply Earth Review: Essential Oils Recipe Box and 12 Eco-Friendly Products on Amazon
If you liked this post, you can subscribe here or follow me on Feedly | Bloglovin | Instagram | Pinterest | Facebook
Linking up here