Can you believe it's back to school time again? While everyone is getting ready to head back, our daughter comes home for 3 weeks until the fall semester starts after labor day. She's been away since January, and we cannot wait to see her. And, we're in our new home which she hasn't seen yet, so that's exciting too! Anyway, if you're getting ready to pack up your college student, I've rounded up 12 of our favorite dorm room essentials to make your shopping easier. Our daughter has lived in a dorm, sorority house, and a townhouse on campus this summer. These tried and true must-haves are things you will actually use and all on Amazon Prime!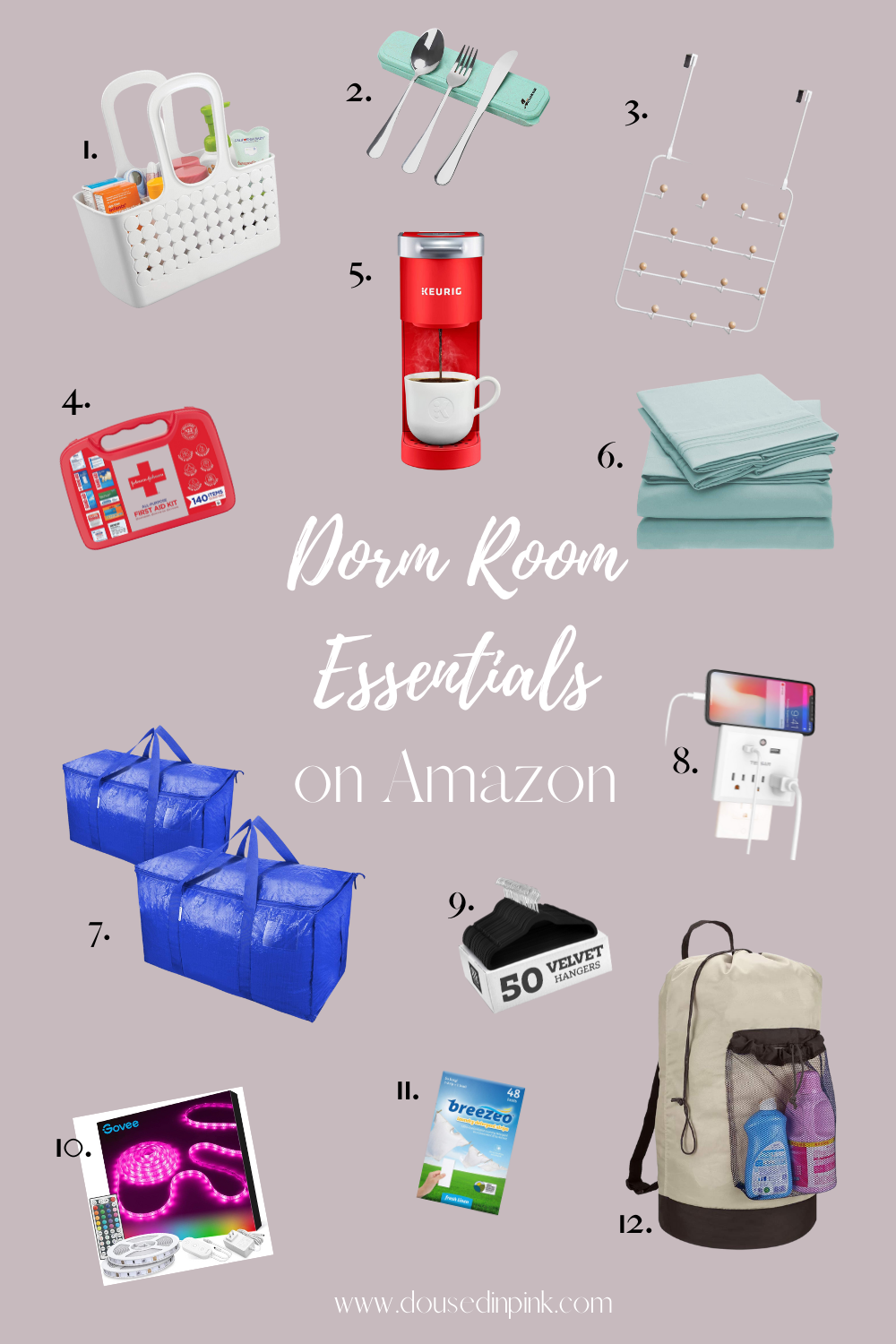 Dorm and apartment essentials:
1 – Shower Tote 9 compartments and offered in 6 color options.
2 – 4 Piece Portable Utensil Set – This handy set has its own case. It also comes in a 16 piece set!
3 – Over the Door Organizer 14 hooks to hold everything from towels to coats.
4 – First Aid Kit – Multi-purpose first aid kit – great to have in your car too!
5- Keurig Mini – Perfect for small spaces.
6 – Twin XL Sheet Set – I've gotten these for our daughter the past two years. It comes in 40 different color options! We have these at home too!
7 – Extra Large Moving Bags – These make moving in and out of the dorm or apartment so much easier. Available in a 2 pack up to 16 pack!
8 – Multi-Plug and USB Outlet Extender – Everyone could use an extra USB charger. This also would be handy in your hotel room when traveling.
9 – Velvet Hangers – 50 pack with over 30K 5-star reviews.
10 – LED Strip Lights with Remote – A dorm room must-have! 20 different colors and 5 brightness modes.
11 – Laundry Detergent Strips – How convenient are these? Much easier to store and throw in your laundry bag than a bottle of detergent or pods.
12 – Backpack Laundry Bag – Easy to tote right down to the laundry room or when they bring the laundry home.
Shop Dorm Room Essentials:

Thank you for reading!
Also see: Home Organization Products You Need and The Best Things I Bought on Amazon Last Month
If you liked this post, you can subscribe here or follow me on Feedly | Bloglovin | Instagram | Pinterest | Facebook
Linking up here.