Did you have a good weekend? We installed our fireplace mantel, tiled our kitchen backsplash, and managed to get out for a friend's 60th birthday party. I usually share a purchases post at the beginning of the month, and this month it's everything I've bought on Amazon lately. Let's jump right in with my recent Amazon finds.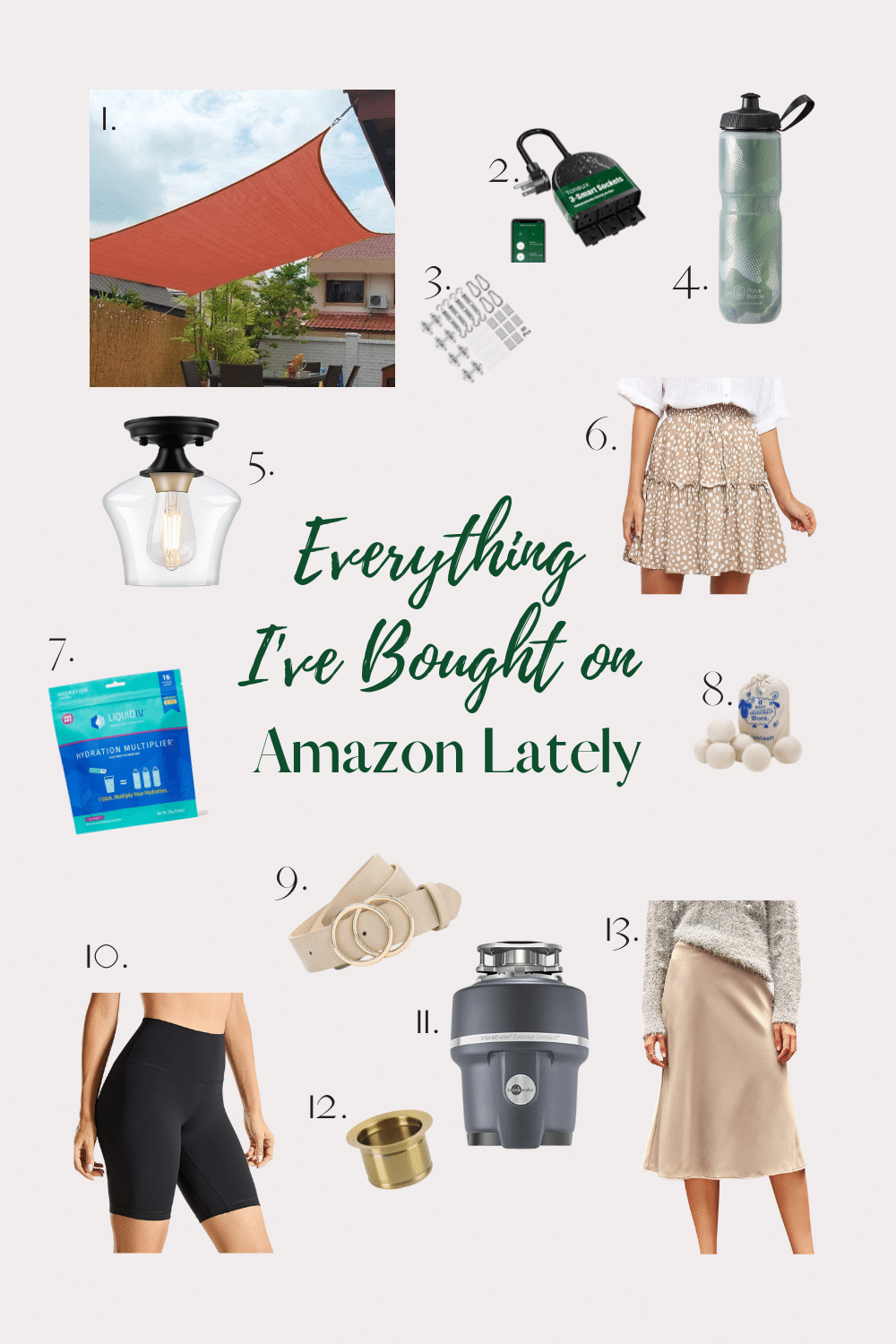 1 – The back deck of our house faces east, and this sun shade canopy has been a lifesaver.
2 – We have our deck lighting hooked up to this outdoor smart plug. And it's compatible with Alexa.
3 – We used these hooks to install our sunshade.
4 – After we unpacked, I realized we had recycled all of our water bottles. We stocked up again with these.
5 – We picked these light fixtures to replace our hallway lighting.
6 – This ruffle mini skirt has been on my wishlist for ages. Technically a summer skirt; I thought it would look cute with an oversized sweater and boots for fall.
7 – I add Liquid IV to my water almost daily.
8 – Do you use dryer balls or dryer sheets? We switched to dryer balls a few years ago, and I replace them once a year.
9 – I went for years without wearing belts, and now I can't get enough of them. This belt is the perfect neutral.
10 – CRZ YOGA is one of my favorite athletic wear brands on Amazon. The quality is excellent, and they are very similar to pieces at Lululemon. These biker shorts are my newest addition.
11 – We are in the middle of a kitchen renovation and just installed this garbage disposal.
12 – A  gold garbage disposal sink flange to match our faucet and cabinet hardware.
13 – I was getting ready to pull the trigger on a slip skirt at J.Crew and then thought, better check Amazon first. This slip skirt is a fraction of the price and comes in multiple colors.
I wanted to mention that we have a Disney trip planned in October and I'm looking for 2 bloggers to guest post for me on October 26th and October 28th. If you're interested, please email me or let me know in the comments!
Shop Everything I've Bought on Amazon Lately:

Thank you for reading!
Also see:  The Best Fall Decor From Amazon and Dorm Room Essentials from Amazon
If you liked Things I Loved in September; you can subscribe here or follow me on Feedly | Bloglovin | Instagram | Pinterest | Facebook
Linking up here.