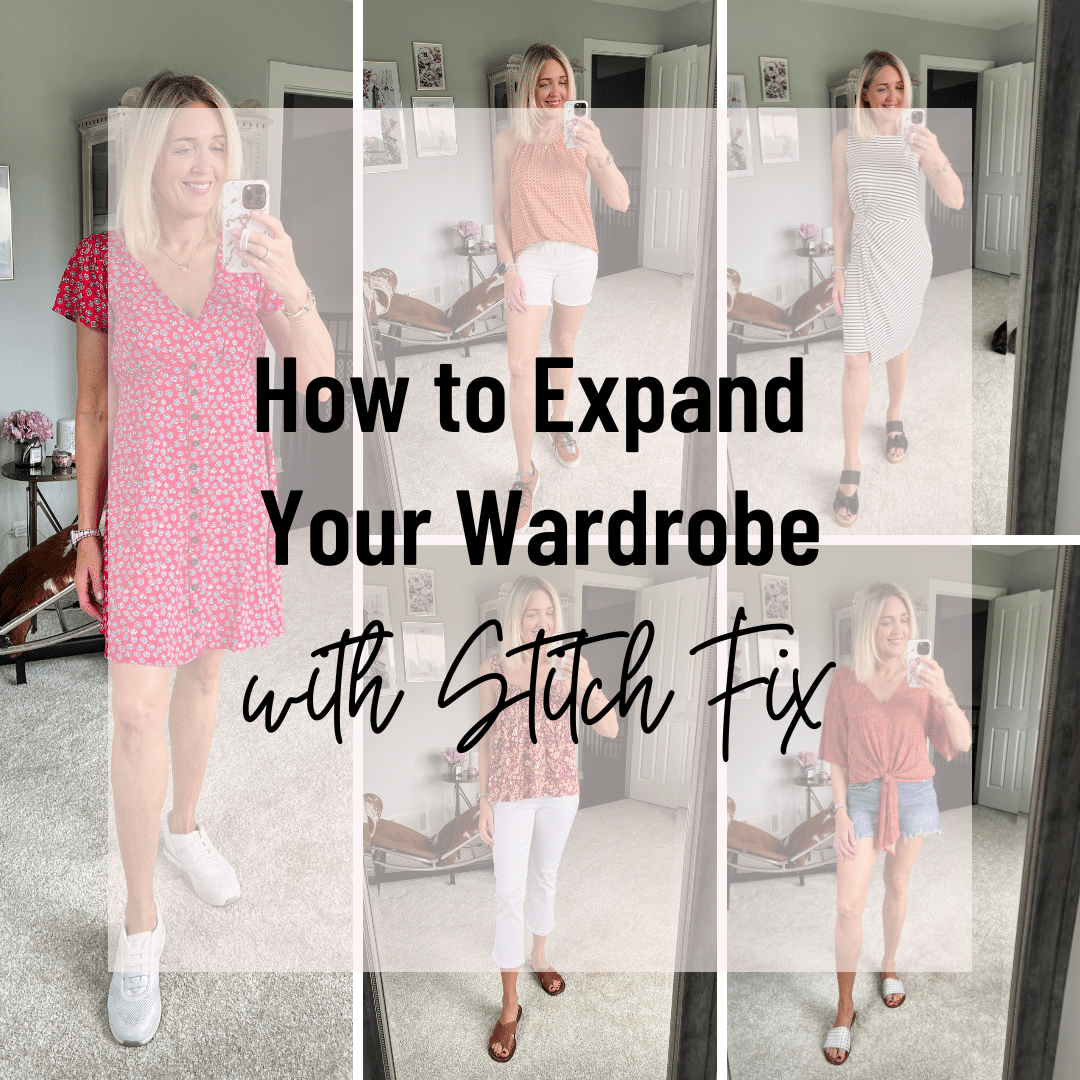 I'm excited to share my summer reviews for Stitch Fix with you today. I've shared Stitch Fix a few times on the blog before. You can read my late spring review here. Since my last Stitch Fix was a hit, I thought it would be fun to see what they would pick out for me for summer.
The Fix Clothing
But before we get to my reviews for Stitch Fix, let me tell you what Stitch Fix is all about (and if you are already familiar, go ahead and scroll down). Stitch Fix is a personal shopping service that shops for you and delivers five pieces of clothing and accessories to your door for you to try. You can schedule your deliveries monthly or on-demand. They also offer luxe pieces. These are premium brands that are pricier but are more investment pieces. You can click a box or let your stylist know if you want luxe pieces.
Stitch Fix Pricing
The charge for the styling fee is $20. If you decide not to keep anything, you send it back in a prepaid envelope and only pay the $20 styling fee. If you choose to keep one or more pieces, you'll receive a credit for the $20 styling fee you paid upfront towards your purchase. And, if you purchase all five items, you receive a 25% discount. Using my code, you can try Stitch Fix to get $25 off your first fix!
How To Get the Most Out of The Styling Service
It can be hit or miss if your stylist doesn't have a clear picture of your style or wardrobe needs. Be very specific in your style profile. Let them know whether your style is boho, glam, or classic. You might also find it helpful to create a Pinterest board to share with your stylist. Pin clothing you like, celebrities' styles to copy, etc.
I mentioned the new preview option in my last Stitch Fix review. It's a gamechanger when you can see a preview of the pieces your stylist curated for you in advance. Just let your stylist know which five items are a go or leave feedback to select new items. This time around, there were three pieces that I wanted in my fix. I asked my stylist to swap out a jacket and cardigan.
A Look At The Fix Clothing I Received
MASON & BELLE Lyla Button Detail Dress – $48
This dress is perfect for summer. I loved the red ditsy print, flutter sleeves, and flowiness. But, I ultimately returned it.
Verdict: Returned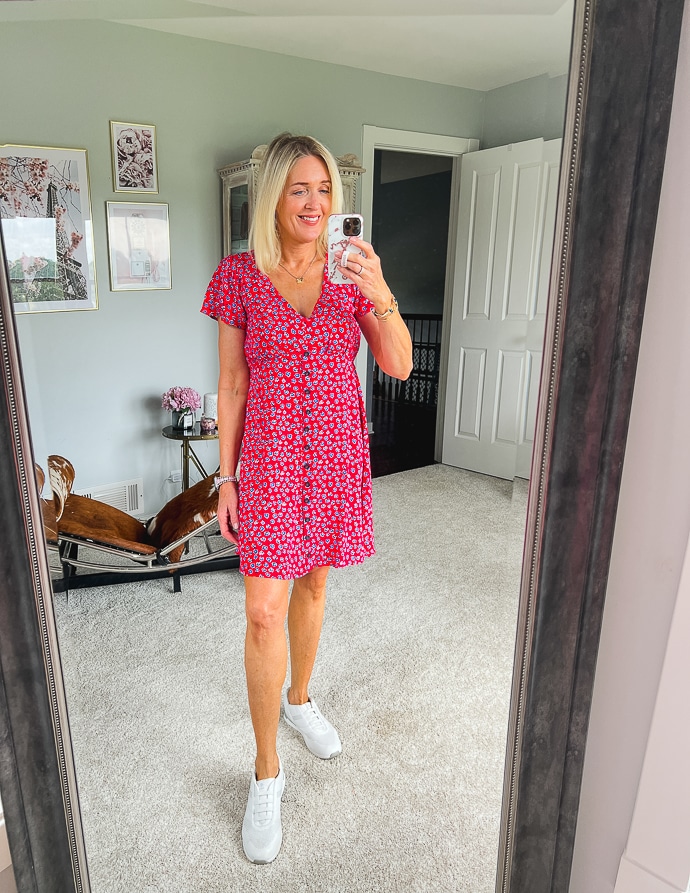 PAPERMOON Samala Halter Knit Top – $36
I've been drawn to earth tones lately and loved the cut, color, and print of this top. In the end, it got returned. Read more about why in my wrap-up.
Verdict: Returned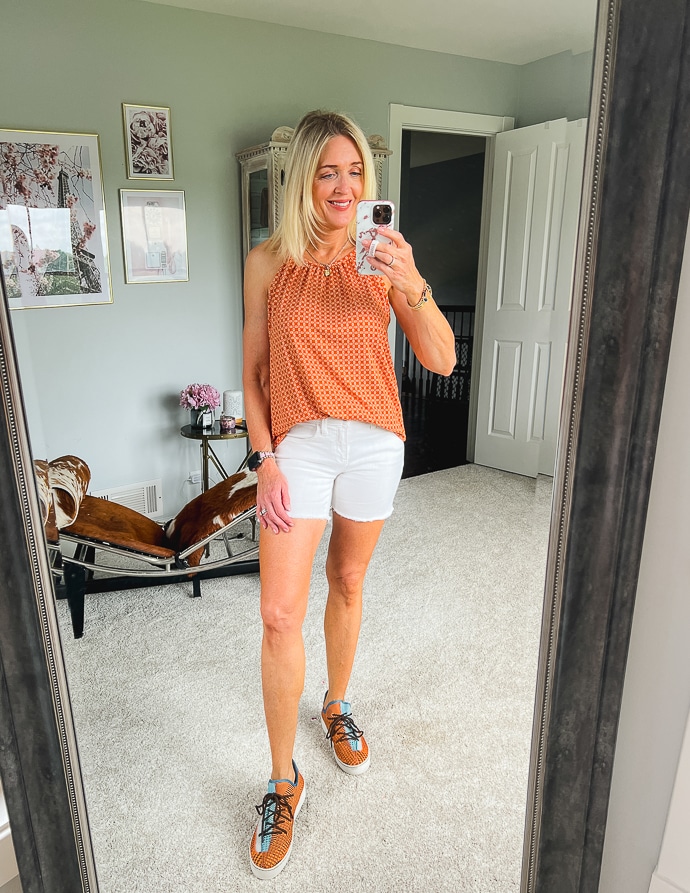 LUQ Rhee Tie Front Top – $40
I thought this top was darling with the longer front ties. But the fabric was scratchy, and I knew I wouldn't wear it because of that.
Verdict: Returned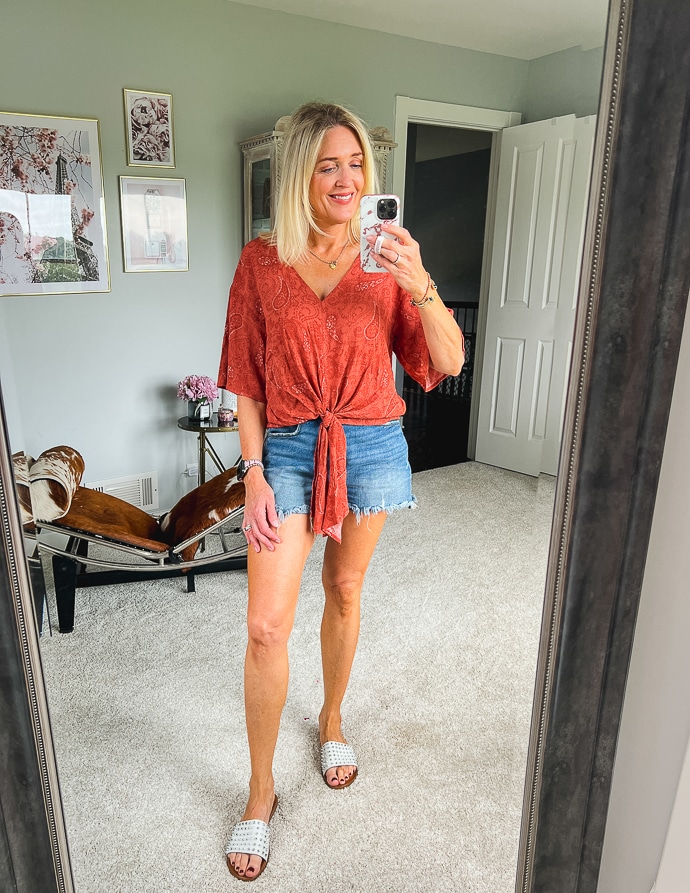 MASON & BELLE Kensley Smocked Peplum Knit Tank – $38
Have you noticed a color theme with the tops? I'm a fan of anything that is smocked, and this top is darling. The straps are bra-friendly, which is always a plus. It looks great with jeans or shorts. And tank tops are always an easy fall transition piece.
Verdict: Kept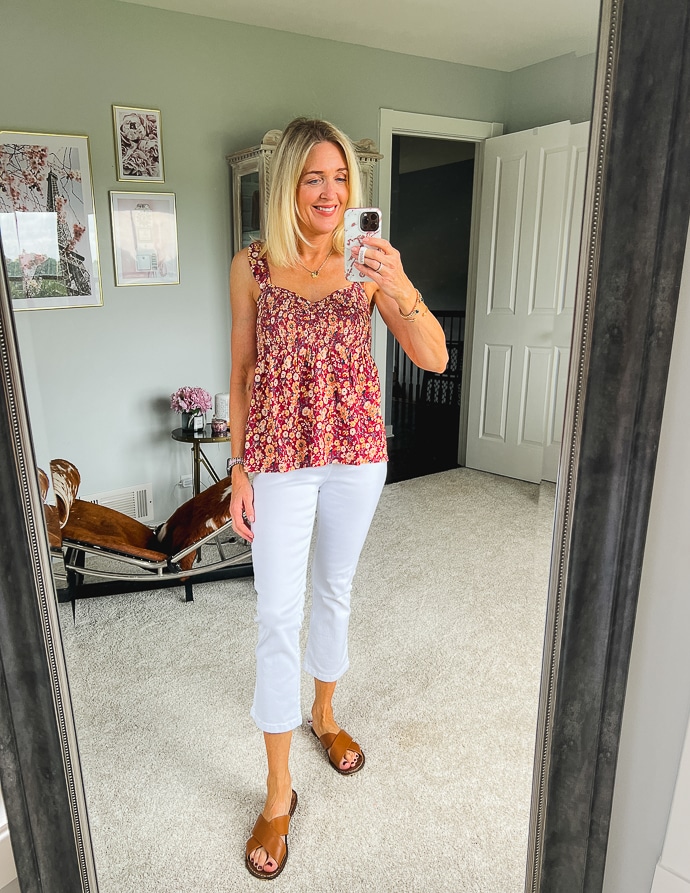 KAILEIGH Karter Knit Twist Front Dress – $54
I'm a sucker for stripes, and this cute workwear dress would have been perfect if I had to go into the office a few days a week. Just like my last job, I'm 100% remote, and when there are meetings to attend, it's pretty casual.
Verdict: Returned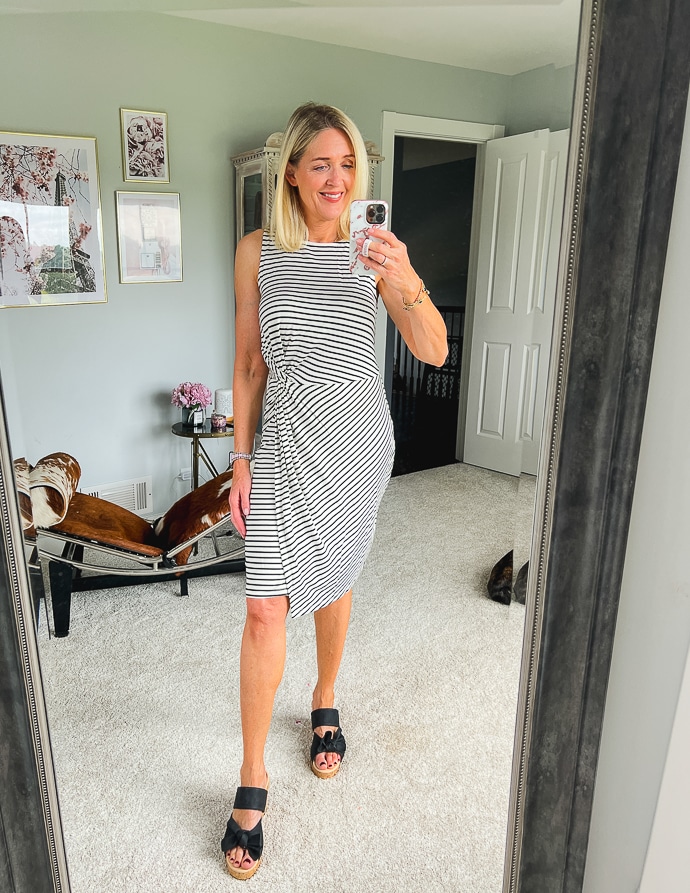 Stitch Fix Check Out Process
Once again, my stylist did a great job selecting pieces for my style aesthetic. And the price points were entirely within my budget. The pricing gets tricky, in my opinion, when you don't love all of the pieces. When you keep all five items, you get a 25% discount. With my referral credit, this would have cost $137 for the entire fix. Breaking that down, $27 per item is a great price. However, if I had kept the two tops and the red dress I loved, my cost would have been $122 and $40 per item. Ultimately, I decided to keep the smocked tank top which was my favorite piece.
Style Fix Wrap Up
I hope my review for Stitch Fix was helpful. As much as I love to shop, it's a fun surprise to see what you get when you have someone shop for you. The service is excellent if you want to update your wardrobe with a few key pieces, pick out styles for a vacation or treat yourself by having someone shop for you. If you're going to give Stich Fix a try, click here for my referral link and get $25 off your first fix!
Thank you for reading!
Also see: Stitch Fix Review: Fall Staples and Best of 2020: Your Favorite Fashion Posts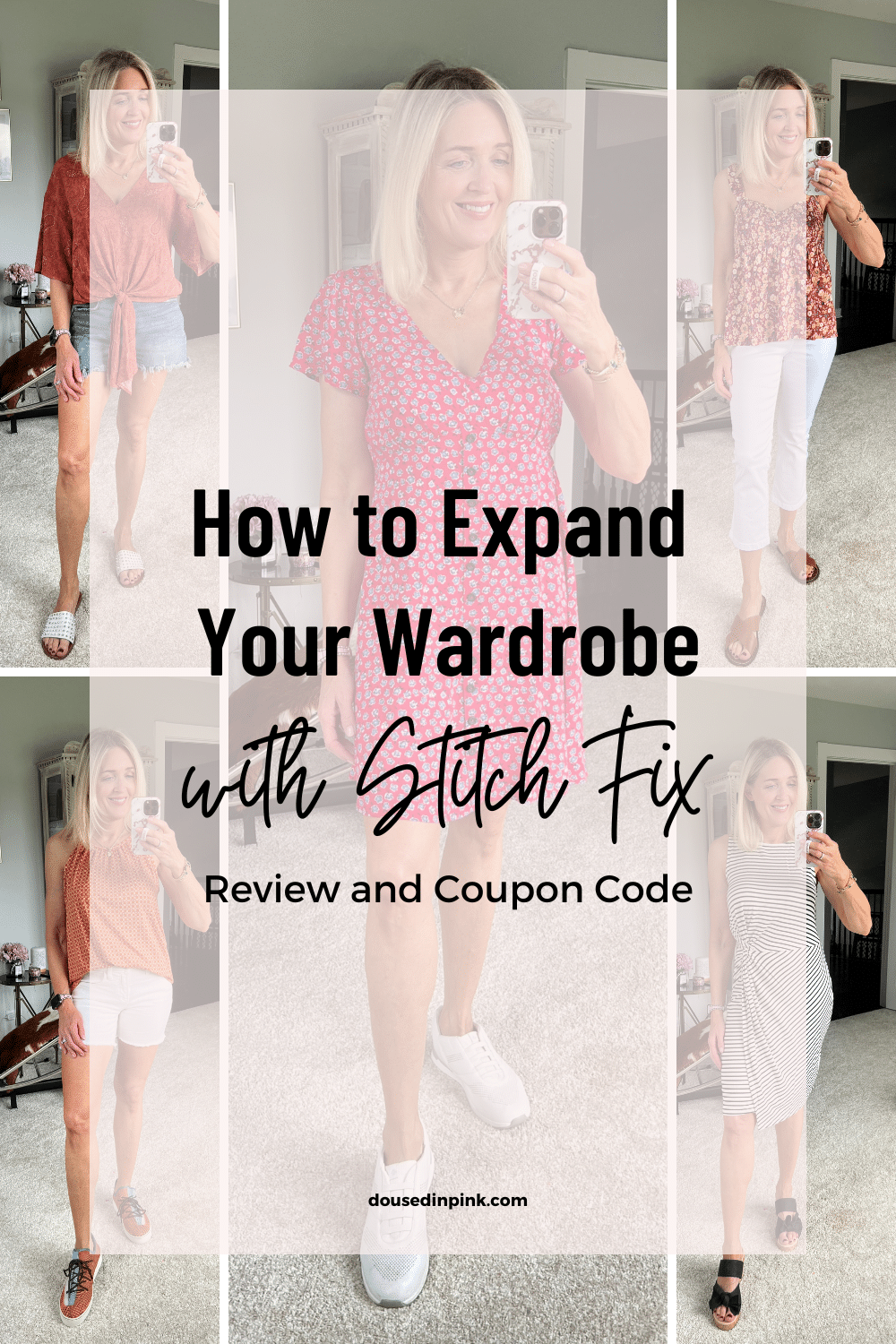 Also, I'm replacing my Tuesday blog posts with a weekly newsletter while I get acclimated to my new job. Make sure you SUBSCRIBE HERE, so you don't miss out on fashion tips, what's on my radar, life updates, giveaways, and exclusive content! 
If you liked this post, you can subscribe here or follow me on Feedly | Bloglovin | Instagram | Pinterest | Facebook
Linking up here.
I hope you enjoyed my summer reviews of Stitch Fix. Now onto the linkup! I can't wait to see your outfits!
THURSDAY FASHION FILES WEEKLY LINKUP
Welcome to Thursday Fashion Files! Kellyann and I are excited to have you here. We'd love to have you link up one of your latest outfits with us at the bottom of this post. Don't forget to check out our Thursday Fashion Files Pinterest board and email me at hello@dousedinpink.com if you'd like to contribute to the board!
1 – Follow Jill: Bloglovin', Facebook, Instagram, Pinterest, Feedly, LIKEtoKNOW.it
2 – Follow Kellyann: Bloglovin', Facebook, Instagram, Pinterest, LIKEtoKNOW.it
3. Help spread the word and share our linkup with your community.
4. **By adding your links, you state that you have the proper licensing/rights to the images in your blog posts.**
Mica from Away from the Blue is this week's featured blogger!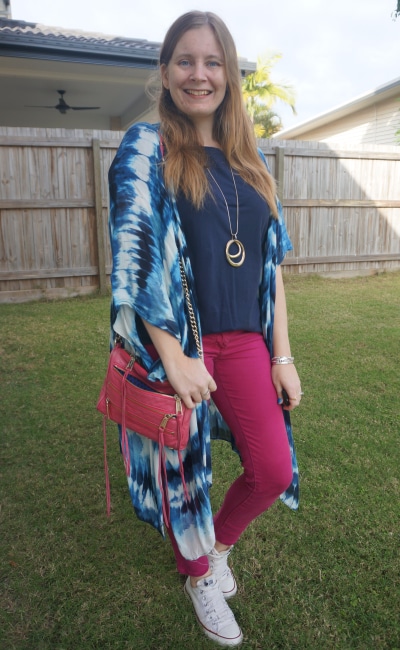 You are invited to the Inlinkz link party!