Plus, my dramatic results after 30 days of consistent at-home use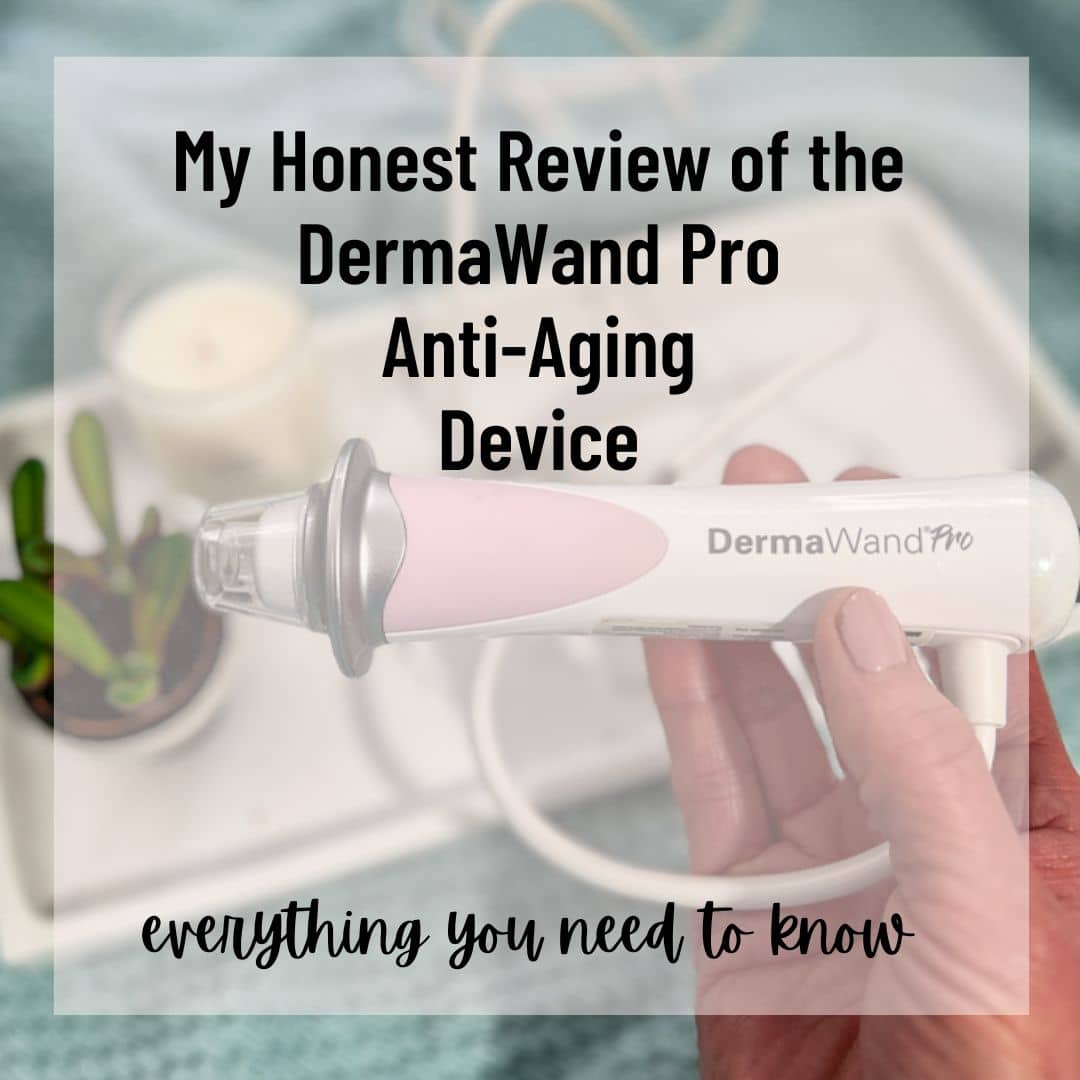 Skincare has always been an important part of my morning and evening routines, especially now that I'm in my 50s. While I'm blessed with my parent's youthful genes, I'm starting to see dull, sagging skin and those pesky fine lines and wrinkles. Having a weekly or monthly facial at the salon would be a dream, but that is out of reach budget-wise. The good news is that the advances in skincare keep improving with new creams, peels, and gadgets on the market. Today I'm excited to share the DermaWand Pro device with you. Keep reading for my DermaWand Pro reviews and how easy it is to help combat those visible signs of aging. 
My Honest Review of the DermaWand Pro
What is Microcurrent
DermaWand Pro is a microcurrent device so before we get to my DermaWand Pro reviews, let's discuss what microcurrent is. Used medically for years, microcurrent was initially used to treat muscle paralysis and is now used in skincare as an alternative to surgical facelifts and treatments like Botox. Did you know that our bodies are made up of natural electrical charges? This natural current gradually breaks down as we age, causing our skin to dull, sag, and wrinkle. High-frequency microcurrents have been known to tone, tighten and lift the skin with immediate and long-lasting results by recharging the skin at its surface.
Microcurrent Facial
Using thermal radio frequency technology with gentle stimulation, microcurrent facials can help lift and tighten the facial muscles and stimulate collagen, helping your skin look smoother and brighter. Also called a non-invasive facelift, microcurrent devices are painless and gentle on your skin. You can get these treatments in the spa, but they can be expensive and require multiple visits. The price of a spa microcurrent treatment is generally $250-$800 per session. This is where the device comes in. Keep reading for my DermaWand Pro review. 
What is DermaWand
DermaWand Pro is an anti-aging device that promises to reduce the appearance of fine lines and wrinkles, tone and tighten saggy skin, and reduce puffiness in the eyes and cheeks. The DermaWand Pro uses the same clinically proven radio frequency technology as high-end medical spas (without the hefty price tag) by sending microcurrent impulses to the skin. The action produces instant stimulation, enriched oxygen, and thermal energy.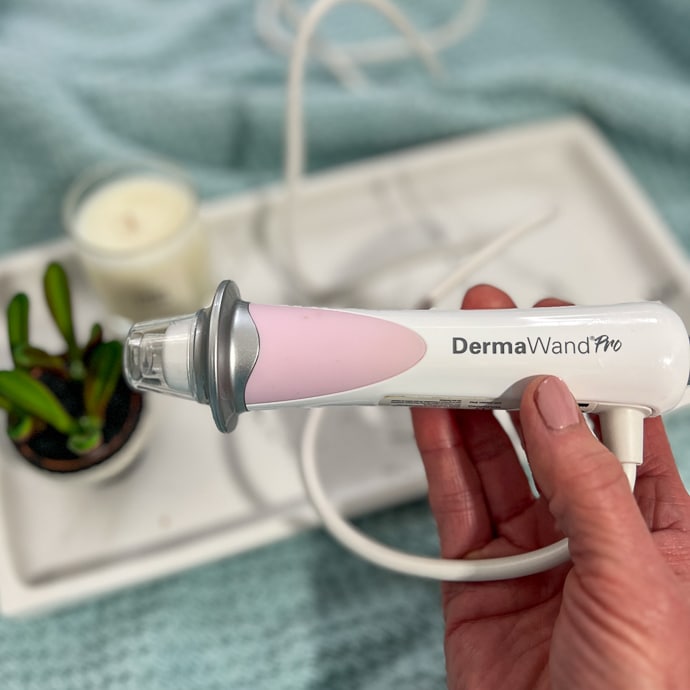 Gentle microcurrent delivers thermal energy just below the skin's surface to increase the natural temperature of the dermal layers to produce a healthier, more vibrant complexion. Oxygen is needed for tissue repair, and the microcurrent impulses gently massage the skin, and the massaging effect increases circulation, bringing fresh blood and oxygen to the skin's surface.
Essentially, the microcurrent facial gives your face and neck muscles a workout by toning the muscles and boosting cellular activity. The key is using the device consistently. The DermaWand device is incredibly easy and pain-free to use. And you have the luxury of treating your skin in your own home. 
How to Use DermaWand
Like with any device, reading and following the accompanying instructions before you start your microcurrent facial is essential. They're easy to follow and include helpful images. After cleansing my skin, I apply either the DermaWand Preface Treatment or a rich moisturizer. You want the device to glide over your skin to minimize irritation and redness. This also helps reduce the tingly sensation from the microcurrent.
The device has settings from 1 – 10. Set the dial on the device on a low setting to start and build up to the maximum. Sweep the device across your entire face with light pressure for 3 minutes. When the device touches your skin, you will feel an initial zap of electricity; it feels tingly and warm but not painful.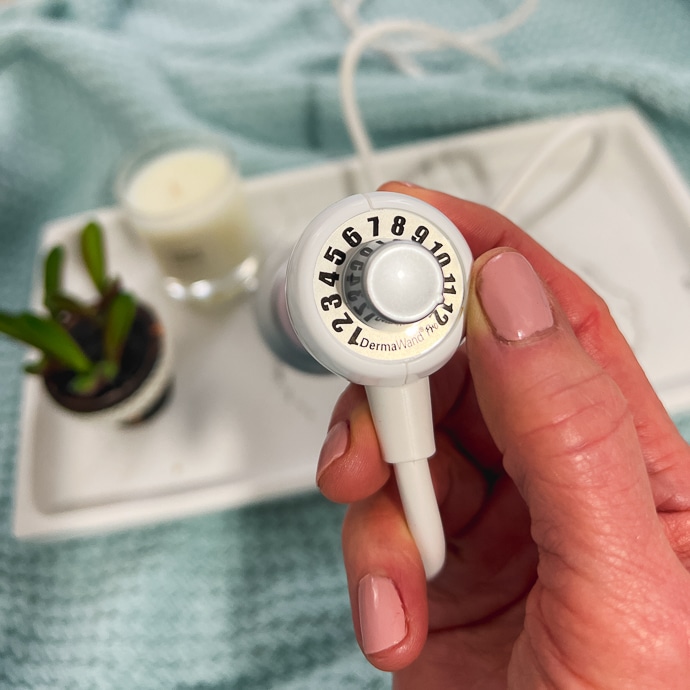 DermaWand Pro Eye Lift
When the DermaWand 3-minute routine is finished, I spend another few minutes focusing on specific facial exercises for my eyelids. I have hooded eyes, and the skin above them is starting to sag. The skin around your eye area is delicate and thinner than the rest of your face, so you want to set the dial to a lower setting. You'll also want to apply a hydrating eye cream. Then, following the orbital bone of your eye, apply light pressure lifting up as you glide toward your brow and hold for 5 seconds. Repeat across the entire brow and repeat on the other side.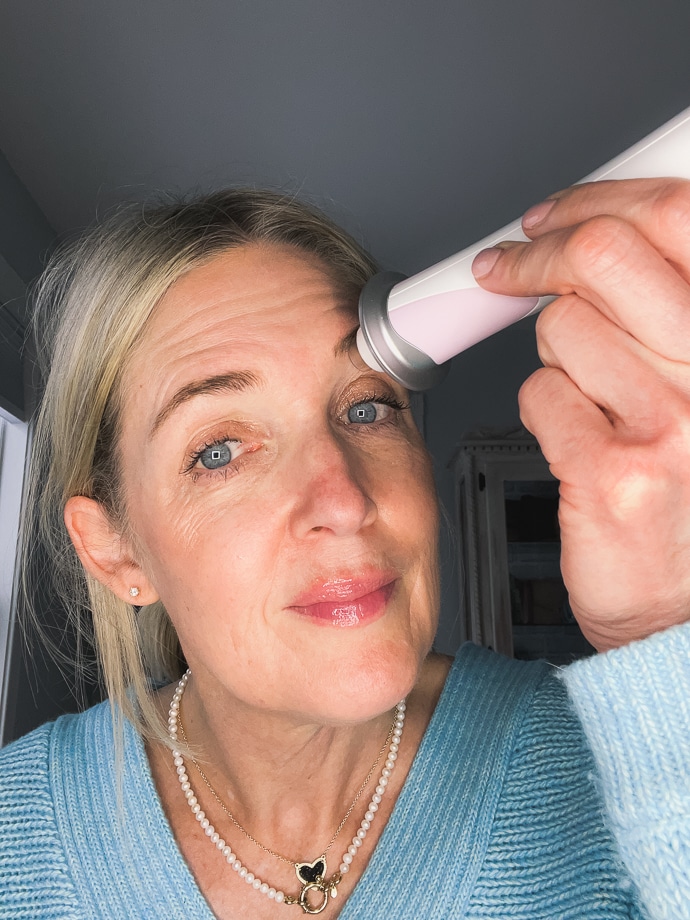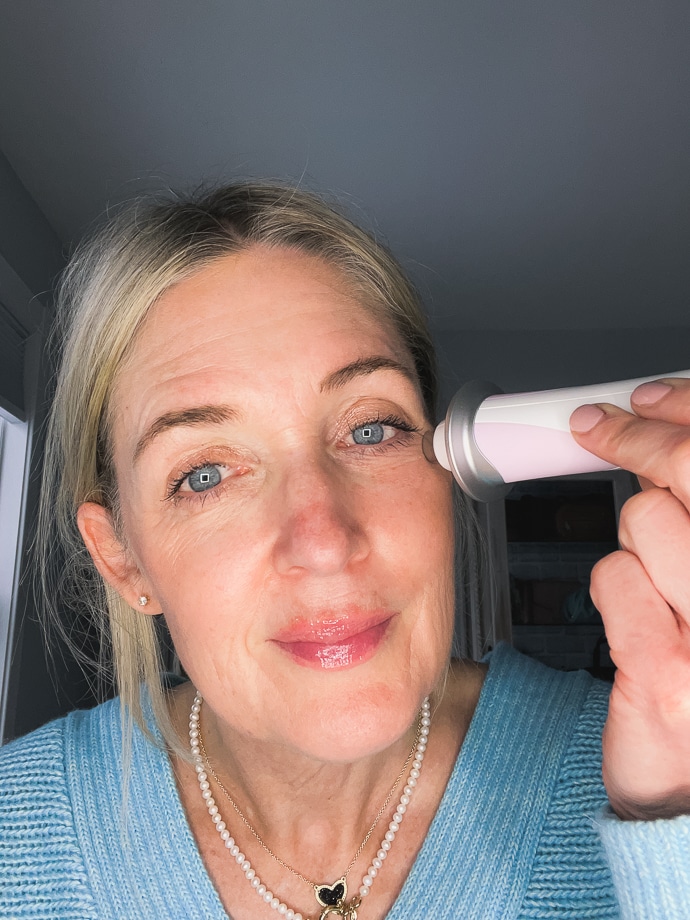 Once you're done with the treatment, you can remove the gel and follow up with your usual skincare.
DermaWand Video Before and After
I used the DermaWand device for 30 days and took a daily photo to monitor my results. While I treated my entire face twice daily, my main goal was to reduce the sagging skin on my eyelids. After a few weeks, I saw the skin in this area appear smoother, tighter, and more lifted. After 30 days, I'm pleased with the results. The crow's feet around my eyes are less noticeable, and the skin around my neck is also tighter.
Final Thoughts on the DermaWand Pro Device
If you want a more lifted and sculpted face, the DermaWand Pro device has enticing benefits. But you have to commit to using it consistently to see continued results. The additional 3 – 5 minutes is not a dealbreaker for me, and it's been easy to incorporate into my skincare routine. The device is small, so it doesn't take up much packing space when you travel. I plan on continuing to use DermaWand Pro in my daily routine because I saw such excellent results in the first 30 days!
If you want to try the DermaWand Pro, click here and use my code DIP30 for 30% off. Feel free to email me with questions about my experience with the device.
I hope my DermaWand Pro review is helpful. Have you tried the device? Let me know in the comments!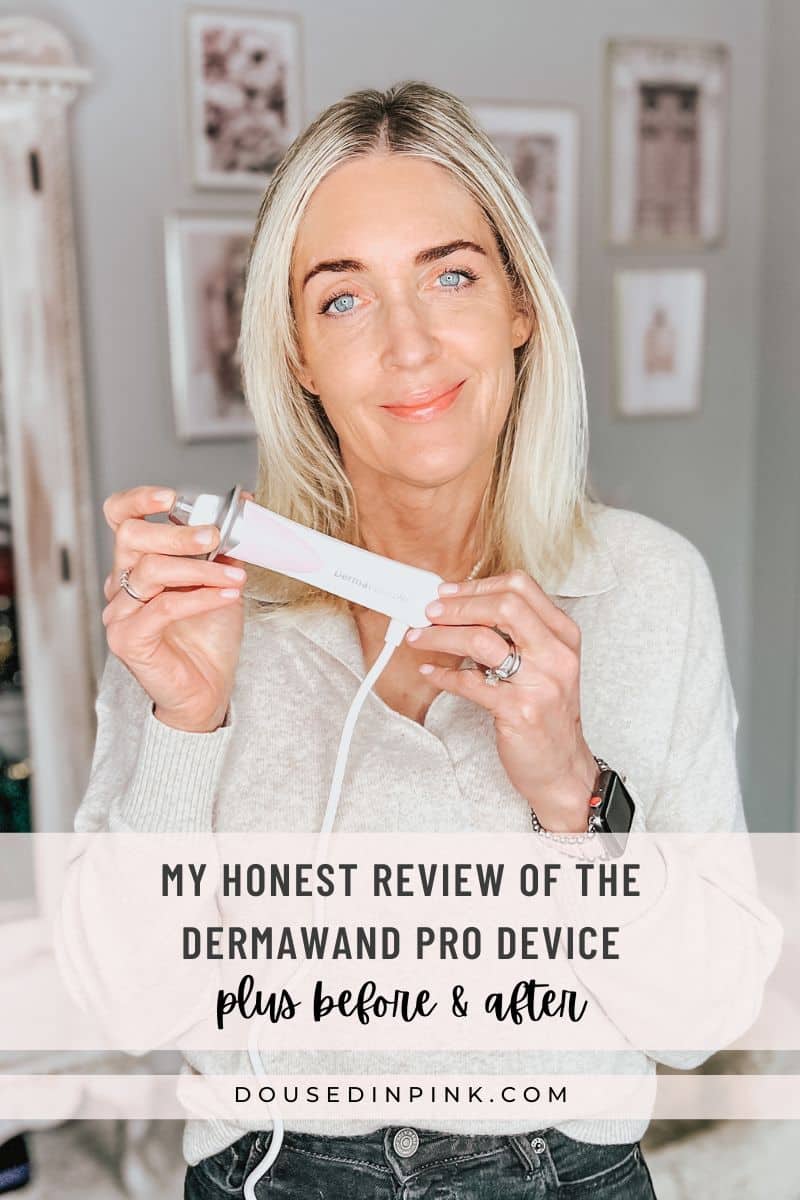 Thank you for reading!
Also see: Elina Organics Spa Chicago and Bakuchiol: The Natural Retinol Alternative
Linking up here and Between Naps on the Porch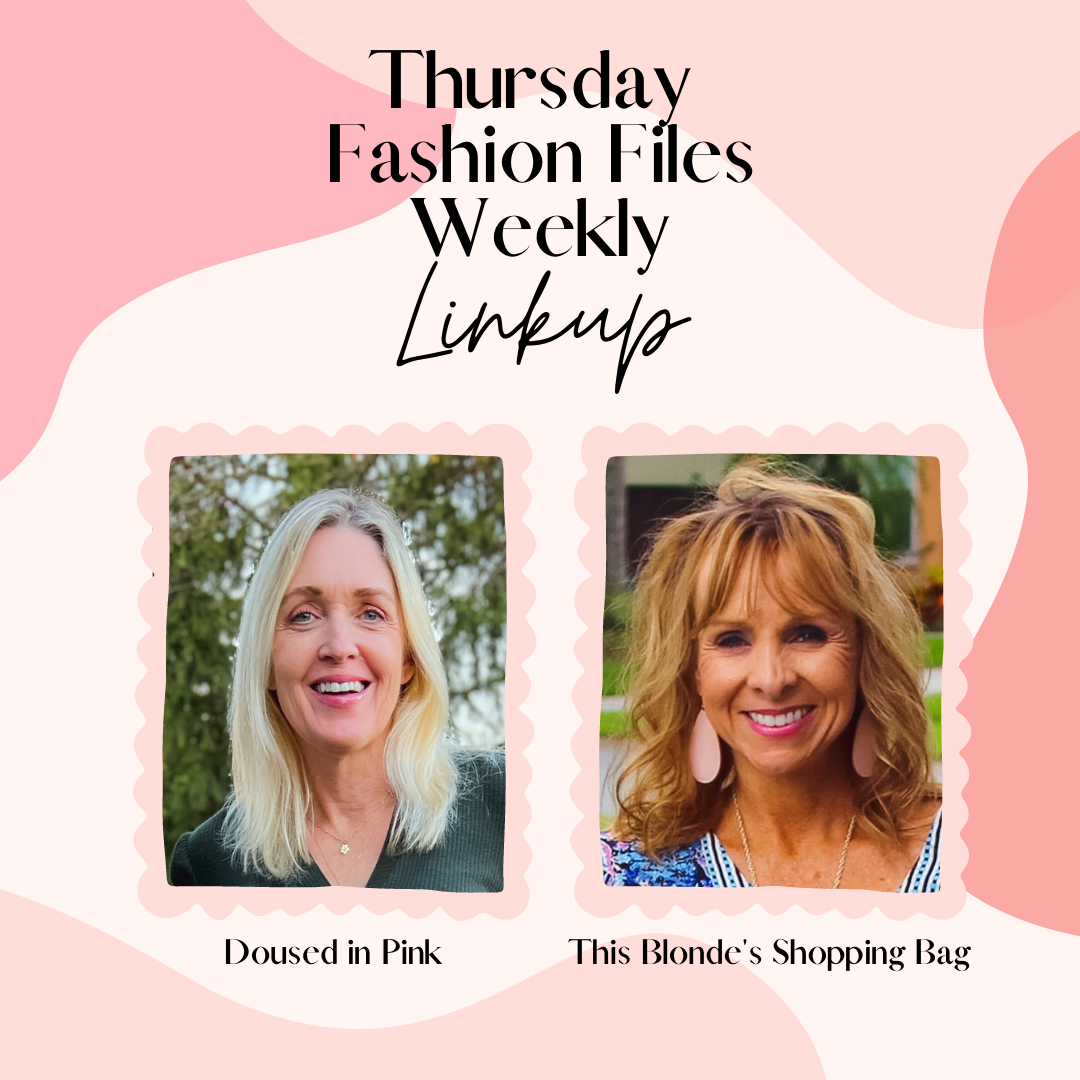 Welcome to Thursday Fashion Files! Kellyann and I are excited to have you here. We'd love to have you link up one of your latest outfits with us at the bottom of this post. Don't forget to check out our Thursday Fashion Files Pinterest board and email me at hello@dousedinpink.com if you'd like to contribute to the board!
Thursday Fashion Files Linkup Guidelines
1 – Follow Jill: Bloglovin', Facebook, Instagram, Pinterest, Feedly, LIKEtoKNOW.it
2 – Follow Kellyann: Bloglovin', Facebook, Instagram, Pinterest, LIKEtoKNOW.it
3. Help spread the word and share our linkup with your community.
4. **By adding your links, you state that you have the proper licensing/rights to the images in your blog posts.**
Featured Blogger
Shelly from The Queen In Between is this week's featured blogger. I loved her gorgeous white eyelet dress for spring.