If you're looking for more ways to style boots for winter, I have just the outfits for you! I'm sharing 15 looks wearing different styles of boots. Women often struggle with putting together outfits in the winter, especially with footwear. There are almost too many accessories and layers to choose from and figure out how to style together! That's why this post will give you a better idea of how to style your next winter outfit.
How to Style Boots for Winter
Outfit #1: Poncho, Leggings, Chelsea Boots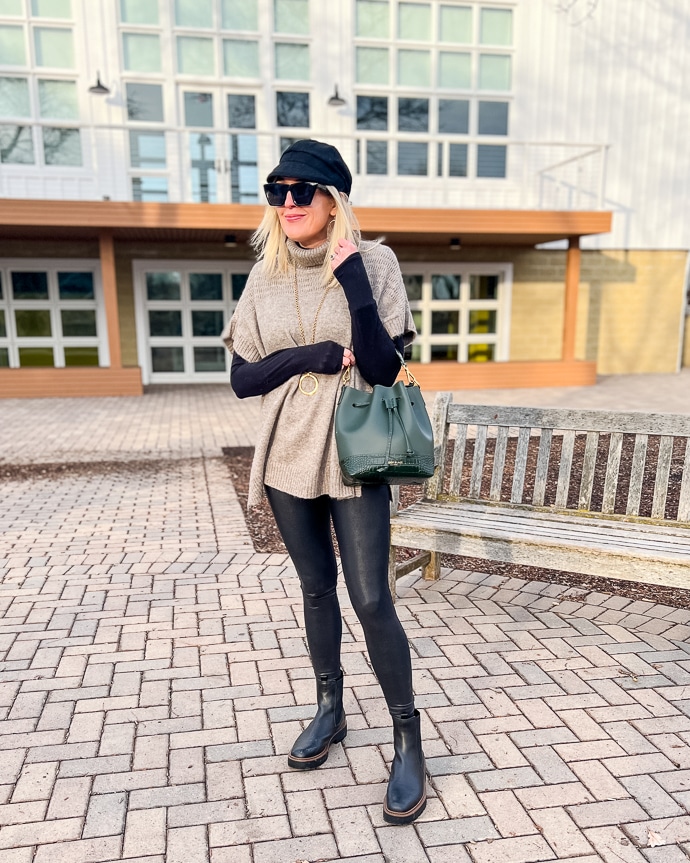 Here are a casual poncho and leather leggings look. I accessorized this outfit with chic black sunglasses and a stylish black hat. My boots of choice for this look are black leather booties. These boots are one of the pairs I wear the most because they are versatile for almost any elevated casual winter look!
Outfit #2: Neutral Sweater, Printed Scarf, Jeans, Tall Boots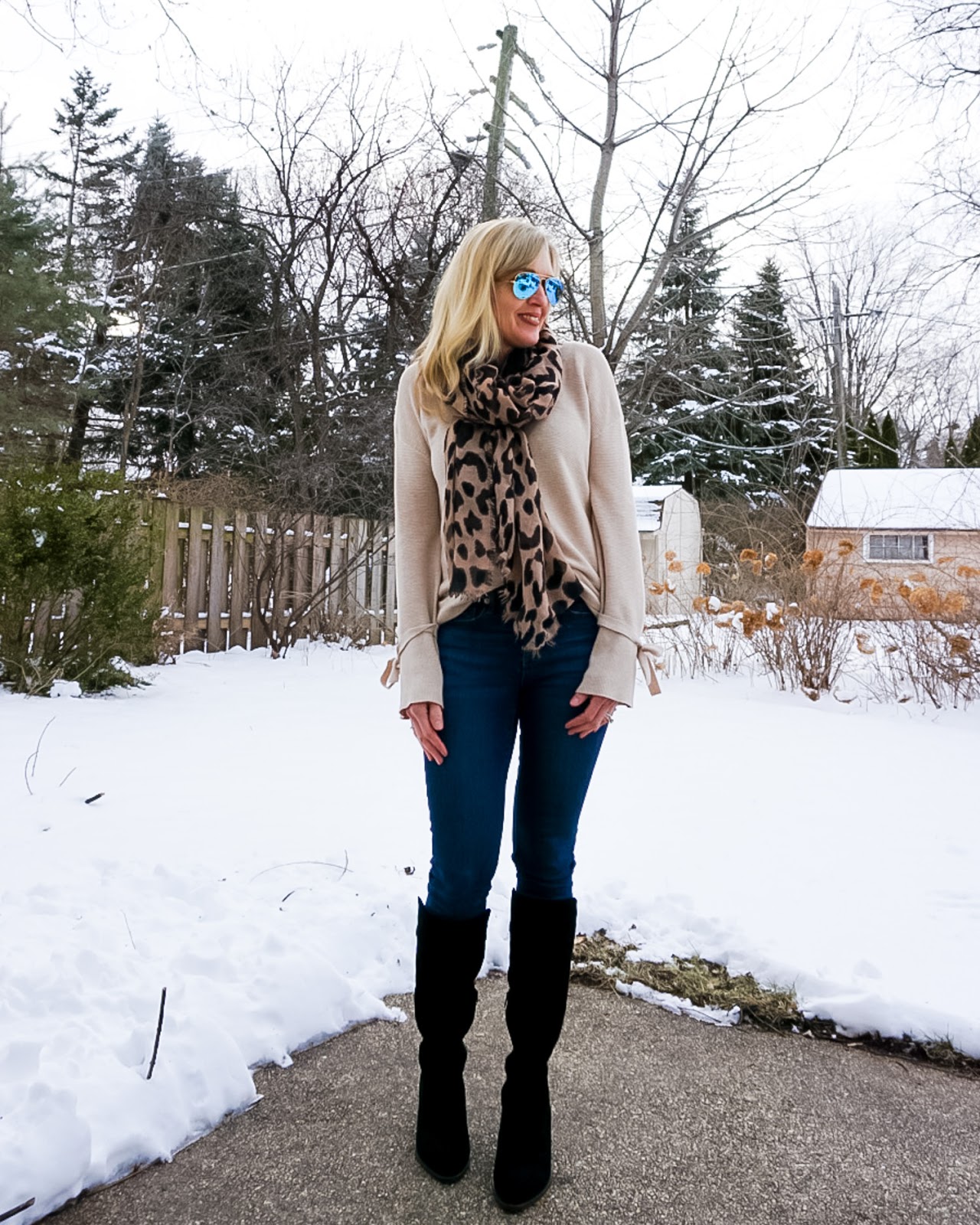 This look is definitely one of my favorites. I adore these black suede knee-high boots! As seen above, they look great with jeans but also work with a dress/skirt for a winter date night outfit. For this look, I paired the boots with deep blue skinny jeans, a loose-fitting neutral sweater and added a fun pattern pop with the cheetah print scarf. Scarves are another one of my favorite accessories during the winter that help dress an outfit up or down!
Outfit #3: Teddy Coat, Camo Leggings, Duck Boots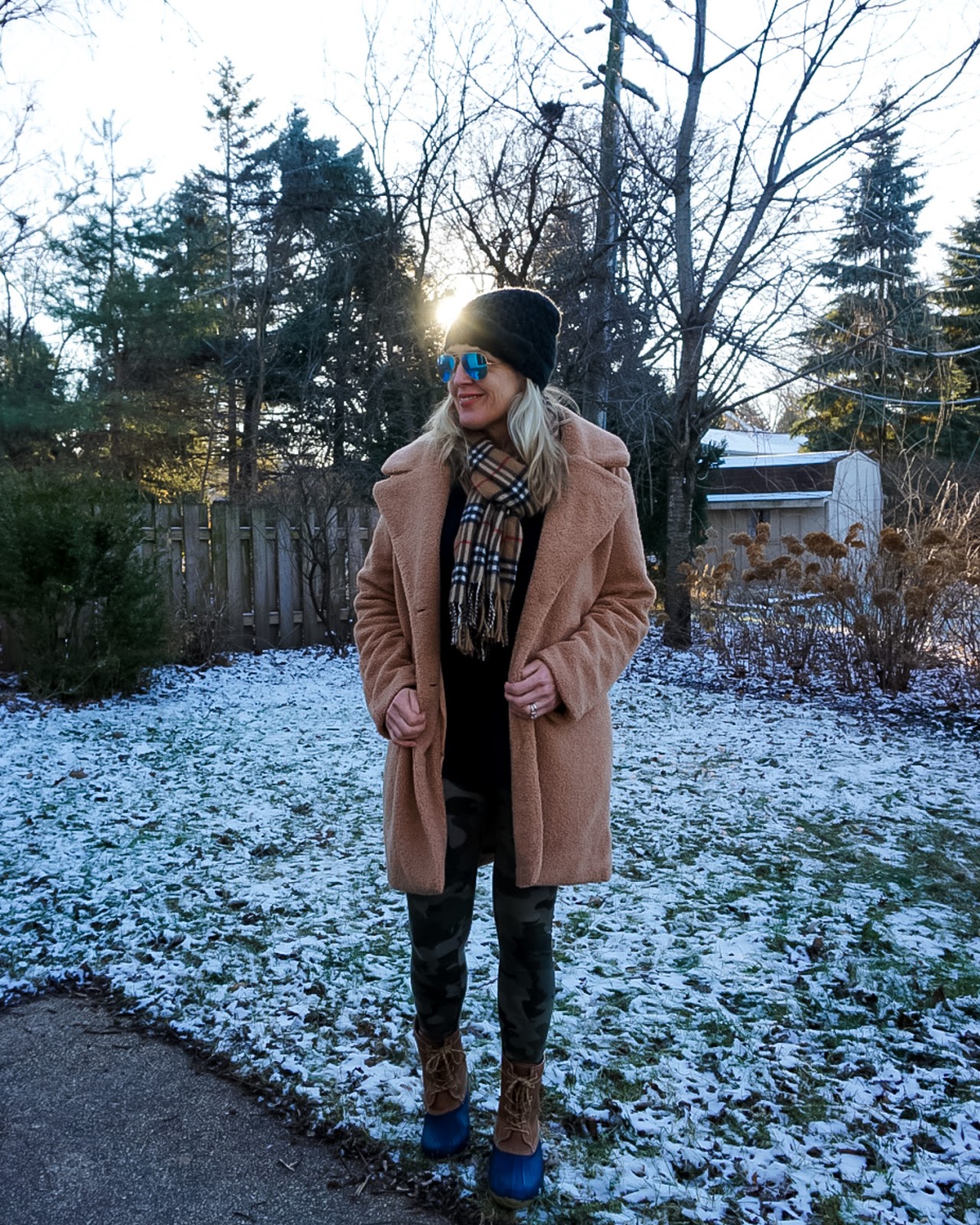 Although I love the snow winter brings, I do not love the possibility of ruining dressier boots or having wet socks! Not only are these staple duck boots fashionable, but they are also waterproof, which make them a lifesaver during the winter. In this look, I paired the boots with camouflage leggings, a plain black sweater, a Burberry scarf, and a beige coat that I live in all winter because of how warm it is!
Outfit #4: Neutral Sweater, Printed Skirt, Combat Boots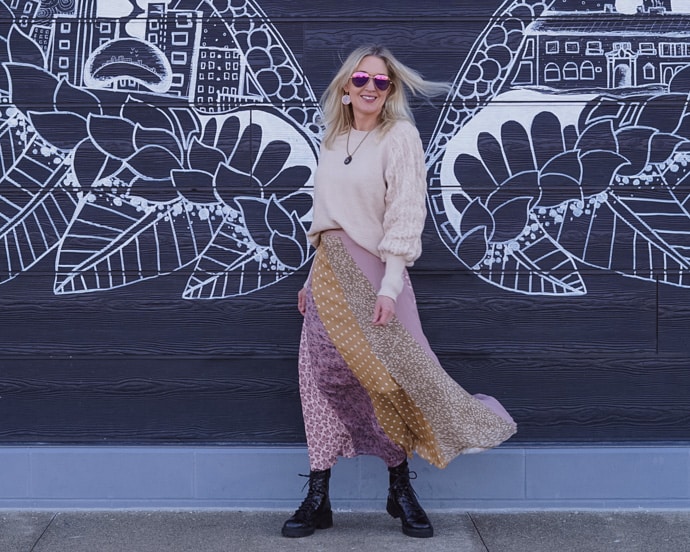 I went for an edgy-meets-girly feel for this outfit. A classic pair of black combat boots style well with a neutral sweater, leggings for warmth, and a flowy midi skirt. This skirt adds the perfect pop of color to jazz the look up. I accessorized with pink-tinted sunglasses, a long pendant necklace, and pink earrings to tie the outfit together!
Outfit #5: Utility Jacket, Chambray Button-Up, Denim, Ankle Booties
Tan ankle booties are a winter footwear staple. In this look, I styled them with black leggings, a chambray button-up shirt, and an army green jacket. This is the perfect look for any casual winter plans when you want to be comfortable and styled well!
Outfit #6: Oversized Sweater, Leggings, Sherpa Booties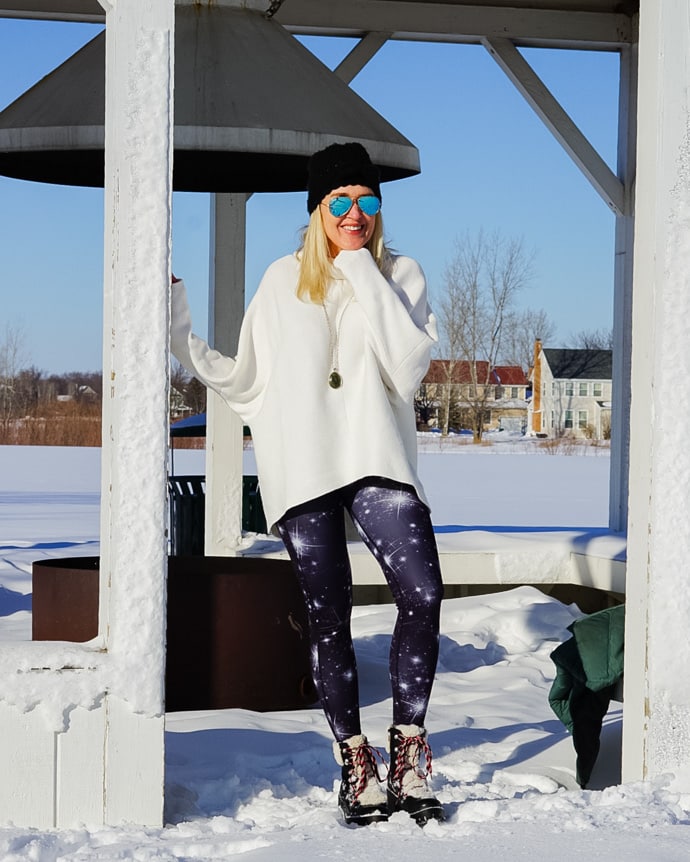 These boots are another one of my top picks – especially for cold and snowy weather! Lace-up waterproof snow boots are practical and can be a great addition to any casual winter outfit. I'm a big fan of patterned / printed leggings like the pair I'm wearing above. All you need to complete the look is a neutral, basic sweater or sweatshirt, snow boots, a knit beanie, and minimal accessories to get this look!
Outfit #7: Turtleneck, Belted Poncho, Mini Skirt, Tall Boots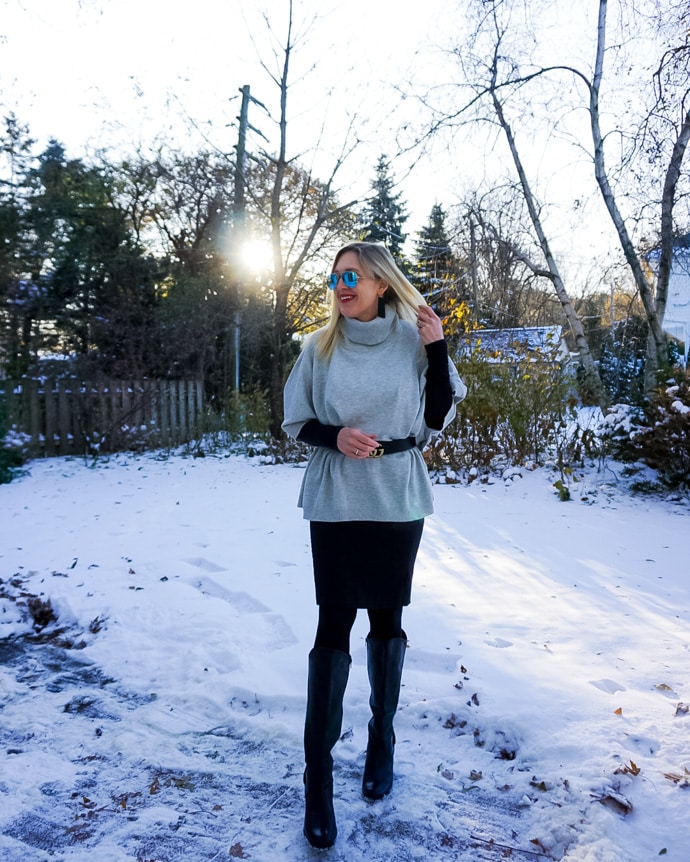 As you saw in another outfit above, skirts are not off-limits when you style boots for winter! With a pair of knee-high boots and black leggings, you can pull off a midi skirt – even in the snow. I styled the skirt and boots with a grey turtleneck poncho sweater, a black sweater underneath, and a belt to cinch the waist!
Outfit #8: Chambray Button-Up, Printed Joggers, Combat Boots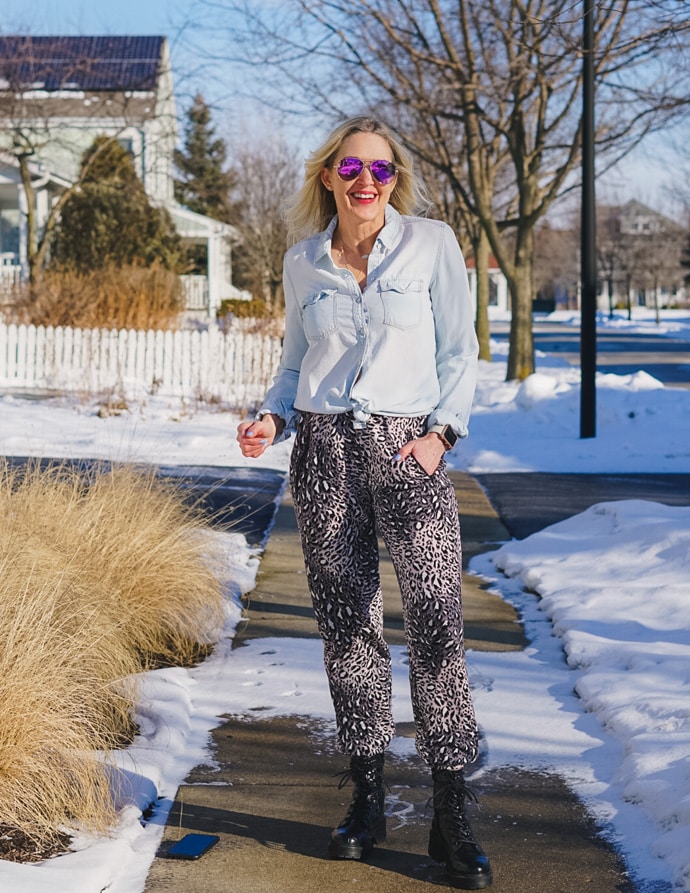 Here is another black combat boot outfit idea! Not only am I a fan of patterned leggings, but pants as well. These combat boots style so well with my animal print relaxed-fit pants! I'm wearing them with a chambray button-up shirt which I recommend tying in front to make it a little more cropped, fitted, and casual when worn with pants like these.
Outfit #9: Turtleneck Sweater, Pleated Skirt, Short Ankle Booties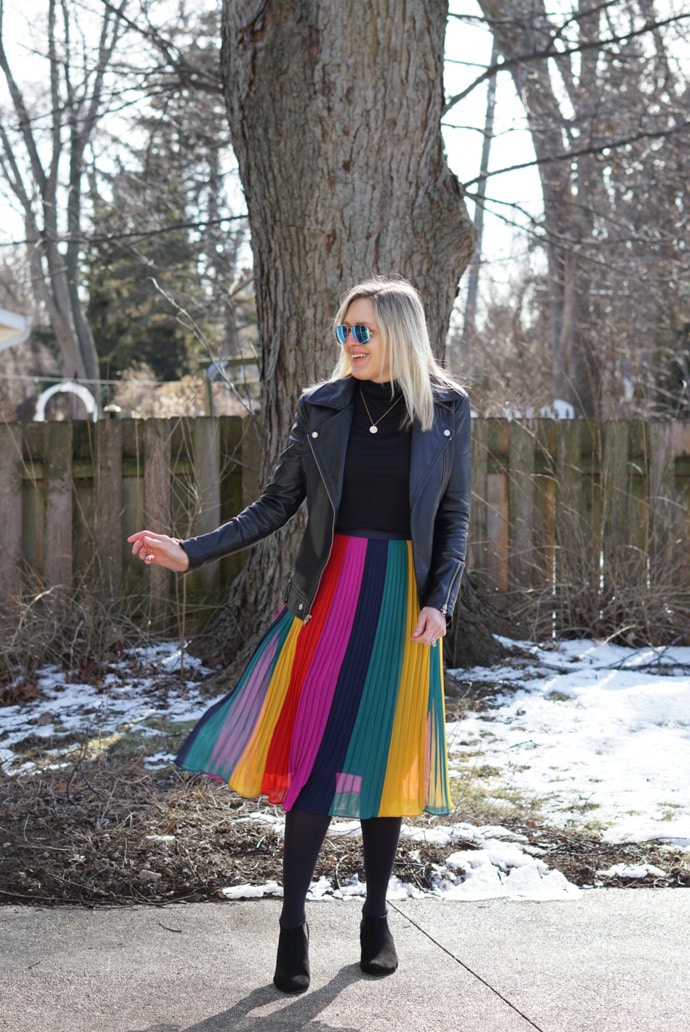 Remember, skirts are not off-limits in the winter! Layering outfit pieces is key to make this work. I am wearing a simple pair of black ankle booties with black tights for warmth, a black sweater, a leather jacket to add edginess, and a colorful pleated skirt to mix in a feminine touch!
Outfit #10: Dress, Cardigan, Blanket Scarf, Hunter Boots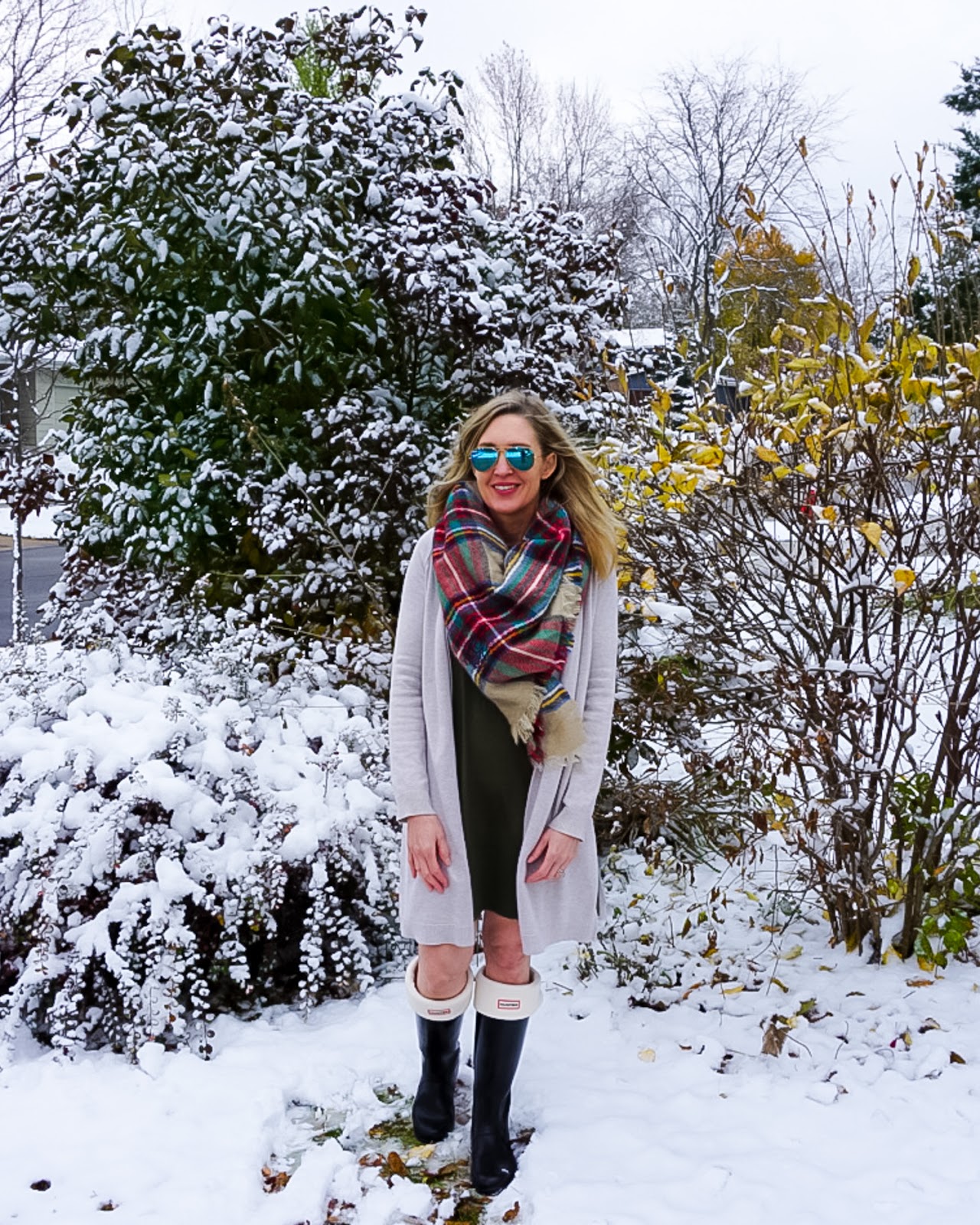 I absolutely love my Hunter boots and would recommend them to anyone who typically experiences super cold and snowy winters. The best part about styling these is that they are subtle enough to wear with a sweater dress and cardigan as seen above, while being practical enough to keep your feet warm and dry! Add a colorful, warm plaid scarf to this look and you're ready to go!
Outfit #11: Turtleneck Sweater, Slipdress, Combat Boots
Reminder: layering is your best friend in the winter! This snake print slip dress is super stylish and I loved wearing it in the warmer months. To style a dress like this for winter, add a pair of thermal leggings and a knit sweater underneath. Then, a pair of combat boots to complete the look! The layering method is great during the colder months because you will get more use out of any seasonal clothing.
Outfit #12: Sweater, White Denim, Tall Boots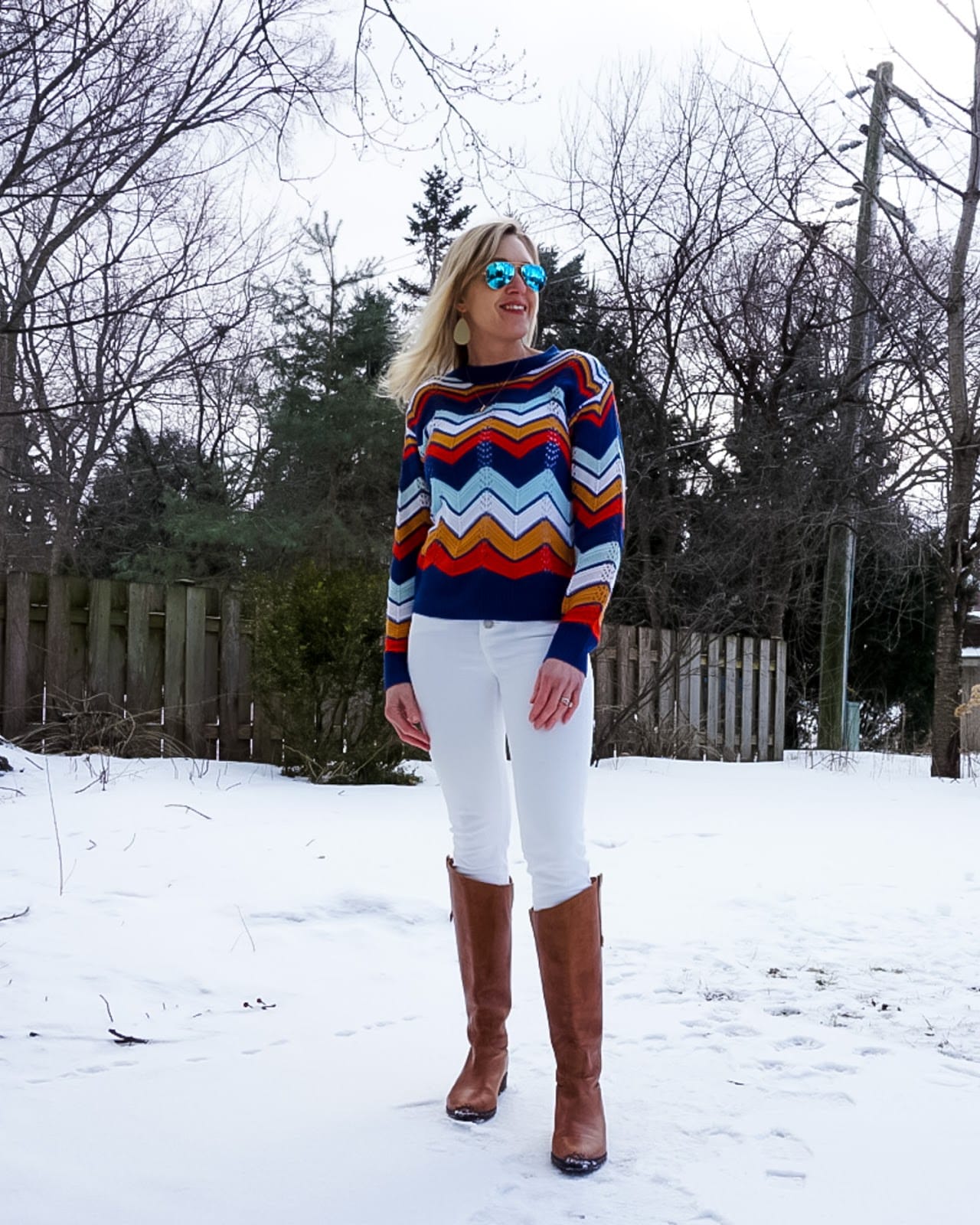 Here is another way to style boots for winter! This knee high cognac pair looks super preppy-chic with white jeans. I added a multi-colored sweater to add vibrance and a pair of teardrop earrings to dress the look up even more! This is an outfit you can wear from day to night.
Outfit #13: White Tee, Cropped Cardigan, Wide Leg Denim, Lug Sole Booties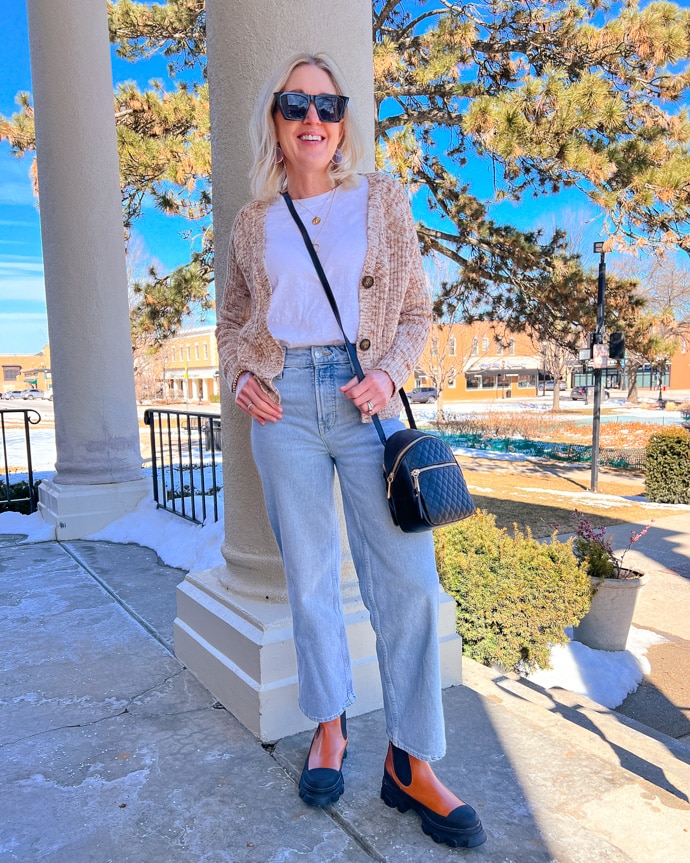 If you need a comfy casual outfit idea, this way to style boots is for you! I am wearing light wash mom jeans with chunky Chelsea boots, a short sleeve white tee, and a neutral cardigan. The cardigan is a layer you can remove when you need a spring transition look for that period between winter and spring when the weather gets tricky!
Outfit #14: Neutral Sweater, Cape, Denim, Tall Boots
Here is an easy everyday outfit I love. These suede knee high grey boots look great with a poncho in the same shade. I am wearing them with dark wash jeans and a cream sweater, which also ties in the cream teddy hat to this look!
Outfit #15: Blouse, Cropped Teddy Jacket, Distressed Denim, Tall Boots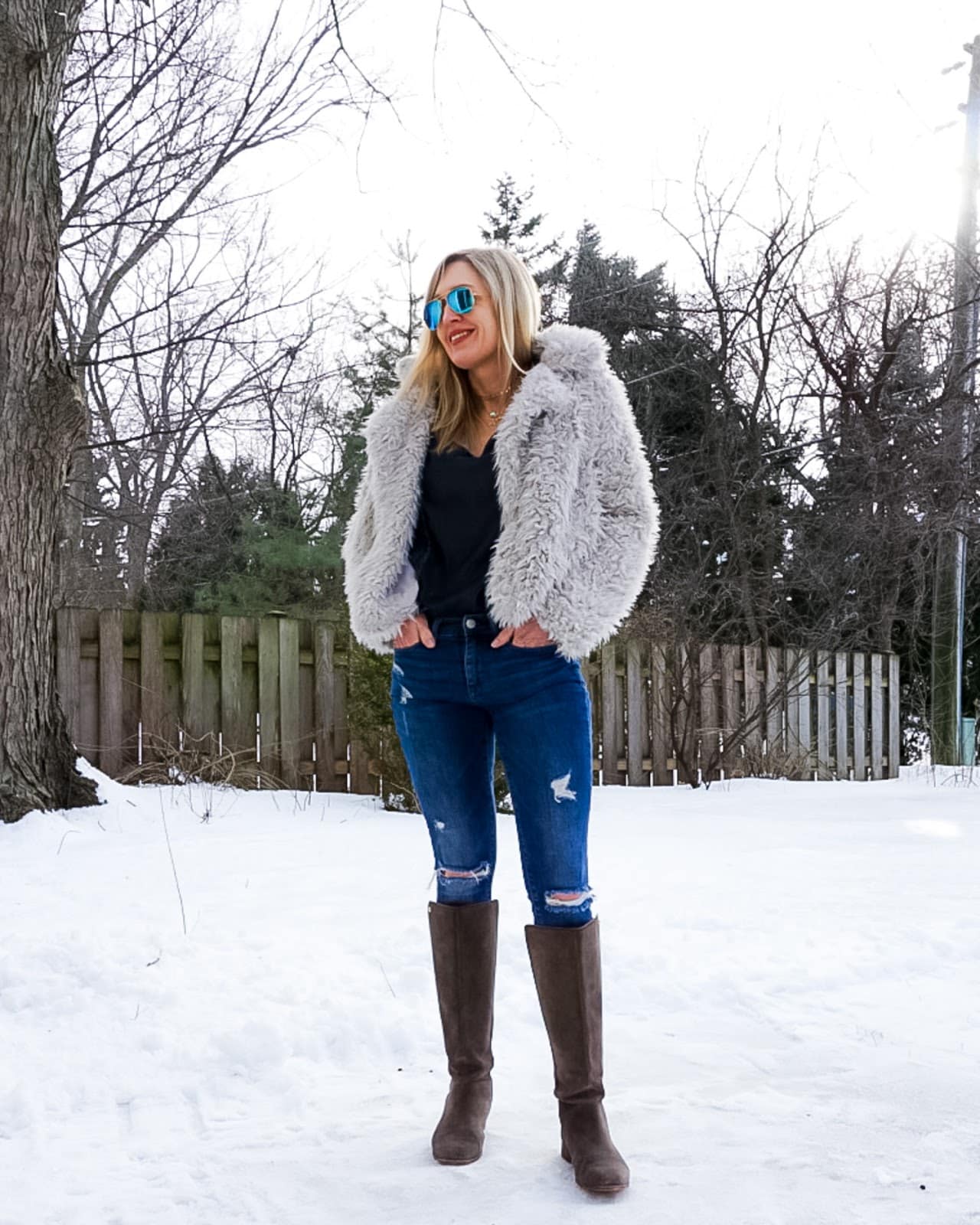 Last but not least, try styling knee-high boots with a pair of distressed jeans (you may already have them in your closet!) Then, all you'll need to finish the look is a plain sweater and statement coat! As you can see above, the fuzzy coat and knee-high boots help to elevate a basic look seamlessly!
I hoped these outfits helped to inspire more ways you can style boots with clothing pieces you already have in your closet (especially if you use the layering method!)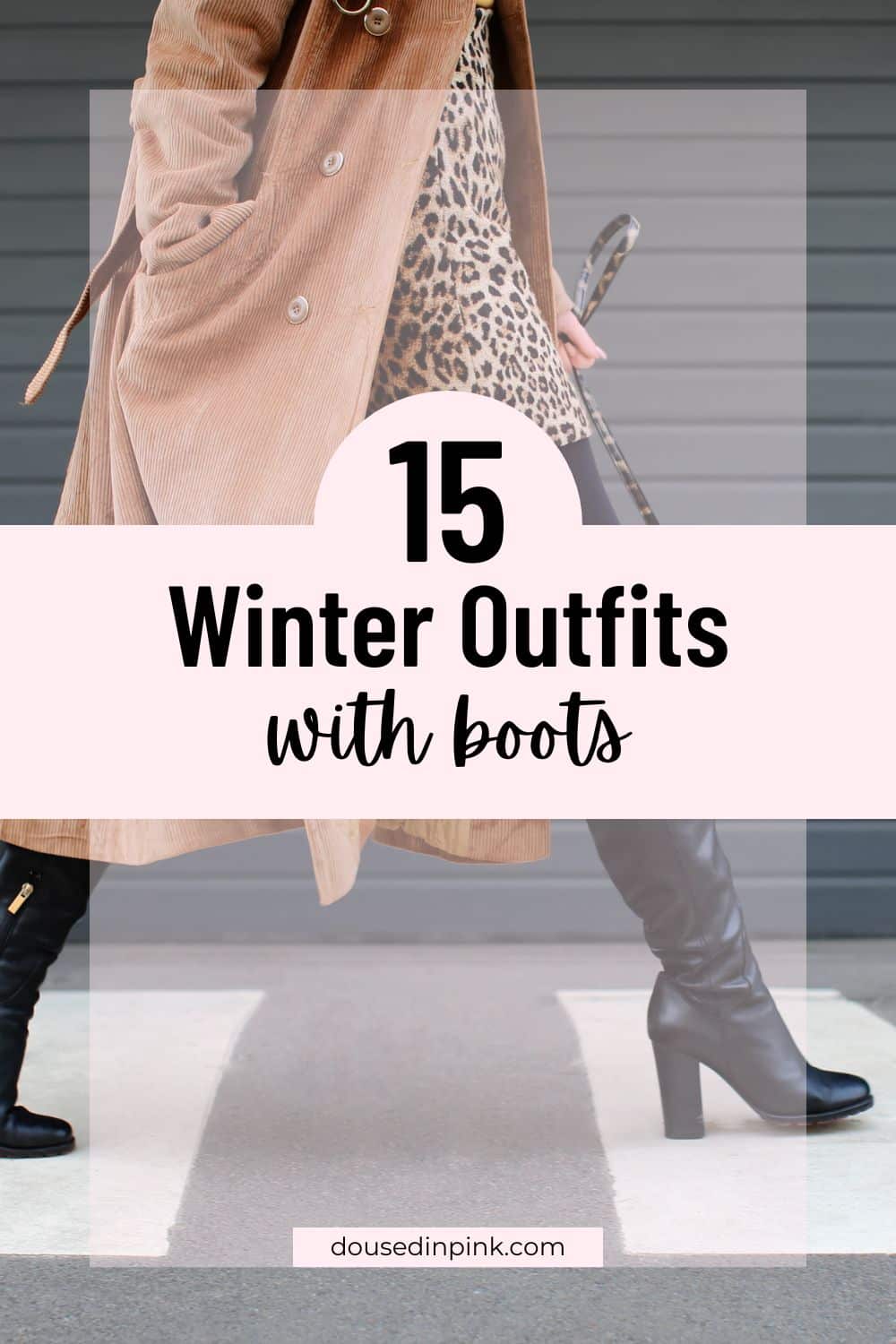 Shop Boots

---
For more outfit ideas, also see:
Winter Pastels and My Honest Chicwish Review + 10 Winter Outfits
If you liked this post, you can subscribe here or follow me on Feedly | Bloglovin | Instagram | Pinterest | Facebook
Thursday Fashion Files Linkup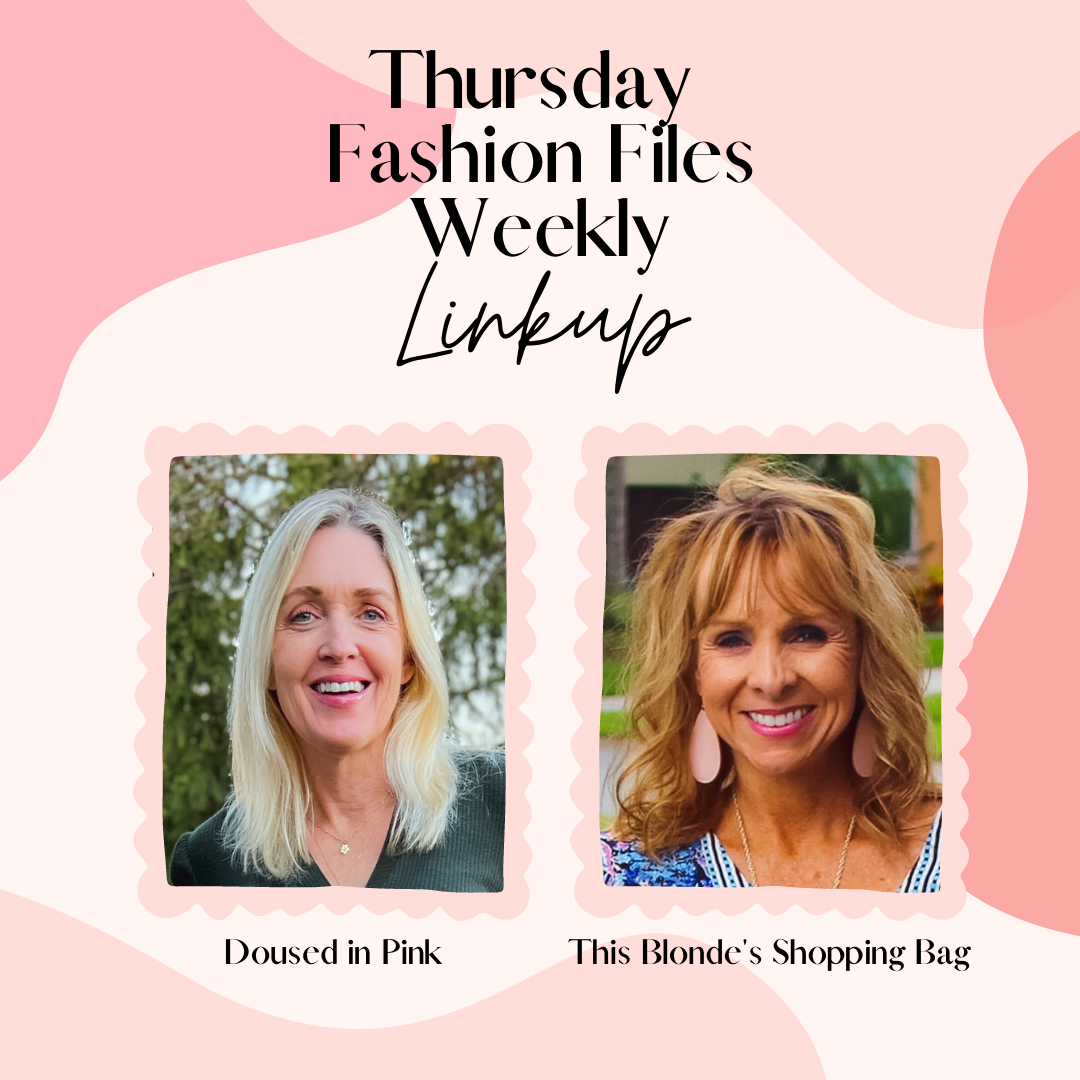 Welcome to Thursday Fashion Files! Kellyann and I are excited to have you here. We'd love to have you link up one of your latest outfits with us at the bottom of this post. Don't forget to check out our Thursday Fashion Files Pinterest board and email me at hello@dousedinpink.com if you'd like to contribute to the board!
Thursday Fashion Files Linkup Guidelines
1 – Follow Jill: Bloglovin', Facebook, Instagram, Pinterest, Feedly, LIKEtoKNOW.it
2 – Follow Kellyann: Bloglovin', Facebook, Instagram, Pinterest, LIKEtoKNOW.it
3. Help spread the word and share our linkup with your community.
4. **By adding your links, you state that you have the proper licensing/rights to the images in your blog posts.**
Featured Blogger
Marcia from Marcia in the Middle is this weeks featured blogger! I loved her post on how to find your style.