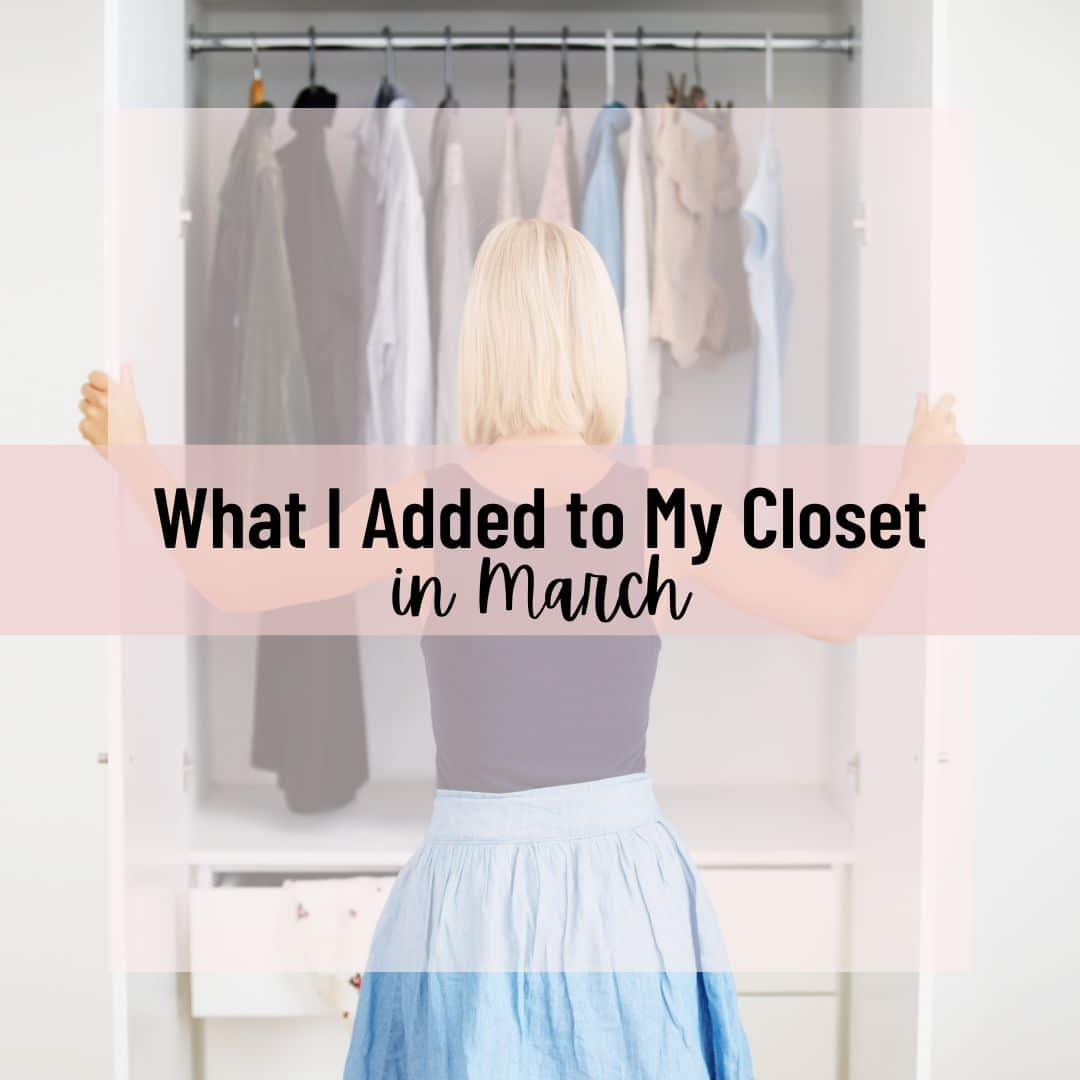 Happy Monday, Friends! Today I'm returning to my style budget series and sharing my March purchases. Instead of meeting a monthly budget, I have an annual amount that I subtract from each month. I have found this works better for me, and I have come out in the positive at the end of the year versus sometimes the negative every month. My clothing budget for 2023 is $1,800.
While I didn't share in January or February, those purchases are accounted for at the end of this post. Since breaking my foot in October, I've been wearing sneakers more than ever. In January, I picked up this pair for hiking in Hawaii and this pair for every day. I also bought a pair of casual wide-leg pants and a tank top when we were in Hawaii. In February, I found this military jacket for 75% off at TJ Maxx and bought this tortoiseshell necklace after seeing a similar necklace on someone on my team at work.
Keep scrolling to see what I added to my closet. I included shopping links and the post they were worn in as well.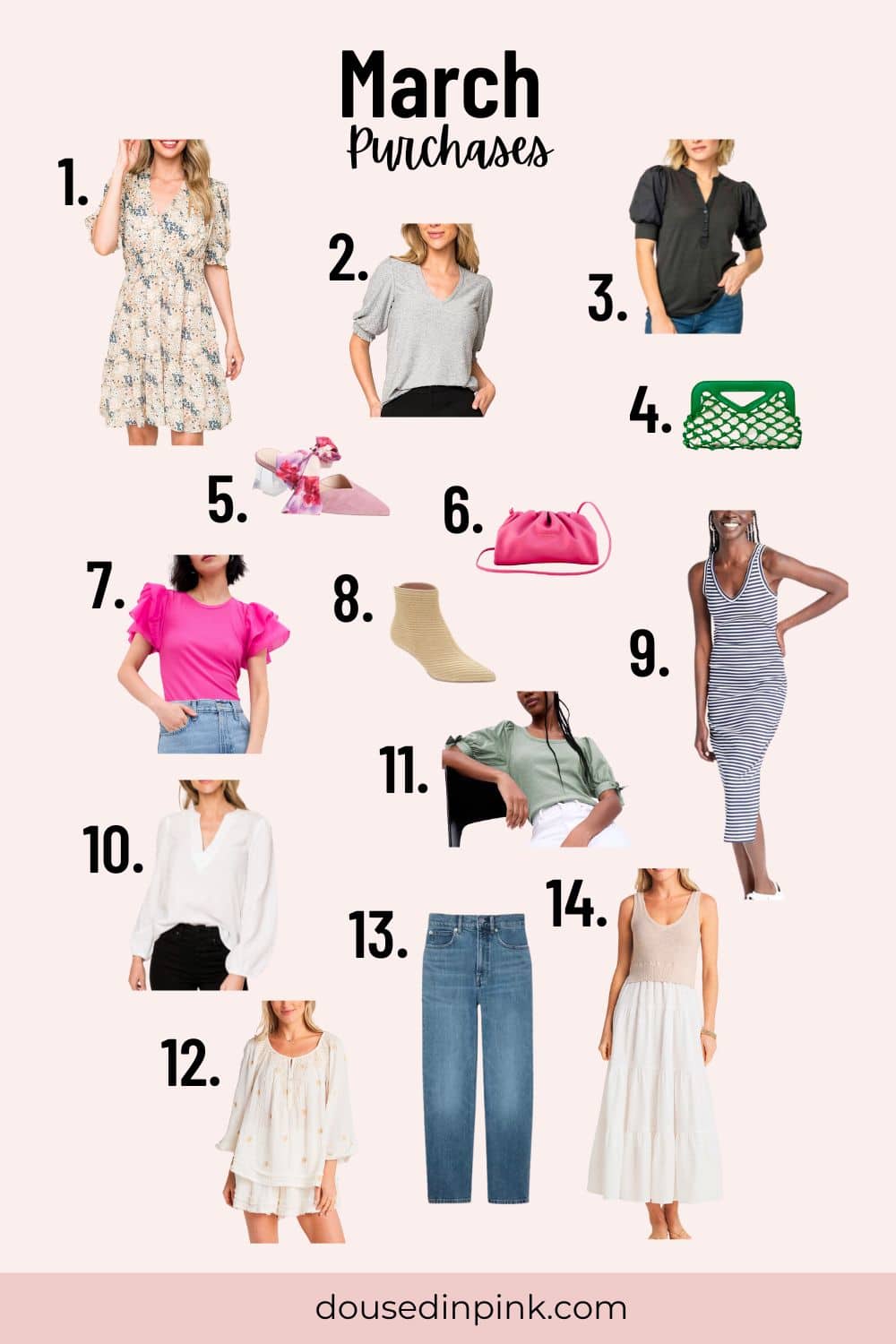 What I Added to My Closet in March
1 – V-Neck Ruffle Dress c/o Gibsonlook | worn here
2- Grey Clip Dot Puff Sleeve Top c/o Gibsonlook | worn here
3 – Black Puff Sleeve Henley Top c/o Gibsonlook | worn here
4 – Green Knotted Net Clutch $28.00| worn here
5 – Mauve Mules c/o Cecelia NY | worn here
6 – Pink Cloud Purse c/o Teddy Blake NY | worn here
7 – Pink Ruffle Sleeve Top $14.99| worn here
8 – Woven Ankle Bootie c/o Cecelia NY | worn here
9 – Striped Midi Dress $15.40
10 – White Gauze Top c/o Gibsonlook | worn here
11 – Straight Leg Denim $75
12 – Olive Puff Sleeve Top $14.99
13 – Free People Two-Piece Set c/o Social Threads | worn here
14 – Mixed Media Maxi Dress c/o Social Threads | worn here
January total: $175.26
February total: $62.47
March Total: $148.38
Remaining Balance: $1,413.89
Recap:
Short-sleeve tops were the one thing I was in need of, and I'm happy with my March purchases. I was fortunate to partner with some of my favorite brands, which have gifted me pieces to add to my wardrobe. And, if you've been following along for a while, I was thrilled to be asked back as a cabi Ambassador for the spring season. I received several cute items that I'll be sharing with you over the next few months.
With the weather warming up, I will be on the lookout for shorts and printed pants. What is on your spring wishlist?
Shop Everything Here:

Thank you for reading! How do you budget for your wardrobe? Let me know in the comments!
If you liked this post, you can subscribe here or follow me on Feedly | Bloglovin | Instagram | Pinterest | Facebook
Linking up with:
Away from the Blue  | Fine Whatever Blog | Between Naps on the Porch | I do de Claire | Elegantly Dressed and Stylish | {Walking in Memphis in High Heels & The Fashion Canvas} | The Style Splash | Straight A Style & Girl Meets Bow | Is This Mutton? | Curated by Jennifer | Mummabstylish | Shelbee On the Edge | Nancy's Fashion Style | Momfessionals | Marsha in the Middle | Sunday Showcase