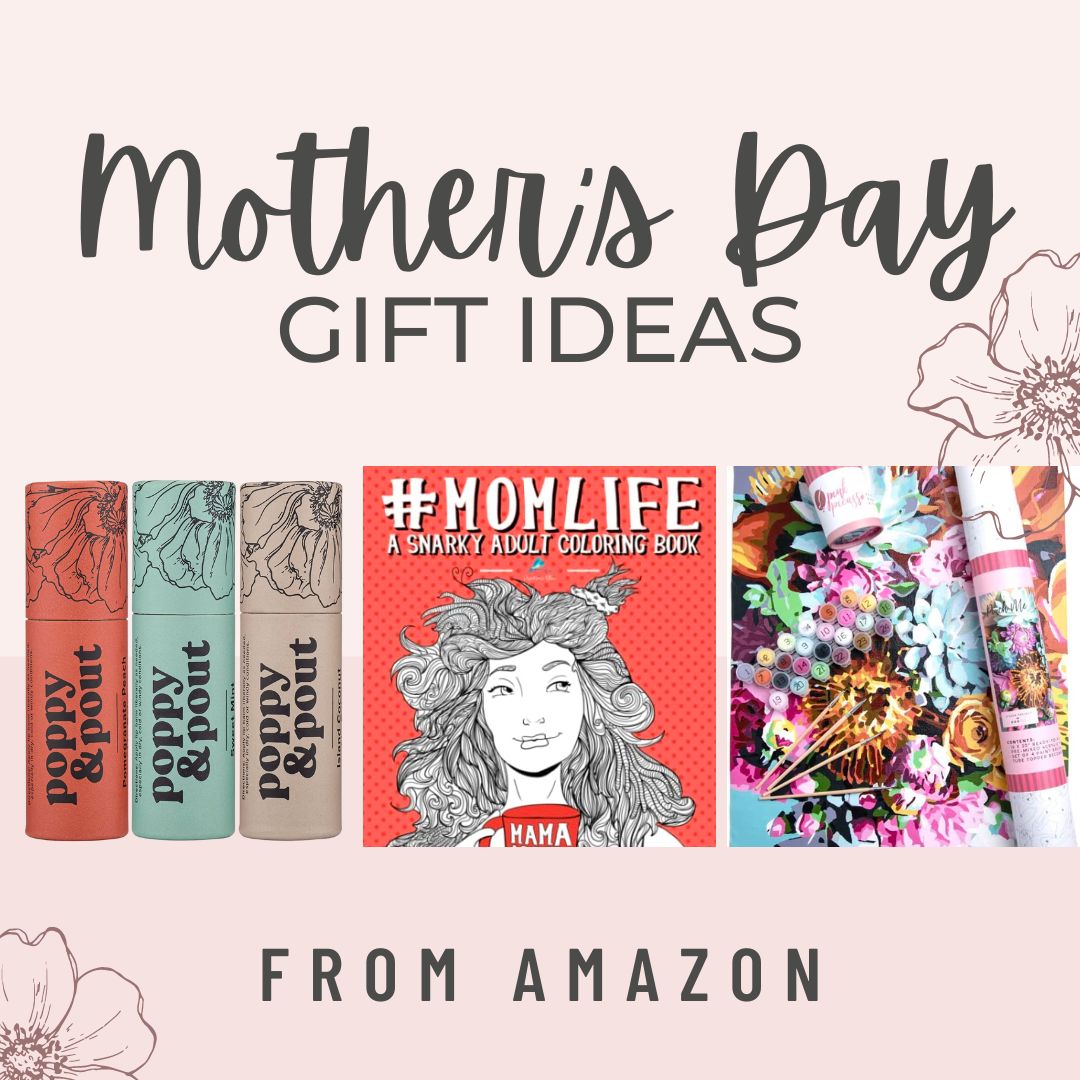 Happy Monday, Friends! Can you believe Mother's Day is a week away? I think we can all agree that no one deserves spoiling more than a mom. So, if you're like me and the day has snuck up on you, I've got you covered with my top Mother's Day gift ideas from Amazon. These unique gift ideas won't disappoint and will be sure to be loved by all of the special women in your life.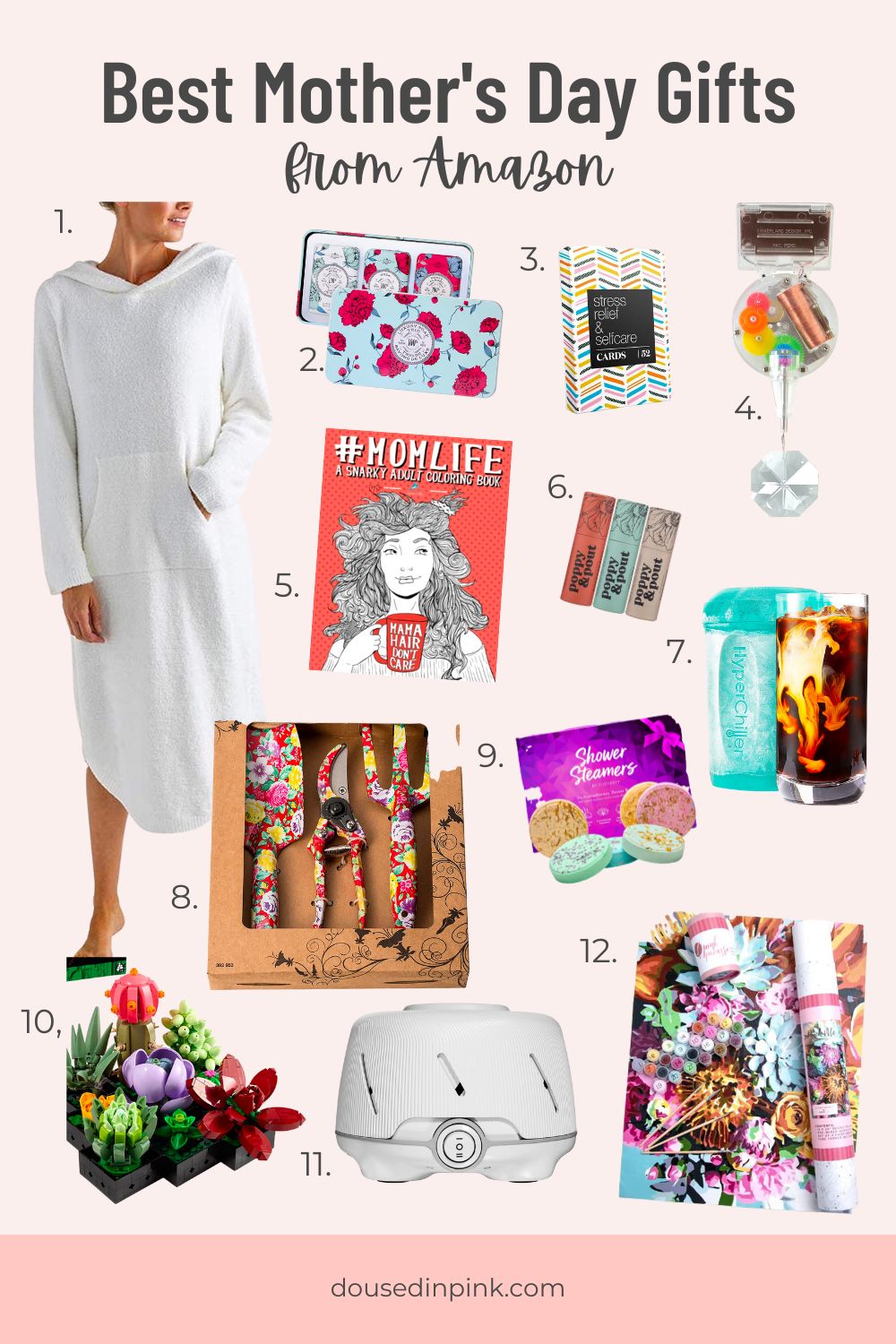 Best Mother's Day Gift Ideas
1 – This stylish hooded lounger would be calling my name after a long day. It wraps you in marshmallow-like softness practically from head to toe.
2 – These triple-milled soaps not only smell amazing but are crafted to create a luxurious lather and are hand-wrapped in the South of France.
3 – Grab one of the 52 Stress Relief and Self Care Cards in this deck for effective exercises for mindfulness, meditation, anxiety relief, stress management, self-care, and relaxation.
4 – How cool is this Solar Powered Rainbow Maker? It creates a rainbow effect in a room by rotating like a disco ball to refract sunlight and create rainbow patterns.
5 – Mom can celebrate the humor and frustration that are the highs and lows of motherhood by relaxing for a few minutes coloring this fun Mom Life: A Snarky Adult Coloring Book.
6 – Poppy and Pout are one of my favorite lip balms. This 3-pack set made from natural ingredients and zero plastic features Sweet Mint, Island Coconut, and Pomegranate Peach.
7 – A gadget that takes a warm beverage and has it ice cold in one minute? Sign me up for this Hyper Chiller!
8 – Functional and pretty, this Gardening Tools Set includes a gardening hand trowel, cultivator (hand rake), and pruning shears.
9 – This six-pack of relaxing and refreshing Shower Steamers features the sublime scents of lavender, eucalyptus, vanilla, watermelon, grapefruit, and peppermint.
10 – If Mom doesn't have a green thumb, these darling Lego Succulents are a suitable replacement for the real thing.
11 – Help Mom drift off to sleep every night with this white noise machine. It relaxes you with the soothing ambient sounds of rushing air without the disturbance of actual moving air.
12 – Treat Mom to a new hobby with this Pink Picasso Kits Botanical Floral DIY Canvas Paint by Numbers for Adults.
Shop Mothers Day Gifts from Amazon:

Thank you for reading!
Also see: What to Do In Paris: The Ultimate Bucket List and Everything I've Bought on Amazon Lately
 If you liked this post, you can subscribe here or follow me on Feedly | Bloglovin | Instagram | Pinterest | Facebook
Linking up with:
Away from the Blue  | Fine Whatever Blog | Between Naps on the Porch | I do de Claire | Elegantly Dressed and Stylish | {Walking in Memphis in High Heels & The Fashion Canvas} | The Style Splash | Straight A Style & Girl Meets Bow | Is This Mutton? | Curated by Jennifer | Mummabstylish | Shelbee On the Edge | Nancy's Fashion Style | Momfessionals | Marsha in the Middle | Sunday Showcase