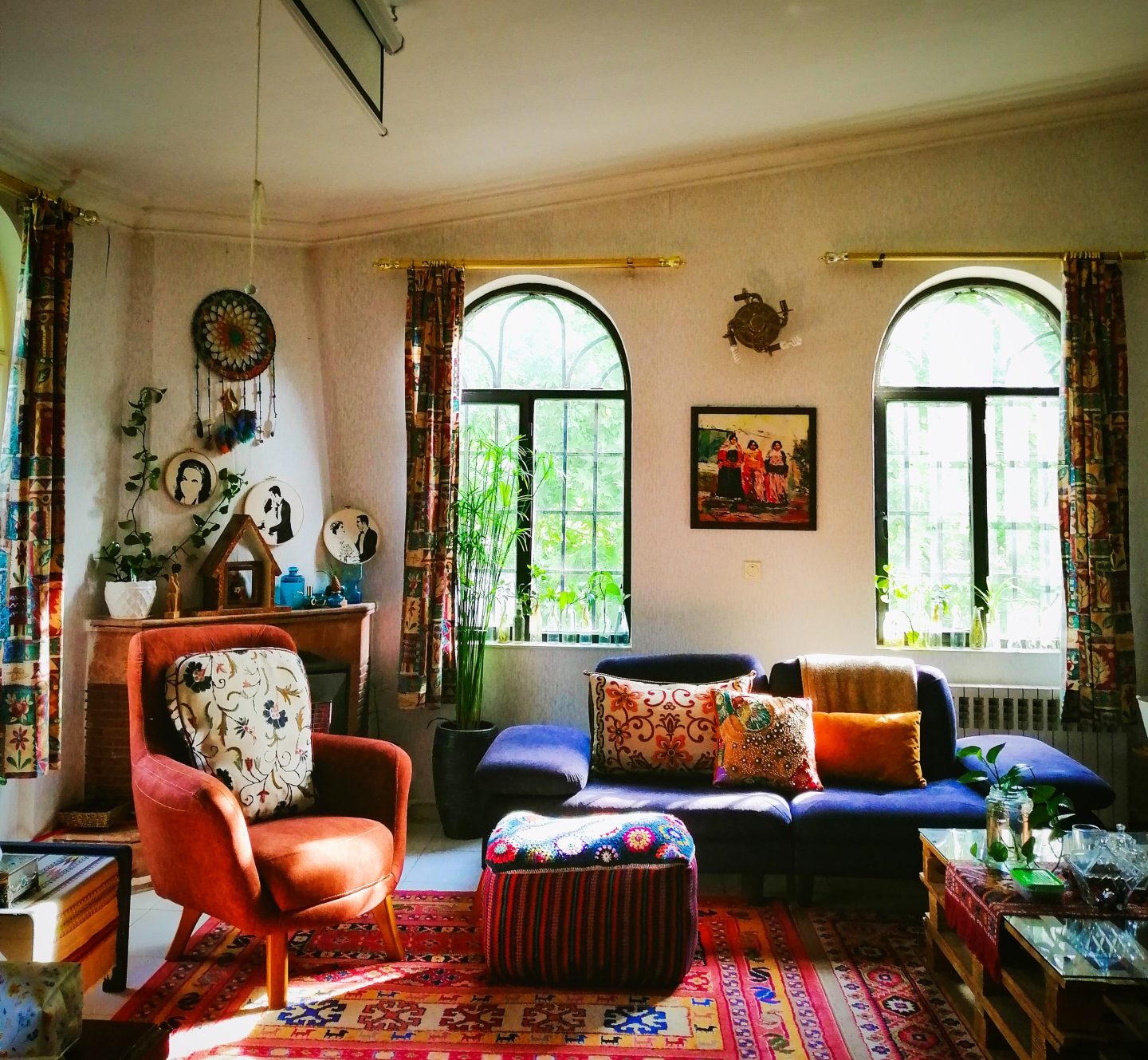 One of the biggest myths in interior design is that pattern mixing should be left to the professionals. Well, we're here to bust that misconception wide open and show you the power of mixing patterns in your home. While it can be understandably daunting to mix and match patterns if you're new to experimentation, there are handy rules-of-thumb to ensure you love the result. After all, pattern is the perfect tool to infuse energy, personality, and storytelling into a room.
Whether you're a pattern fanatic (hello, Scalamandré!) or just looking to add a little spice to your space, here are six DIY tips (plus a bonus resource at the end) for mixing and matching patterns in your home.
START WITH A COLOR PALETTE
The most natural place to start when mixing patterns is in choosing your color palette. If you're taking a more muted approach to your room design, then maybe you stick with neutrals. But if you had a specific color story in mind, take a monochromatic approach by sticking with patterns that all feature different shades of the same color family. For instance, if your color is a pastel blue, make sure any greens you incorporate into the color scheme lean more towards the blue-green family. They don't need to be matchy-matchy, but they should all relate to each other nicely.
FOLLOW THE RULE OF THREE
Once you have your color in mind, the easiest way to flawlessly mix patterns is by following the rule of three. The key is first to choose a large-scale pattern, a medium-scale pattern, and a small pattern. Then, apply the largest pattern to the smallest piece (like throw pillows) and the smallest pattern to the largest piece (like a sofa or an area rug). This helps keep the room feeling balanced without drawing an overwhelming amount of attention to any one element of the room. Examples of large-scale patterns could be a damask, a botanical (like Banana Palm), or a bold geometric. Smaller-scale patterns include dots, checks, or intricate florals that are not instantly readable from afar.
APPLY A NEUTRAL BACKDROP TO A STATEMENT PATTERN
If you're looking to feature one primary pattern as the room's showstopping centerpiece, we're all for it. The easiest way to ensure you create a space that doesn't feel visually overwhelming is to apply a neutral backdrop to the rest of the space – from the paint color to the accent pillows. That way, if you want to showcase a sofa in a conversational pattern comprised of bold colors, it's clear exactly who the star is. Our favorite pick? A Modern Sofa in a one-of-a-kind (yet affordable) Scalamandré animal print.
PLAY WITH PATTERNS THAT READ AS NEUTRAL
For a little bit of a pattern-mixing safety net, test the waters with patterns that read more as neutrals. For example, a subtle ticking stripe or even certain animal prints (like leopard), if used, can blend fairly seamlessly into an existing space and test your comfortability with pattern play. And from there, you can start to test bold patterns on smaller pieces (like a velvet cushion) once you figure out your appetite for more.
STICK TO ONE PATTERN STYLE AT DIFFERENT SCALES
If you fall in love with a specific pattern style – such as plaids or florals, who says you have to stop with one? If you want to go all-in on florals (granny chic is back and better than ever, after all!), then choose different floral patterns in numerous different scales, from large & bold to small & subtle. This consistent theme, especially if you're choosing patterns in various colors, will help maintain balance and cohesiveness.
BE A RULE BREAKER
These guidelines are all helpful places to start, should you be new and interested in the wild world of pattern mixing. But, as with all rules-of-thumb in interior design, your space is only as good as it makes you feel. Designing a space that brings you joy and comfort is more important than any guide. For some, that means infusing patterns that tell a personal story – whether that's a textile you found on recent travels, a piece that's been passed down through your family history, or just a piece that speaks to something personal to you. Choosing fabrics you love will make your whole room radiate.
BONUS RESOURCE
Having a hard time finding your favorite patterns on a tight budget? One of the interior design industry's favorite resources, The Inside, lets you choose from many classic furniture and décor frames (from sofas to throw pillows) and customize them in just about any pattern you can think of. Finding quality patterned upholstery at affordable prices has never been so fast and easy. Let your dreams of mixing patterns in your home come true!
As always, thank you for reading! Stay healthy and safe!
If you liked this post, you can subscribe here or follow me on Feedly | Bloglovin | Instagram | Pinterest | Facebook
Linking up here